Houston Economic Indicators
Houston economy dashboard (June 2023)
Job growth (annualized)
March–June '23
Unemployment rate

Avg. hourly earnings
Avg. hourly earnings growth y/y

0.0%
3.9%
$33.23
7.6%
Houston employment was unchanged between March and June 2023 as gains in some sectors canceled out large losses in leisure and hospitality and other sectors. Mining employment ticked up, while the value of exports and the national rig count dropped. Local retail fuel prices have been largely stable, and Houston inflation is mellowing faster than national inflation, with Houston posting a 1.6 percent headline Consumer Price Index (CPI) growth year over year in June.
Employment
Houston gained fewer than 20 jobs in the three months ending in June 2023, its slowest growth over any three-month period since June 2020. Leisure and hospitality lost 9,923 jobs, construction lost 2,793, and information and other services lost 2,176. The biggest gain was in trade, transportation and utilities, which added 5,741 jobs. The biggest percent increase was oil and gas, which grew 15.2 percent, annualized (2,404 jobs). (Chart 1)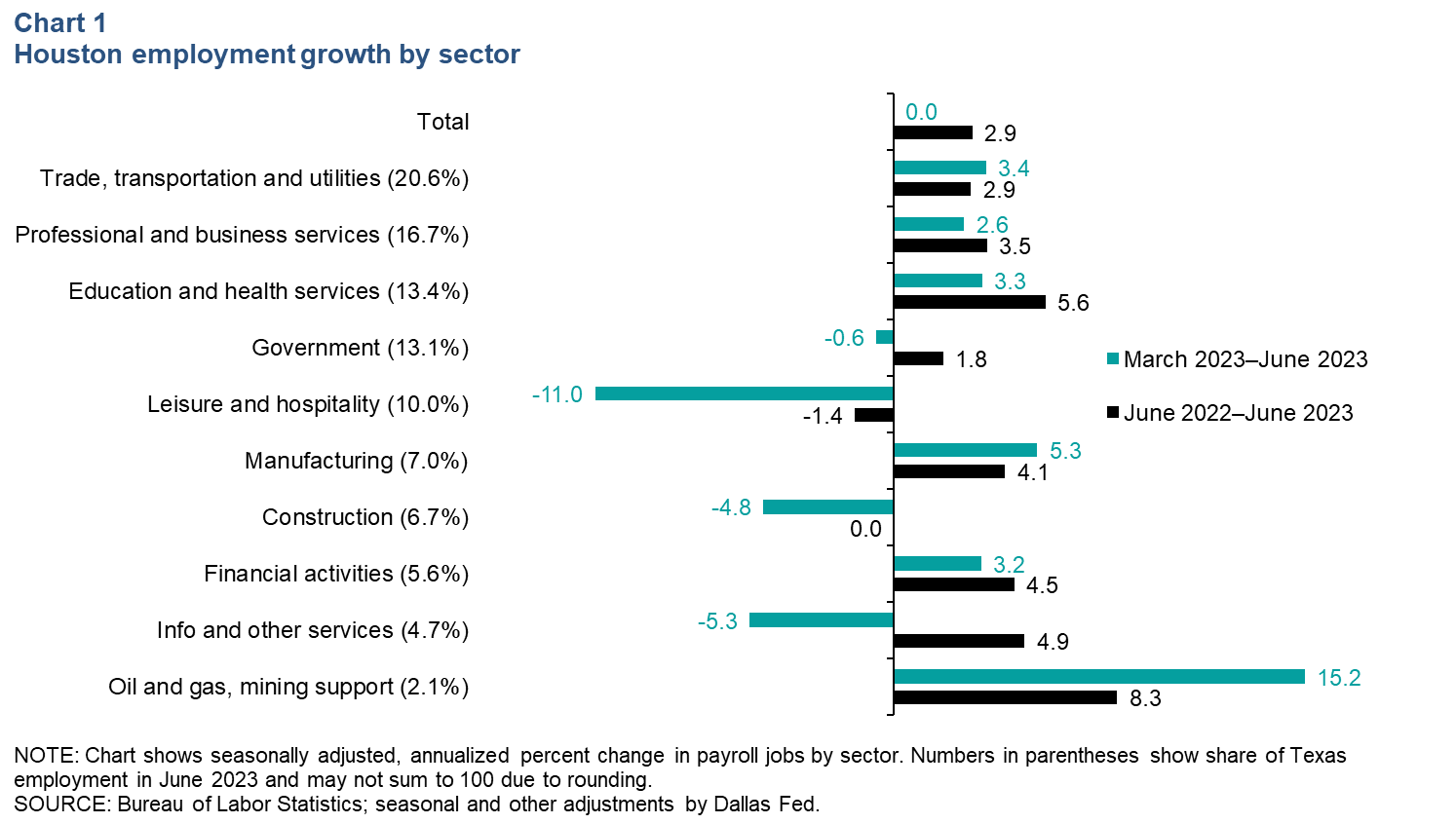 Among the major Texas metros, Houston's employment flatline stands out. Texas employment overall grew an annualized 2.6 percent between March and June, while Dallas, Austin and Fort Worth each grew more than 4 percent. San Antonio and El Paso were slightly slower, at 2–3 percent growth.
The employment component of the local Purchasing Managers Index, published by the Houston Institute for Supply Management, registered values of 51.1 to 53.1 over the second quarter. This implies positive but slow growth over those three months and may indicate jobs data will be revised up later this year.
Energy
Mining employment rises as rig count and oil price dip
The price of West Texas Intermediate (WTI) crude was down 38.8 percent from its June 2022 peak to $70 in June 2023, and Henry Hub natural gas was down 72 percent over the same period to $2.18 per million British thermal units. Meanwhile, the national rig count dropped from as high as 784 in December 2022 to 687 in June 2023 (Chart 2).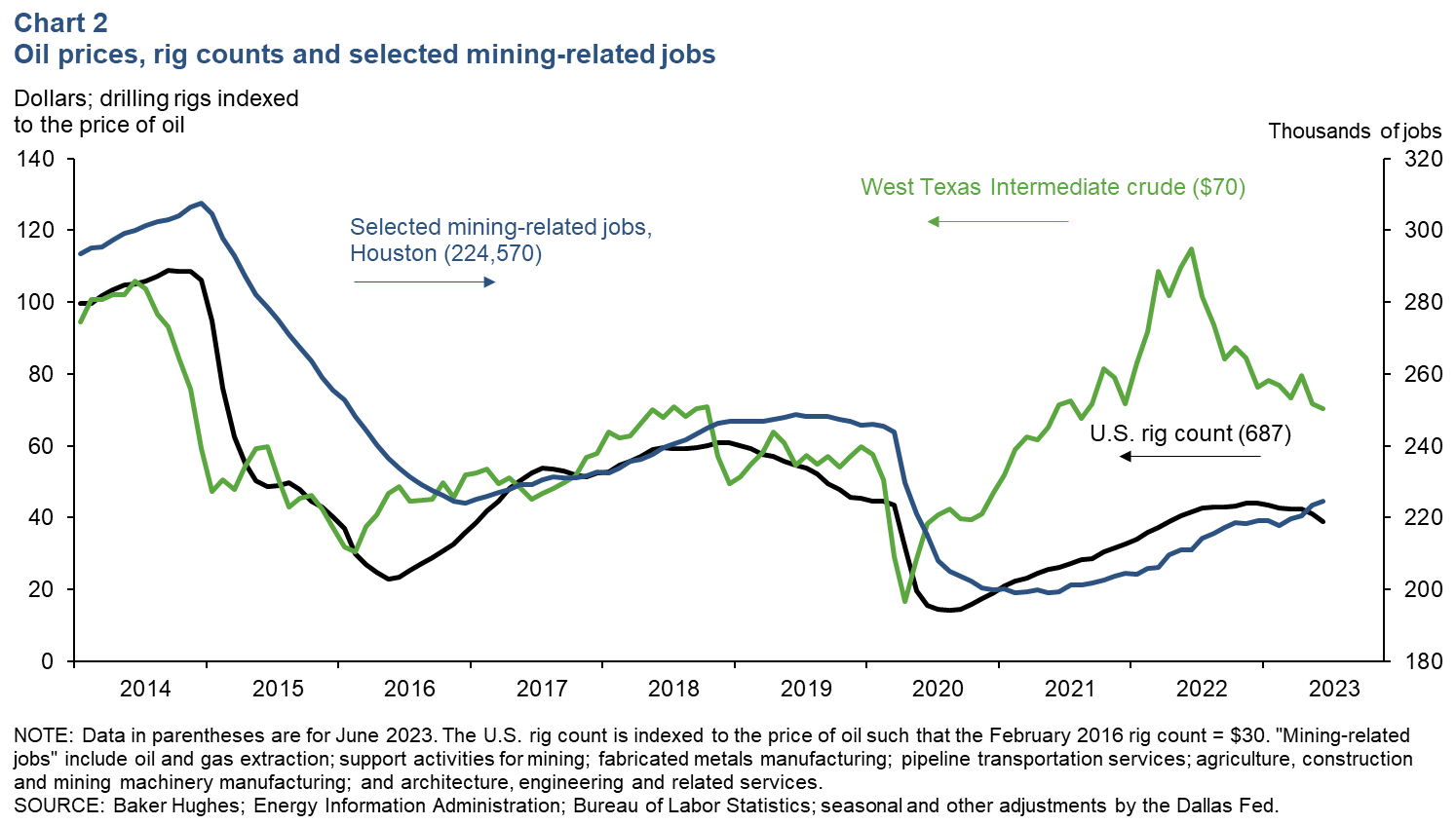 Despite these drops in prices and rig counts, mining-related jobs in Houston grew an annualized 5.0 percent in the first half of 2023. Support activities for mining saw the largest absolute and relative increase, at 11.2 percent (2,026) more jobs year to date, but every sector in this group saw an increase in the first half of 2023. Changes in oil prices have historically been followed by changes in drilling activity about three months later. Oilfield services and fabricated metals manufacturing, the first-to-hire-and-first-to-fire labor sectors, are usually quick to follow the rig count with job cuts.
Postpandemic, the lead-lag relationships among oil prices, rig counts and employment are not as readily apparent. Factors that contribute to the breakdown include greater emphasis by firms on investor returns, increased productivity of rigs and wells, supply-chain issues, scorching oilfield inflation (particularly for small, privately owned producers), and difficulties finding workers.
Real value of exports through Houston ticks down
Real exports through the Houston–Galveston customs district fell in May, with total exports declining 22.6 percent since their height in June 2022 (Chart 3). Oil and gas exports, the primary export through the district, representing 51.0 percent of the total real value of exports, ticked up 0.4 percent, nonannualized, from April. This contributed to a 21.4 percent increase in the last 12 months. Real exports in other industries ticked down in the last year; petroleum and coal product exports fell 4.5 percent, and chemicals and plastic and rubber products dropped 16.8 percent.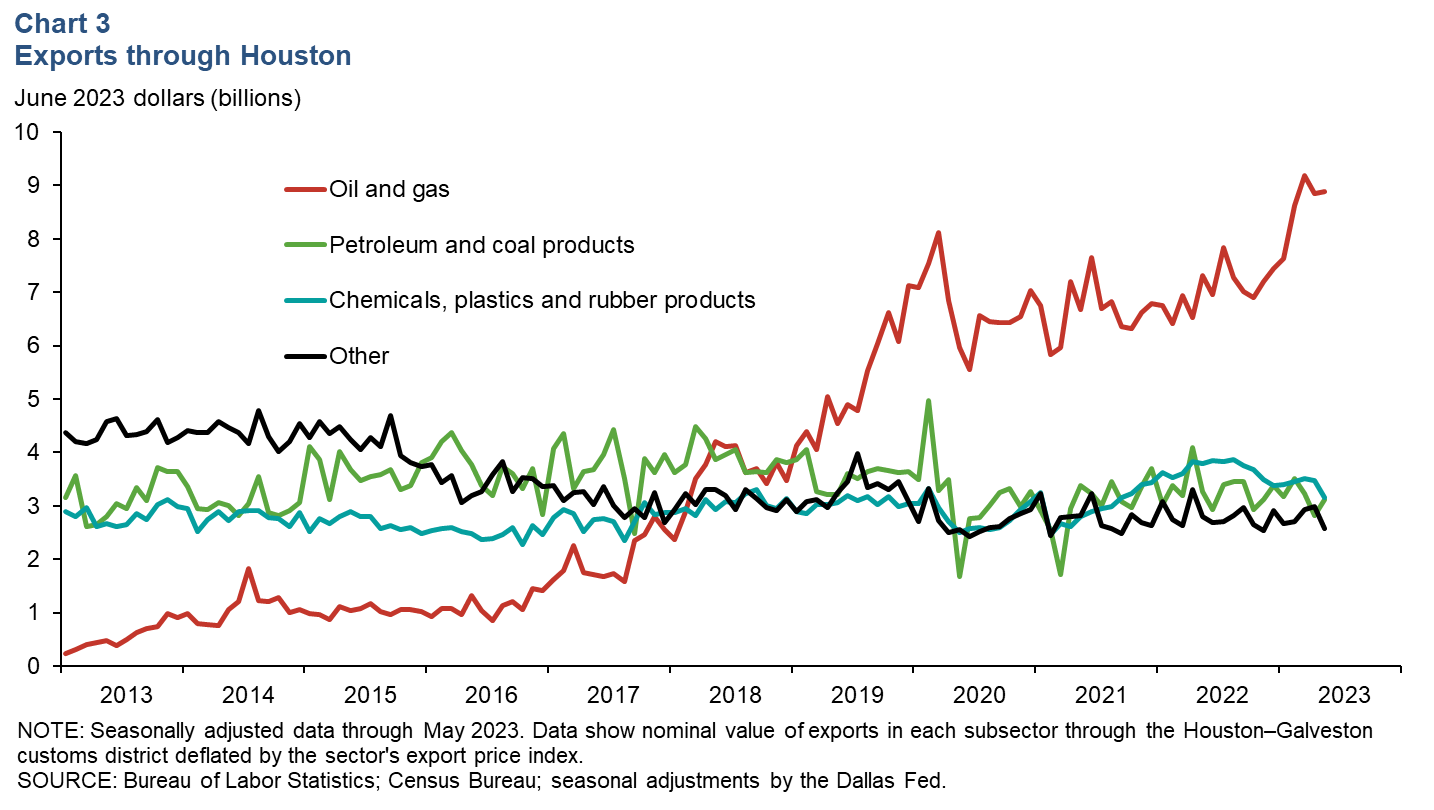 Nominal retail fuel prices stable, still well below summer 2022 peaks
The price of regular gasoline has been hovering between $2.90 and $3.20 a gallon since March, with prices ticking down to $3.18 the week of July 24 (Chart 4). Gulf Coast diesel rose to $3.64 a gallon that same week, its highest price since early May. Fuel prices tend to follow the international benchmark Brent crude oil price, which fell to $1.89 a gallon the week of July 17.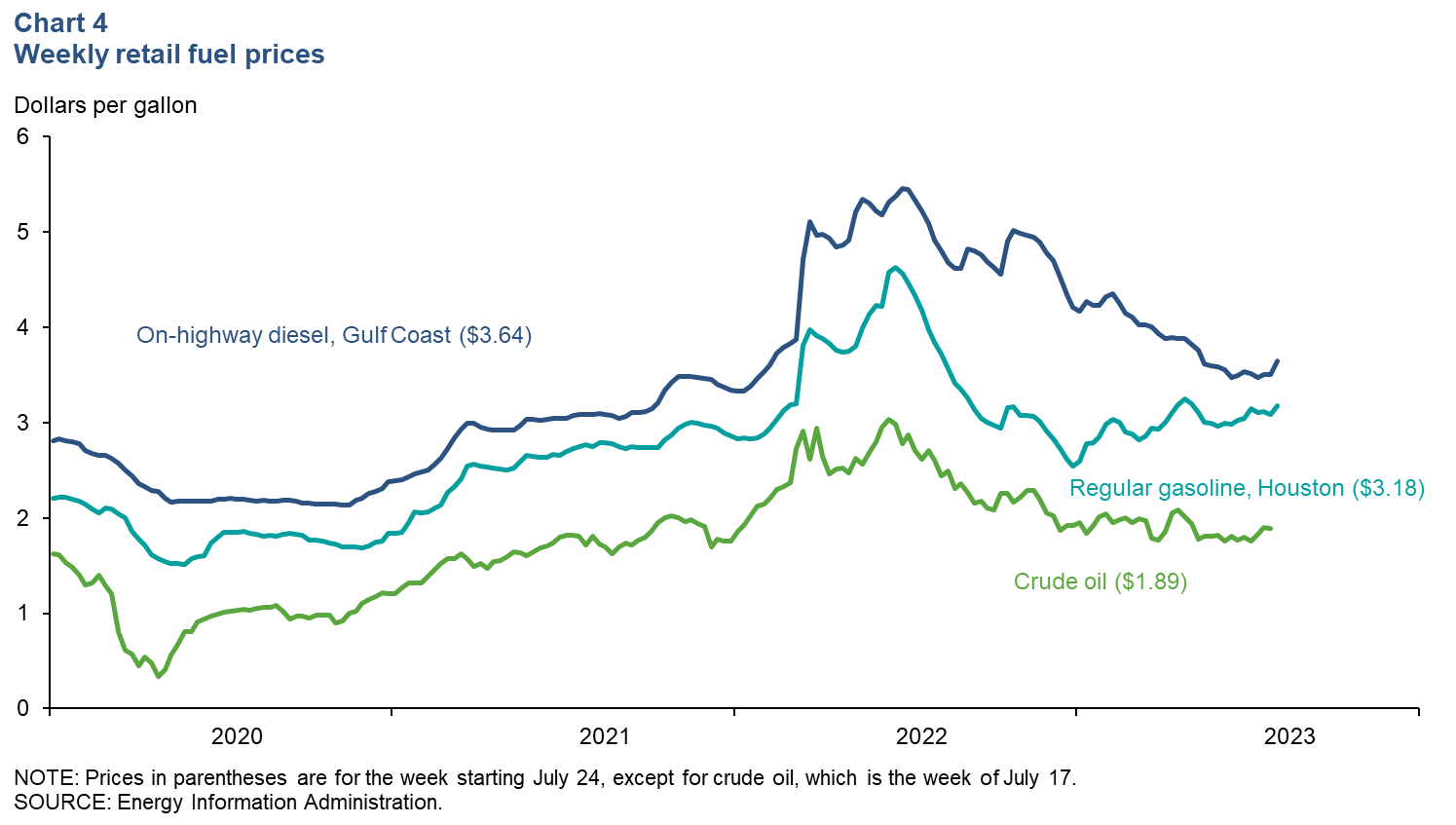 Compared with the recent peaks in summer 2022, Houston gasoline is down $1.44 per gallon, and Gulf Coast diesel is down $1.81. Adjusting for Houston's inflation rate, that's a decline of 32.3 percent for gasoline and 34.3 percent for diesel.
Energy prices continue falling, overall inflation moderates
The energy component of Houston's CPI fell 33.5 percent from June 2022 to June 2023, while national prices fell 16.7 percent (Chart 5). Overall inflation has slowed, especially in Houston. Headline CPI rose only 1.6 percent year over year in Houston in June, almost half of the 3.0 percent increase in headline inflation nationwide.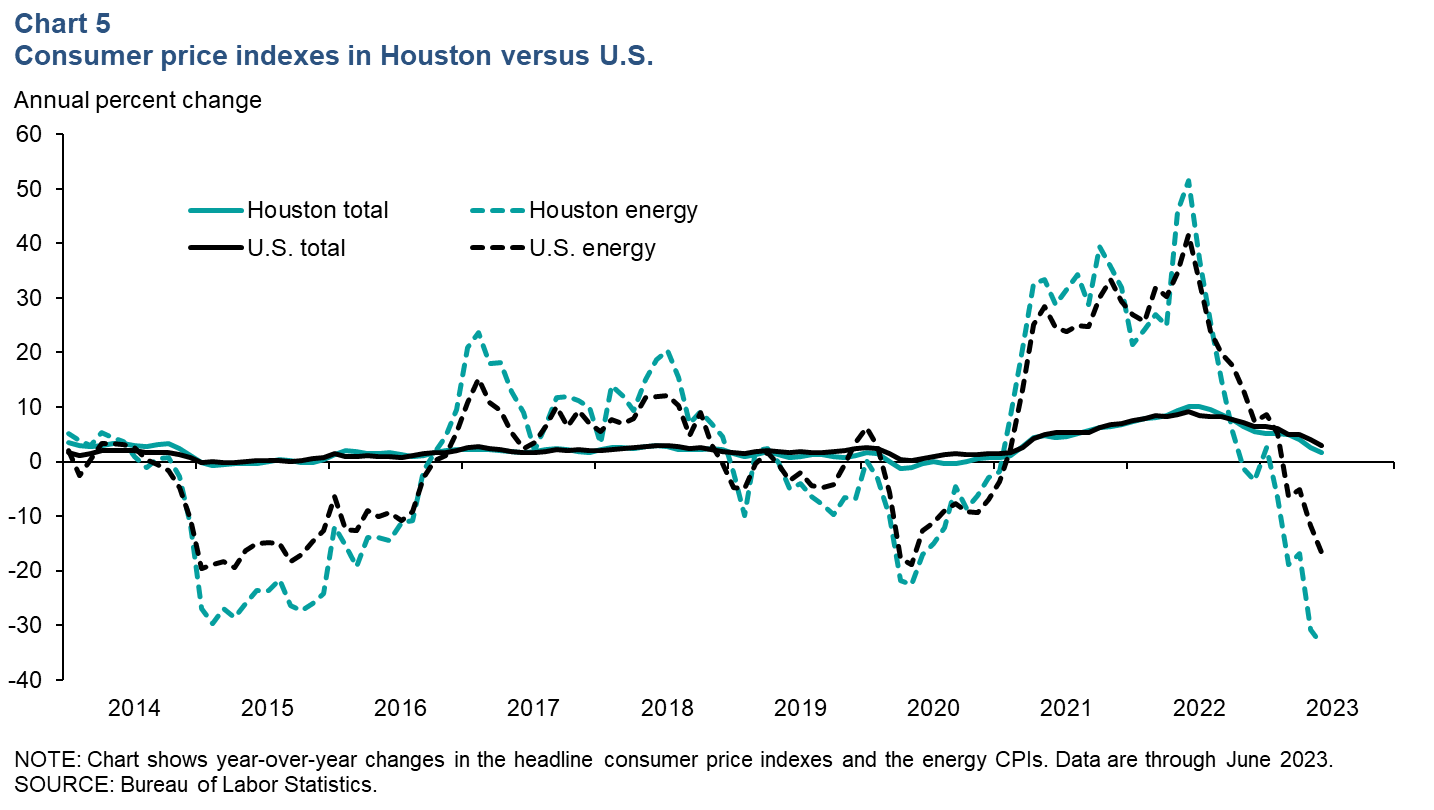 The energy index is made up of fuel costs, including gasoline, and energy services, such as electricity and utilities. In Houston, electricity prices are given a higher relative importance (3.3 percent in 2023 compared with an average of 2.5 percent for the nation), meaning changes in the price of electricity have a larger impact on both local headline and energy CPI. Given the decline in electricity prices from last year's surge, both indexes show more mellowing in Houston than the national average.
NOTE: Data may not match previously published numbers due to revisions.
About Houston Economic Indicators
Questions or suggestions can be addressed to Ana Pranger at ana.pranger@dal.frb.org. Houston Economic Indicators is posted on the second Monday after monthly Houston-area employment data are released.