San Antonio Economic Indicators

January 24, 2019
Growth in the San Antonio economy was soft in December. The San Antonio Business-Cycle Index decelerated, and the unemployment rate increased. While overall job growth was weak in the last quarter of 2018, the leisure and hospitality and mining industries performed well. In December, home prices fell slightly and, more recently, stock prices of San Antonio companies improved.
Business-Cycle Index
The San Antonio Business-Cycle Index decelerated to an annualized rate of 1.9 percent in December, about 1 percent below its long-term average of 3 percent (Chart 1). The unemployment rate increased but remained near historical lows. December job growth weakened.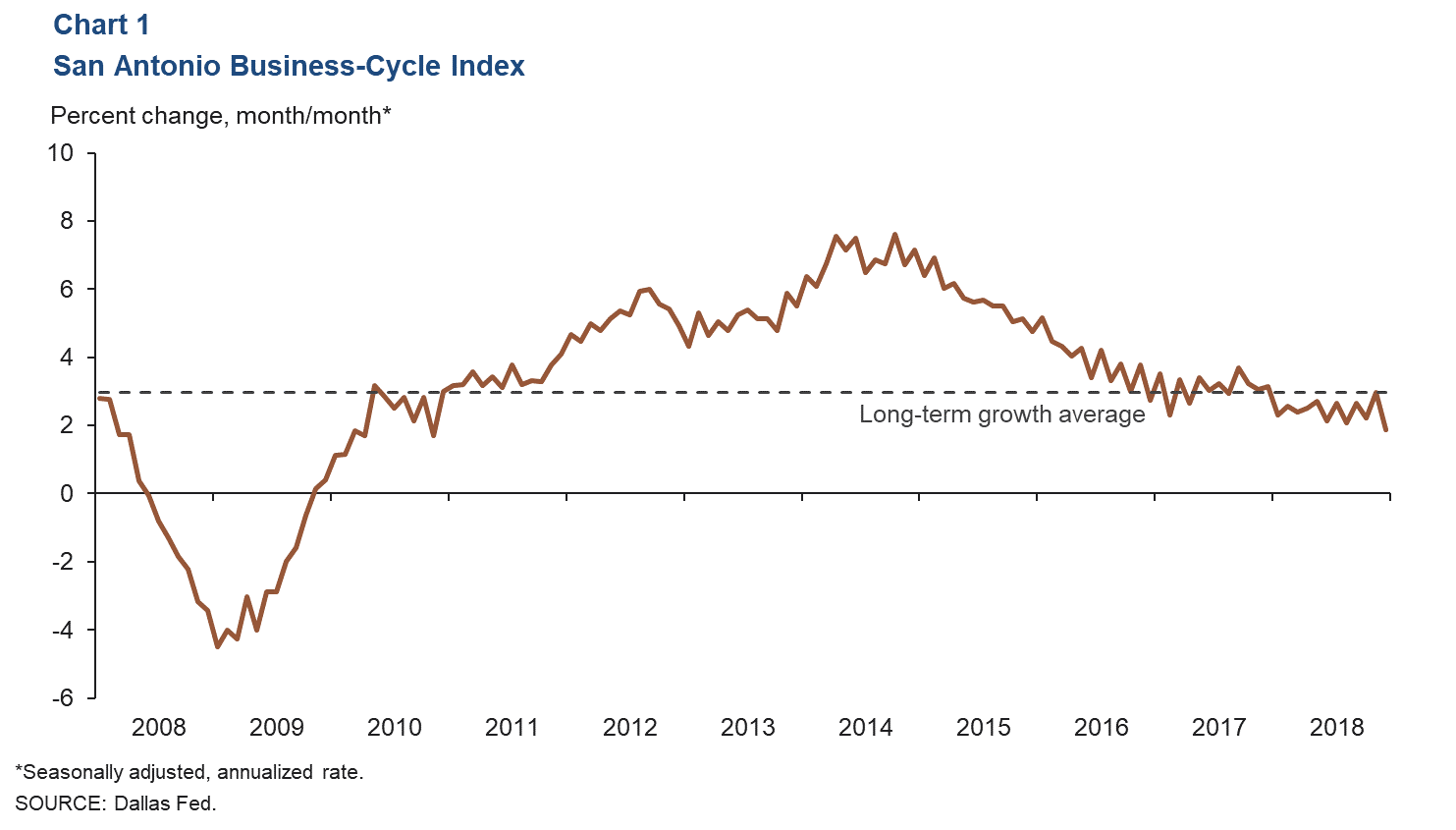 Labor Market
Unemployment Slightly Rises
The San Antonio unemployment rate ticked up to 3.4 percent in December but still came in below the state at 3.7 percent and nation at 3.9 percent (Chart 2). In 2018, San Antonio payrolls expanded at a sluggish 1 percent rate, whereas the state and nation added jobs at 2.4 percent and 1.8 percent rates, respectively.
Job Growth Weak
San Antonio added to payrolls at an annualized rate of 1.2 percent during the fourth quarter of last year (Chart 3). The leisure and hospitality industry led growth, adding 2,800 net new jobs, and was followed by mining. The government sector moderately expanded after seeing slight declines earlier in the year. The information and manufacturing sectors shed jobs in the three months ending in December.
Hourly Wages
The three-month average for private sector hourly wages in San Antonio dipped to $23.76 in December (Chart 4). Year over year, hourly wages grew 3.1 percent, slightly slower than the Texas and U.S. rates of 3.5 percent and 3.2 percent, respectively.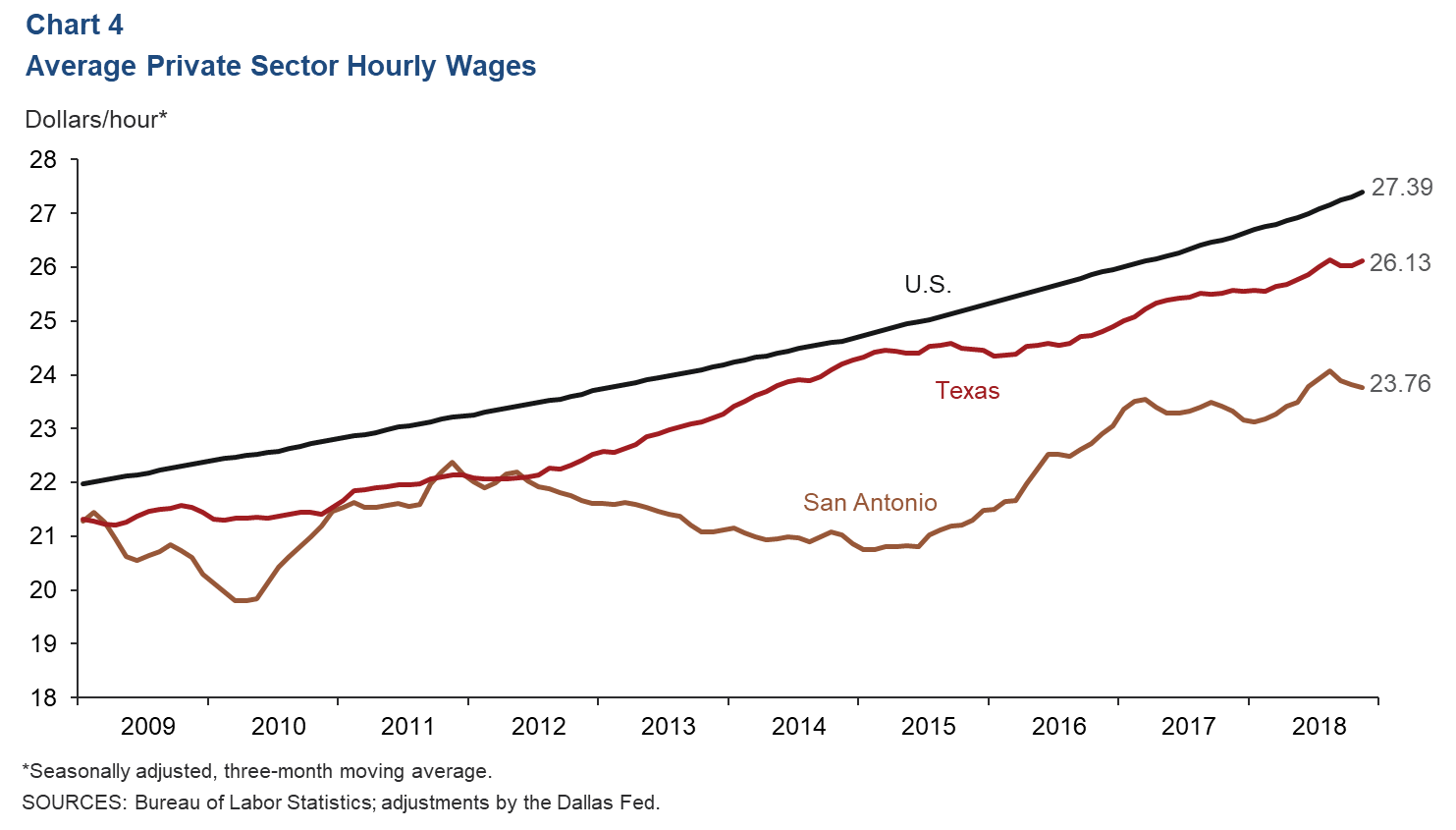 Real Estate
The median real sales price for houses in San Antonio was $223,373 in December 2018, down slightly from the month prior (Chart 5). The inflation-adjusted average sales price increased 1.6 percent in fourth quarter 2018 from fourth quarter 2017, while the Texas price rose 1.7 percent. Home inventories remained at 3.5 months of supply in December, well below the six months considered a balanced market.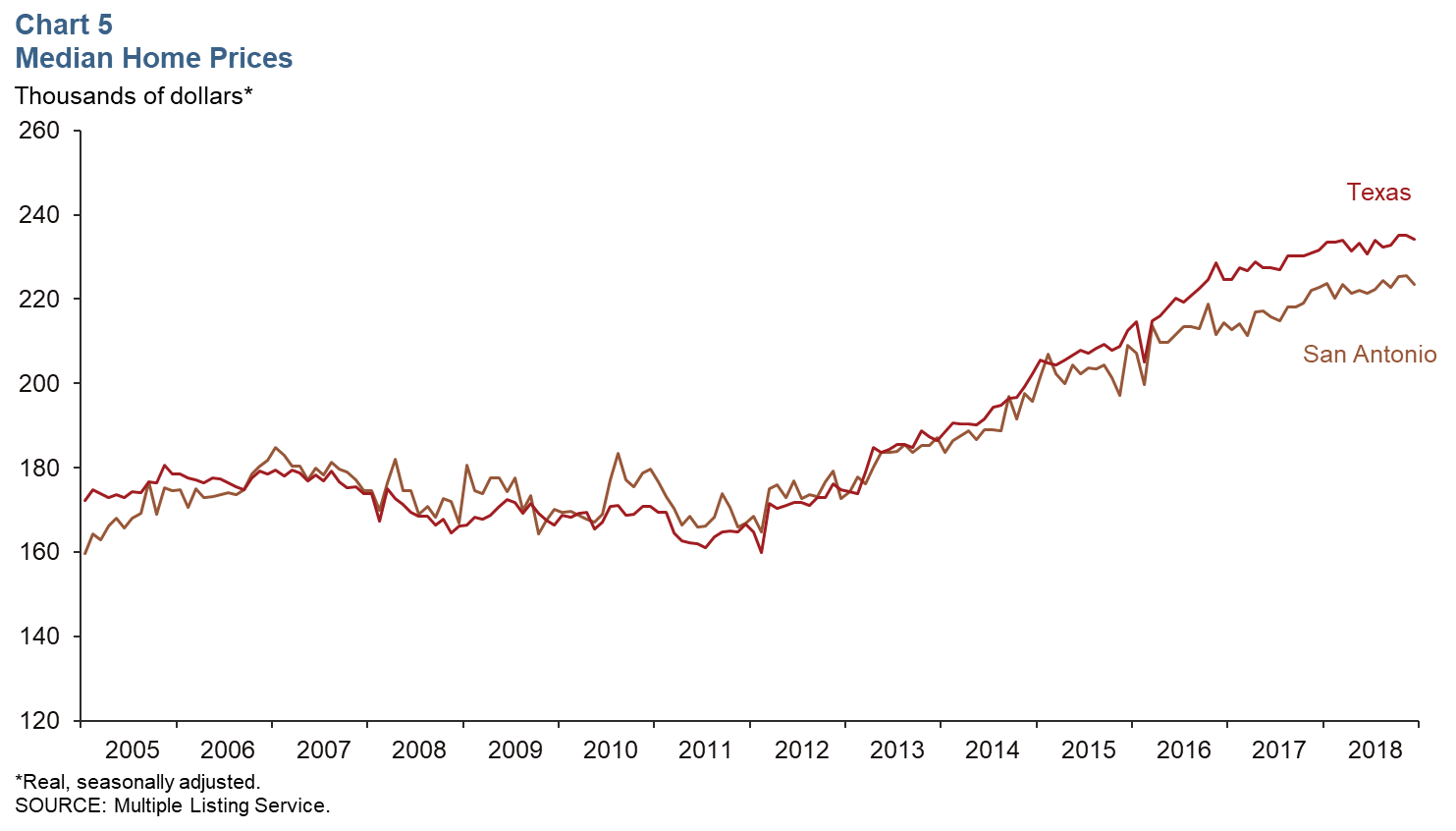 Stock Prices
Stock prices of companies with a notable presence in San Antonio surged 21 percent from Dec. 21, 2018, to Jan. 18, 2019, and lifted prices to levels seen before the stock market plunge in mid-November (Chart 6). A similar trend is seen in the S&P 500, which increased 10.5 percent. All sectors experienced gains. Manufacturing and finance-related firms saw healthy recoveries, while companies in communications and food-service industries saw mild improvement. Energy companies generally posted strong recoveries.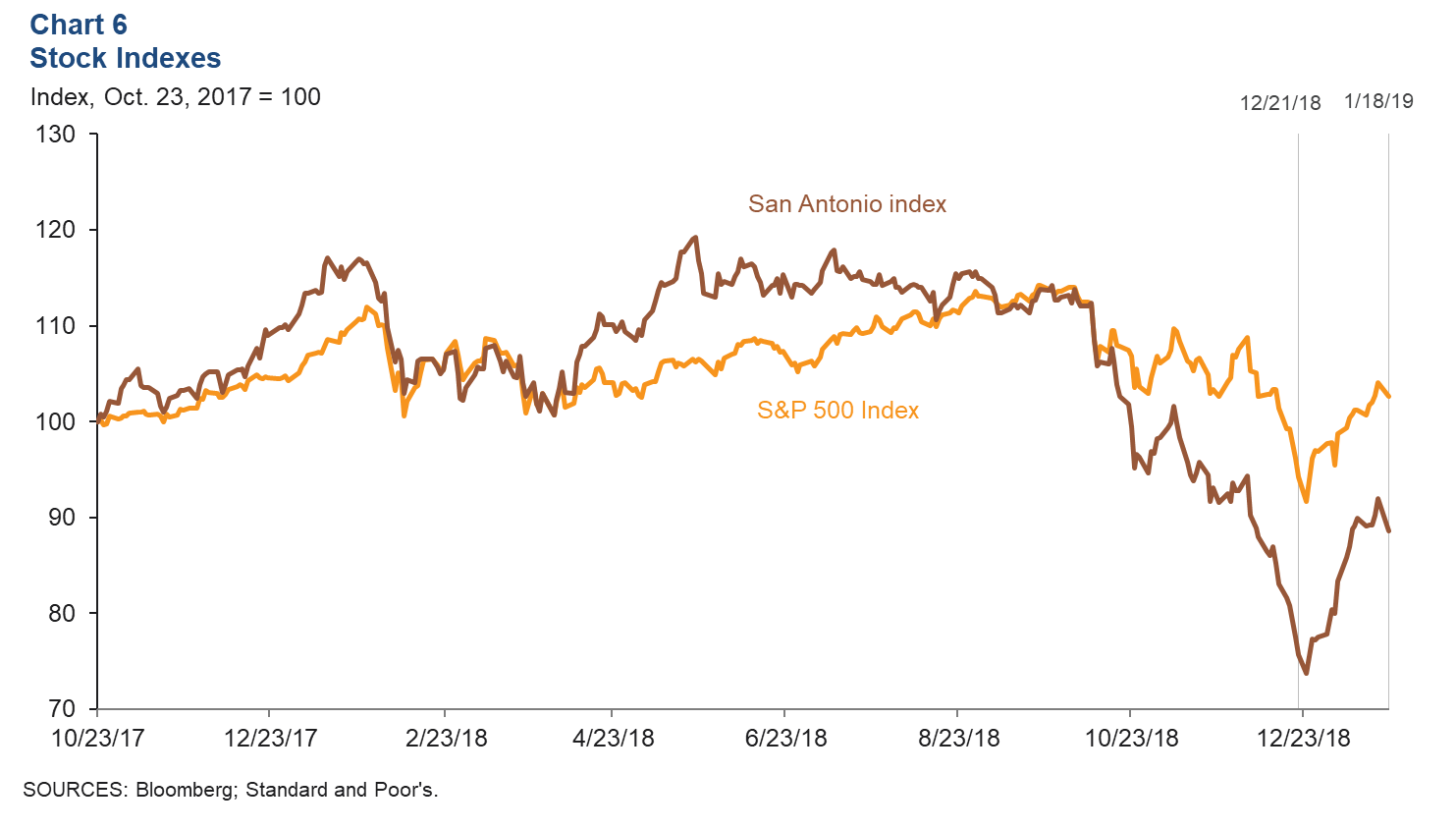 NOTE: Data may not match previously published numbers due to revisions.
About San Antonio Economic Indicators
Questions can be addressed to Judy Teng at judy.teng@dal.frb.org. San Antonio Economic Indicators is published every month on the Thursday after state and metro employment data are released.