San Antonio Economic Indicators

May 23, 2019
The San Antonio economy expanded at a moderate pace in April. The unemployment rate continued to decline, while the San Antonio Business-Cycle Index accelerated to its strongest pace since July 2016. Over the three months through April, jobs grew at a moderate rate, led by the construction and financial activities industries. Population growth decelerated in 2018, and housing affordability increased in the first quarter of 2019.
Business-Cycle Index
The San Antonio Business-Cycle Index—a broad measure of economic activity—accelerated to an annualized rate of 4.0 percent in April, well above the long-term average of 3.0 percent (Chart 1). A decline in the unemployment rate, a slight increase in jobs in April and a rise in wages propelled the index.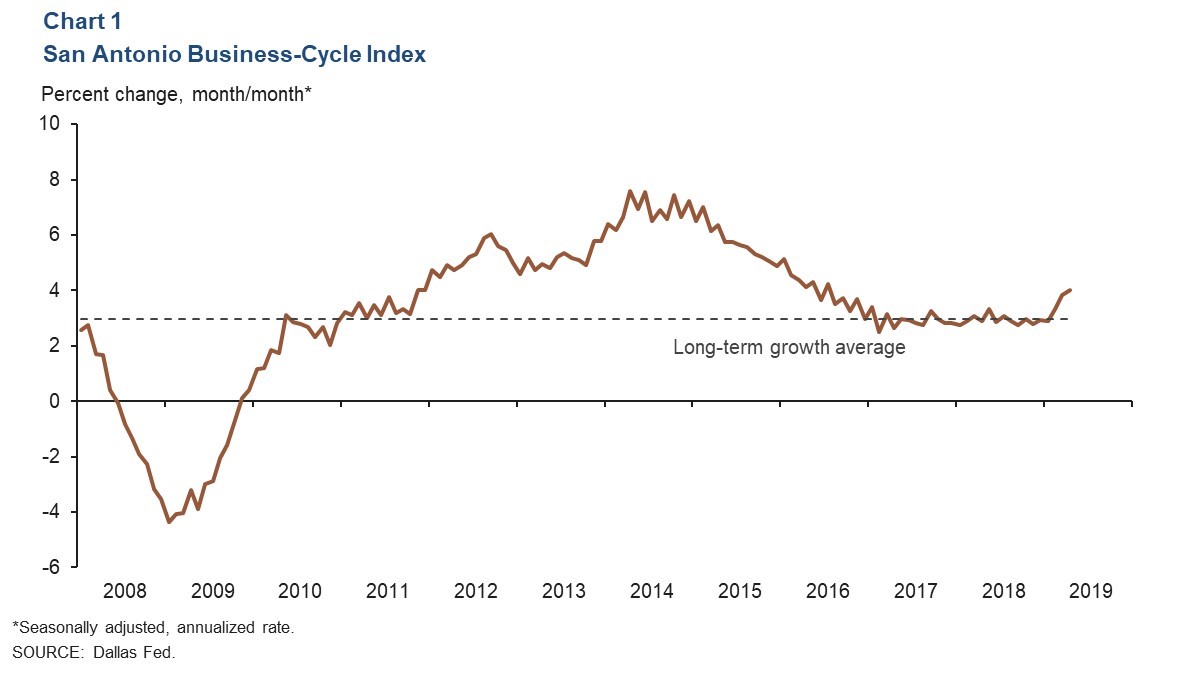 Labor Market
Metro's Unemployment Dips
The San Antonio unemployment rate fell for the third consecutive month, to 2.9 percent in April (Chart 2). This is significantly lower than the state's rate at 3.7 percent, and the nation's at 3.6 percent. The metro labor force has contracted at an annualized rate of 0.3 percent so far this year.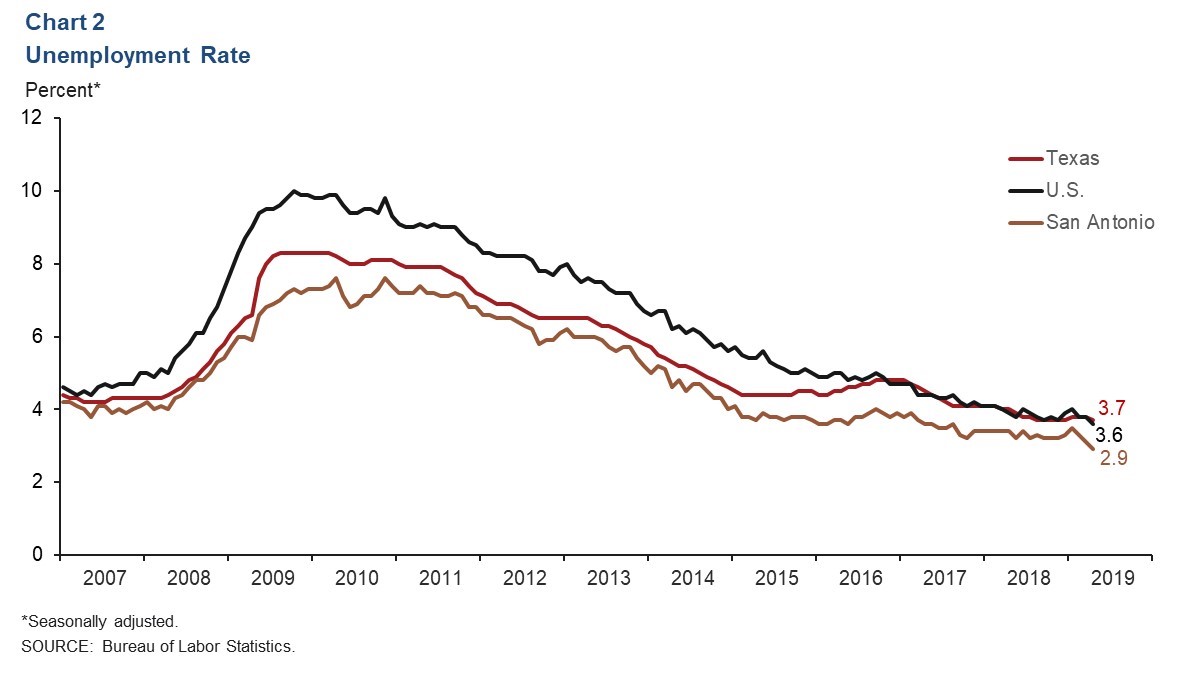 Job Growth Steady
In the three months ending in April, the metro area added jobs at an annualized rate of 1.7 percent (Chart 3). Recently released early benchmarked data show insignificant revisions to 2018's growth rate. Growth in the period through April was led largely by the construction sector, which expanded at an annualized rate of 12.5 percent, or by a net 1,600 jobs. Financial activities grew 7.5 percent and added 1,700 net jobs, notably in finance- and insurance-related fields. Professional and business services increased at an annualized rate of 6.6 percent (2,300 jobs). Prime areas of weakness included health and education services, which lost a net 1,800 jobs, and leisure and hospitality, which shed almost 1,400.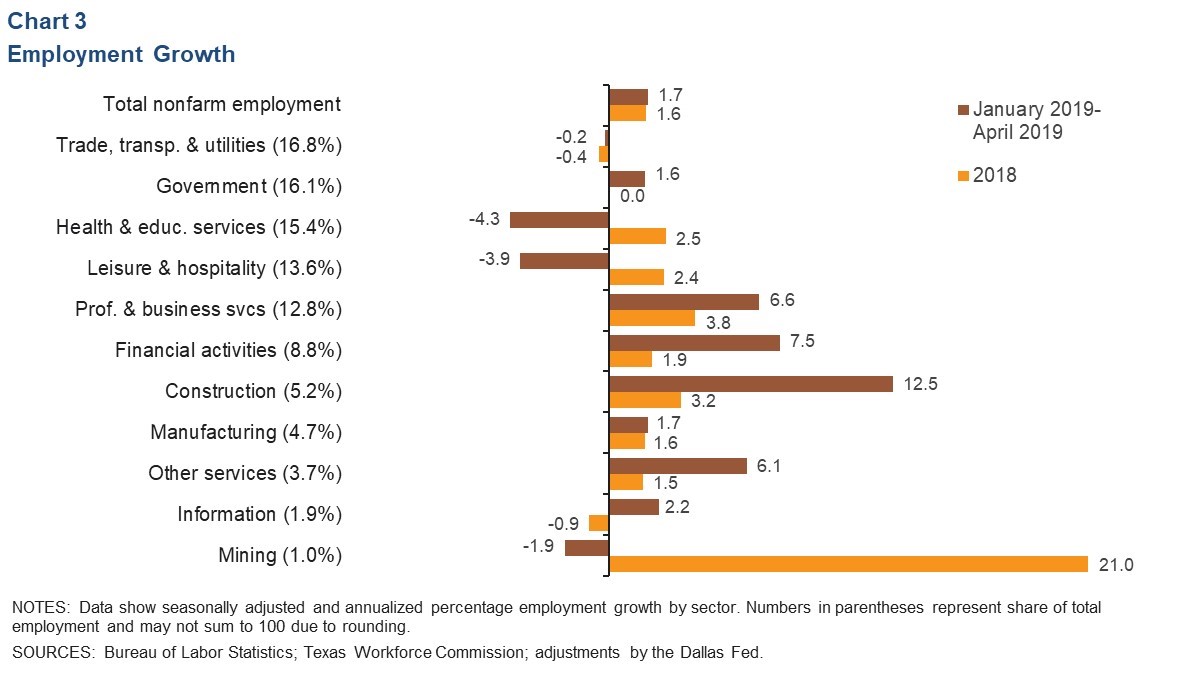 Population
Population growth in San Antonio slowed slightly in 2018. According to recently released census data, the metro's population grew at a rate of 1.8 percent, slightly slower than 2017's 1.9 percent rate and shy of its long-term average of 2.0 percent (Chart 4). Population growth at the state level was 1.3 percent in 2018, down from 2017's 1.4 percent.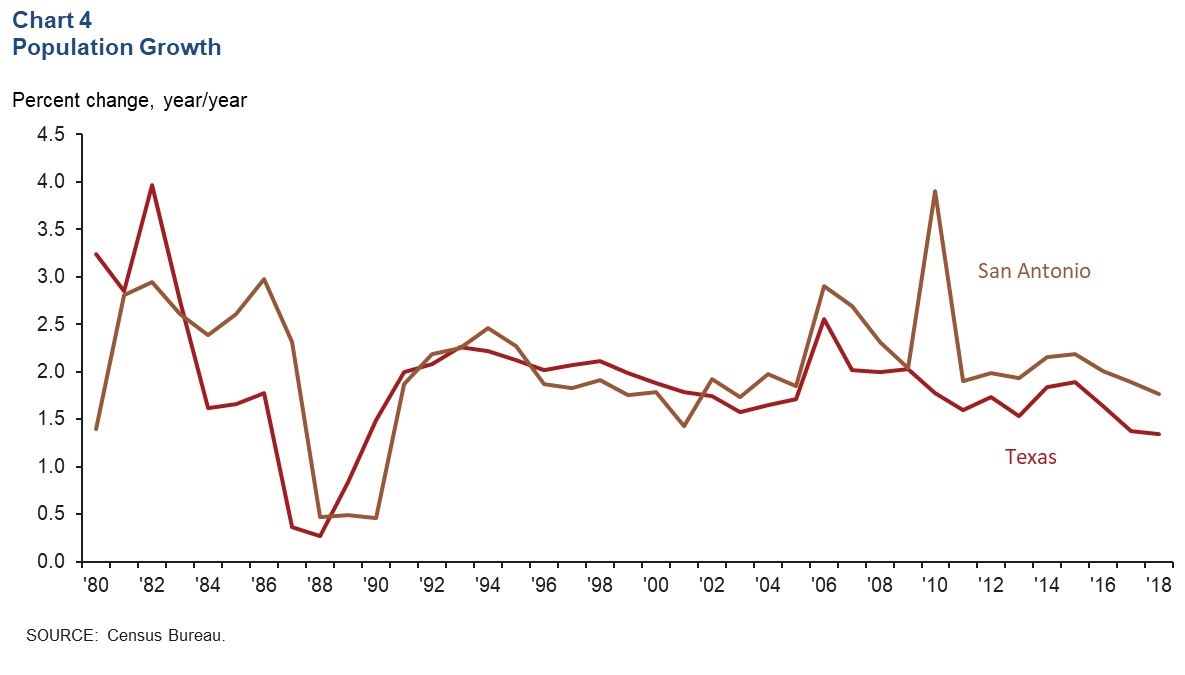 Real Estate
Housing affordability in San Antonio, defined as the percentage of homes sold that the median-income household can afford, increased during the first quarter to 60.7 percent, up from 53.4 percent in fourth quarter 2018 (Chart 5). Home affordability also rose at the national level at 61.4 percent, an almost 5 percentage point increase from the previous quarter.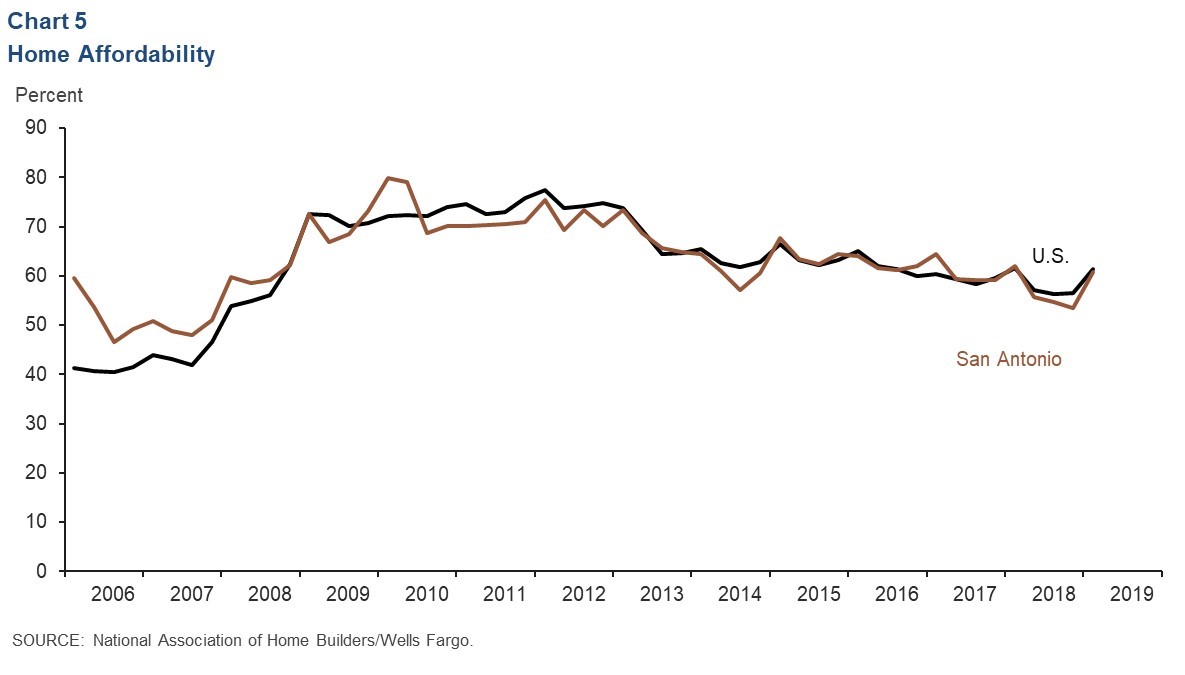 Stock Prices
Stock prices of companies with a notable presence in San Antonio fell 8.5 percent from April 22 to May 20, while the S&P 500 Index declined 2.3 percent (Chart 6). The performance by sector was generally mixed. Firms associated with the manufacturing and energy industries saw stock prices drop during this period. Companies within the communications, food services and financial industries either saw no change or a decline in stock prices.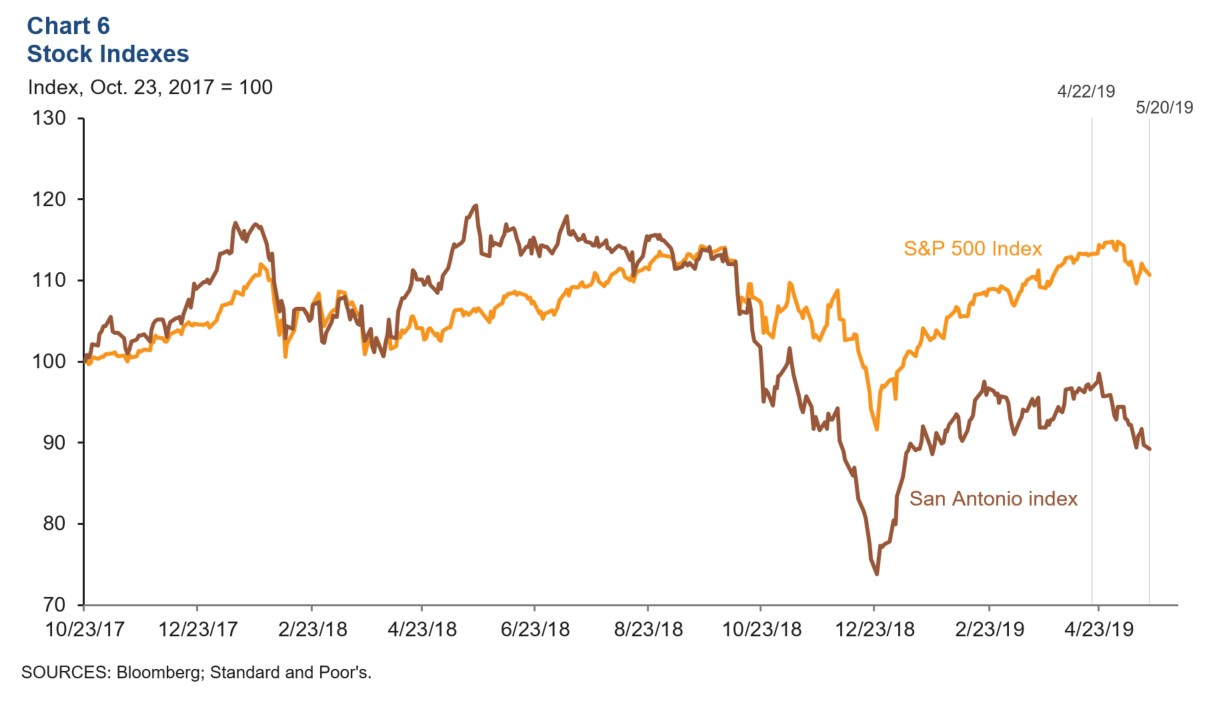 NOTE: Data may not match previously published numbers due to revisions.
About San Antonio Economic Indicators
Questions can be addressed to Judy Teng at judy.teng@dal.frb.org. San Antonio Economic Indicators is published every month on the Thursday after state and metro employment data are released.