San Antonio Economic Indicators

May 27, 2022
Broad measures of the San Antonio economy remained positive in April, though some indicators moderated. The San Antonio Business-Cycle Index increased despite a slight uptick in the metro unemployment rate. Annualized net job growth over the three months ending in April held positive, though the pace of growth slowed from last year's rate. Wages in San Antonio declined, although wage growth has outpaced the state and national averages over the past 12 months. Home affordability increased in the first quarter this year, and population growth in 2021 rebounded close to its prepandemic pace.
Business-cycle index
The San Antonio Business-Cycle Index—a broad measure of economic activity in the metro—grew at an annualized rate of 3.5 percent in April, slowing from its 5.3 percent pace in March (Chart 1).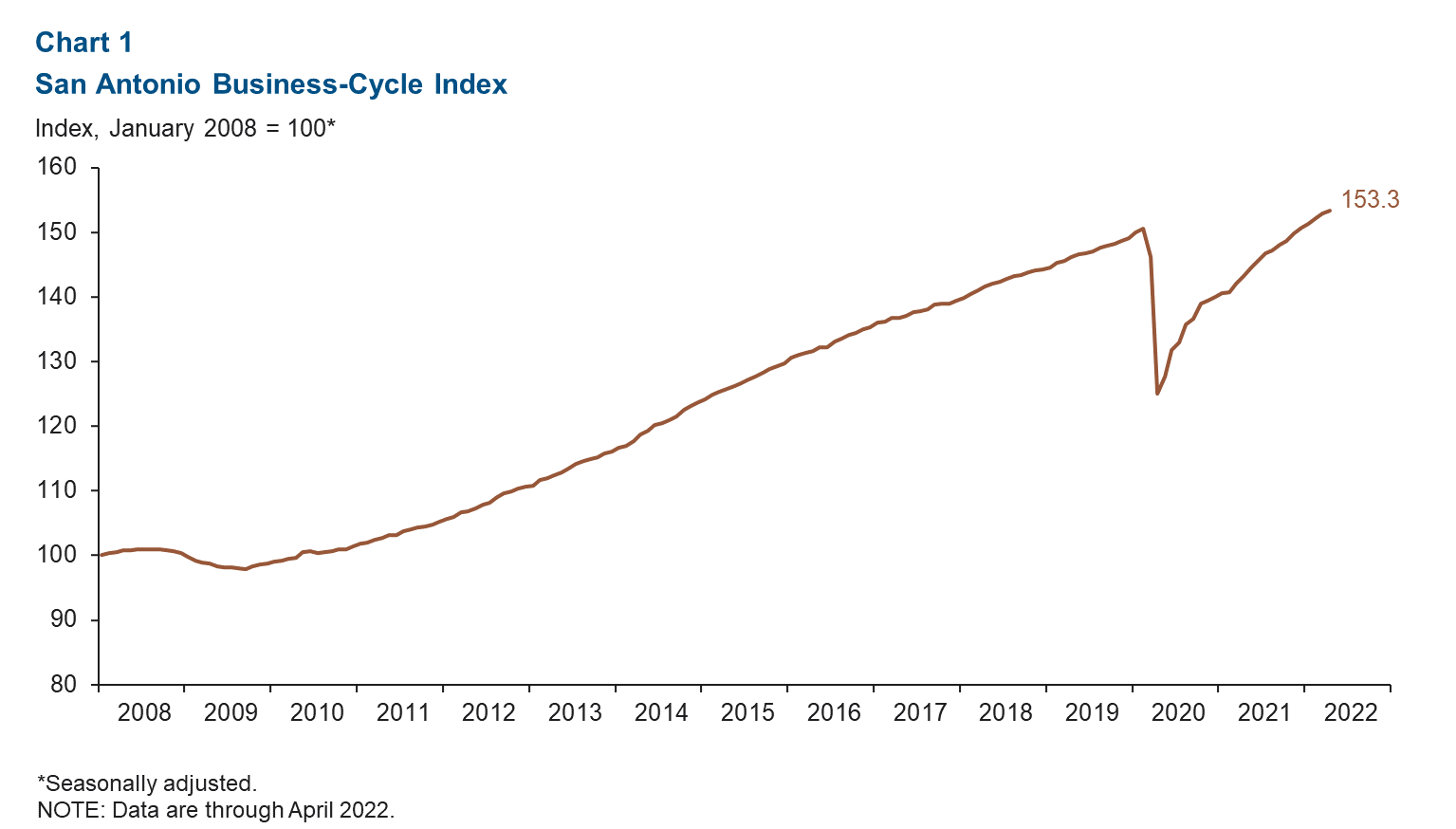 Labor market
Unemployment rate ticks up in April
The San Antonio unemployment rate increased in April to 3.7 percent, though this is near its lowest rate since the start of the pandemic (Chart 2). Nevertheless, this rate remains below the state jobless figure of 4.3 percent and only slightly above the U.S. rate of 3.6 percent. The regional labor force contracted slightly and is down 1.0 percent from its peak in February 2022.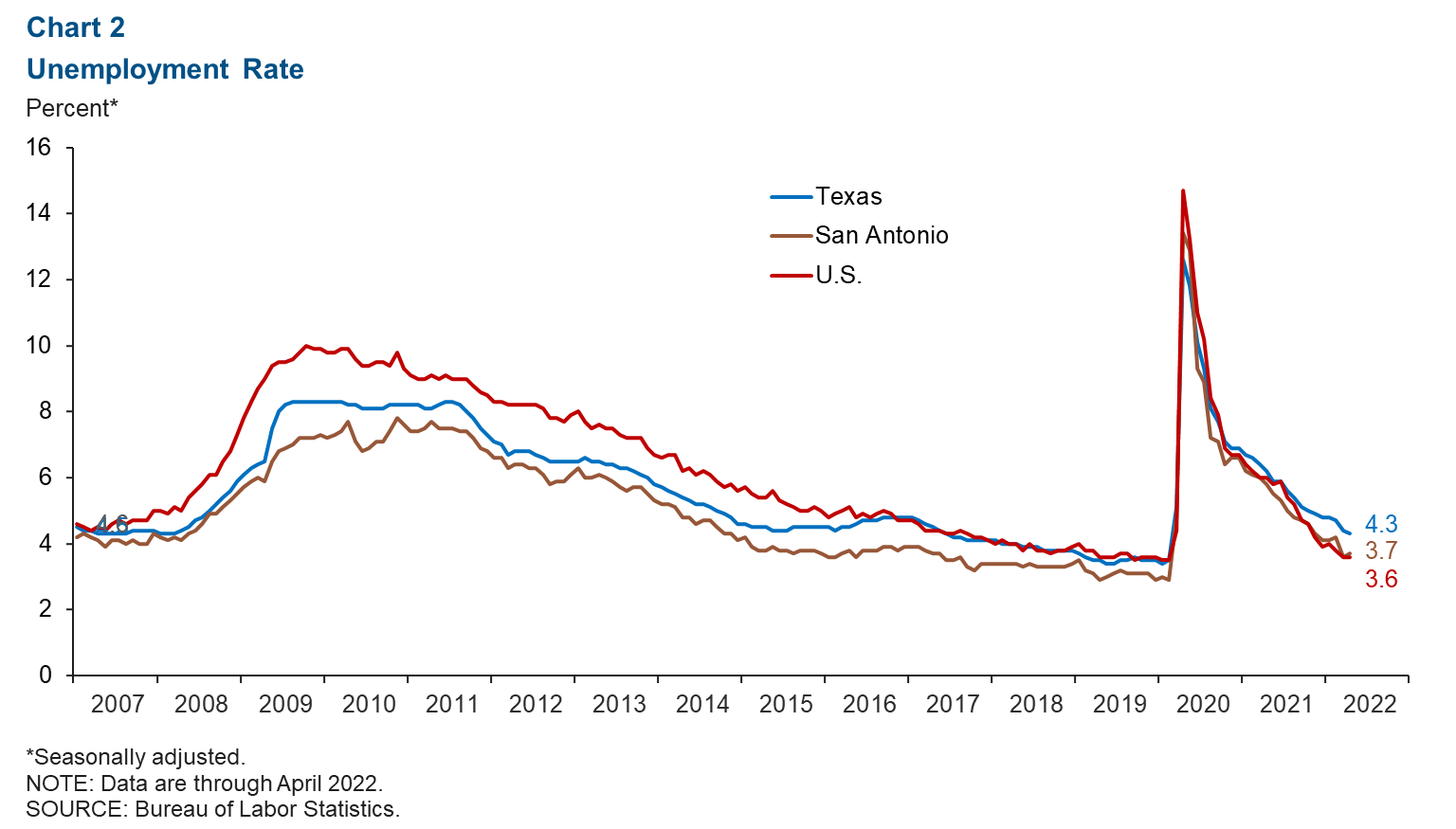 Recent job gains moderate
San Antonio payrolls expanded an annualized 2.9 percent (7,718 jobs) over the three months ending in April (Chart 3). Among the major sectors, other services—which includes activities such as auto repair and personal care services—led growth with an increase of 15.5 percent (or 1,403 jobs). Financial activities followed with 13.6 percent growth (3,032 jobs), followed by mining at 12.0 percent growth (165 jobs). Sectors that posted declines include professional and business services (-4.3, or 1,702 jobs), construction (-1.7 percent, or 257 jobs) and trade, transportation and utilities (-0.3 percent, or 142 jobs). With the overall increase in April employment, San Antonio has gained 143,600 jobs since the depths of the pandemic in April 2020 and has surpassed its prepandemic level of jobs.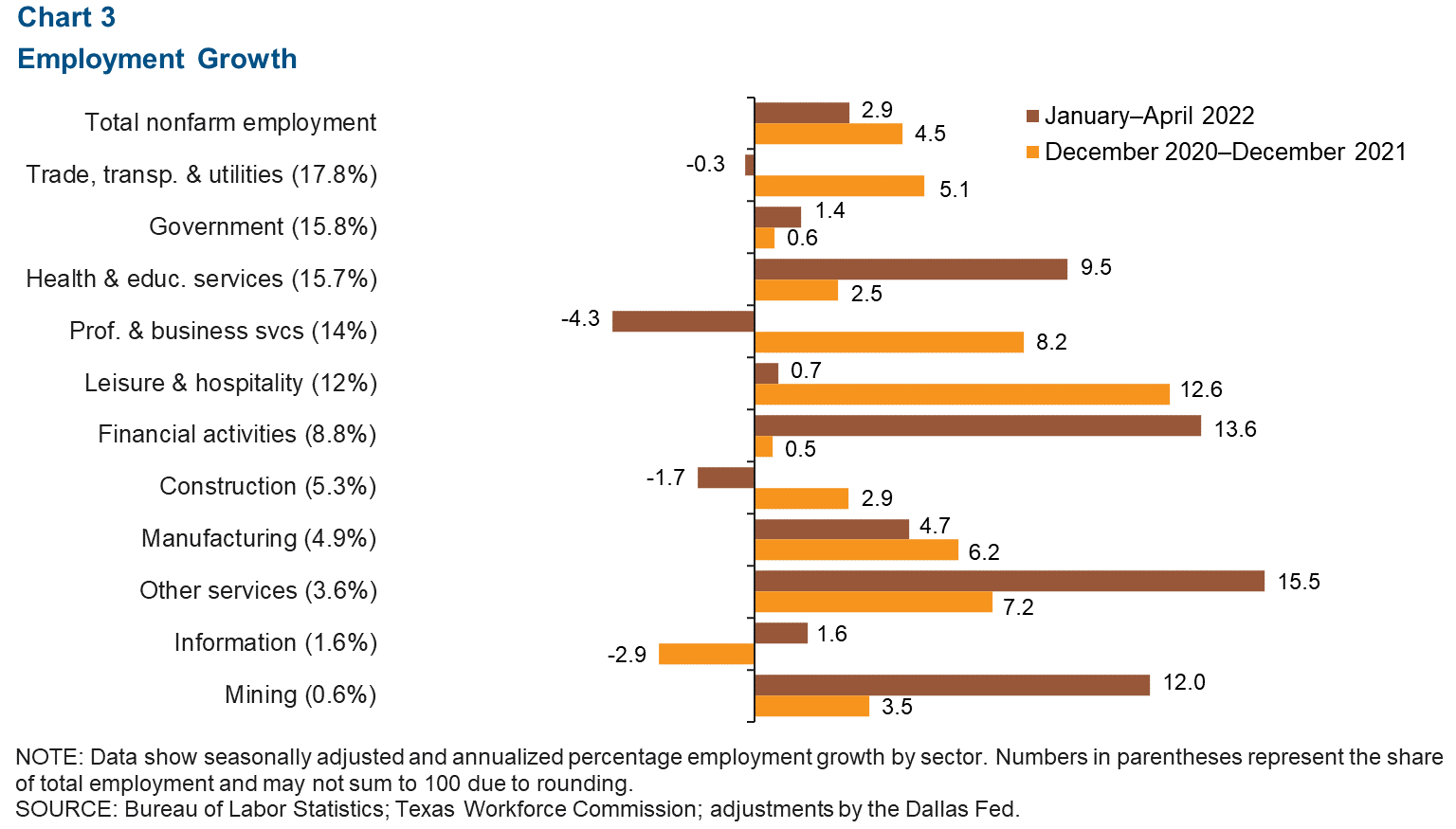 Wages
San Antonio wage growth dipped in April 2022, in line with the drop at the state level (Chart 4). The three-month average of hourly wages in San Antonio was $27.26, compared with the state average of $29.41 and the national average of $31.73. However, the 12-month growth in wages was 7.6 percent in San Antonio, outpacing gains of 5.7 percent for Texas and 5.4 percent for the U.S.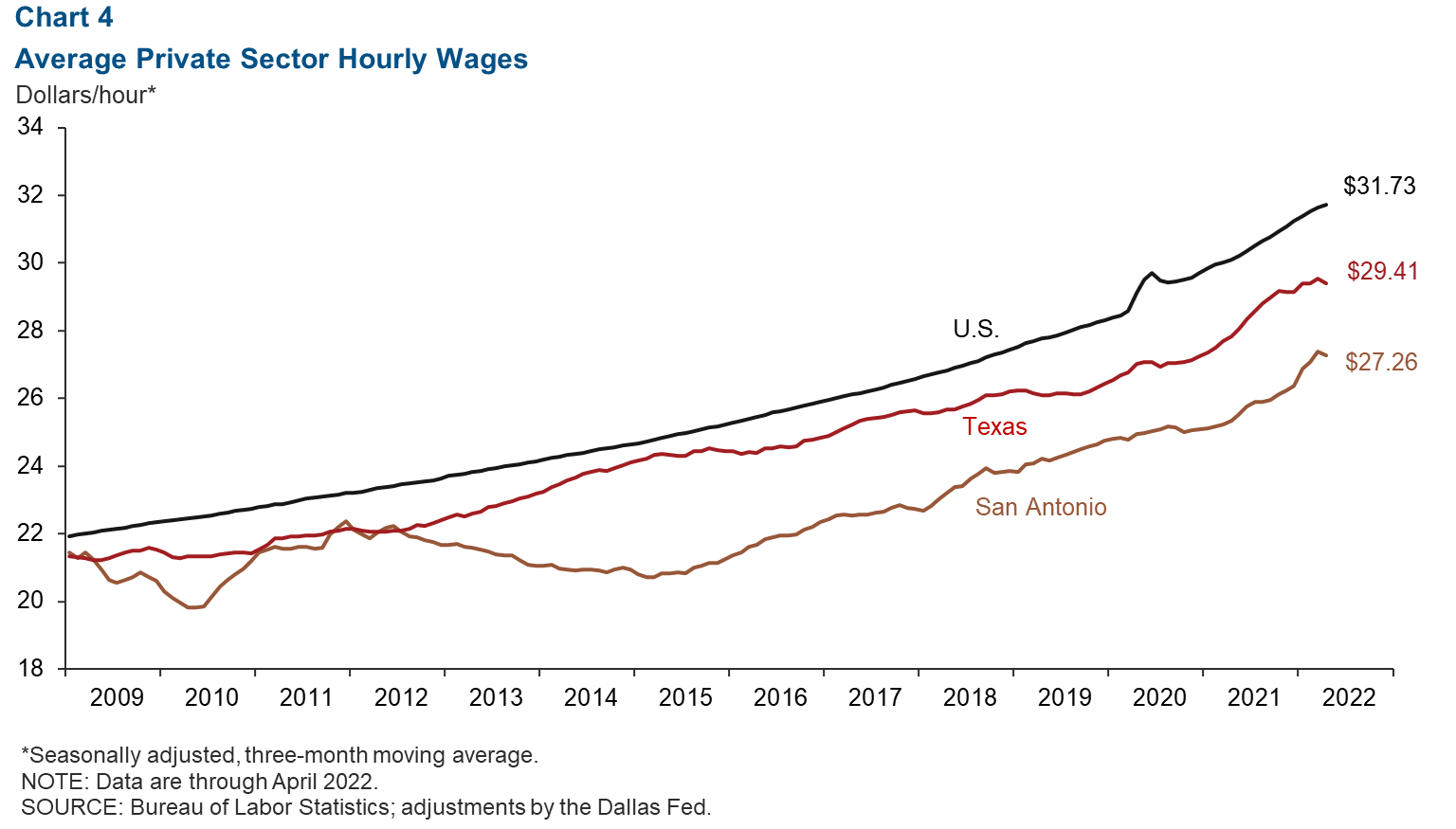 Real estate
Despite continued rapid home-price appreciation in San Antonio, relative affordability picked up notably in first quarter this year (Chart 5). The share of homes sold in the metro that the median-income household can afford increased from 54.3 percent in fourth quarter 2021 to 59.2 percent in first quarter 2022, making San Antonio the second most affordable major Texas market after Houston. The rise in home prices has been offset to a degree by increasing incomes so far in 2022. Nevertheless, median home prices increased to an all-time high of $324,688 in April, a 10.2 percent increase year over year.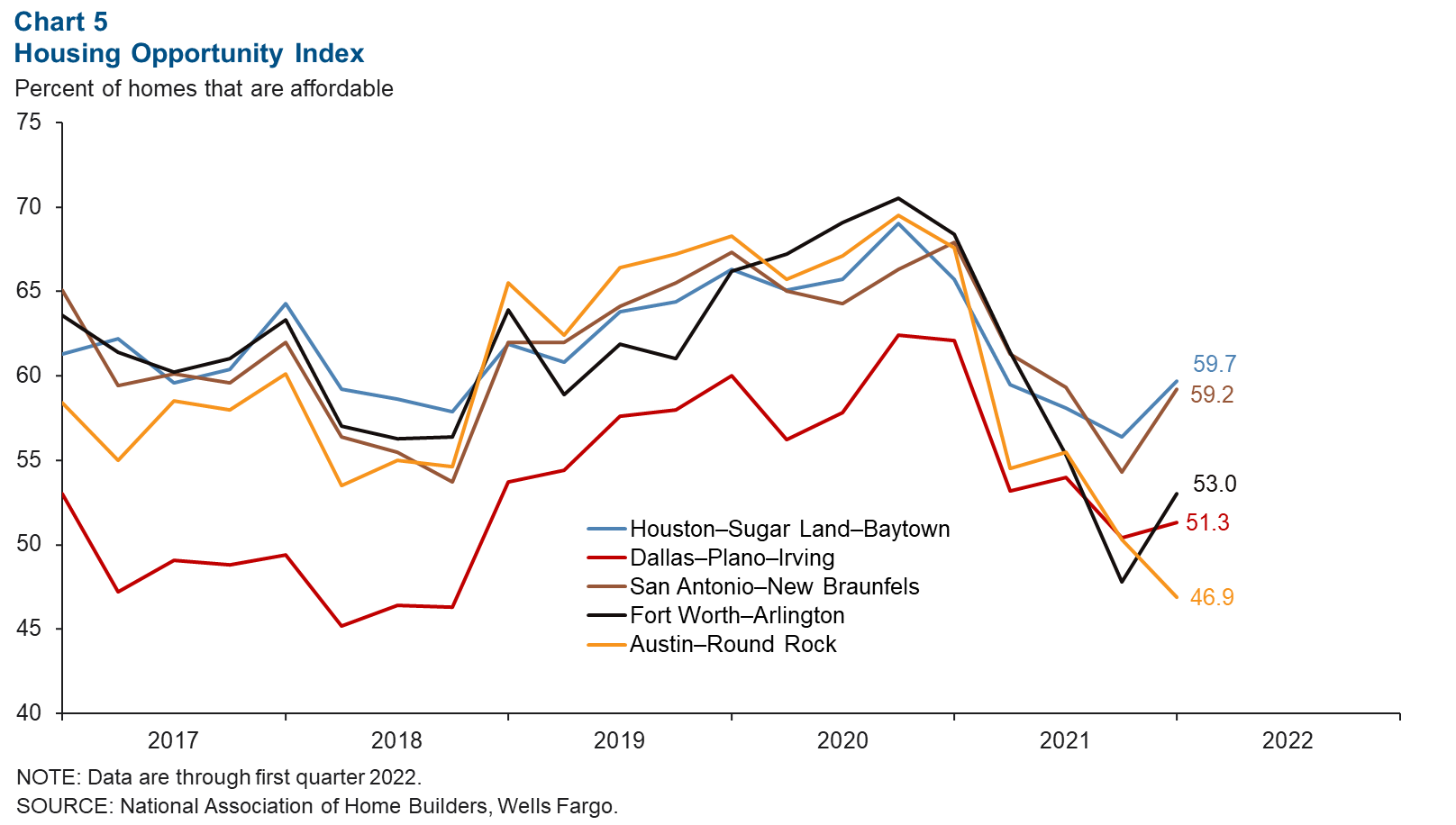 Population growth
The population in San Antonio expanded by 1.4 percent in 2021 after a sharp slowing in growth in 2020 due to the pandemic (Chart 6). This compares with a 1.1 percent increase in the Texas population, though it remains below the 20-year average of 2.0 percent growth for the metro.
NOTE: Data may not match previously published numbers due to revisions.
About San Antonio Economic Indicators
Questions can be addressed to Christopher Slijk at Christopher.Slijk@dal.frb.org. San Antonio Economic Indicators is published every month during the week after state and metro employment data are released.