Southern New Mexico Economic Indicators

First Quarter 2023
Las Cruces economy dashboard, March 2023
Job growth (annualized)
Dec. '22–March '23
Unemployment rate

Avg. hourly earnings

Avg. hourly earnings y/y

5.4%
4.0%
$26.99
6.1%
The Las Cruces economy grew in the first quarter. Employment rose, and unemployment and private sector earnings changed little. Trade through the Santa Teresa Port slowed. The rig count moderated, while crude oil production ramped up. Potash prices decreased, and copper prices stabilized.
Labor market
First-quarter payroll growth strong
Las Cruces employment grew 5.4 percent in the first quarter, or by 1,009 jobs (Chart 1). Growth was concentrated in leisure and hospitality (295 jobs), construction and mining (217), and education and health services (175). Only two sectors—information and trade, and transportation and utilities—lost jobs. Employment was flat in government.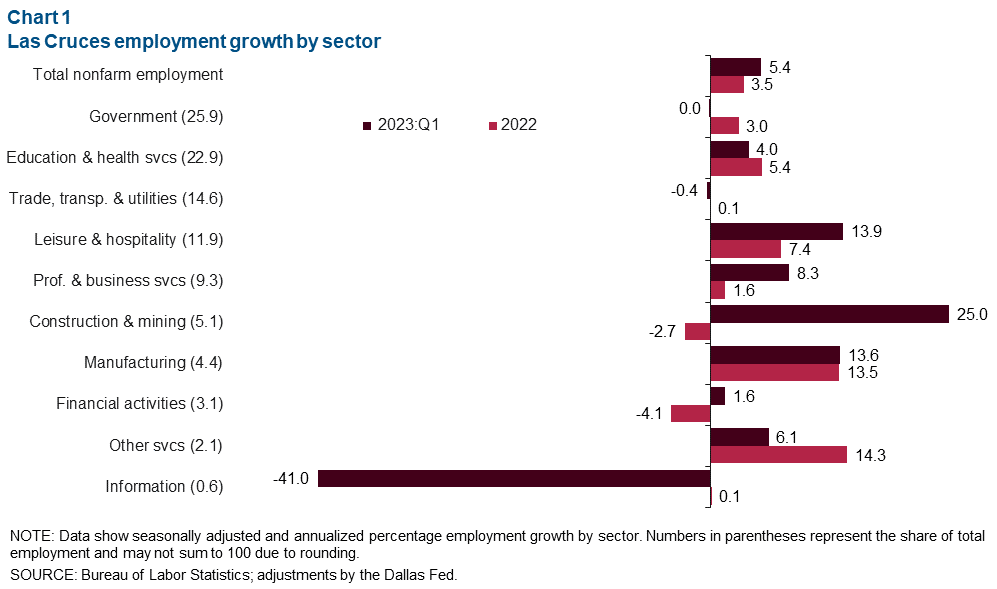 Las Cruces employment growth for 2022 was revised upward from 2.4 percent to 3.5 percent (2,605 jobs). Most sectors gained jobs last year, including education and health services (905), leisure and hospitality (618), and manufacturing (398); payrolls declined in construction and mining (104) and financial activities (101).
Unemployment stabilizes
Las Cruces unemployment edged up from 3.9 percent in December to 4.0 percent in March (Chart 2). Southern New Mexico's unemployment rate fell to 3.3 percent in March but was little changed from December's 3.4 percent. Statewide unemployment was mostly unchanged from December to March.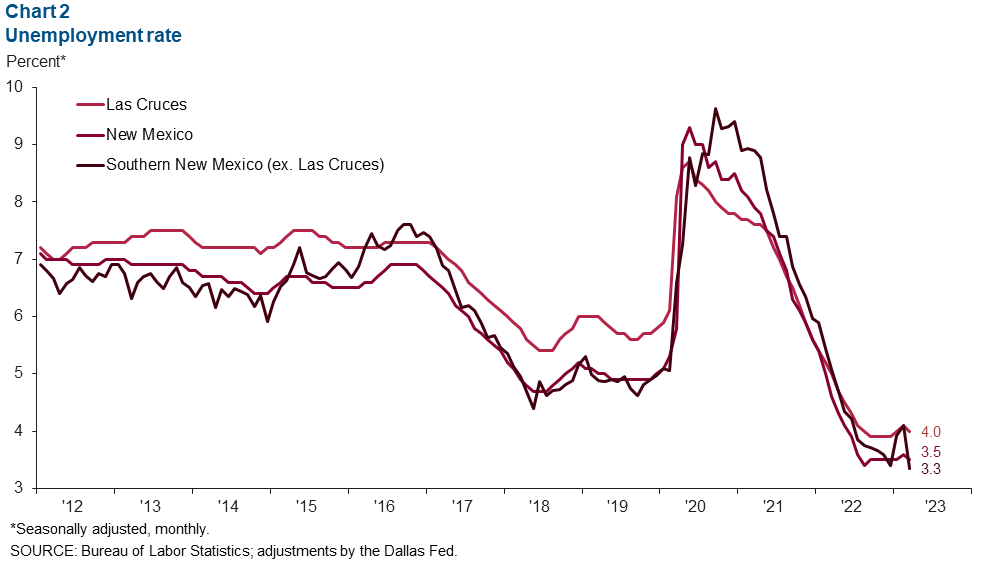 Earnings
Nominal average private hourly earnings in Las Cruces were almost $27 in March, up from $21 at the beginning of the pandemic in February 2020 (Chart 3). Average private hourly earnings for New Mexico were also $27 in March but they were higher nationally at $33.
Cross-border trade
In March, trade through the Santa Teresa Port totaled $2.0 billion, down from $2.5 billion in March last year (Chart 4). In the first quarter, imports fell 15.9 percent and exports decreased 13.7 percent compared with fourth quarter 2022.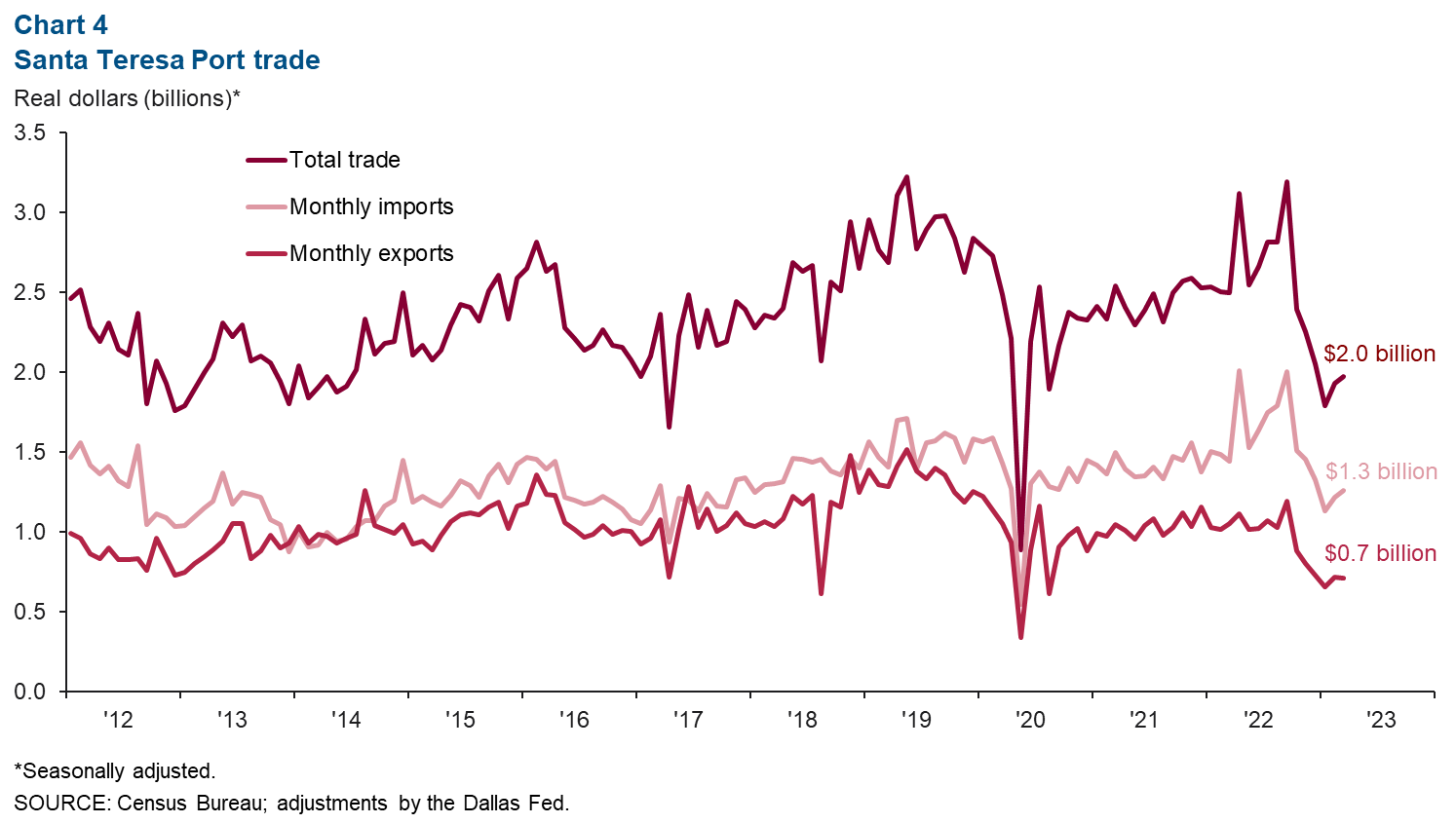 Commodity markets
Rig count moderates, but crude oil production continues to climb
The New Mexico rig count has changed little over the past few months, hovering around 102 since December (Chart 5). However, crude oil production continued to ramp up in February, rising 0.8 percent from January and up 29.3 percent from February 2022.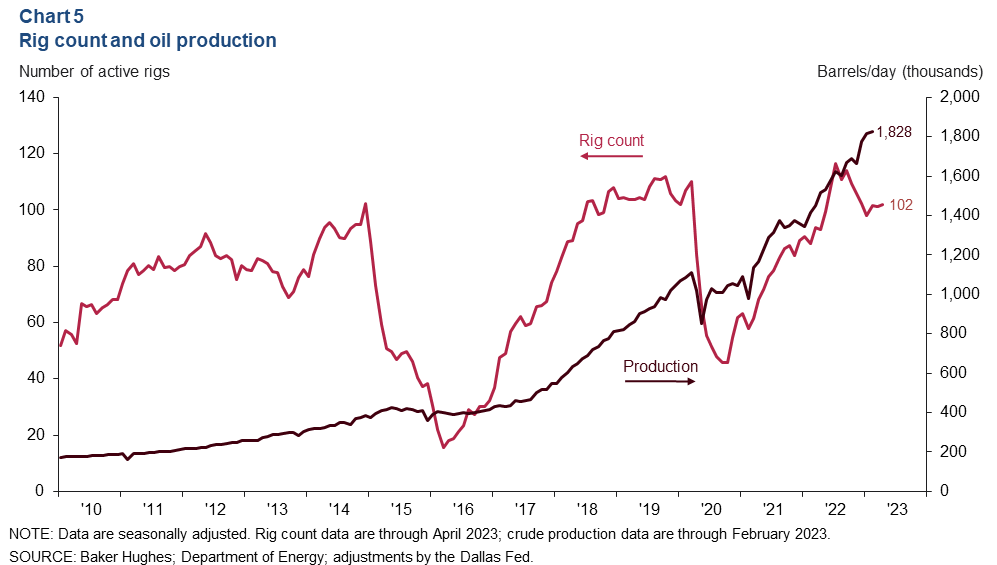 Potash prices decline as copper prices stabilize
In addition to oil and natural gas, southern New Mexico's economy is dependent on other commodities, such as potash, copper and silver. The price of potash, which is used in fertilizer, increased dramatically in spring 2022 after producer Russia invaded Ukraine and was hit with sanctions. However, potash prices have softened over the past few months; they fell 10.4 percent in April to $425 per metric ton after falling 12.6 percent in first quarter 2023 (Chart 6). Copper prices declined 1.2 percent in April after increasing 3.2 percent in the first quarter.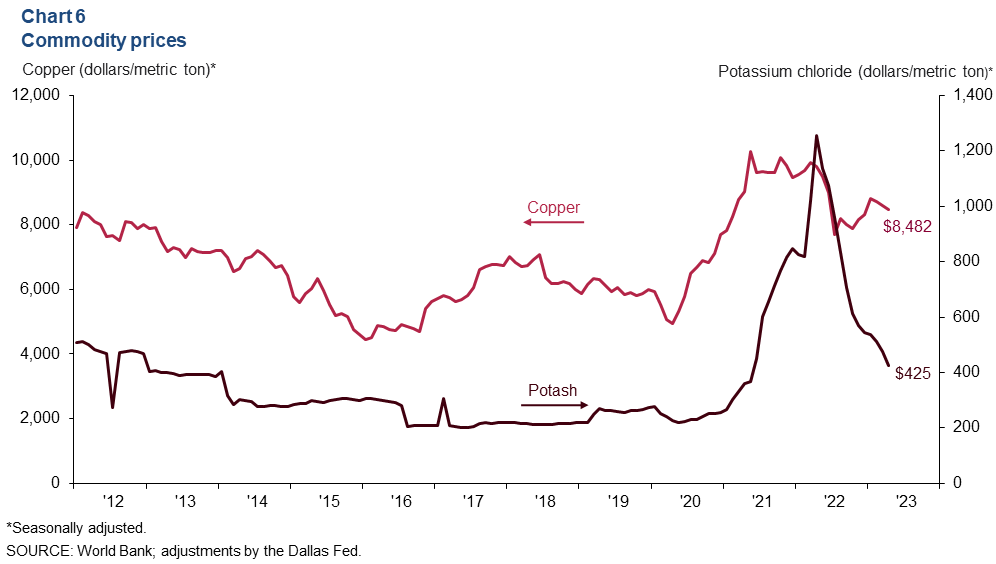 NOTES: Data may not match previously published numbers due to revisions. All New Mexico counties within the Federal Reserve's Eleventh District are counted as part of southern New Mexico. Las Cruces is excluded from southern New Mexico to better gauge unemployment levels outside the region's largest population center.
About Southern New Mexico Economic Indicators
Questions or suggestions can be addressed to Aparna Jayashankar at Aparna.Jayashankar@dal.frb.org. Southern New Mexico Economic Indicators is released quarterly.