Texas Economic Indicators

April 23, 2018
The Texas economy continued to grow at a healthy pace in March. The Texas Business-Cycle Index accelerated for the 24th month in a row, as employment expanded and the unemployment rate held steady at a low level. Activity in the energy sector improved. Home-price appreciation continued to trend upward statewide, with some exceptions across the major metros. The Texas Leading Index rose further, holding the state employment forecast for 2018 at 3.4 percent.
Labor Market
First-Quarter Employment Growth Solid
Texas employment expanded an annualized 2.3 percent in March, while February growth was revised up from 3.2 percent to 4.2 percent. This brought first-quarter employment to 3.5 percent, similar to fourth-quarter growth of 3.6 percent.
Employment in almost all sectors has expanded through the first quarter (Chart 1). Payrolls in the energy sector soared at an annualized 21.6 percent, nearly doubling their 12.7 percent pace for 2017 overall. Growth in professional and business services also picked up, with a particularly sharp acceleration in hiring at employment services agencies. Construction and trade, particularly wholesale trade and transportation services, also accelerated compared with 2017's pace.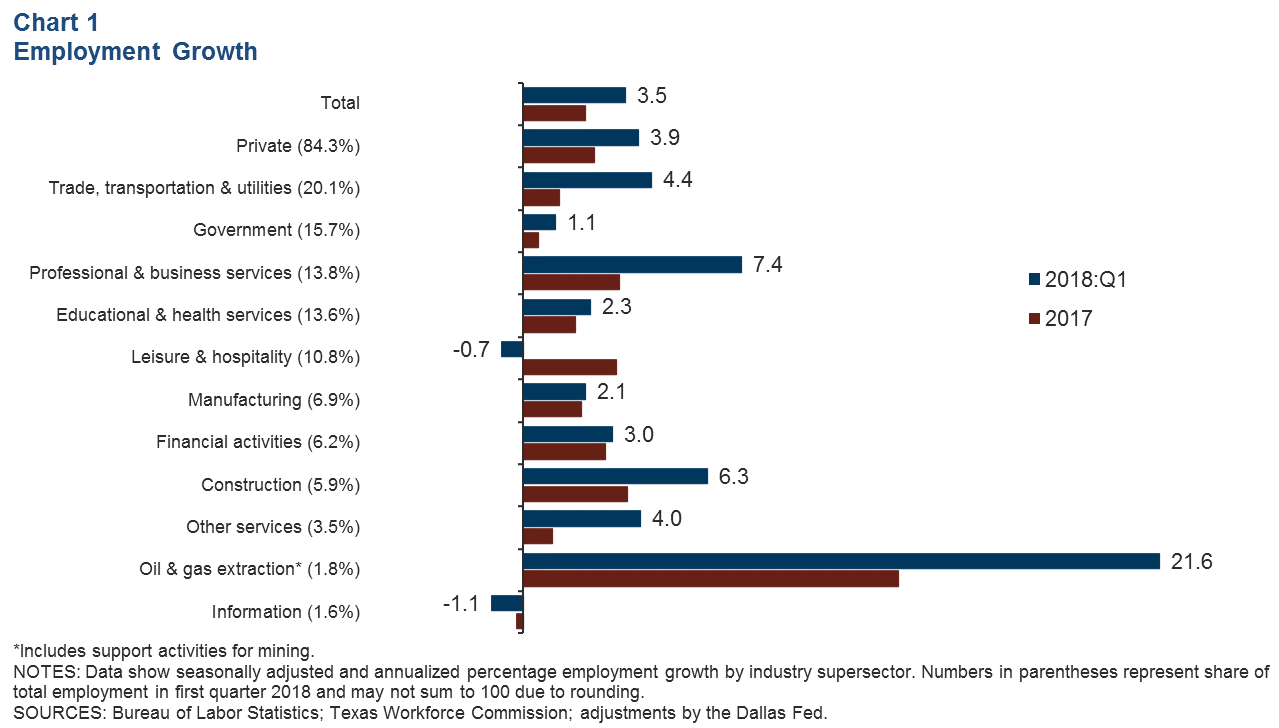 Unemployment Rate Remains Low
The Texas unemployment rate held steady at 4.0 percent for the fourth consecutive month in March, nearing a four-decade low (Chart 2). This mirrors the U.S. rate, which has held at a low 4.1 percent since October 2017. Across the state's major metros, the Austin and Fort Worth jobless rates held steady, while the Dallas, San Antonio and Houston rates increased by 0.1 percentage points.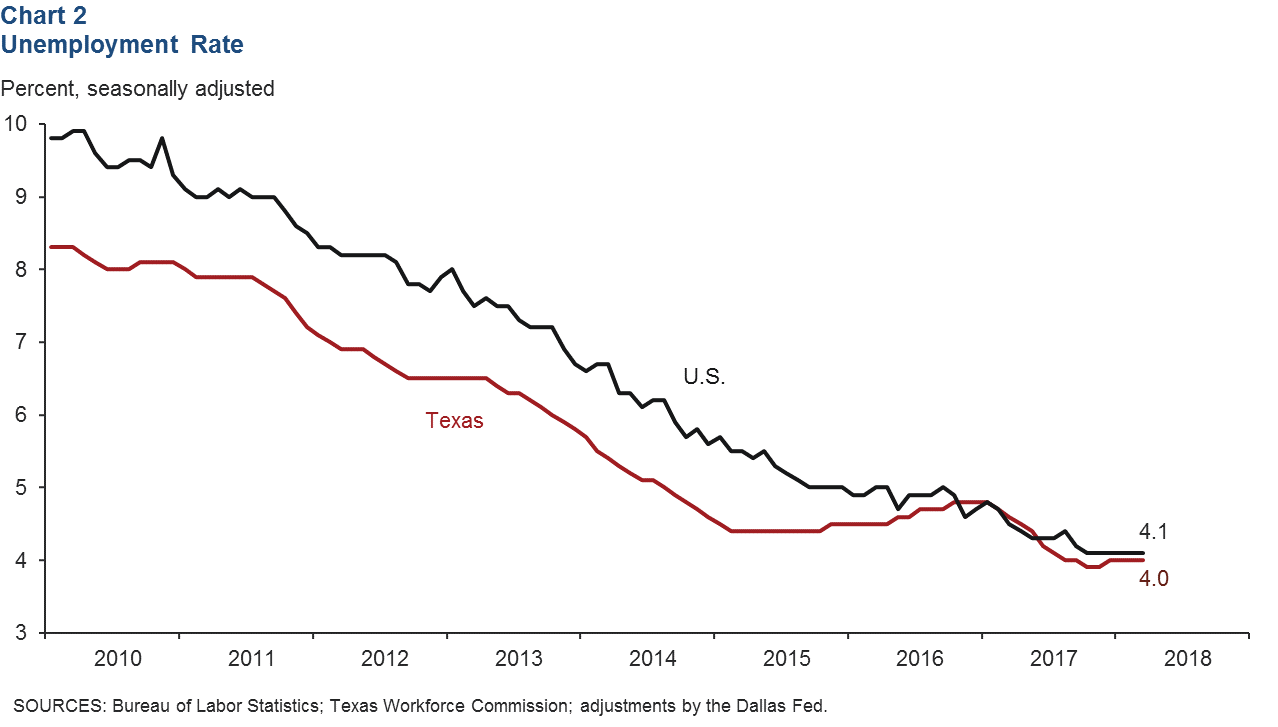 Texas Business-Cycle Index
The Texas Business-Cycle Index, a composite of state payroll employment, the unemployment rate and gross state product, is an aggregate measure of underlying economic activity in the state. The index increased at an annualized 5.4 percent in March, its fastest rate since November 2014 and well above last year's pace of 4.4 percent (Chart 3). Over the last two decades, the index has averaged 3.9 percent growth.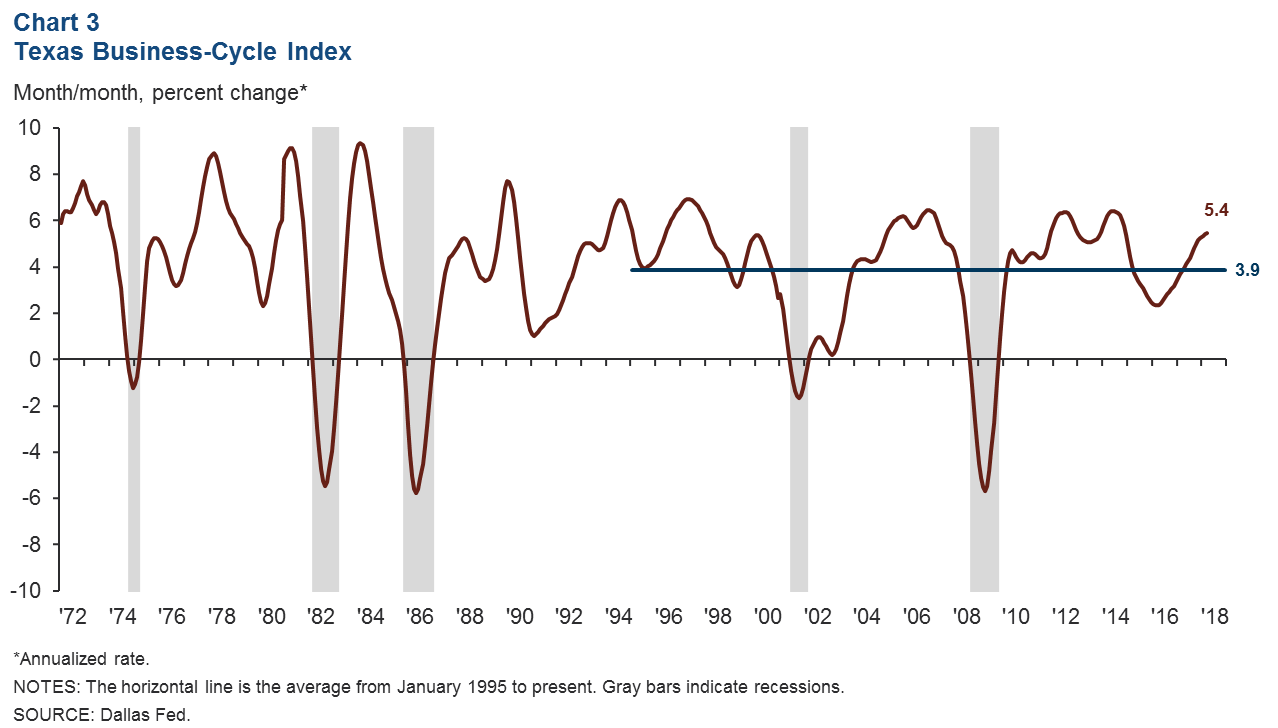 Energy Markets
Energy indicators improved in the first half of April, with oil prices rising the week of April 20 to highs last seen in 2014 (Chart 4). The drilling rig count also continued to pick up, reaching a three-year high of 509. Natural gas prices inched up slightly to $2.80 per million British thermal units, similar to prices throughout most of 2017.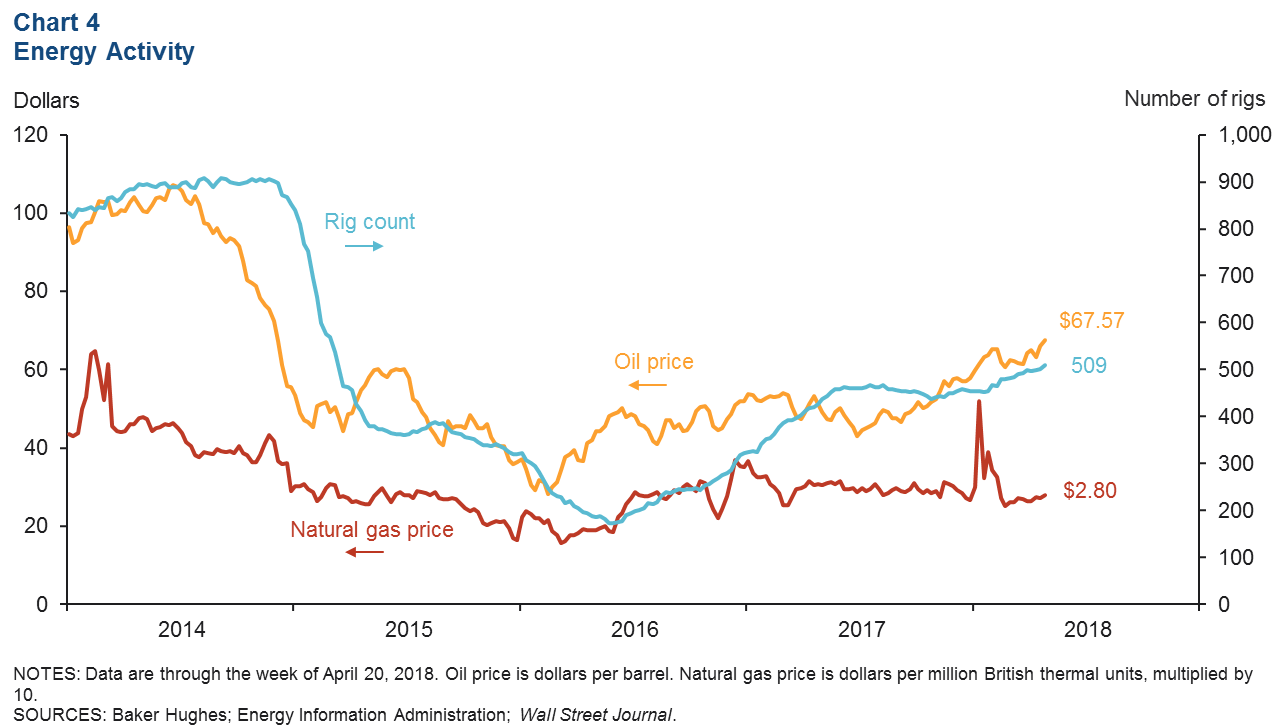 Housing Market
The median price for Texas homes inched up slightly to a new high of $231,972 in February (Chart 5). Growth across the state's major metros was mixed, with Austin, Houston and San Antonio seeing modest declines from recent highs, while Dallas and Fort Worth saw continued price increases. Home inventories across the state remain below the six months considered to be a balanced market. Existing-home sales increased slightly in February and remain near the all-time high set at the end of 2017.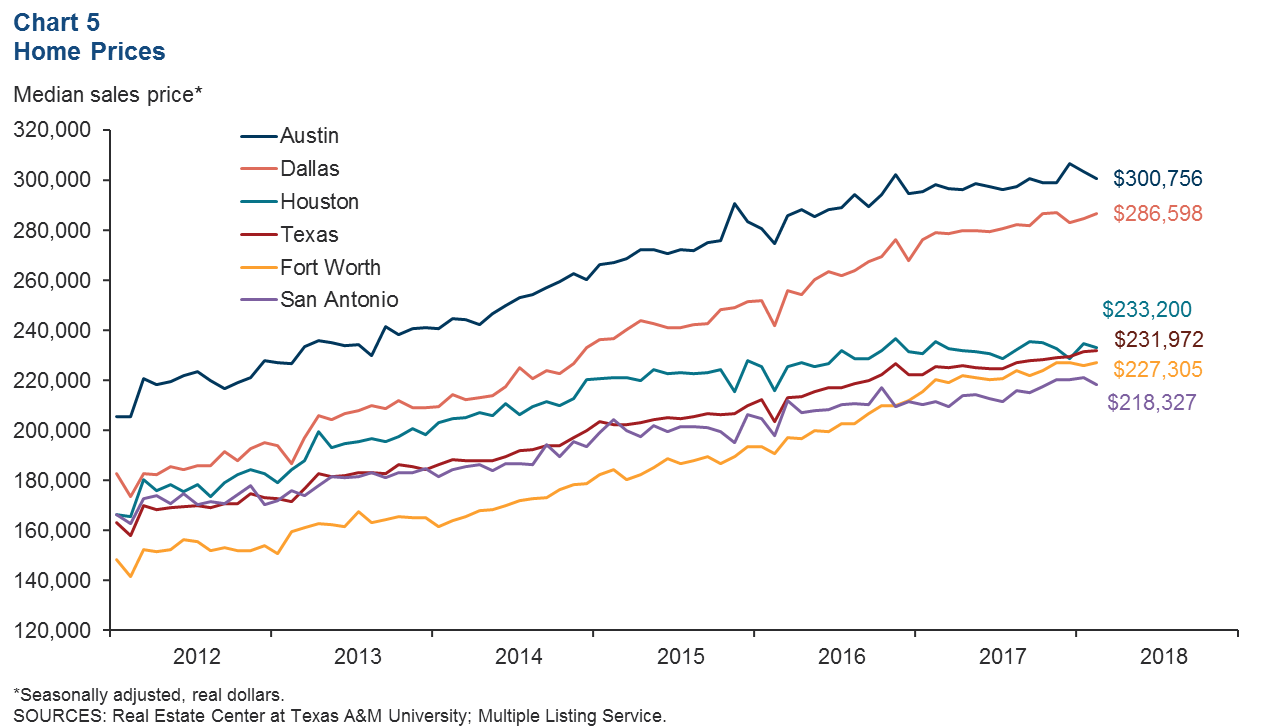 Texas Leading Index
The Texas Leading Index, which is used to estimate the Dallas Fed's Texas Employment Forecast, continued to increase in the first quarter (Chart 6).  Most of the components were positive; increases in the U.S. leading index, permits for new oil and gas wells, and the price of oil, along with decreases in new claims for unemployment insurance and the state value of the dollar (which boosts manufacturing exports), all contributed positively to the index. The minor drags on the index were the declines in help-wanted advertising, stock prices of Texas companies and average hours worked in manufacturing.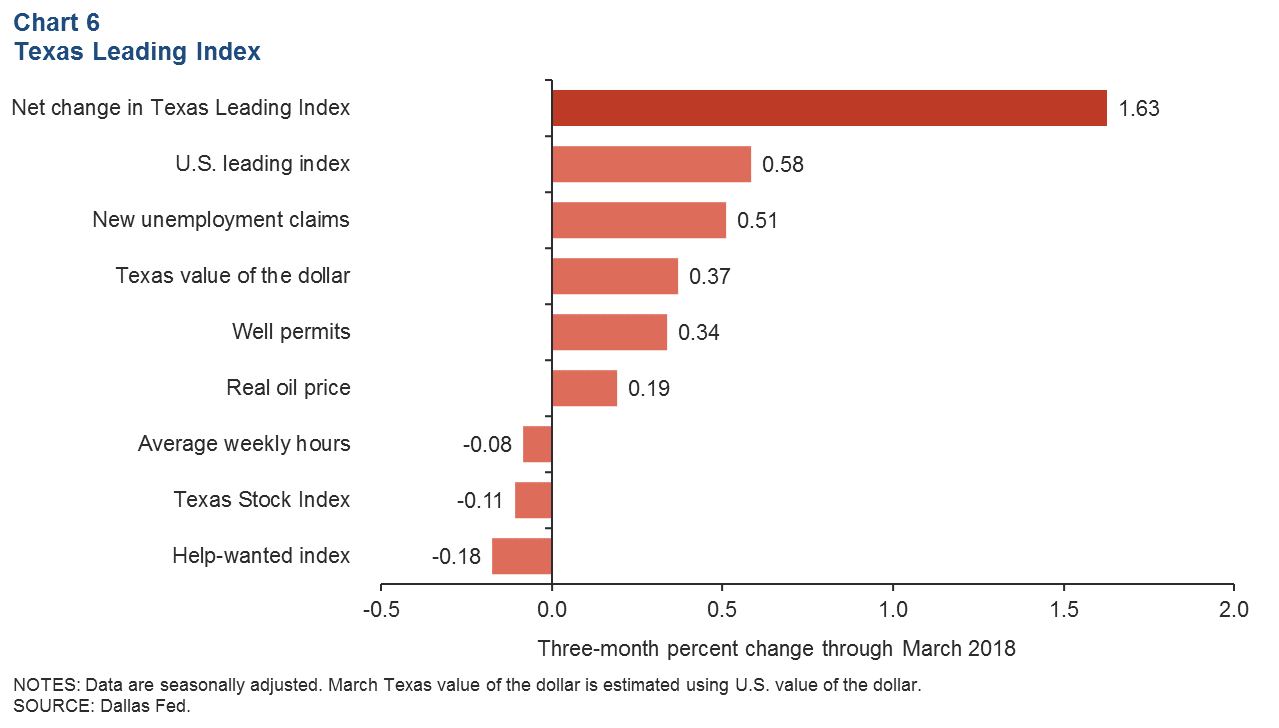 NOTE: Data may not match previously published numbers due to revisions.
About Texas Economic Indicators
Questions can be addressed to Christopher Slijk at christopher.slijk@dal.frb.org. Texas Economic Indicators is published every month on the Monday after Texas employment data are released.