Texas Economic Indicators

July 24, 2018
The Texas economy continued to expand at a solid pace in June. There were strong job gains, and unemployment remained low. The Dallas Fed's Texas Business Outlook Surveys indicated continued growth in the state's manufacturing and service-providing sectors.
Labor Market
Employment Growth Solid
Texas employment grew at a brisk 2.8 percent annualized rate in June (Chart 1). Year to date, Texas jobs have expanded 3.6 percent. The Dallas Fed's Texas Employment Forecast suggests 3.0 percent job growth in 2018 (December/December). Goods-producing sectors boosted employment 7.2 percent in June, while service-providing sectors' employment picked up 2.0 percent.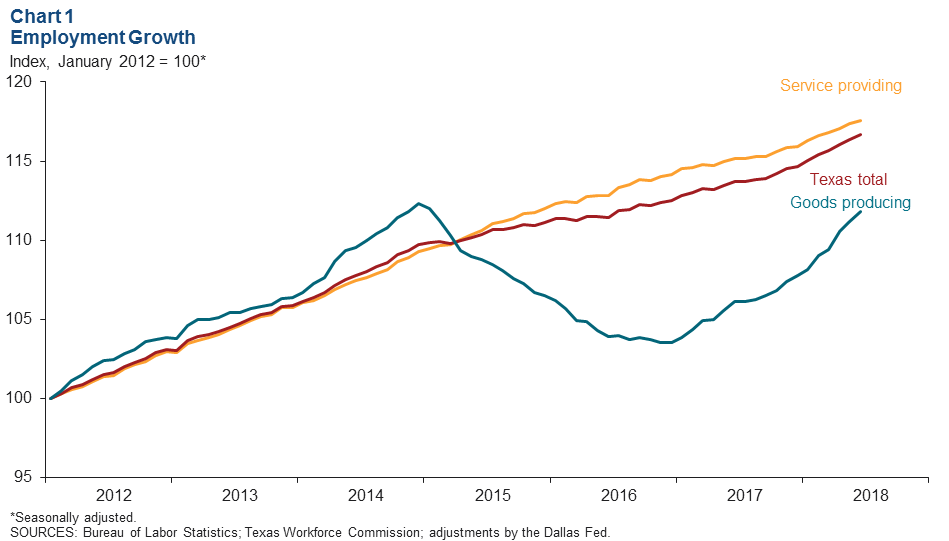 All large sectors except "other services" (which includes repair and maintenance, and religious, civic and professional organizations) added jobs in June. Energy sector payrolls soared 21.5 percent in the month. Year to date, the energy sector is the fastest growing at 22.0 percent, followed by construction at 7.1 percent. The information sector shed 0.3 percent of its jobs this year through June, while employment expanded in all other sectors year to date.
Houston payrolls expanded 6.1 percent in June, the highest growth among the major metros. Austin, El Paso, Dallas and McAllen also added jobs in the month, while employment edged down in Fort Worth and San Antonio. Employment in all major metros has expanded this year through June, led by Houston's 4.8 percent growth.
Unemployment Remains Near Historic Low
The Texas unemployment rate ticked down to 4.0 percent in June from 4.1 percent in May, near the four-decade low of 3.9 percent reached in late 2017 (Chart 2). The U.S. rate edged up to 4.0 percent in June after falling to 3.8 percent in May, the lowest figure since 2000. Unemployment remains well below its postrecession average in all major metros.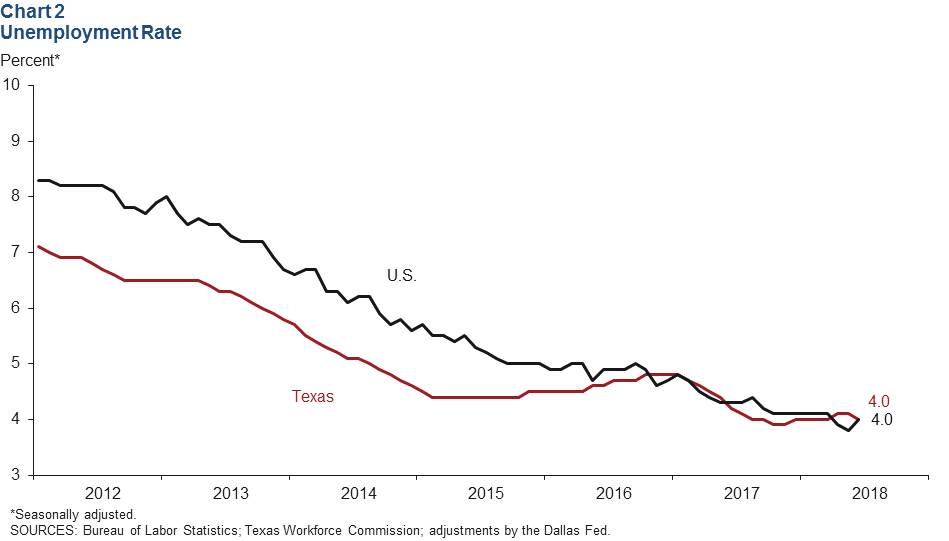 Texas Business Outlook Surveys
Manufacturing Sector Executives Report Robust Expansion
The three-month moving averages of key indexes in the Dallas Fed's Texas Manufacturing Outlook Survey indicated accelerating expansion in the manufacturing sector in June (Chart 3). The three-month moving average of the production index and the growth rate of orders index each rose to its highest point since 2006. The three-month moving average of the general business activity index increased as well and remained above its postrecession average (January 2010–December 2017).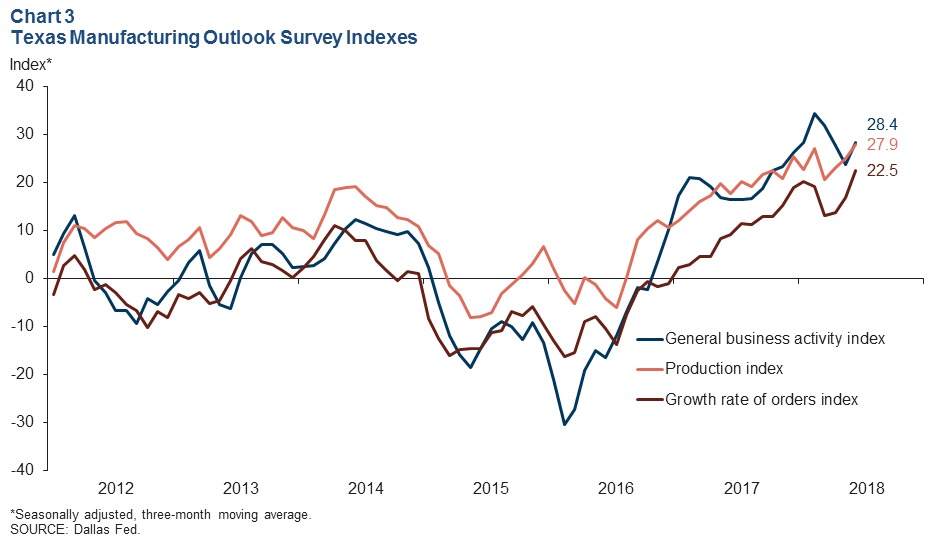 Service Sector Indexes Post Solid Growth
The three-month moving averages of key Texas Service Sector Outlook Survey indexes indicated continued expansion of service sector activity in June (Chart 4). The three-month moving average of the revenue index and the company outlook index each dipped in the month, suggesting slower growth, while the general business activity index moving average ticked up, signaling improved perceptions of broader business conditions. The three-month moving averages of all three indexes remained well above postrecession averages.
Energy Sector Activity
Oil prices have inched down for three weeks after rallying in late June (Chart 5). Oil prices are 48.6 percent above year-ago levels, and at $68.95 per barrel, they are significantly above the average of $50.83 in 2017.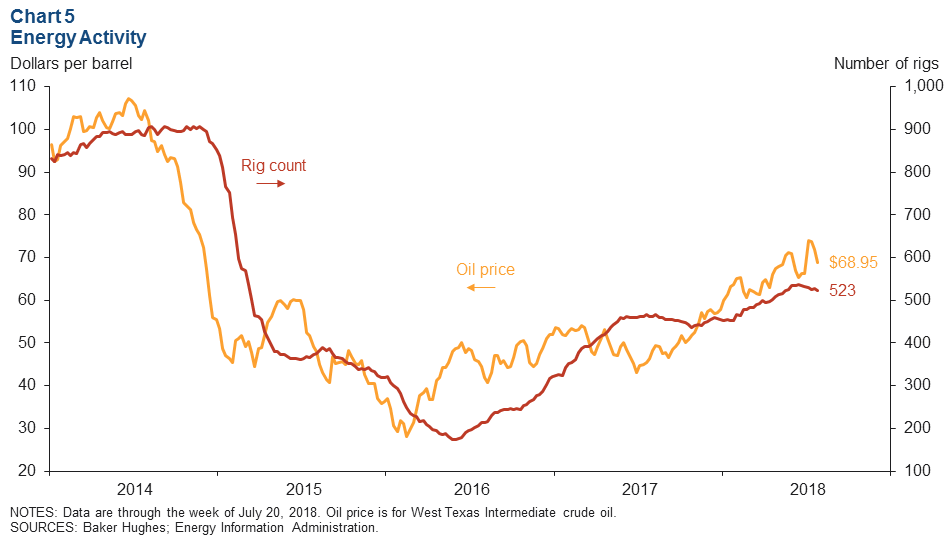 The Texas rig count decreased by 15 rigs over the past six weeks after reaching 538 rigs—a post-oil-bust high. The rig count is up 13.0 percent year over year with 60 more active rigs than a year ago.
Housing Market
The five-month moving average of Texas building permits for single-family housing rose 1.0 percent in May, boosted by growth in Austin, Dallas–Fort Worth, Houston and San Antonio permits, while El Paso permits declined 8.7 percent (Chart 6). This year through May, Texas building permits rose 3.3 percent compared with the same period in 2017; among the major metros, only El Paso permits declined over the period, falling 18.9 percent.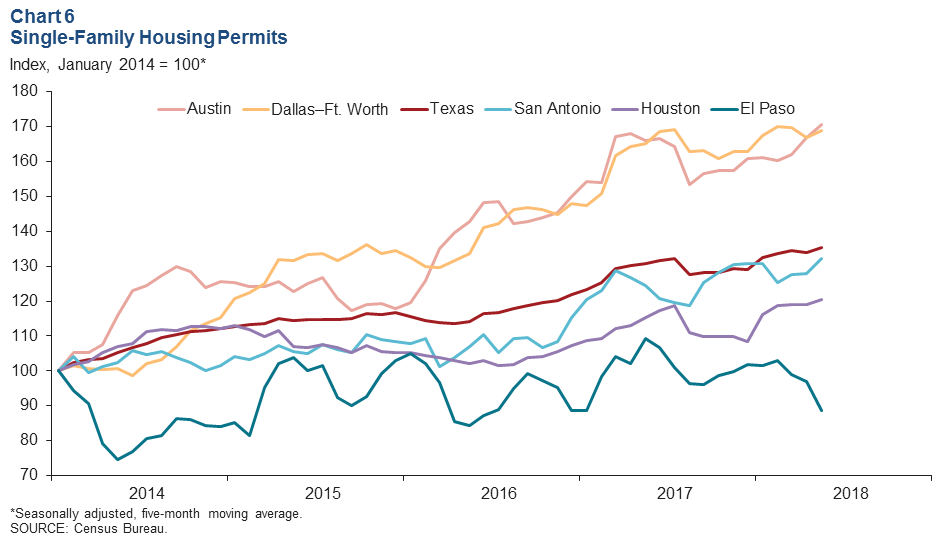 NOTE: Data may not match previously published numbers due to revisions.
About Texas Economic Indicators
Questions can be addressed to Stephanie Gullo at stephanie.gullo@dal.frb.org. Texas Economic Indicators is published every month on the Monday after Texas employment data are released.