Texas Economic Indicators

September 22, 2020
The Texas economy showed continued signs of expansion in August as payrolls increased and the unemployment rate fell. Loans given to businesses through the Paycheck Protection Program (PPP) were broad based across industries, though not equally. Results from the August Texas Business Outlook Survey suggest that input prices are rising while selling prices remain weak. Oil prices rose and the rig count climbed in the week ending Sept. 18. Among businesses responding to the Census Bureau's Small Business Pulse Survey, the share reporting less than a month of cash on hand improved in September compared with mid-spring.
Labor Market
Employment Growth Continues
Texas employment rose a nonannualized 0.6 percent in August after posting 0.2 percent growth in July (Chart 1). Employment in most industries saw growth in August, most notably in "other services" and professional and business services, which expanded 1.9 percent and 1.4 percent, respectively. Employment was flat in manufacturing but contracted in leisure and hospitality, education and health services, and oil and gas.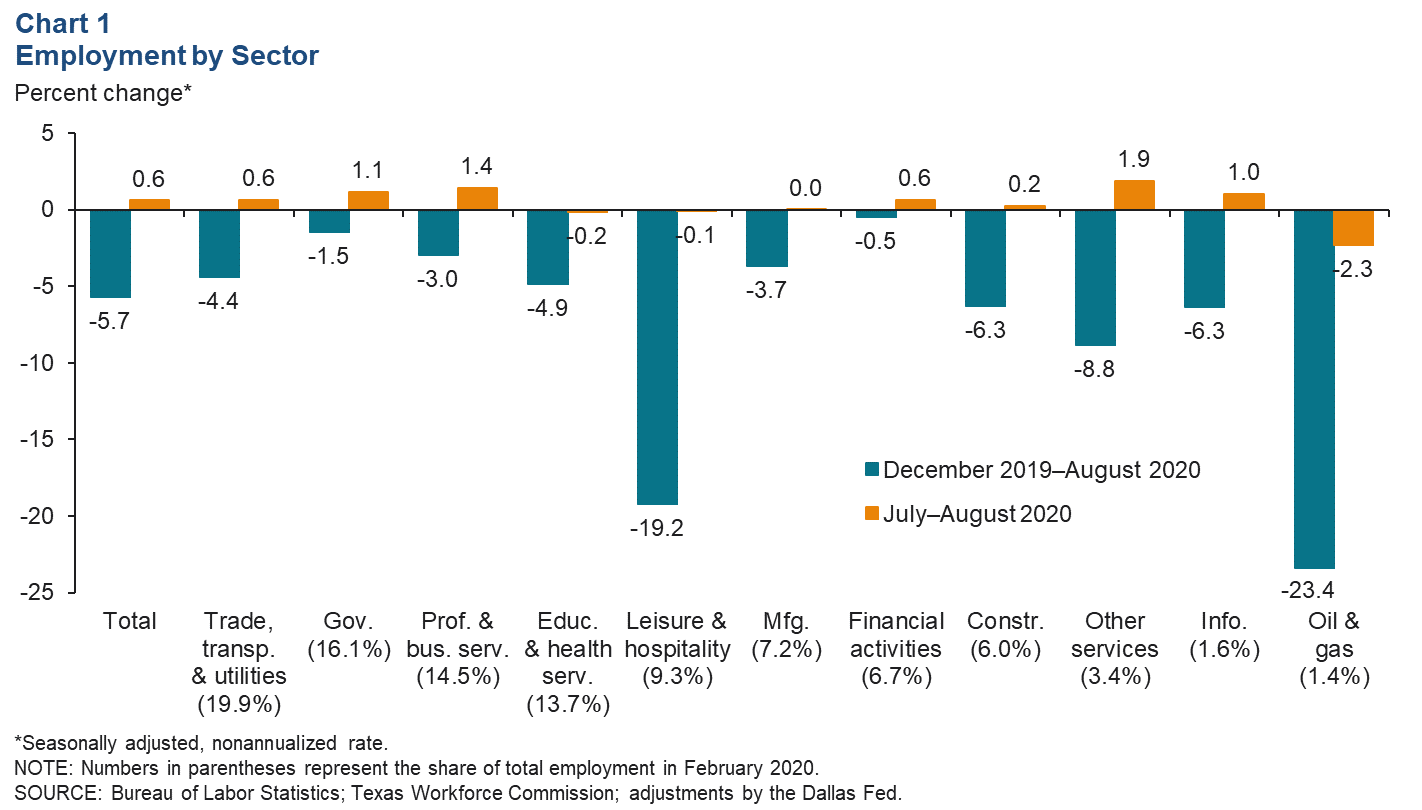 Employment expanded in all major Texas metros except McAllen, which slipped 0.2 percent, nonannualized. U.S. employment grew a nonannualized 1.0 percent, outpacing Texas employment growth for the third month in a row.
Unemployment Continues to Fall
The Texas unemployment rate declined in August to 6.8 percent (Chart 2). U.S. unemployment also continued its downward trend in August and remained above the Texas rate at 8.4 percent. Both the Texas and U.S. rates peaked at unprecedented levels in April and have since come down to levels more similar to previous recessions. A decrease in Texas initial unemployment claims in the week ending Sept. 12 suggests that the unemployment rate will continue to decline.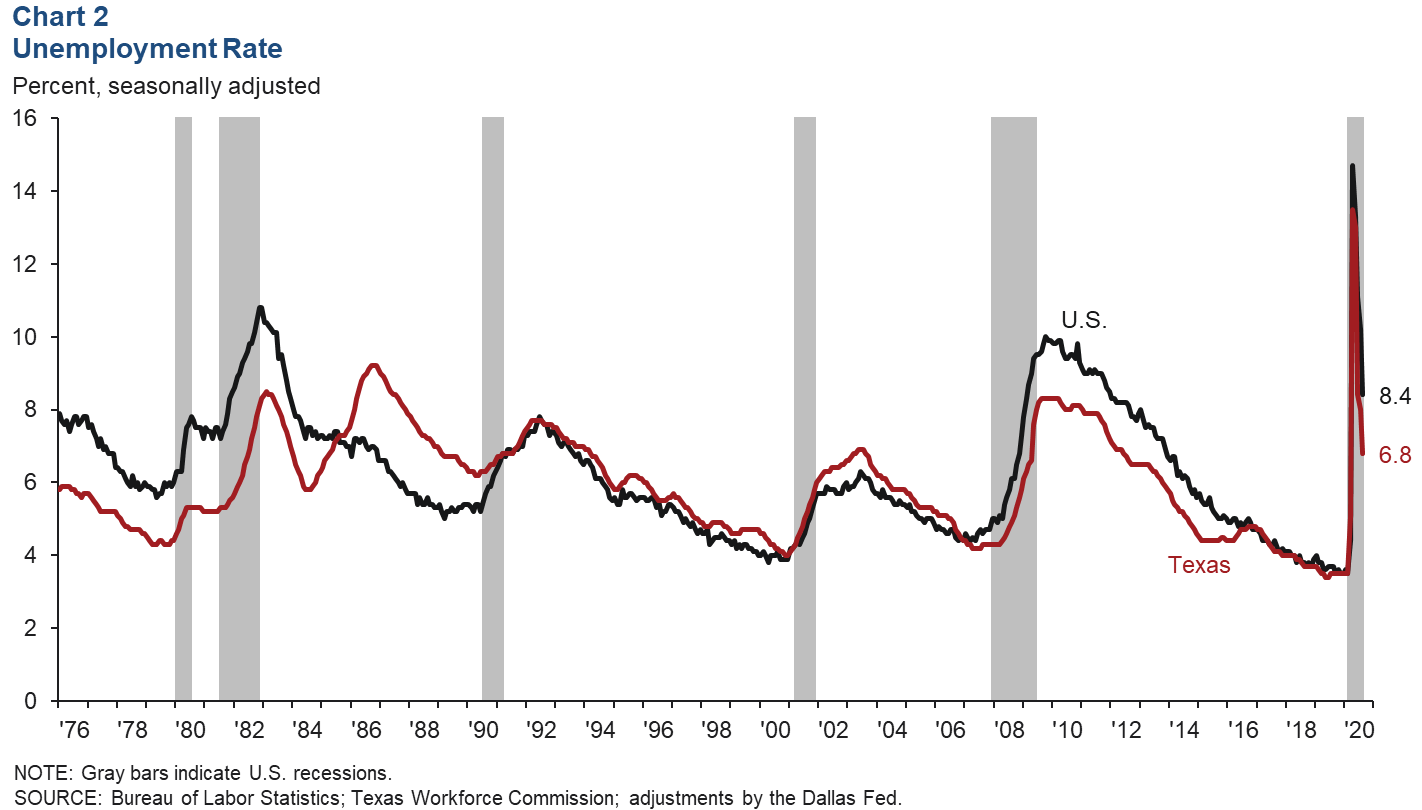 Paycheck Protection Program Loans
The Paycheck Protection Program provided loans to small businesses across the nation with the goal of keeping workers employed, as many businesses were forced to reduce or suspend operations. Texas businesses that received these loans were widespread across industries (Chart 3). Most heavily supported by PPP loans were workers in other services (hair salons, dry cleaners and auto repair shops), accounting for the largest share of jobs retained among the major sectors as of Aug. 8. The sector was one of the most severely impacted by the pandemic, and many of these firms relied on PPP funds to stay open. Public administration had the smallest share of jobs retained from PPP loans.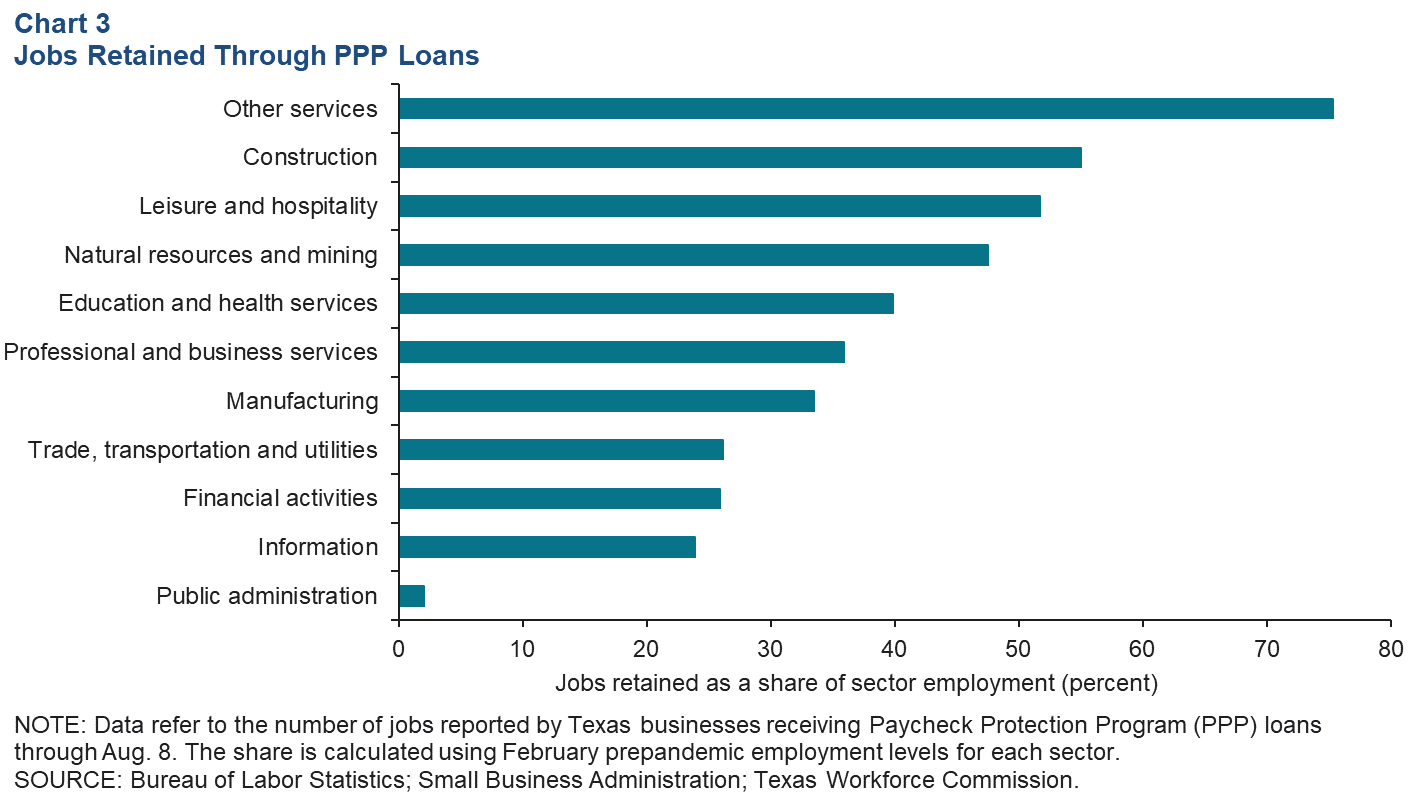 Texas Business Outlook Surveys
The Texas Business Outlook Surveys' input and selling prices indexes rose in August; however, the three-month moving averages for selling prices in both the service and manufacturing sectors remained in negative territory (Chart 4). Input prices continued to grow on the moving-average basis, bolstered by the positive August readings. A positive reading means more respondents indicated an increase than a decrease, suggesting net growth in prices across industries. In April of this year, when many businesses were closed due to shelter-in-place orders, the service sector selling prices index dropped to levels comparable to those during the Great Recession in 2008. While the manufacturing prices indexes dipped into negative territory in early 2020, their contraction was much less severe than it was during the previous national recession and more closely mirrored that seen during the 2015–16 oil bust.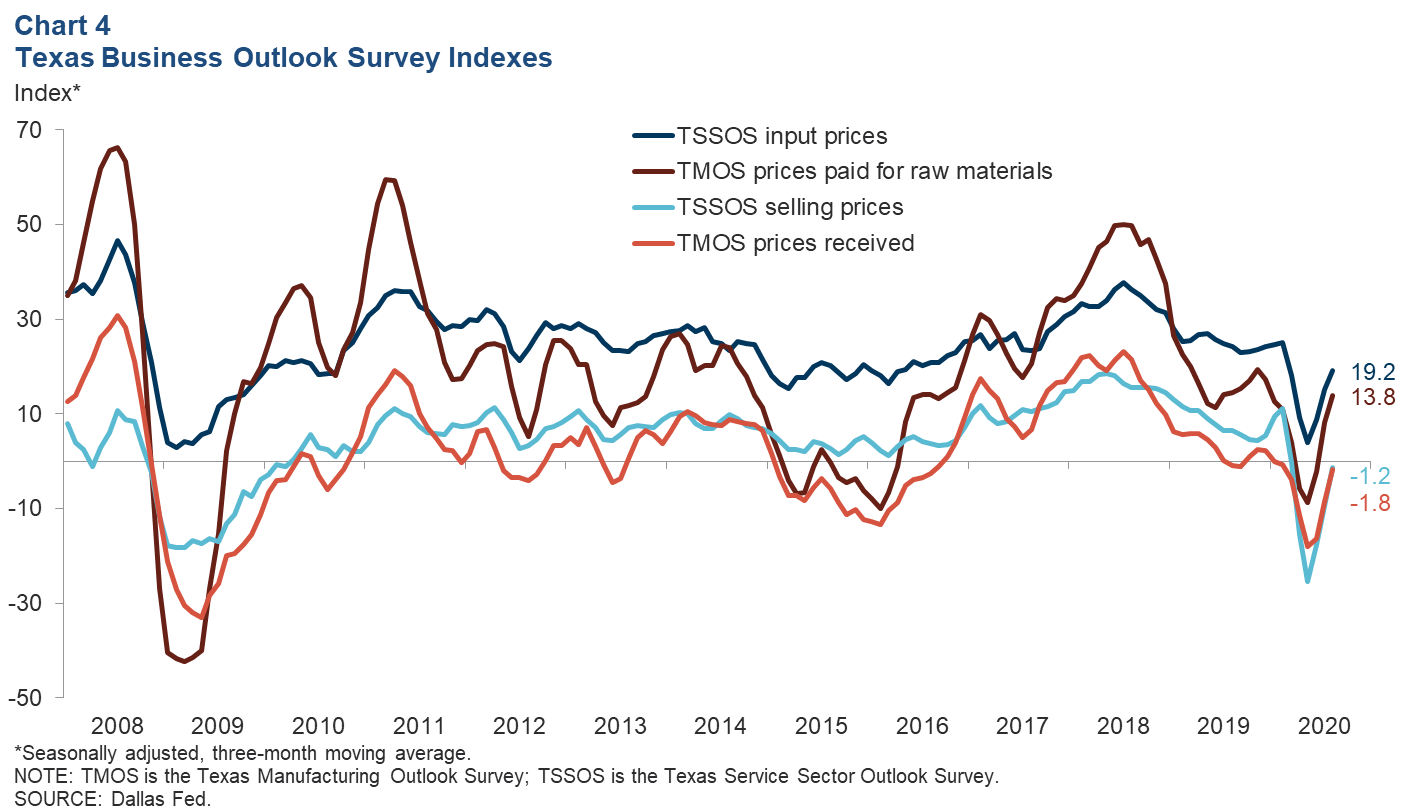 Energy
In the week ending Sept. 18, oil prices rose and the Texas rig count inched up (Chart 5). Since collapsing in March and April, oil prices have steadily recovered. The week ending Sept. 11 marked the first significant drop since that collapse, with prices falling 10.7 percent to a level not seen since early June. The persistently sluggish demand this summer, a result of policies in response to the pandemic causing many to cease their daily commutes and travel, has contributed to lower expectations for demand going forward. This, combined with a resurgence of coronavirus cases in Europe, caused prices to drop. While prices climbed again in the week ending Sept. 18, they will continue to be weighed down by surpluses and uncertainty.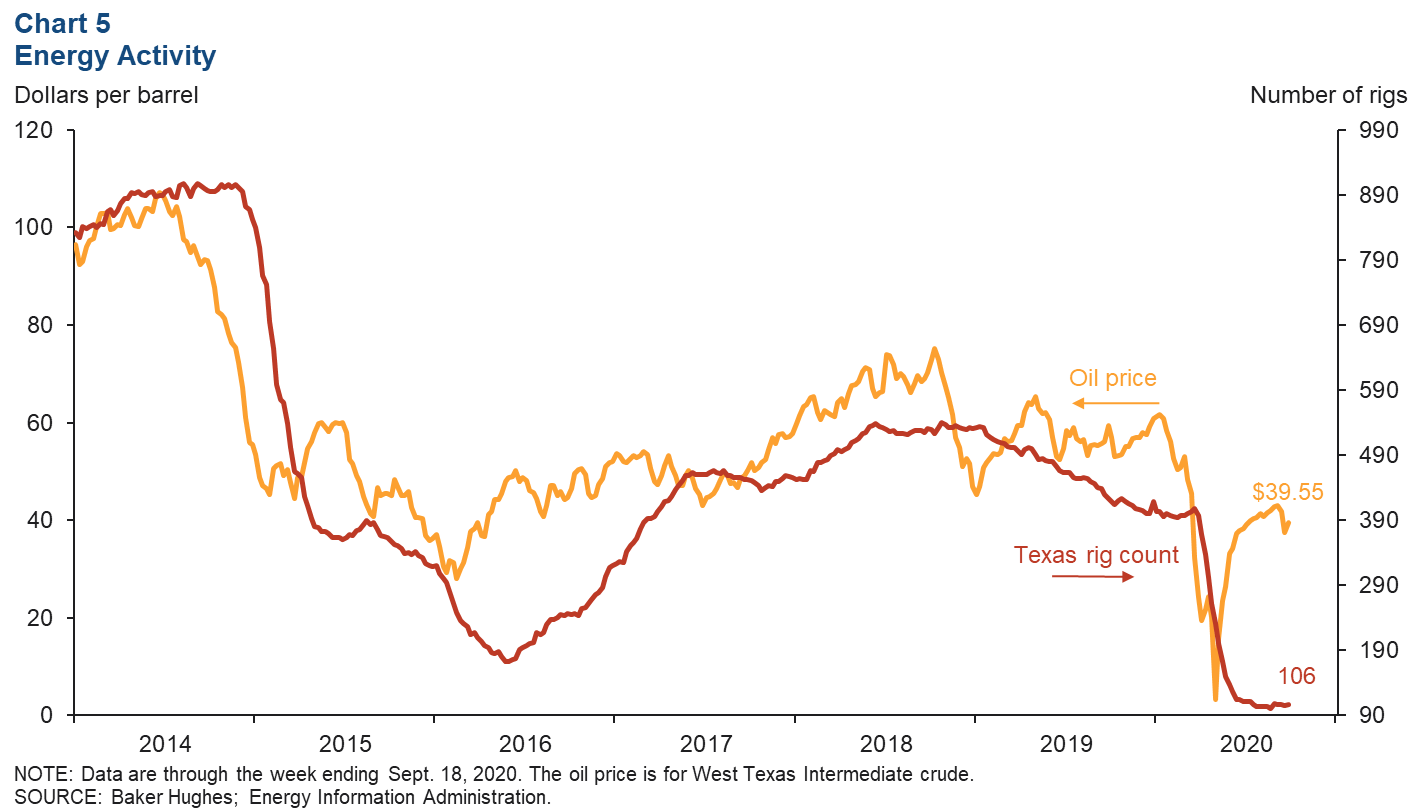 Business Liquidity
The share of Texas businesses reporting a severe lack of liquidity has significantly fallen compared with spring 2020, according to the Small Business Pulse Survey (Chart 6). Responses regarding the amount of cash on hand among participating small businesses ranged from no cash to enough for three or more months of operations. Texas businesses reporting enough cash on hand for three or more months has climbed by over 10 percentage points. At the same time, the share of those reporting that they aren't sure how long their available cash will last has increased, almost doubling for small businesses in Texas. This indicates that the prolonged impact of the pandemic on small businesses has led to increased uncertainty regarding future business operations.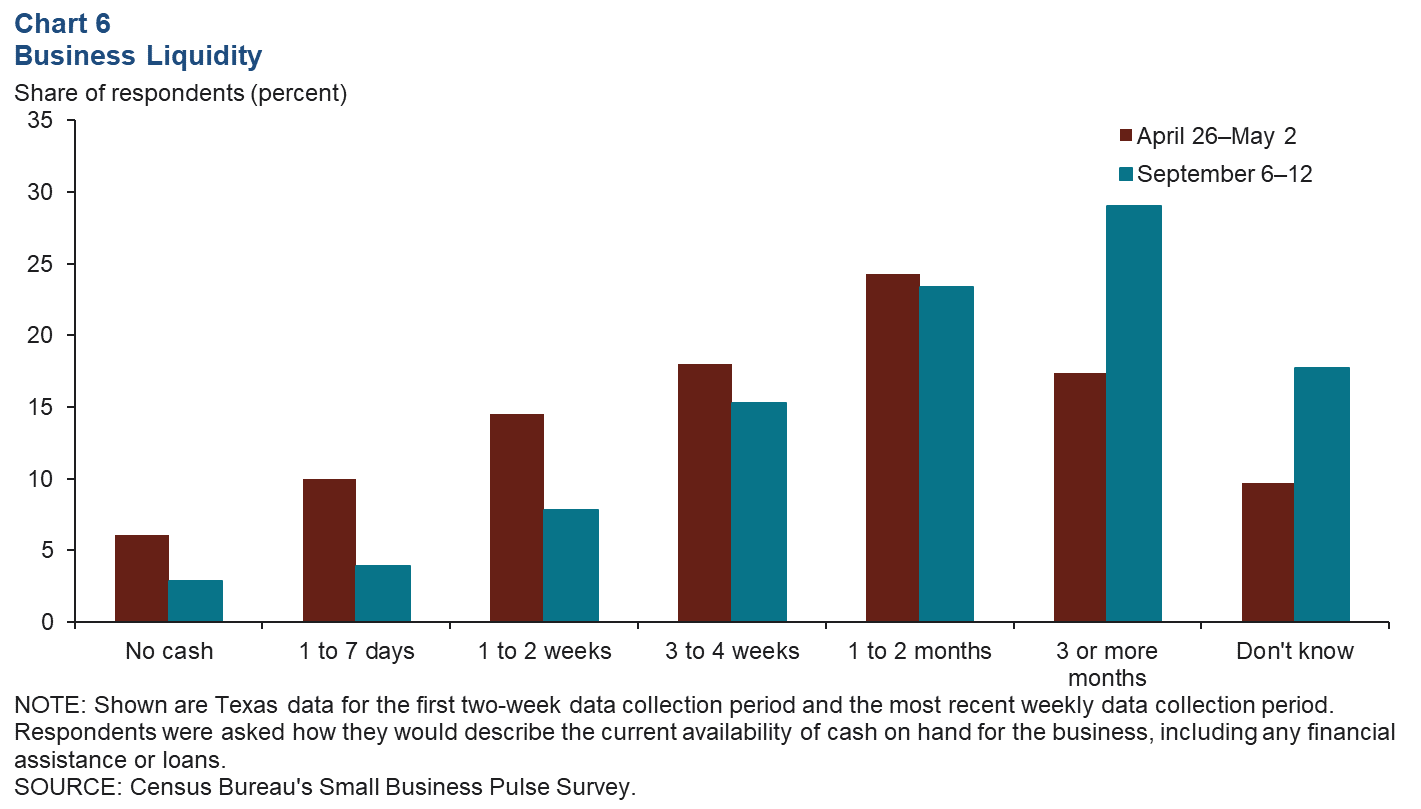 NOTE: Data may not match previously published numbers due to revisions.
About Texas Economic Indicators
Questions can be addressed to Carlee Crocker at carlee.crocker@dal.frb.org. Texas Economic Indicators is published every month on the Monday after Texas employment data are released.