Texas Economic Indicators

December 21, 2020
The Texas economy showed signs of waning growth in November as payroll employment increases slowed and unemployment claims remained elevated. The Texas Business-Cycle Index grew for the sixth month in a row, and statewide exports inched up. As a sign of continued strength in the housing market, home prices are at record highs. As mobility and engagement have climbed, daily new COVID-19 cases and deaths have also risen.
Labor Market
Employment Slows
Texas employment grew a nonannualized 0.3 percent in November after rising an upwardly revised 0.9 percent in October (Chart 1). November marks the seventh month in a row for payroll expansion in the state since jobs slumped in March and April. U.S. employment also grew in November, though more slowly relative to Texas and the prior month.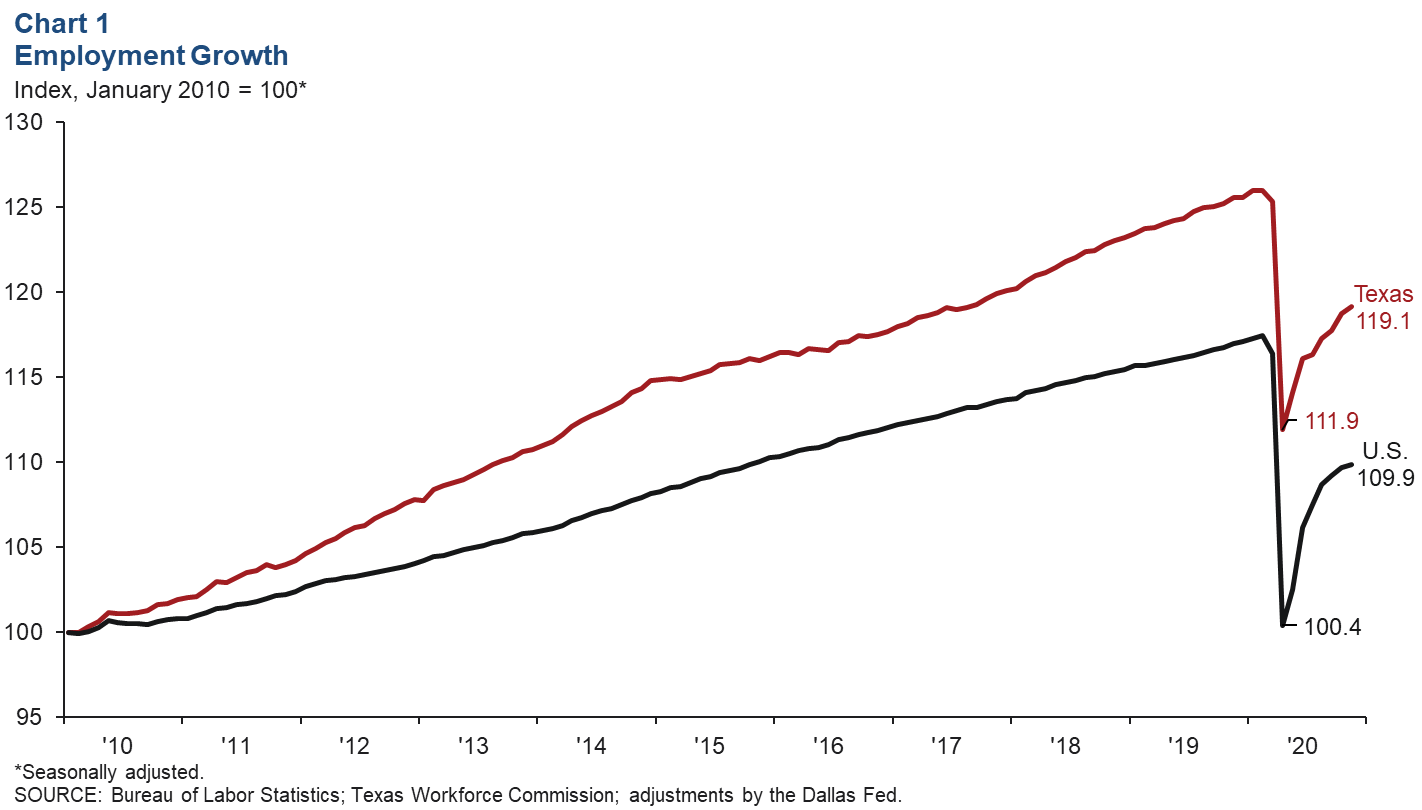 Since the end of the Great Recession, both the state and nation have realized substantial job growth. When the pandemic hit, and many businesses had to close their doors, the nation gave back virtually all its job gains as payrolls in April dropped almost to January 2010 levels. Because Texas had experienced a higher postrecession average growth rate and a less-dramatic decline at the onset of the pandemic, state employment remained well above its January 2010 level in the April collapse. Since April, Texas and U.S. employment have both expanded, though they remain 5.5 and 6.5 percent below prepandemic February levels, respectively.
Unemployment Claims Remain Elevated
Though unemployment claims in Texas have come down since their peak in May, they remain more than seven times their prepandemic level (Chart 2). State unemployment insurance programs across the nation were augmented with federal pandemic unemployment assistance and pandemic emergency unemployment compensation beginning in late March. These emergency programs allowed part-time workers and those who are self-employed to file for unemployment insurance and extended benefits by 13 weeks for recipients who had exhausted their state programs. Extended benefits run through the Texas Workforce Commission were added in early June. These measures were scheduled to expire at the end of December, but Congress went to work to negotiate an extension.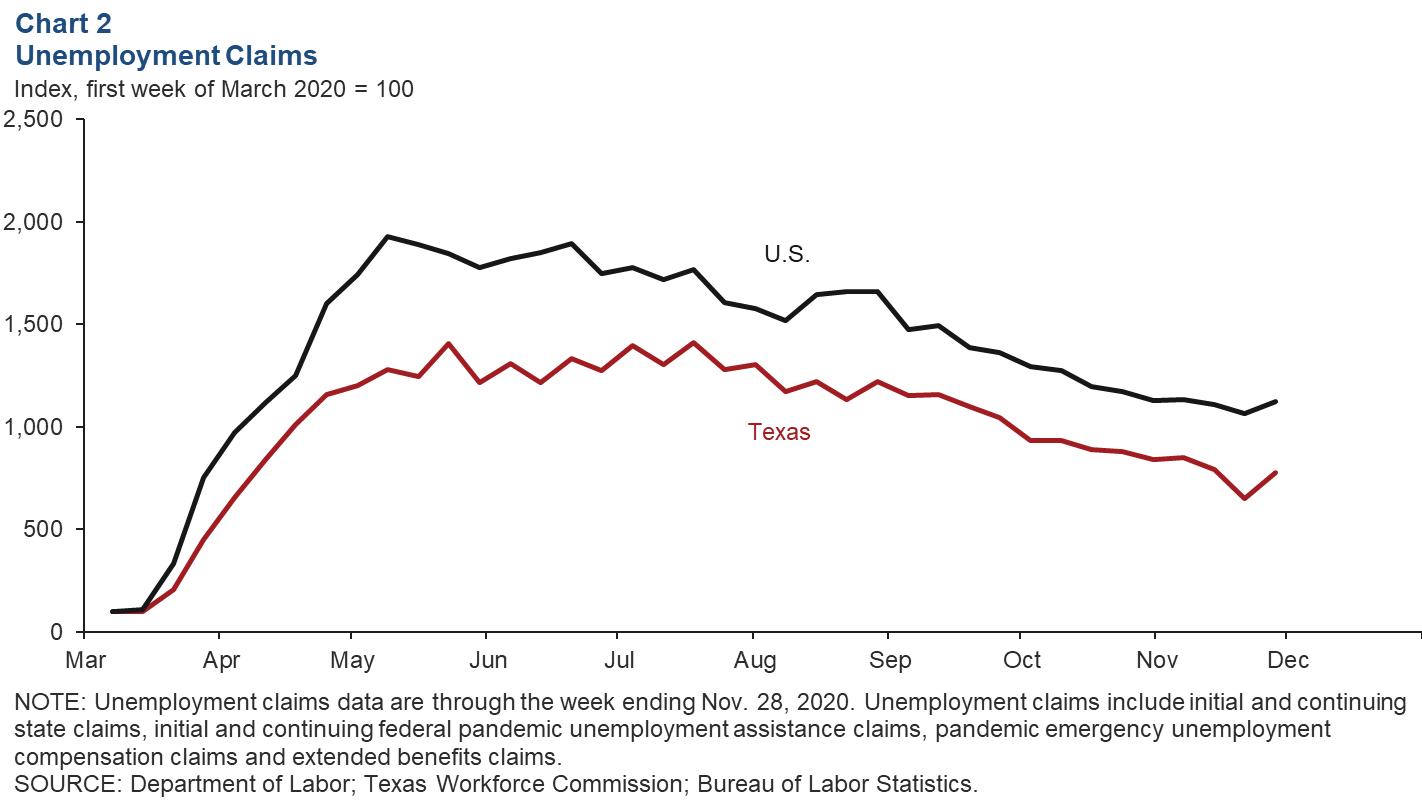 Texas Business-Cycle Index
The Texas Business-Cycle Index, a composite of the unemployment rate, state payroll employment and gross state product, measures underlying economic activity in the state. With the onset of the coronavirus pandemic and the economic shutdowns, the index plummeted from February through May (Chart 3). Since then, the index has steadily recovered, though it remains 8.9 percent below its February prepandemic level.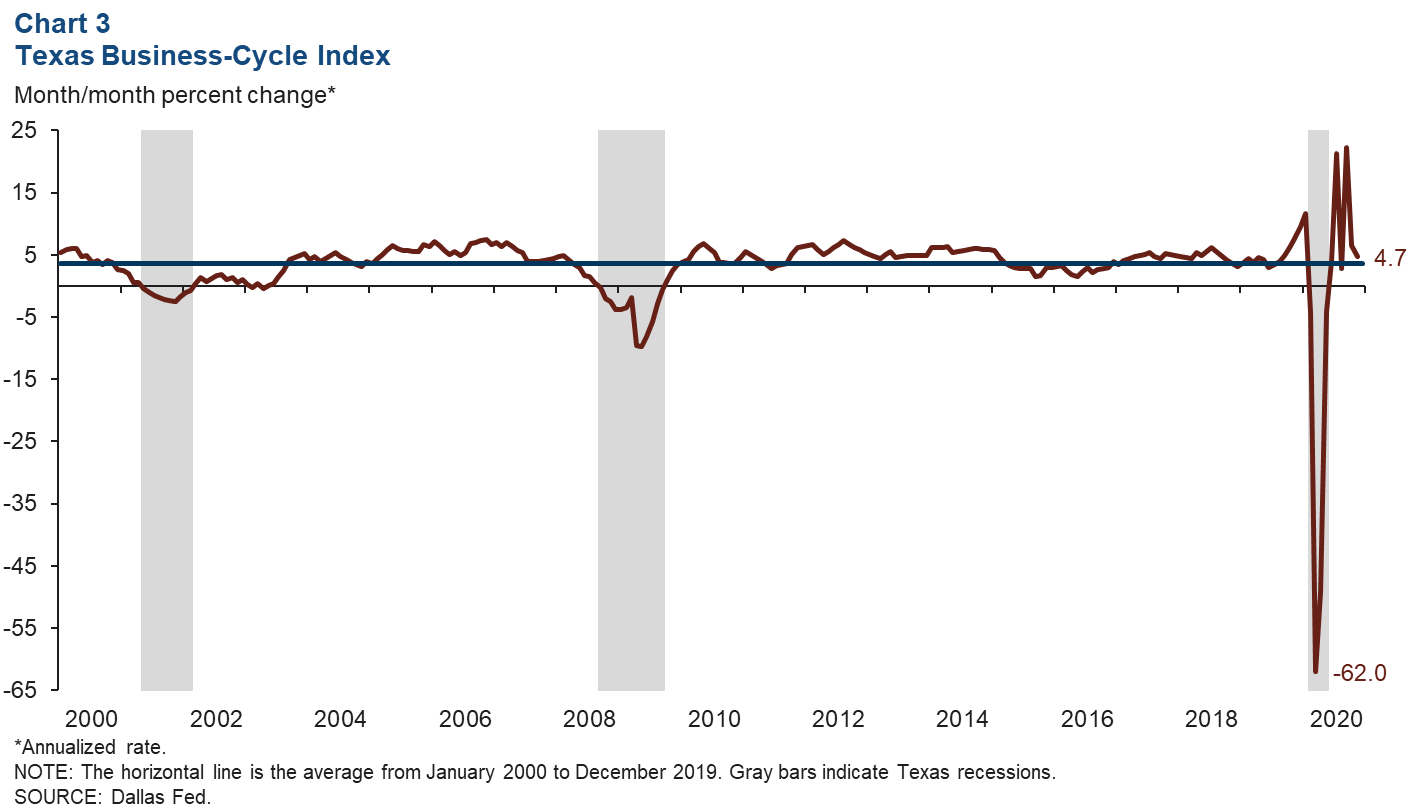 Among the major Texas metros, changes in business-cycle indexes from October to November were mixed. The indexes fell 0.4 percent in Fort Worth and 0.8 percent in San Antonio. The rest of the metros saw increases over the month, especially Houston and El Paso, which each saw 0.3 percent growth.
Exports
Based on a three-month average, Texas exports inched up 1.3 percent in October to 18.1 percent below the February prepandemic level (Chart 4). Exports sent to Canada and Europe fell 1.0 and 4.0 percent, respectively. Exports to all other major regions increased in October, notably Latin America (excluding Mexico), which jumped 5.3 percent. Texas exports to countries outside the major regions saw a 7.4 percent decline in volume in October from the month prior, reducing their share of total Texas exports by 1.2 percentage points.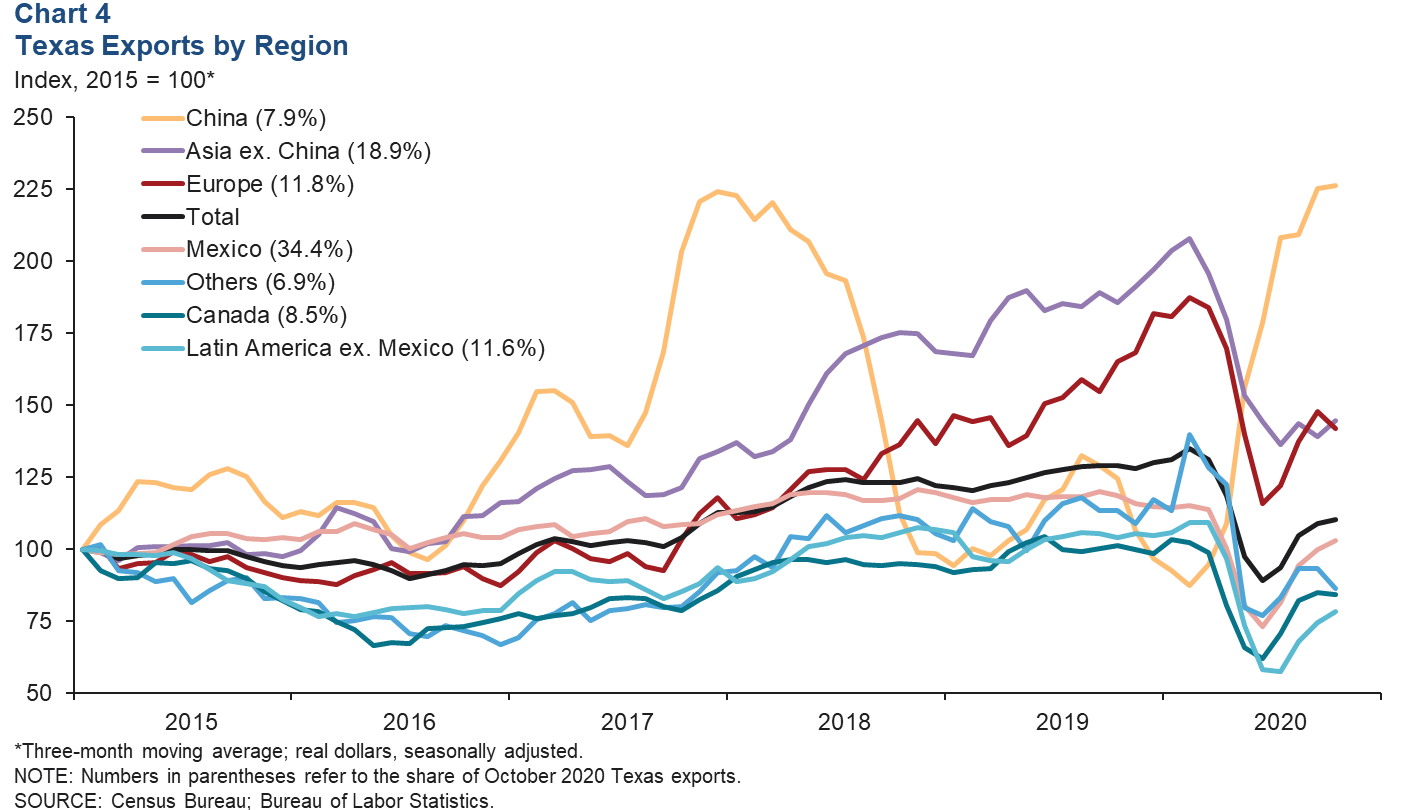 The three-month average of U.S. exports also increased in October, though at a slightly stronger pace relative to the state. Similar to Texas exports, U.S. exports grew to all major regions except Canada and Europe. However, U.S. exports to the rest of the world outside of the major regions saw robust growth in the month.
Home Prices
Even amid the pandemic, the single-family housing market continued to perform well. Partly due to record-low mortgage interest rates, Texas monthly home sales are higher than they have ever been, according to Multiple Listing Service data. This has led to robust growth in median home prices across the state (Chart 5). Since the end of 2019, homes in Austin have appreciated the most, with the median price rising to $362,000 in October. While Houston has seen the weakest price growth so far this year, its median home value is still 8.0 percent higher than in December 2019. In October, all major Texas metros reported their highest real median home price since the beginning of the series in 1990.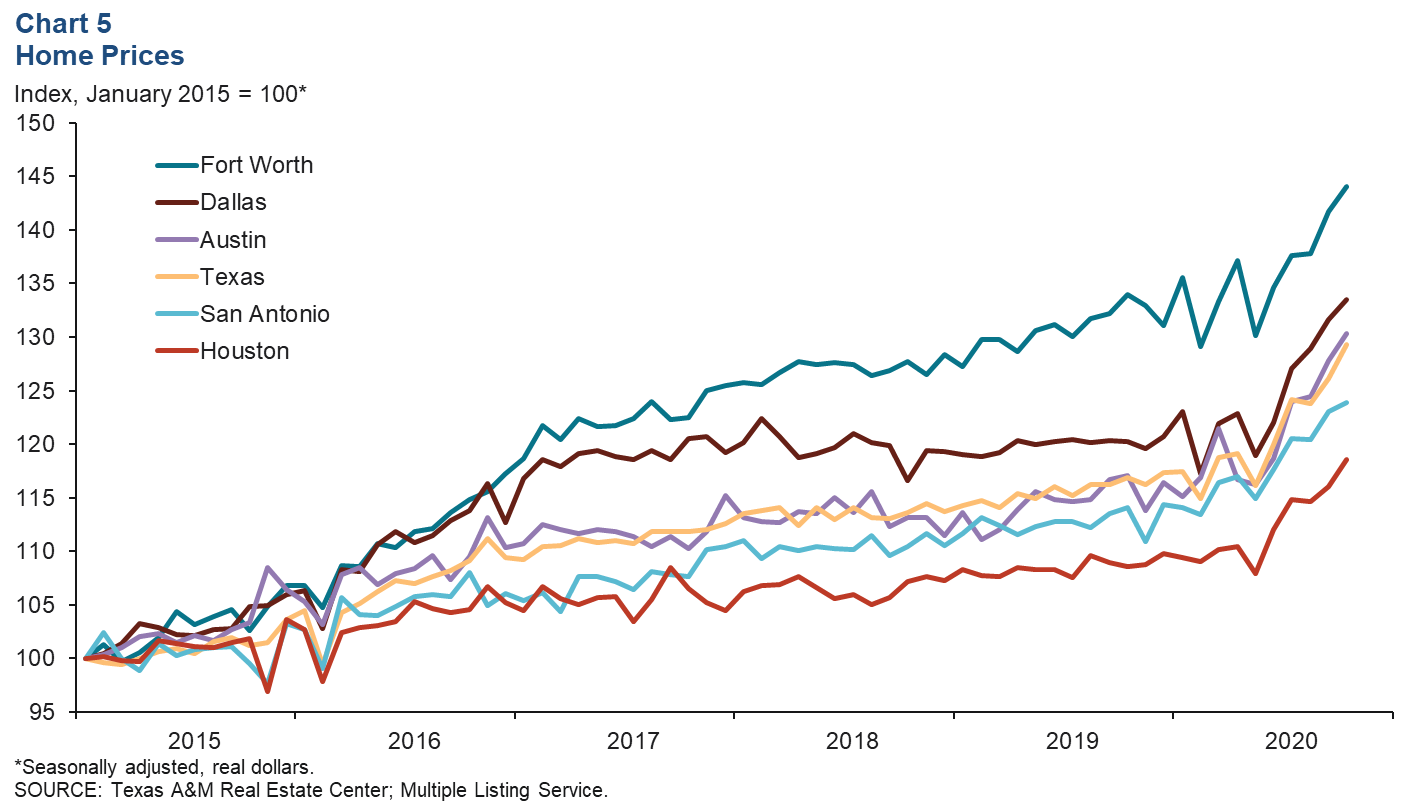 COVID and the Economy
Since the onset of the pandemic, the seven-day averages of daily new cases and deaths in Texas have risen dramatically (Chart 6). Initial measures to contain the virus, such as nonessential business closures, helped slow the spread by May. This was followed by a relaxation of enforced closures and a subsequent rise in daily case growth through July. The Dallas Fed's Mobility and Engagement Index (MEI) helps measure the extent to which consumers are mobile within a region. When the index falls further negative, it suggests that more people are staying at home. With schools starting in the fall and increased holiday travel, the MEI has trended up in recent months, suggesting that Texans are going out and socializing more compared with the summer. Beginning in October, COVID cases across the state began rising again. A growing number of daily deaths followed several weeks later. As of Dec. 20, the seven-day averages of daily new COVID cases and deaths in Texas were 16,000 and 207, respectively.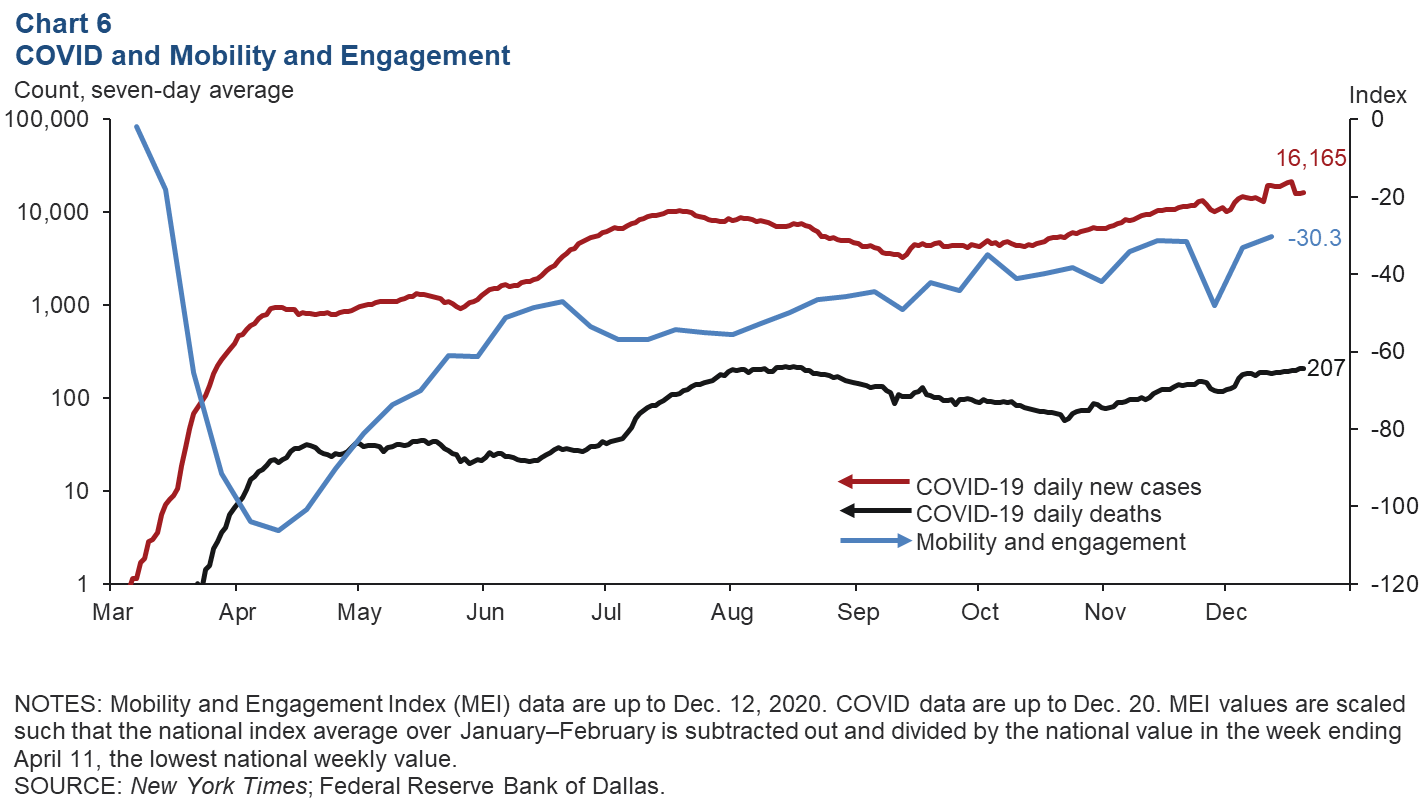 NOTE: Data may not match previously published numbers due to revisions.
About Texas Economic Indicators
Questions can be addressed to Carlee Crocker at carlee.crocker@dal.frb.org. Texas Economic Indicators is published every month on the Monday after Texas employment data are released.