Texas Economic Indicators

January 26, 2021
The Texas economy showed signs of growth in December as payroll employment strengthened and the unemployment rate inched down. Respondents to the Texas Business Outlook Surveys indicated healthy activity in December, followed by weaker results in January. Oil prices and the Texas active rig count continue to climb, while the level of dining out in Texas varied by metro. The dramatic rise in hospitalizations in the state and nation due to COVID-19 in recent months is putting a strain on the health care system.
Labor Market
Employment Growth Picks Up
Texas employment grew a nonannualized 0.6 percent in December after climbing an upwardly revised 0.4 percent in November (Chart 1). December marks the eighth month in a row for payroll expansion in the state since jobs slumped in March and April.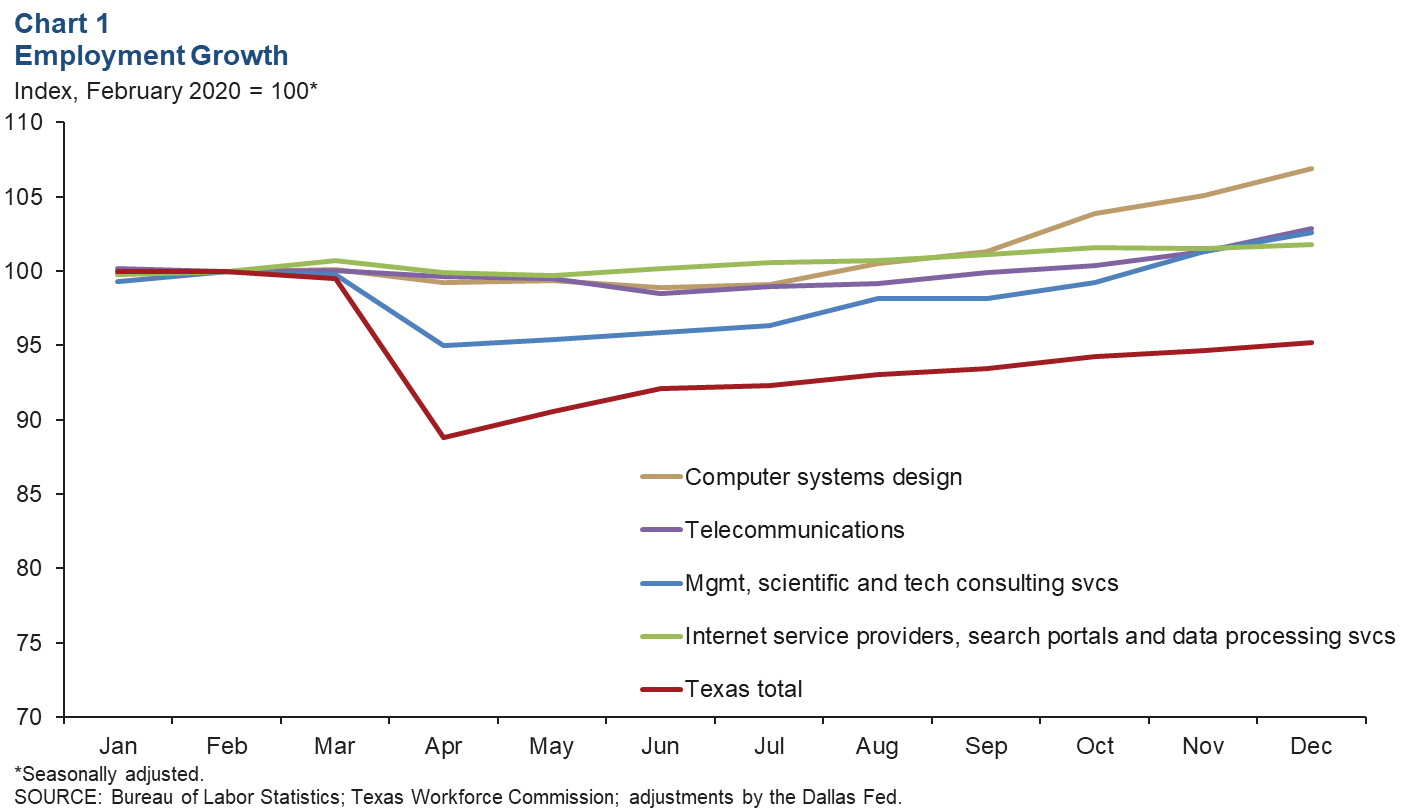 While the total number of jobs across the state remains 4.8 percent below February's prepandemic levels, not all sectors were hit as hard. In particular, Texas payrolls in sectors tied heavily to technology services saw a muted decline in the spring and have since grown steadily, surpassing their prepandemic levels. Jobs for computer systems design—which includes occupations such as computer programmer, computer software engineer and computer systems analyst—have seen the most robust growth and were 6.9 percent above February's employment levels in December.
U.S. employment slipped slightly in December after seven consecutive months of growth. National payrolls remained 6.5 percent below February's prepandemic levels, nonannualized.
Texas Unemployment Rate Ticks Down
The Texas unemployment rate ticked down in December, while the U.S. rate held steady (Chart 2). Since August, the statewide rate has swung back and forth between just under 7 percent and slightly above 8 percent. The U.S. unemployment rate steadily declined from its April peak through November before flatlining at year-end. Texas weekly initial unemployment claims so far in January are higher than the December figures, suggesting that the Texas unemployment rate will remain elevated in the coming month.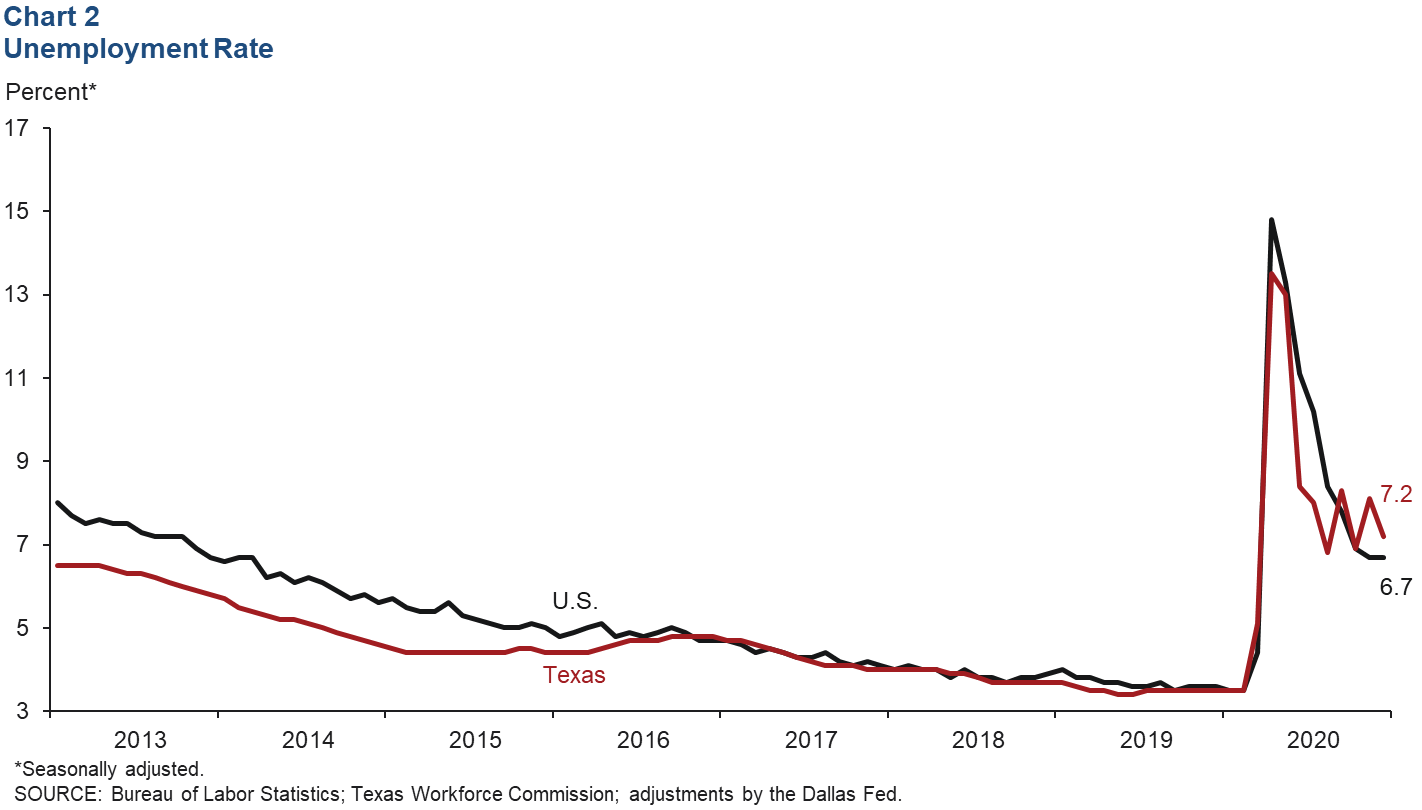 The unemployment rate in all major Texas metros fell in December. The drop was the steepest in McAllen, where the jobless rate fell 2.0 percentage points, followed by El Paso with a 1.3-percentage-point decline. Despite this, McAllen and El Paso remain the major Texas metros with the highest unemployment rates, at 11.0 and 8.4 percent, respectively. Austin and Fort Worth saw the smallest decline in December of 0.6 percentage points.
Texas Business Outlook Surveys
After healthy growth in December, Texas businesses saw more muted performance in the first month of 2021 (Chart 3). The manufacturing production index, while still positive, fell to less than one-fifth of December's reading. Service sector activity (revenue index) held steady in January after moderate growth in December, while retail sector revenues contracted slightly. The weaker performance is consistent with a rising number of COVID cases statewide and an increase in the uncertainty index across all sectors.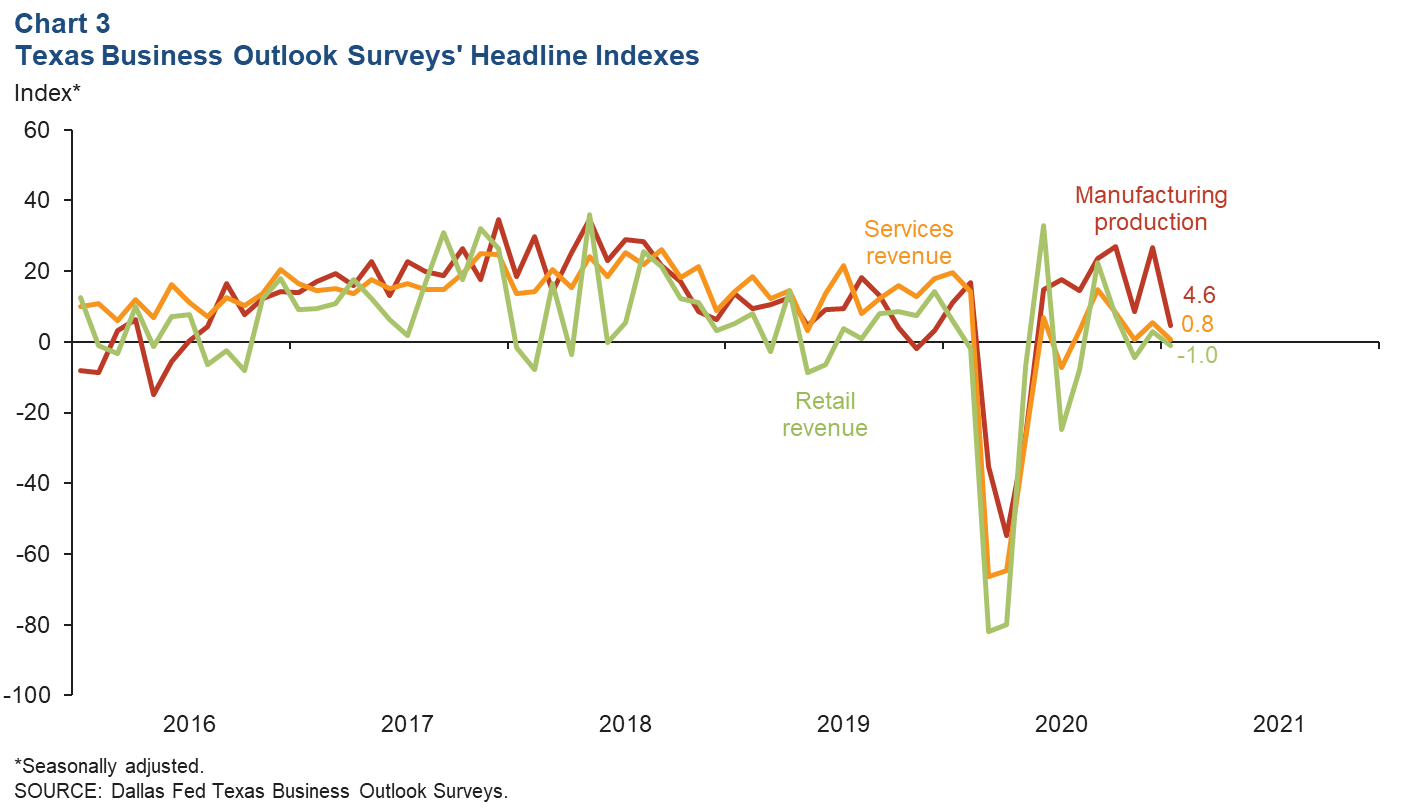 Energy
After plummeting in spring 2020, oil prices and the Texas rig count have recovered steadily (Chart 4). Despite the recovery, the rig count remains far below prepandemic levels, stymied by a combination of decreased activity, as well as the longer-term trend of increasing efficiency requiring fewer rigs to drill wells. Oil prices have surpassed their early March 2020 levels and, on Jan. 22, were 15.9 percent higher than on March 6. In early January, oil prices climbed above $49 a barrel, which is the breakeven price to profitably drill new wells, according to the Dallas Fed Energy Survey. Since then, oil prices have risen further, suggesting that firms may increase their drilling activity, thus driving up the rig count.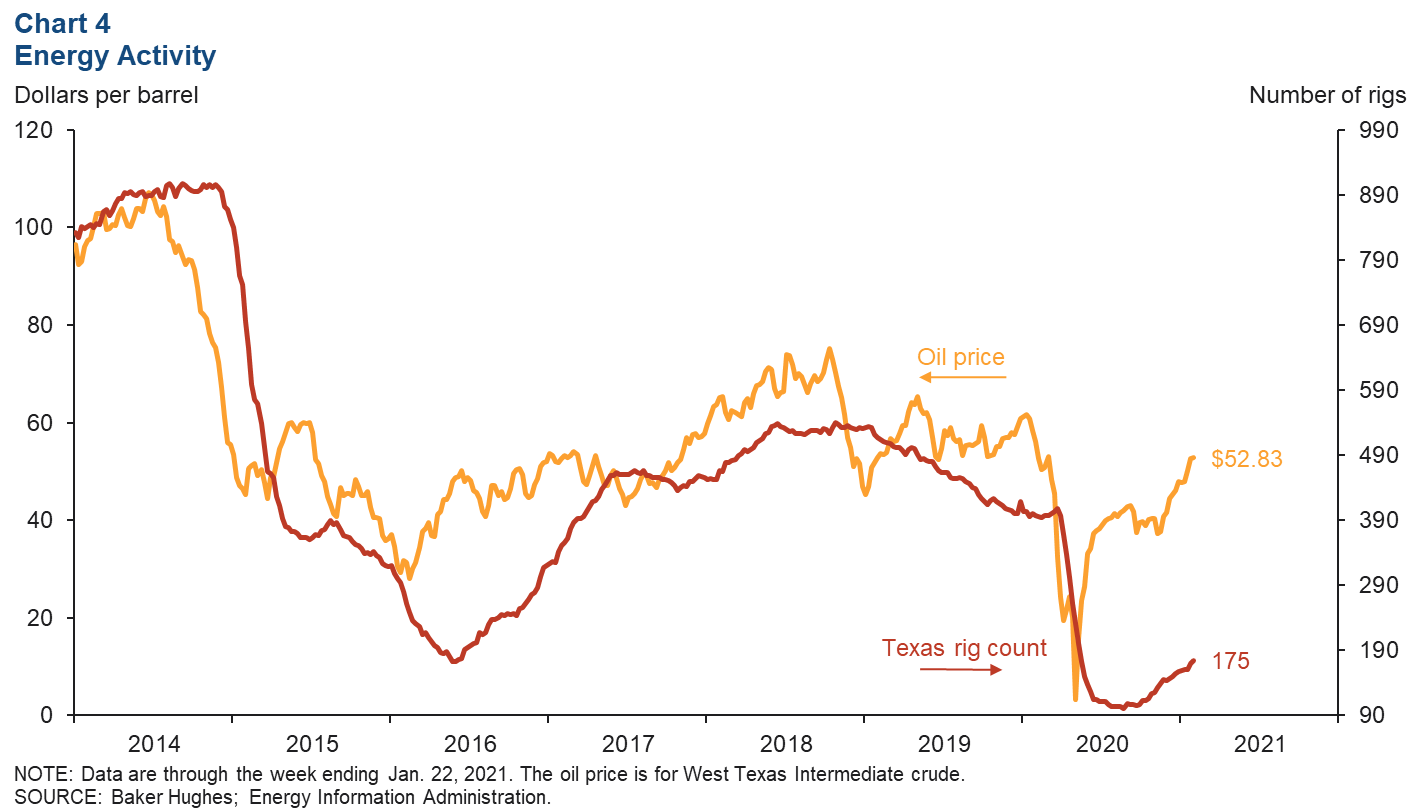 Dining Out
After over a month of enforced restaurant closures across the state, the number of seated diners in restaurants began climbing in early May as the economy reopened, according to data from OpenTable (Chart 5). The statewide figure recovered steadily through mid-June, after which a surge in COVID cases caused dining out to falter again. As schools reopened in the fall and people made plans over the holidays, the gap in dining-out levels between Texas and the nation widened. San Antonio has recovered the most despite some dips and is 30.5 percent below year-ago levels as of Jan. 24 (as a seven-day average). Dining-out levels in Texas major metros, as well as statewide, have varied substantially in recent months, but all are currently down from their holiday peaks. At the national level, dining out fell near year-end, though it has recovered some so far in 2021.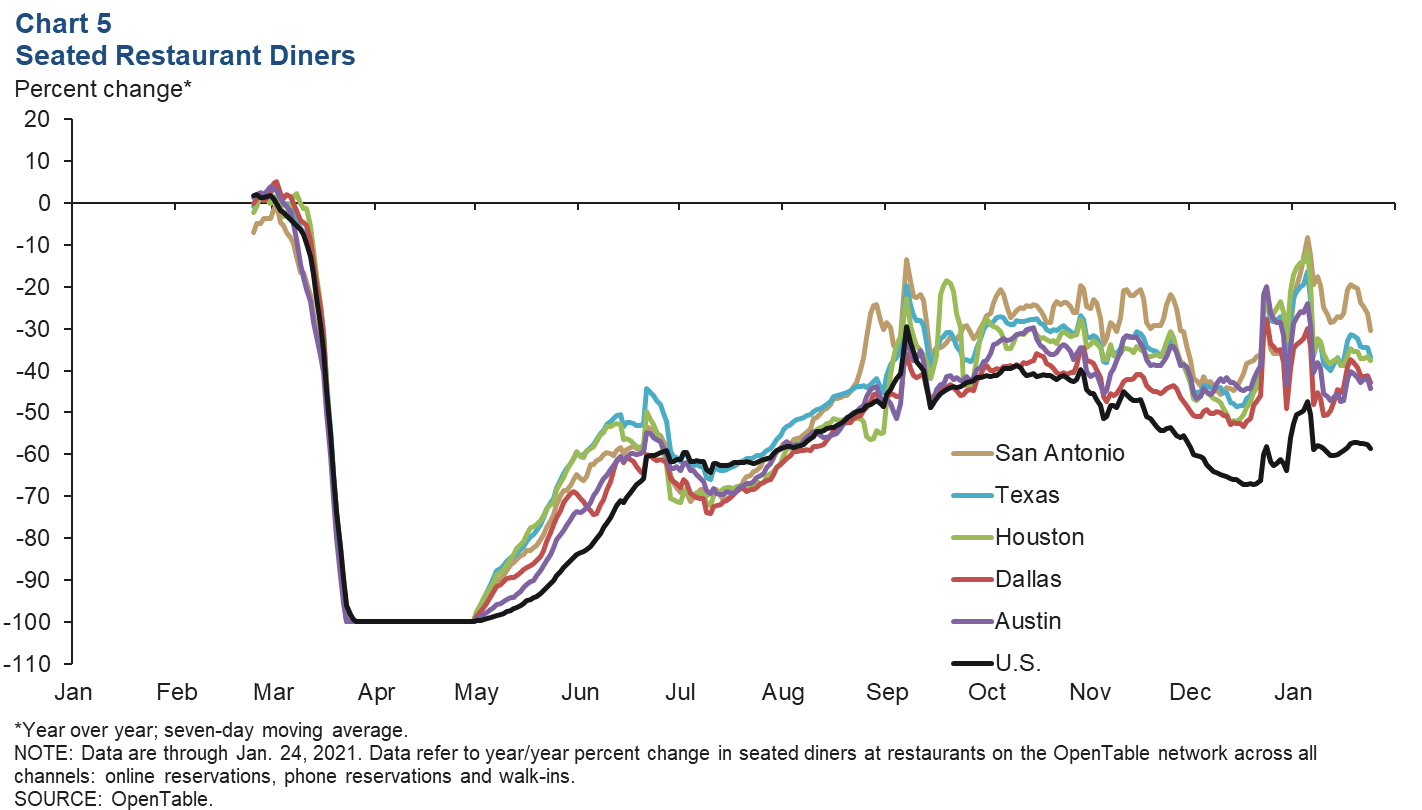 COVID and the Economy
In recent months, the number of patients hospitalized for COVID has been on the rise, both in the state and across the nation (Chart 6). This measure initially was slow to climb in Texas, especially compared with the sharp growth for the U.S. in April. When the first coronavirus policies—such as enforced business closures—were relaxed in early summer, both the state and the nation saw a growing number of hospitalizations. By late September and early October, current hospitalizations per 100,000 residents had fallen again. Since then, the levels have steadily risen, though both series have seen a slight decrease in recent days. The number of hospitalizations is an indicator of the strain the virus is putting on the health care system. As that number climbs higher, hospitals fill closer to capacity. As of Jan. 22, slightly more than 45 of every 100,000 Texas residents were currently hospitalized due to COVID. Hospitalizations per capita are currently higher in Texas than nationwide.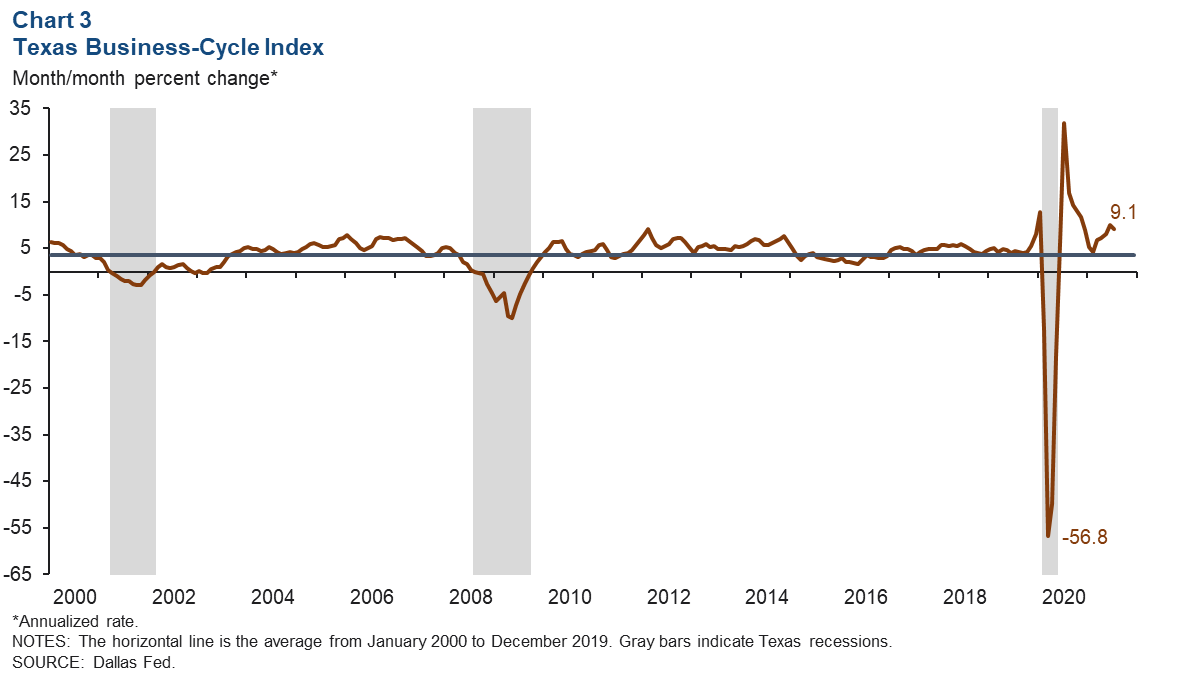 NOTE: Data may not match previously published numbers due to revisions.
About Texas Economic Indicators
Questions can be addressed to Carlee Crocker at carlee.crocker@dal.frb.org. Texas Economic Indicators is published every month on the Monday after Texas employment data are released.