Texas Economic Indicators

September 21, 2021
Texas economic activity continues to expand. Payrolls increased in August in all sectors except leisure and hospitality and construction, and unemployment declined. The August Texas Business Outlook Surveys (TBOS) indicate expansion in the manufacturing, service and retail sectors. Oil prices rose, as did the rig count, in the week ending Sept. 17. Texas exports fell slightly in July, and median home prices rose in all major Texas metros except Houston.
Labor Market
Texas Employment Growth Continues
Texas employment expanded an annualized 4.4 percent in August after growing an upwardly revised 9.0 percent in July (Chart 1). Leisure and hospitality payrolls contracted 19.9 percent, but most other sectors saw steady growth, with professional and business services in the lead at 21.2 percent. Since December 2020, the leisure and hospitality sector has seen the strongest growth at 10.4 percent. The Dallas Fed's Texas Employment Forecast is for 4.6 percent growth this year (December/December), up from its estimate of 4.3 in August.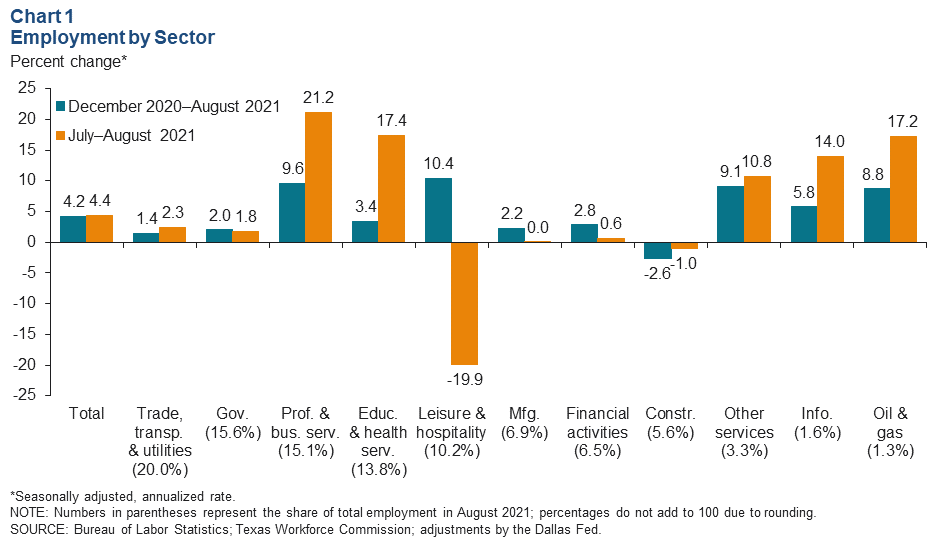 Unemployment Rate Dips
The Texas unemployment rate declined from 6.2 percent in July to 5.9 percent in August (Chart 2). Meanwhile, the U.S. jobless rate declined from 5.4 percent to 5.2 percent. Since January, the statewide unemployment rate has steadily decreased and is at its lowest level since the onset of the COVID-19 pandemic in March 2020.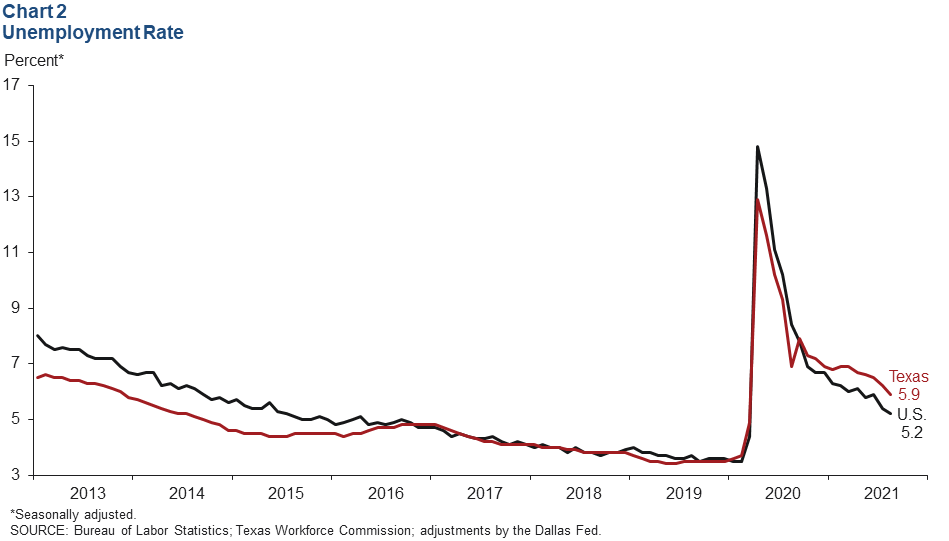 Texas Business Outlook Surveys
The TBOS manufacturing and service sector headline indexes reflected a slower but above-average pace of expansion. While still positive, both indexes fell from the previous month (Chart 3). Specifically, the manufacturing production index fell 10.2 points to 20.8, and the service sector revenue index fell to 16.5. After two months of contraction, the retail sales index turned positive in August, climbing 8.1 points to 7.9. The company outlook indexes remained positive but fell in August, and uncertainty increased.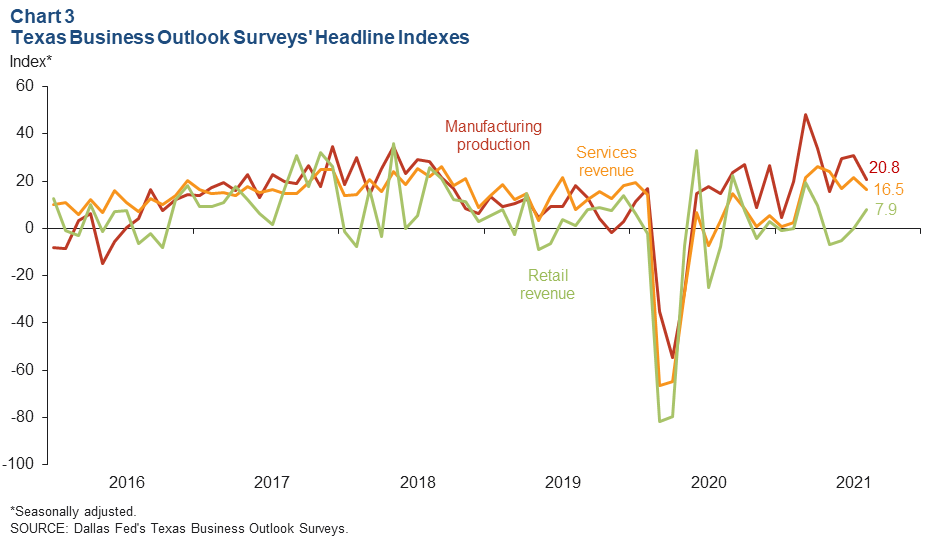 Energy
As of the week ending Sept. 17, the rig count moderately increased to 239 but remained far below prepandemic levels (Chart 4). Oil prices were at $71.69, above levels seen in February 2020 and slightly above the average price forecast, according to contacts responding to the second-quarter Dallas Fed Energy Survey.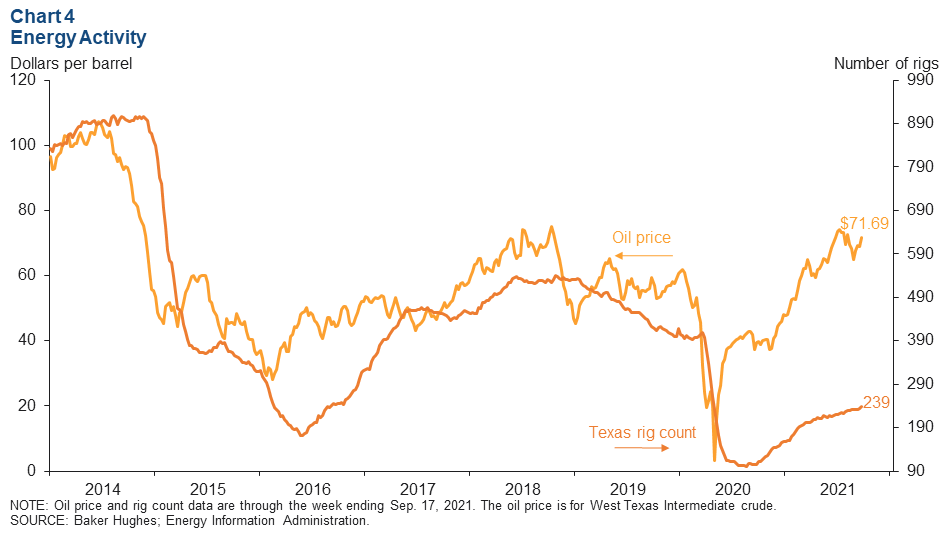 Texas Exports
Texas exports dipped in July, though the three-month moving average rose for the 13th month in a row, up 1.95 percent (Chart 5). The three-month moving average of Texas exports to Latin America (excluding Mexico) and Europe climbed 3.3 and 3.4 percent, respectively. Moderate growth was seen in Texas exports to the rest of Asia and Canada at 2.8 and 1.1 percent, respectively. Exports to both China and Mexico declined.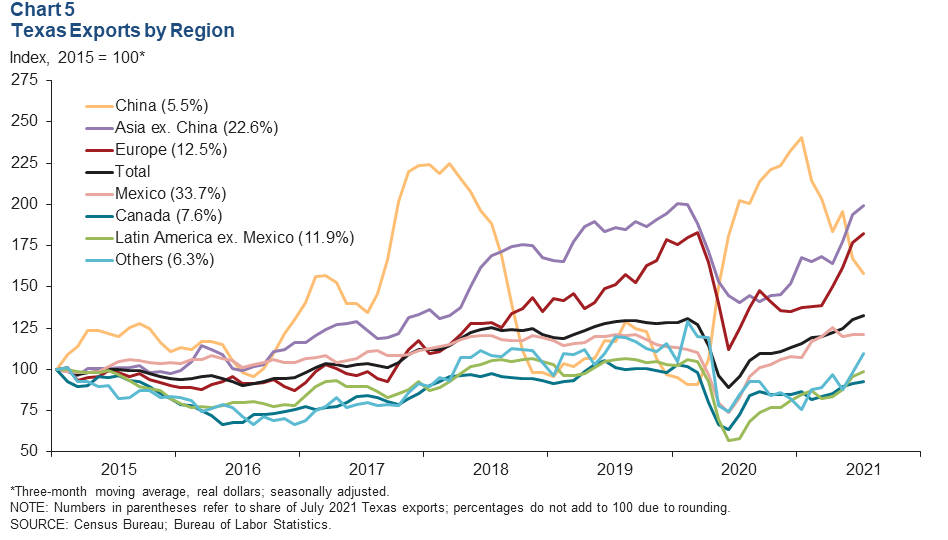 Median Home Prices
The median sales price of homes across the state ticked up in July for the seventh month in a row. Among the major Texas metros, prices grew the most in San Antonio at 1.9 percent (Chart 6). Median prices rose moderately in Dallas and Austin, appreciating 1.1 and 0.8 percent, respectively. Houston was the only major Texas metro that saw a price decrease (0.3 percent) in July . Year-over-year median house price growth remained the strongest in Austin at 29.9 percent.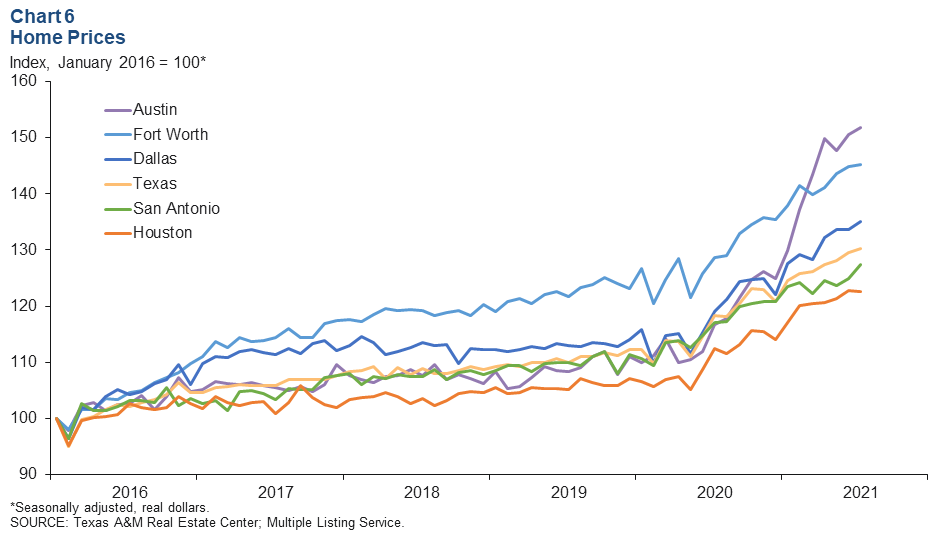 NOTE: Data may not match previously published numbers due to revisions.
About Texas Economic Indicators
Questions can be addressed to Laila Assanie at Laila.Assanie@dal.frb.org. Texas Economic Indicators is published every month during the week after state and metro employment data are released.