Texas Economy
Texas Manufacturing Outlook Survey
April 27, 2020
Contraction in Texas Manufacturing Sector Worsens
What's New This Month
For this month's survey, Texas business executives were asked supplemental questions on the impacts of the coronavirus (COVID-19). Results for these questions from the Texas Manufacturing Outlook Survey, Texas Service Sector Outlook Survey and Texas Retail Outlook Survey have been released together. Read the special questions results.
This month's data release does not include annual seasonal factor revisions, which have been postponed to May. Read more information on seasonal adjustment.
Texas factory activity declined further in April, according to business executives responding to the Texas Manufacturing Outlook Survey. The production index, a key measure of state manufacturing conditions, pushed further negative from -35.3 to -55.3, suggesting the contraction in output has steepened since last month.
Other measures of manufacturing activity also point to a sharper decline in April. The new orders index dropped 26 points to -67.0, its lowest reading since the survey began in 2004. Similarly, the growth rate of orders index fell to -62.2. The capacity utilization and shipments indexes fell to -54.5 and -56.6, respectively. The capital expenditures index declined 20 points to -54.3. Each of these April readings represents a historical low.
Perceptions of broader business conditions remained very pessimistic in April. The general business activity index inched down from -70.0 to -73.7, pushing to a new historical low. The company outlook index remained near an all-time low but inched up from -65.6 to -62.6. The index measuring uncertainty regarding companies' outlooks retreated slightly to 54.4, a reading still indicative of sharply increased uncertainty.
Labor market measures indicate further employment declines and shorter workweeks this month. The employment index held steady at -21.2. Three percent of firms noted net hiring, while 24 percent noted net layoffs. The hours worked index dropped 18 points to -40.2, signaling a notably reduced workweek length.
Prices and wages declined in April. The raw materials prices index posted a second negative reading in a row, falling from -5.9 to -19.6. The finished goods prices index dropped to -24.6 from -9.2. Both price indexes reached lows last seen in mid-2009. The wages and benefits index dipped into negative territory for the first time since the Great Recession, coming in at -2.7.
Expectations regarding future business conditions remained negative in April. The indexes of future general business activity and future company outlook came in at -42.1 and -41.5, respectively, holding within a few points of their March readings. Other indexes for future manufacturing activity inched up but remained in negative territory.
Next release: Tuesday, May 26
Data were collected April 14–22, and 115 Texas manufacturers responded to the survey. The Dallas Fed conducts the Texas Manufacturing Outlook Survey monthly to obtain a timely assessment of the state's factory activity. Firms are asked whether output, employment, orders, prices and other indicators increased, decreased or remained unchanged over the previous month.
Survey responses are used to calculate an index for each indicator. Each index is calculated by subtracting the percentage of respondents reporting a decrease from the percentage reporting an increase. When the share of firms reporting an increase exceeds the share reporting a decrease, the index will be greater than zero, suggesting the indicator has increased over the prior month. If the share of firms reporting a decrease exceeds the share reporting an increase, the index will be below zero, suggesting the indicator has decreased over the prior month. An index will be zero when the number of firms reporting an increase is equal to the number of firms reporting a decrease. Data have been seasonally adjusted as necessary.
April 27, 2020
Results Summary
Historical data are available from June 2004 to the most current release month.
Business Indicators Relating to Facilities and Products in Texas
Current (versus previous month)
Indicator
Apr Index
Mar Index
Change
Series
Average
Trend*
% Reporting Increase
% Reporting No Change
% Reporting Decrease

Production

–55.3

–35.3

–20.0

9.9

2(–)

9.2

26.3

64.5

Capacity Utilization

–54.5

–33.4

–21.1

7.6

2(–)

8.9

27.7

63.4

New Orders

–67.0

–41.3

–25.7

5.8

2(–)

5.2

22.6

72.2

Growth Rate of Orders

–62.2

–44.9

–17.3

–0.4

2(–)

6.3

25.2

68.5

Unfilled Orders

–25.7

–22.4

–3.3

–3.1

2(–)

6.6

61.1

32.3

Shipments

–56.6

–33.8

–22.8

8.6

2(–)

7.0

29.4

63.6

Delivery Time

–14.3

–3.0

–11.3

–0.6

2(–)

14.1

57.5

28.4

Finished Goods Inventories

–8.8

–6.5

–2.3

–3.1

13(–)

19.5

52.2

28.3

Prices Paid for Raw Materials

–19.6

–5.9

–13.7

24.2

2(–)

7.6

65.2

27.2

Prices Received for Finished Goods

–24.6

–9.2

–15.4

6.1

4(–)

2.9

69.6

27.5

Wages and Benefits

–2.7

5.5

–8.2

18.7

1(–)

11.7

73.9

14.4

Employment

–21.2

–23.0

+1.8

6.2

3(–)

2.9

73.0

24.1

Hours Worked

–40.2

–22.4

–17.8

2.4

2(–)

4.2

51.4

44.4

Capital Expenditures

–54.3

–34.3

–20.0

6.5

2(–)

5.3

35.1

59.6
General Business Conditions
Current (versus previous month)
Indicator
Apr Index
Mar Index
Change
Series
Average
Trend**
% Reporting Improved
% Reporting No Change
% Reporting Worsened

Company Outlook

–62.6

–65.6

+3.0

6.4

2(–)

6.2

25.0

68.8

General Business Activity

–73.7

–70.0

–3.7

2.1

2(–)

4.3

17.7

78.0


Indicator
Apr Index
Mar Index
Change
Series
Average
Trend*
% Reporting Increase
% Reporting No Change
% Reporting Decrease

Outlook Uncertainty†

54.4

62.6

–8.2

12.9

23(+)

69.3

15.8

14.9
Business Indicators Relating to Facilities and Products in Texas
Future (six months ahead)
Indicator
Apr Index
Mar Index
Change
Series
Average
Trend*
% Reporting Increase
% Reporting No Change
% Reporting Decrease

Production

–13.1

–18.7

+5.6

38.1

2(–)

30.4

26.1

43.5

Capacity Utilization

–12.8

–15.8

+3.0

35.0

2(–)

29.9

27.5

42.7

New Orders

–13.4

–20.4

+7.0

36.0

2(–)

30.4

25.9

43.8

Growth Rate of Orders

–16.1

–20.7

+4.6

26.5

2(–)

26.3

31.3

42.4

Unfilled Orders

–19.7

–21.9

+2.2

3.8

2(–)

9.6

61.1

29.3

Shipments

–8.8

–23.6

+14.8

36.9

2(–)

32.0

27.3

40.8

Delivery Time

–16.8

–8.0

–8.8

–1.9

2(–)

9.0

65.2

25.8

Finished Goods Inventories

–15.9

–10.1

–5.8

–0.5

2(–)

14.0

56.1

29.9

Prices Paid for Raw Materials

4.6

–7.9

+12.5

33.3

1(+)

25.7

53.2

21.1

Prices Received for Finished Goods

–15.9

–13.9

–2.0

19.2

2(–)

9.3

65.4

25.2

Wages and Benefits

–0.6

0.7

–1.3

37.9

1(–)

19.2

61.0

19.8

Employment

–7.1

–16.7

+9.6

21.9

2(–)

21.6

49.8

28.7

Hours Worked

–10.6

–12.3

+1.7

9.2

2(–)

18.9

51.6

29.5

Capital Expenditures

–19.7

–19.8

+0.1

19.8

2(–)

21.5

37.2

41.2
General Business Conditions
Future (six months ahead)
Indicator
Apr Index
Mar Index
Change
Series
Average
Trend**
% Reporting Increase
% Reporting No Change
% Reporting Worsened

Company Outlook

–41.5

–37.7

–3.8

20.4

2(–)

10.2

38.1

51.7

General Business Activity

–42.1

–39.5

–2.6

13.9

2(–)

13.4

31.1

55.5
*Shown is the number of consecutive months of expansion or contraction in the underlying indicator. Expansion is indicated by a positive index reading and denoted by a (+) in the table. Contraction is indicated by a negative index reading and denoted by a (–) in the table.
**Shown is the number of consecutive months of improvement or worsening in the underlying indicator. Improvement is indicated by a positive index reading and denoted by a (+) in the table. Worsening is indicated by a negative index reading and denoted by a (–) in the table.
†Added to survey in January 2018.
Data have been seasonally adjusted as necessary, with the exception of the outlook uncertainty index, which does not yet have a sufficiently long time series to test for seasonality.
April 27, 2020
Production Index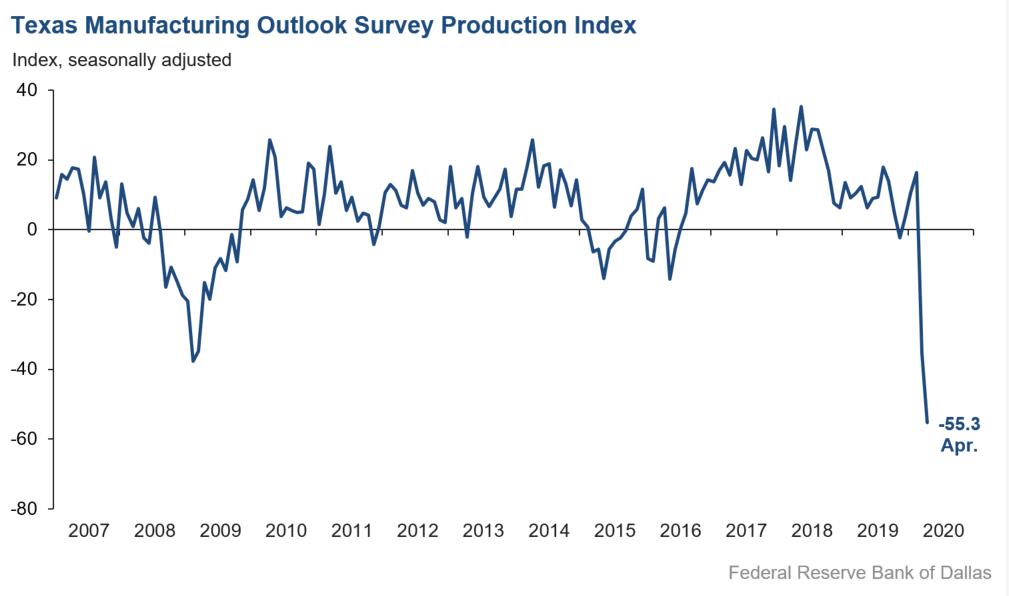 April 27, 2020
Comments from Survey Respondents
These comments are from respondents' completed surveys and have been edited for publication.
Chemical Manufacturing
Customers' forecasts are not reduced much, but actual orders are decreasing.
We have no visibility on orders and sales demand more than 30 days out. It is a highly uncertain and depressed overall business environment.
We were seeing a weakening in our sales and sales funnels before the end of the year and projected 2020 would be less profitable and possibly break-even, so we took that time to trim our excesses and preserve cash. The abrupt end of economic activity due to the virus response has accelerated our plans to shrink the company, as we see two years of break-even profits at best at this time.
Plastics and Rubber Product Manufacturing
The volatility of the oil market continues to be a challenge year in/year out. Between the middle of last year and the beginning of this year, the market was noticeably slowing down. COVID-19 is not helping matters with reduced travel and demand on oil. As we exit the quarantines and stay-at-home orders, demand will pick up, but it will take a few months until the market recovers. Realistically, we won't begin seeing a rebound until fourth quarter 2020 or first quarter 2021. Our workload remains steady with some customers. Domestically, order requests are slowing down. Internationally, we've seen a slight uptick. We've had some inquiries from customers requesting as much as 25 percent reductions in pricing. Overall, the outlook is uncertain. We are situated to ride this new wave of low oil prices and be ready to rebound as things begin to recover. COVID-19 has not impacted our production as of yet. We are a lean manufacturer and are capable of mitigating the exposure of our employees with personal protection equipment and social distancing to some extent. To date, we've had no confirmed cases within our facility. COVID-19 has impacted some deliveries of supplies. Raw materials have yet to be impacted.
Nonmetallic Mineral Product Manufacturing
We actually received a PPP [Paycheck Protection Program] loan, and not from our main bank. It feels like we won the lottery, as so many small businesses did not receive any PPP/SBA [Small Business Administration] assistance. Banks apparently were overwhelmed with demand, but in my opinion handled this opportunity very poorly. Banks accepted applications far beyond their capacity to process them, and then did a very poor job of communicating with their customers regarding the status of these applications.
With 22 million new unemployment claims in the last four weeks and others underemployed, there will be a decline in construction/housing demand that will cause job losses not seen today. It is unknown for how long or how deep. Texas will fare better than the U.S., but the impact will be seen here.
Primary Metal Manufacturing
This shutdown is killing business. We will be lucky to survive. End the shutdown and get people back to work.
Late fall looks timid right now. Large projects are being delayed a few months. This will create a shipping volume gap this fall.
We continue to see customers push orders for large capital projects out. Although we have not experienced any major cancellations, the incoming order log has decreased by 62 percent since January, setting the stage for a long and tough second quarter.
Fabricated Metal Manufacturing
We are looking forward to getting back to some normalcy in six months.
We need employees. We have a lot of absenteeism (10 percent) every day and are paying bonuses to people coming to work.
Plant employees are wearing masks, taking their temperatures every day, and working six-plus feet apart. The lunchroom was expanded to allow more room between all employees. Office employees are working mostly out of their homes. Overall, the virus has caused a lot of stress, but business and the health of our employees have not declined.
Machinery Manufacturing
Sales are down nearly 50 percent due to COVID-19; however, at least we are classified as an essential business and are still operating. We have been able to keep all of our employees, and we just got approved for the PPP loan that will help us get through the next eight weeks.
We have a very negative outlook for the rest of the year as oil prices have plummeted significantly. Our quoting has been halved, and we are deeply concerned going forward.
Oil companies are all now in survival mode, from the smallest to the largest. And that has really hurt our plans, from paying off debt to buying new equipment. We just received notification that we will be receiving our PPP money shortly and that will be greatly appreciated for the next two months, but it's only a stopgap because we will probably not see any upturn in business until next year. Thank goodness that our spare parts and service business is good. That may be our only saving grace because new equipment sales are gone.
Oilfield work has all but disappeared. That usually accounts for 70 percent of sales.
Computer and Electronic Product Manufacturing
We have seen a surge in demand as customers scramble to cover supply chain disruptions. We are using 2008 as a guide and expect a sharp and significant falloff in demand as customers work through a period of uncertainty. We will ensure we have product available to support demand when it returns, and it will.
We took steps early to get out in front of the economic impact of fighting the COVID pandemic. We are currently executing on that plan but still see us getting back to more like our original forecast in six months.
Extended shutdowns add uncertainty to the business. We really don't know what to expect in terms of an opening of the economy, nor exactly what impact the shutdown will have regarding delayed orders. We think it could be months before we fully know or understand the impact.
We are seeing some short-term disruption due to customer and supplier plant closures. We definitely anticipate lower projections over the next 12 months, primarily due to the commercial airline downturn. Military and space business seems fairly stable. Medical and industrial business is in constant whipsaw as customers try to get a decent vector on their forecasts. Until we have a readily available vaccine, society and businesses must accommodate required social distancing, masks and standardized sanitation procedures to bridge the gap back to full productivity.
In our industry, things seem to be holding. However, we have reduced working hours to minimize possible effects of the virus. We are also seeing delays in product deliveries from some of our key suppliers. If we are approved for the small business loan being offered by the government, that will be a confidence boost for sure because of its generous terms and conditions.
We need to open the economy soon. Very soon.
Transportation Equipment Manufacturing
As for every business, the impact of the coronavirus pandemic is substantial, both for our customers and our supply chain. Having invested heavily in our employees in the past during a hot job market, and being in a technical and high-skilled industry, we have reduced everyone's working time and salaries for a while in the hope of keeping everyone employed and seeing a rebound in business activity within the next couple of months. We do not expect to see a full recovery for a long time in the aviation industry, and we will keep a much-reduced level of activity and investment at least for the remainder of 2020.
There is no way of knowing if, how or when the economy and our sector will rebound from the slowdown/shutdown. Long-term damage to the economy is increasing weekly from business failures, printing money and increasing national debt. The government cannot be the economy.
Furniture and Related Product Manufacturing
Online retail remains our strongest sales channel as stores weather the proverbial storm.
Food Manufacturing
We have two businesses: pet food manufacturing and feed manufacturing. Consumers are apparently stockpiling pet food such that our volume was up 23 percent in March and we are behind schedule in making shipments. Conversely, our feed volume was down 9 percent as we believe ranchers are hoarding cash and buying less cattle feed as the warm spring weather is producing nice pastures for the cattle to graze on. We are categorized as an essential business and, thankfully, we are operating pretty much in a normal mode with some office staff working from home. We have had very little difficulty in getting raw materials.
We're in the food business. There is increased demand, but it's not clear if it will be sustained.
The retail portion of our business has allowed us to retain all employees. We are fortunate.
We provide humanitarian food relief. We have not seen volatility in pricing nor gouging in the supply chain yet, but ingredient costs have risen by about 11–13 percent. We are being assisted by our sources because they know what we do. We get some ingredient spices from India, and their lockdown has impacted that supply channel. We are sourcing elsewhere. The need from food banks is overwhelming. We have been lobbying for a state-funded food disaster relief program. We could stage 20–35 million meals here. Our products have an excellent shelf life of two years. We just set up a RLOC [revolving line of credit] facility with a community bank to fund our surge in production. Based upon input from local, state and federal sources as well as the medical community, we do not see this demand easing for perhaps at least six months.
Beverage and Tobacco Product Manufacturing
As an "essential business," we are still working. During the panic stock-up, our volume was up sharply, but it was of a less-profitable product mix than normal. We were working harder (20 percent-plus case volume) for less profit per case (gross margin dollars only up 5 percent), but our head was above water and we were better off than many others. Now that the pantry loading through grocery and mass merchants has leveled off, the decline in other profitable channels like convenience stores, vending, restaurants, etc., is being greatly felt. Without the PPP, we would be in trouble, and if this drags out, we may be anyway. If we can't beat the virus soon, the damage to the economy will be self-replicating.
Apparel Manufacturing
COVID-19 has added significant uncertainty.
Wood Product Manufacturing
Things are looking bad. Builders are wanting extensions on their accounts. Builders are asking for better margins. Buyers are down by 50 to 60 percent. Employees are scared and do not want to work. Everything we do is taking twice as long. We applied for a grant—but no callback yet. I will need to start laying people off in two weeks if things do not change.
Paper Manufacturing
Current production is off 40 percent. We are holding all employees due to PPP. We expect the third and fourth quarters to rebound to where we're only off 20 percent for the year. It's not a good year ahead.
Printing and Related Support Activities
All our customers were shut down by the government order, so we have little to no work to perform in our field of printing and direct-mail marketing.
We were very fortunate to not only be designated as an essential business because we are a critical supplier to others who are essential, but we also had a lot of work in the pipeline with lots more lined up. That has sustained us during this crazy time where we see new work disappearing like crazy. These are very scary times, especially what the next six months holds. We have applied for, but are waiting to hear about, the PPP monies. Our bank seems to be simply overwhelmed and is taking a very long time to respond.
Miscellaneous Manufacturing
We need to get all low-risk people back to work and reduce tariffs to get global trade back rolling. We need to quarantine infected people and those who are at high risk of having complications. Shutting down the economy when eventually we will have to face the risks of COVID-19 anyway does not seem to make a lot of sense, especially when the damage to the economy might last months or even years. The amount of misinformation and fearmongering by the press and the second-guessing of our medical and political leaders is worse than counterproductive. The priority should be getting people back to work so they can provide for their families and stay healthy.
Customers are starting to push orders and try and cancel orders. Essential businesses are staying at pretty steady levels. Oil and gas customers are way down.
We are 43 percent automotive in North America and Europe. It is dramatically affecting our business level downward. OEM [original equipment manufacturer] automotive has not been producing since mid-March, with uncertain dates to return to production.
As a small business, we signed up for the payroll plan from the government but have heard nothing from it while some huge companies are benefiting using multistore addresses. The actual small businesses are losing out. I think that 500 employees is too big to be called small business. This category should be readjusted.
Historical Data
Historical data can be downloaded dating back to June 2004.
Indexes
Download indexes for all indicators. For the definitions of all variables, see Data Definitions.
All Data
Download indexes and components of the indexes (percentage of respondents reporting increase, decrease, or no change). For the definitions of all variables, see Data Definitions.
Questions regarding the Texas Manufacturing Outlook Survey can be addressed to Emily Kerr at emily.kerr@dal.frb.org.
Sign up for our email alert to be automatically notified as soon as the latest Texas Manufacturing Outlook Survey is released on the web.