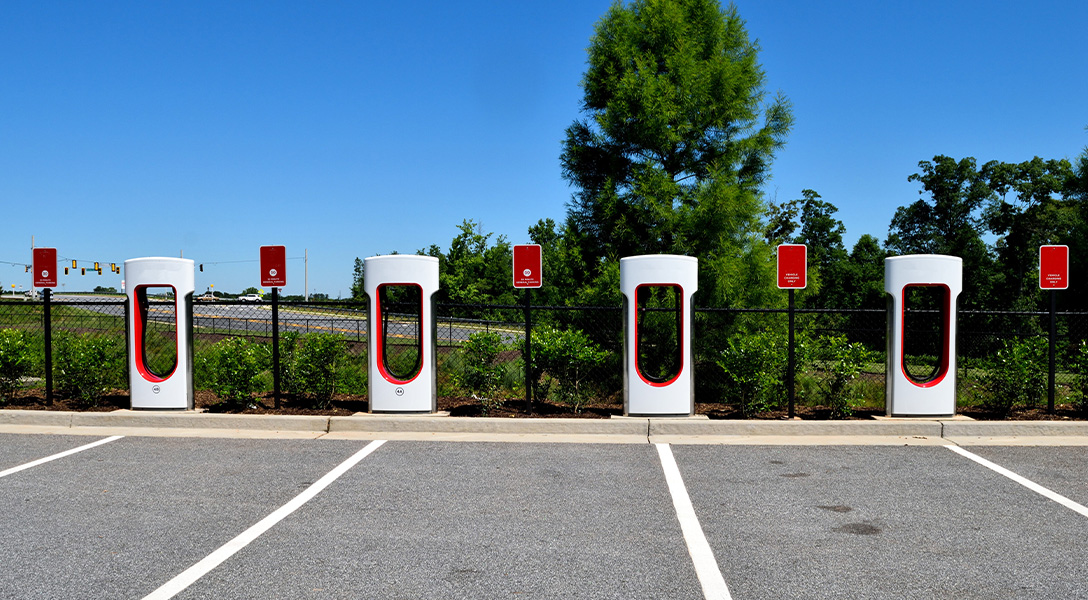 Texas to get new type of refinery: a lithium refinery
A new type of refinery—a lithium refinery—is coming to Texas. Tesla, the largest manufacturer of electric vehicles (EVs) in the United States, is developing the facility on the Gulf Coast near Corpus Christi.
The plant will produce battery-grade lithium hydroxide, a lithium chemical used in the high-performance lithium-ion batteries that companies such as Tesla prefer. Once operational, the refinery will be one of just a few facilities operating in the U.S. that produce the chemical. With it comes the ability for Tesla to secure domestic supplies of refined lithium and capitalize on the 2022 Inflation Reduction Act's subsidies for EVs.
Lithium is a key input in the batteries that power EVs. There are many potential sources of the element but only two are in widespread commercial use: brines and spodumene. Brine deposits are accumulations of groundwater with high concentrations of lithium, while spodumene is a lithium-rich, hard-rock ore. Spodumene is mined in open mine pits, and the rock is typically processed on location to produce spodumene concentrate.
Details have yet to be released, but Tesla's Texas refinery will most likely process spodumene concentrate to produce lithium hydroxide for its batteries.
Business partnership, location provide logistical benefits
Tesla has not officially announced from where it will source its feedstock, but the company recently entered into a contract with Piedmont Lithium to purchase spodumene concentrate from Piedmont's North American Lithium project in Quebec (Chart 1). The joint venture with Sayona Mining is expected to begin production this year. It will be one of just two active lithium mines in North America—the other being the Silver Peak mine in Nevada, about 210 miles northwest of Las Vegas.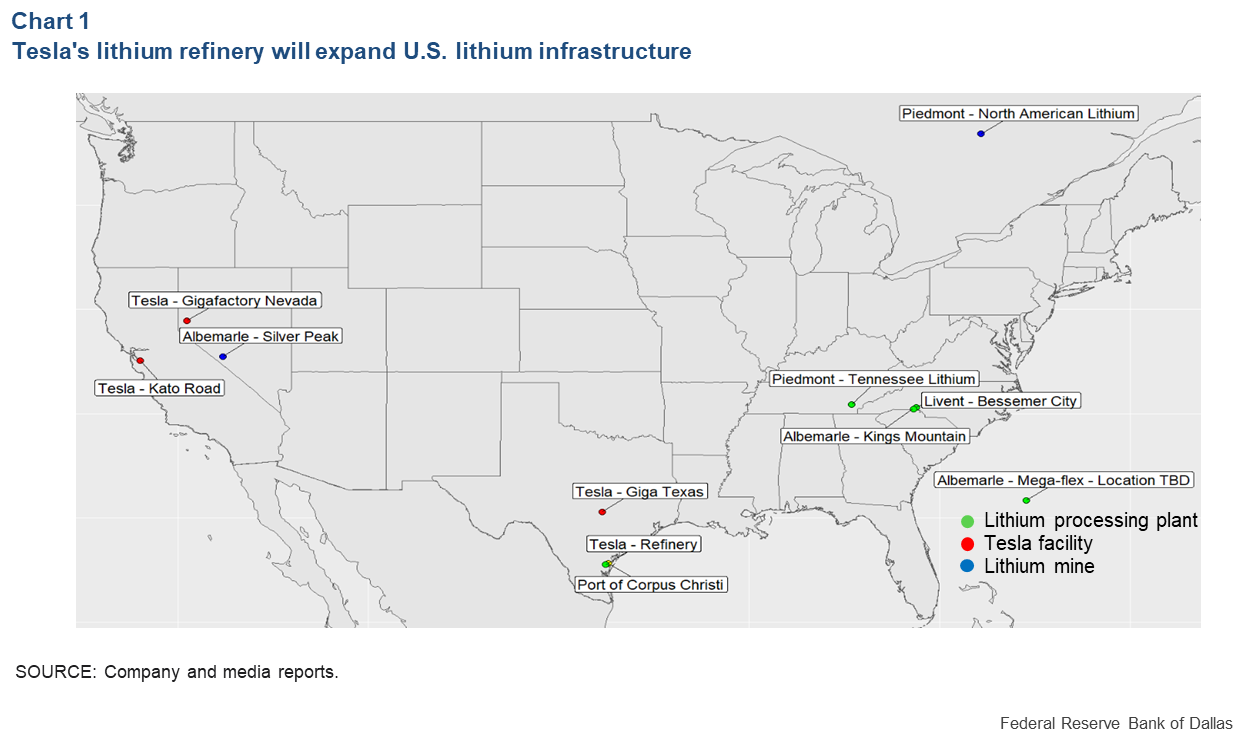 Regardless of where the feedstock is sourced, the refinery's location means it will be well positioned from both upstream and downstream perspectives. The refinery will have convenient access to the Gulf of Mexico to receive feedstock and other inputs. Downstream, the facility will have the ability to ship its output to Tesla's gigafactories in the U.S, including the Giga Texas plant in Austin.
Inflation Reduction Act incentivizes lithium processing
Processing plants that produce battery-grade lithium hydroxide are relatively rare in the U.S., with only two operating. Such capacity is concentrated in China, which also dominates many other areas of the lithium-ion battery supply chain, including the processing of other key minerals such as cobalt as well as the production of key battery components and even the batteries themselves.
This concentration is due in part to Chinese government policy, which has prioritized investment in the EV and battery supply chains, and in part to favorable economics. For example, a recent report by Li-Bridge, a lithium battery supply-chain advocate, noted that companies operating in China have the benefit of inexpensive labor and loose environmental regulations and possess the ability to take advantage of economies of scale.
The economics of opening and operating lithium refining facilities in the U.S. received a boost from the 2022 Inflation Reduction Act. The act provides subsidies to produce refined lithium and ties federal EV subsidies to content requirements that specify how much of an EV battery's critical minerals and components must be sourced from the U.S. or a country that has a free-trade agreement with the U.S.
The critical mineral rule is particularly relevant for projects such as Tesla's because it states that the minerals can be either mined or processed in an eligible country. Starting later this year, 40 percent of those critical minerals must be from a qualifying country; that requirement jumps to 80 percent after 2026 (Chart 2).
Perhaps even more important, beginning in 2025, none of the critical minerals can be mined or processed in China. This provides strong incentives to invest in processing facilities and to create strategic partnerships between companies, such as the one between Tesla and Piedmont.
These policies are intended to shift activity from China by supporting growth of domestic EV and lithium-ion battery supply chains. This provides benefits to companies such as Tesla as well as to those geographic areas able to attract the new investment and to consumers who can access the EV-purchase subsidies.
The act also seeks to mitigate potential geopolitical risks associated with sourcing key inputs from one location. On the other hand, such policies can distort economic activity and trade flows by promoting the use of higher-cost production that might not be cost effective absent the subsidy.
There is additional interest in lithium refining in the U.S. beyond just the Tesla facility, spurred by Inflation Reduction Act incentives and an incipient battery boom in the U.S.
Livent, a U.S.-headquartered lithium chemical company, recently completed an expansion of its lithium processing plant in North Carolina, boosting capacity 50 percent. Also, Piedmont Lithium has announced a lithium hydroxide plant in Tennessee with production expected to begin in 2025.
Albemarle, one of the largest lithium producers, has also indicated interest in a "mega-flex" project that would be located somewhere in the southeastern U.S. Once operational, these plants will dramatically increase the domestic production of a key input to the lithium-ion battery supply chain.
About the authors
The views expressed are those of the authors and should not be attributed to the Federal Reserve Bank of Dallas or the Federal Reserve System.