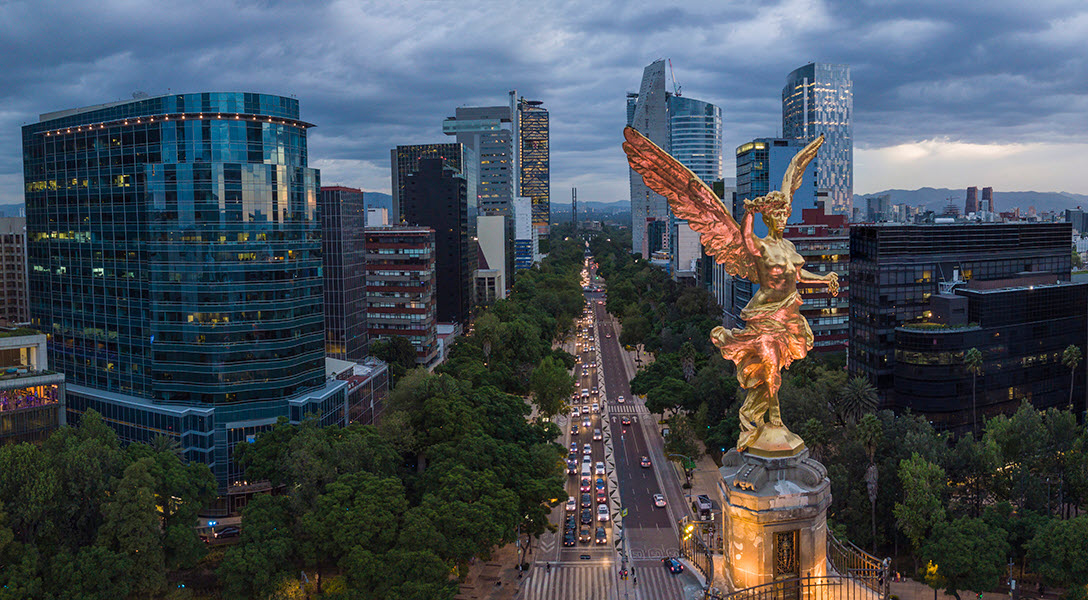 Mexico Economic Update
Mexican economy sends mixed signals toward year-end
December 27, 2022
November 2022 economic report
GDP, real
July–September '22
Employment, formal
November '22
CPI
November '22
Peso/dollar
November '22
4.1% q/q
6,021 jobs m/m
7.8% y/y
19.4
Mexico's proxy for monthly GDP dipped 0.1 percent in November after rising for four straight months. The possibility of a U.S. recession, inflationary pressures, weak investment and monetary tightening are headwinds for the Mexican economy going into next year. Nevertheless, the consensus forecast for 2022 GDP growth (fourth quarter/fourth quarter) compiled by Banco de México rose in November to 3.0 percent (Table 1).
Industrial production, exports and retail sales were little changed in the most recent readings, while formal sector jobs fell for the first time since January 2021. In November, the peso strengthened against the dollar, and inflation slowed but remained elevated.
Economic activity dips in November
The global economic activity index (IGAE)—the monthly proxy for GDP growth—fell 0.1 percent month over month in November, a slowdown from October's 0.1 percent and September's 0.7 percent growth (Chart 1). The goods-producing sector (including manufacturing, construction and utilities) fell 0.1 percent in November after increasing 0.5 percent in October. The service-providing sector (which includes trade and transportation) fell 0.1 percent in November after rising 0.1 percent in October. On a year-over-year basis, IGAE rose 4.2 percent in November.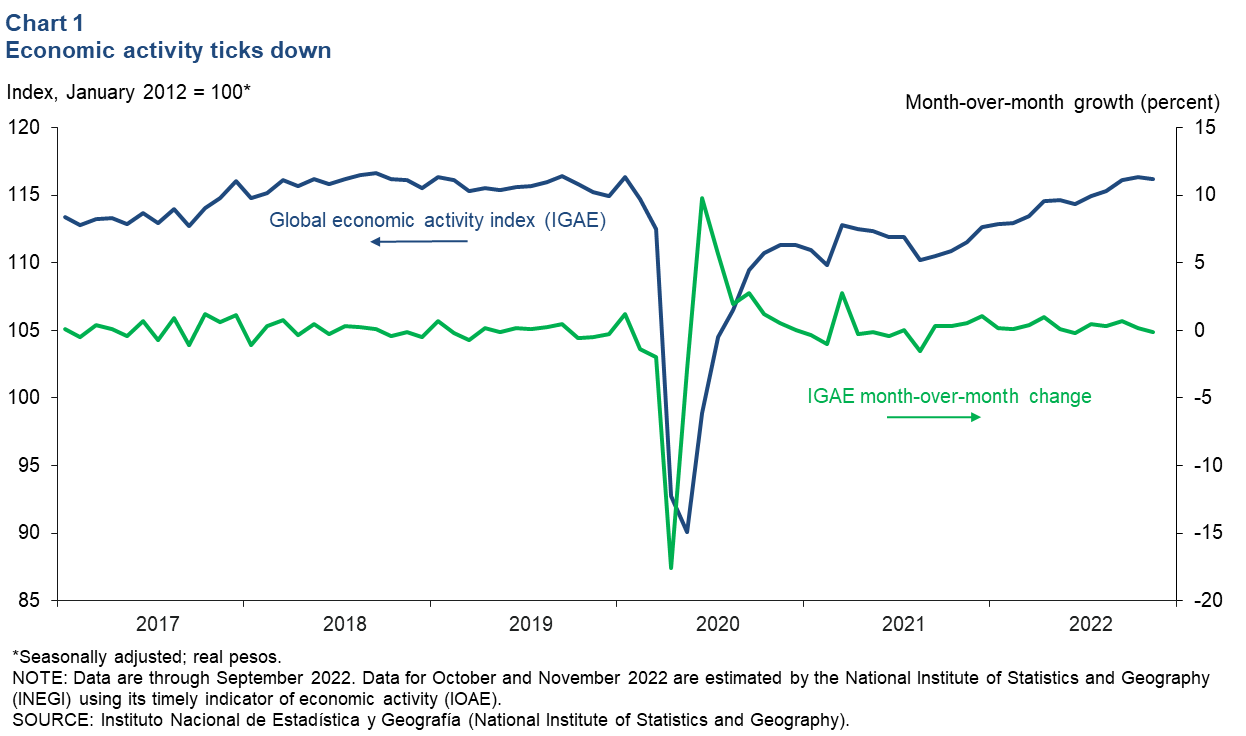 Industrial production unchanged in October
In October, the three-month-moving average of Mexico's industrial production (IP) index—which includes manufacturing, construction, oil and gas extraction, and utilities—was unchanged from September, while manufacturing alone dipped 0.2 percent (Chart 2). On an unsmoothed, month-over-month basis, total IP was up 0.4 percent in October, and manufacturing IP was up 0.1 percent. North of the border, U.S. IP was down 0.1 percent in October after rising 0.1 percent in September. The correlation between IP in Mexico and the U.S. has increased considerably with the rise of intra-industry trade between the two countries since the early 1990s. Mexico's manufacturing sector could continue slowing down, particularly if U.S. consumer demand decelerates because of high inflation and higher interest rates.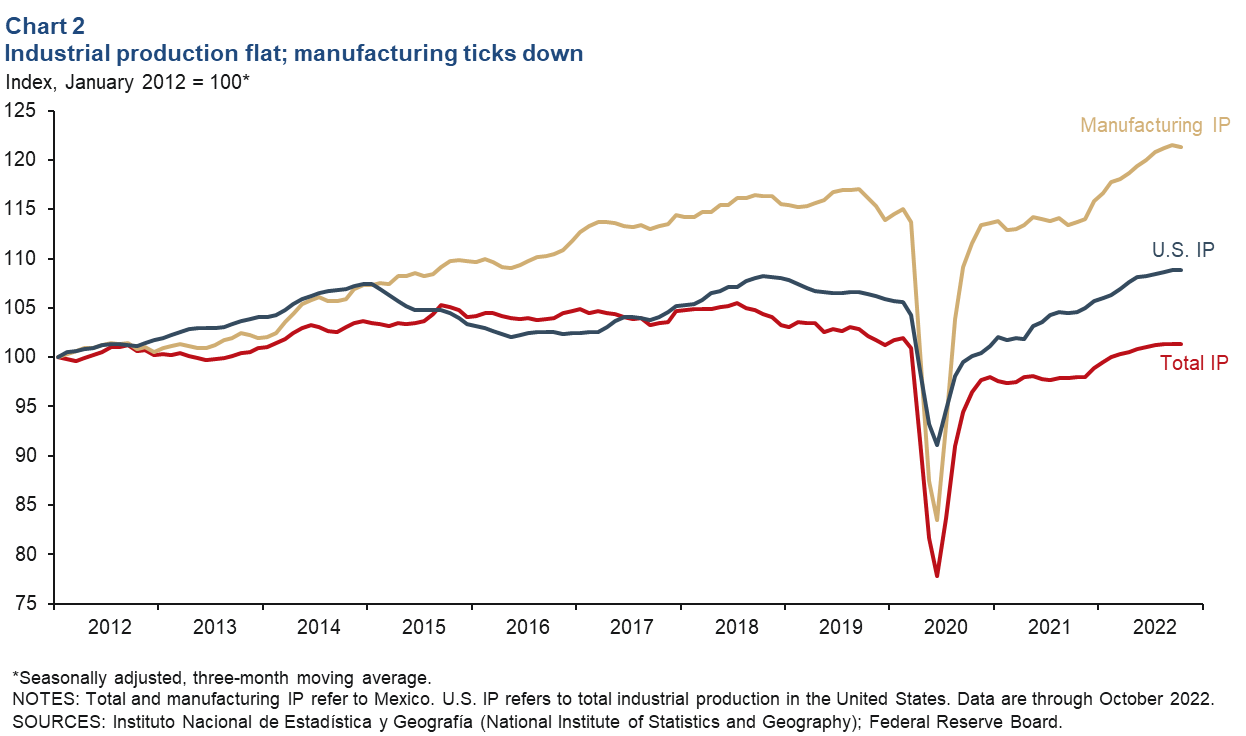 Exports level off in October; oil exports fall further
The three-month-moving average of total Mexican exports was unchanged in October after rising 1.4 percent in September (Chart 3). Oil exports declined by 6.4 percent, but the much-larger manufacturing sector saw exports rise 0.8 percent. On a month-over-month and unsmoothed basis, total exports fell by 4.6 percent, oil dropped 11.5 percent, and manufacturing dipped 4.7 percent. The rise in oil prices contributed to growth in oil exports earlier in the year, but oil exports are now declining as prices retreat. Exports were up 10 percent during the first 10 months of 2022 compared with the same period a year ago.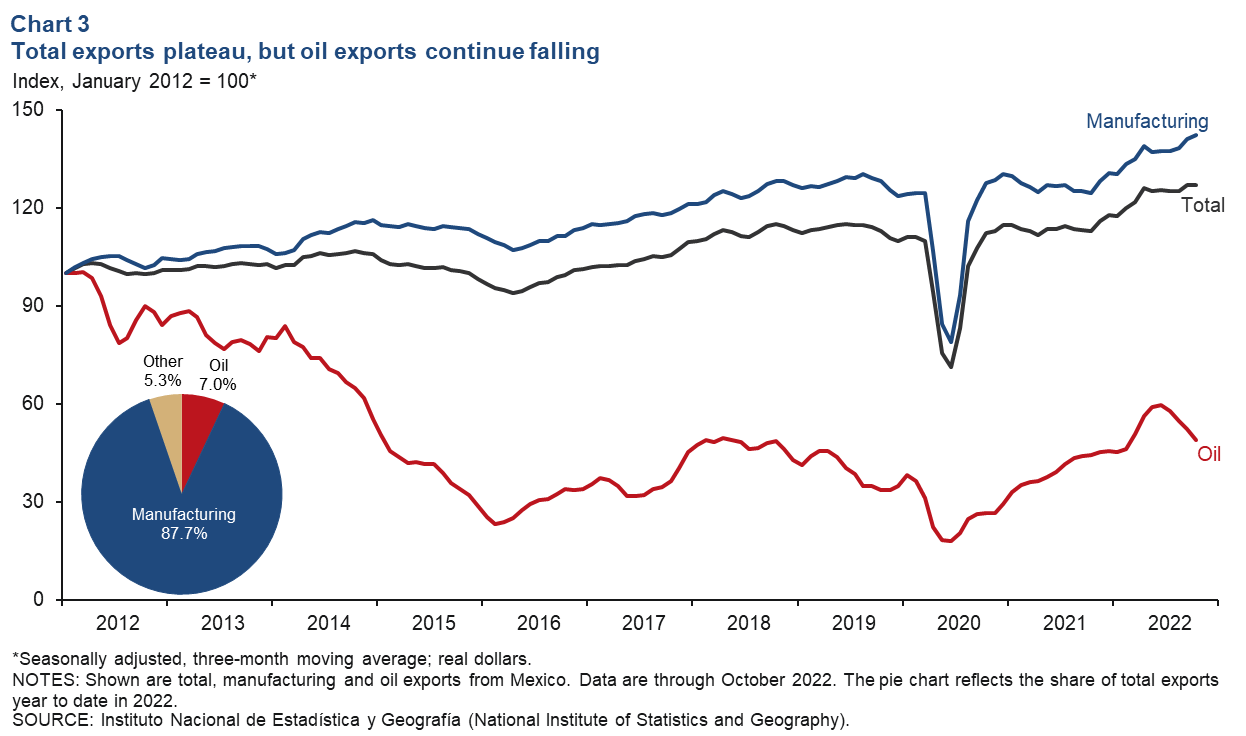 Retail sales little changed in September
The three-month moving index of real retail sales increased 0.1 percent in September (Chart 4). On a month-over-month and unsmoothed basis, retail sales fell 0.2 percent in September. Retail sales are still above prepandemic levels in the face of sky-high inflation, perhaps due to increased remittances.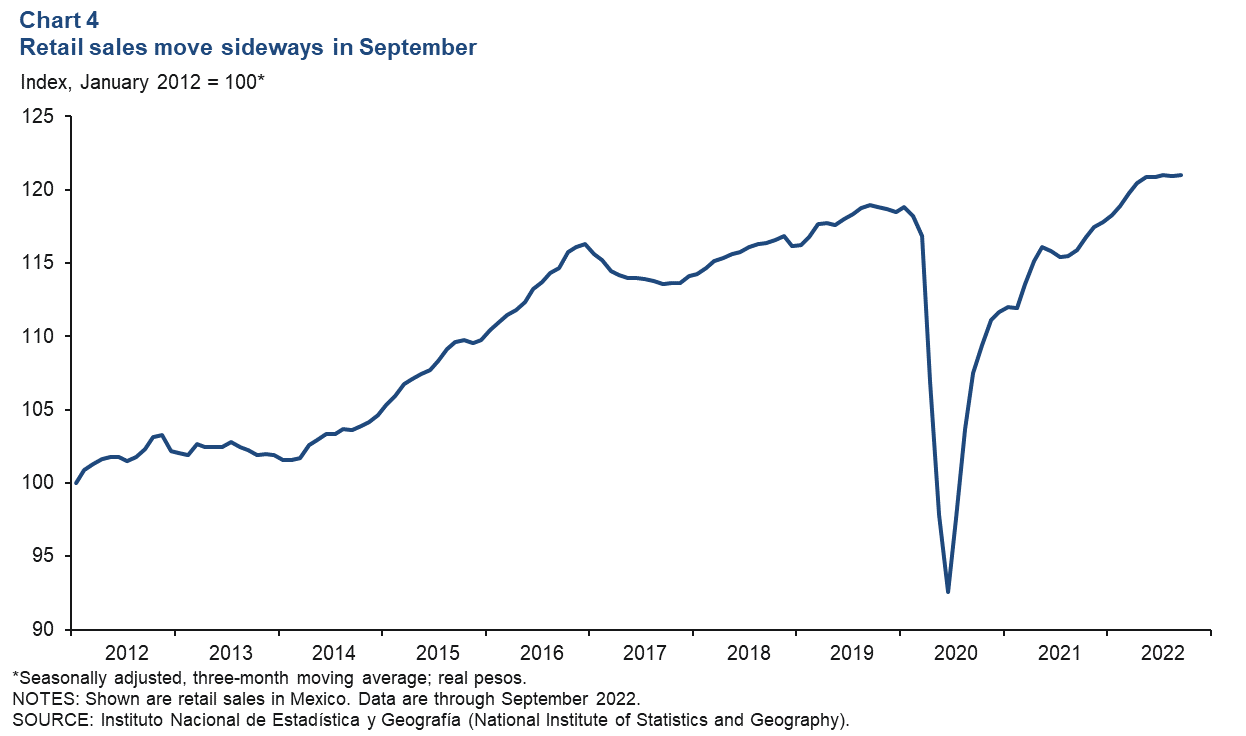 Employment dips in November
Formal sector employment—jobs with government benefits and pensions—fell an annualized 0.3 percent in November (6,000 jobs) after posting 2.1 percent growth in October (Chart 5). Between January and November, Mexico has added almost 700,000 jobs (4.0 percent annualized). Total employment, representing 57.4 million workers and including informal sector jobs, was up 2.9 percent year over year in September. The unemployment rate in October was unchanged at 3.2 percent.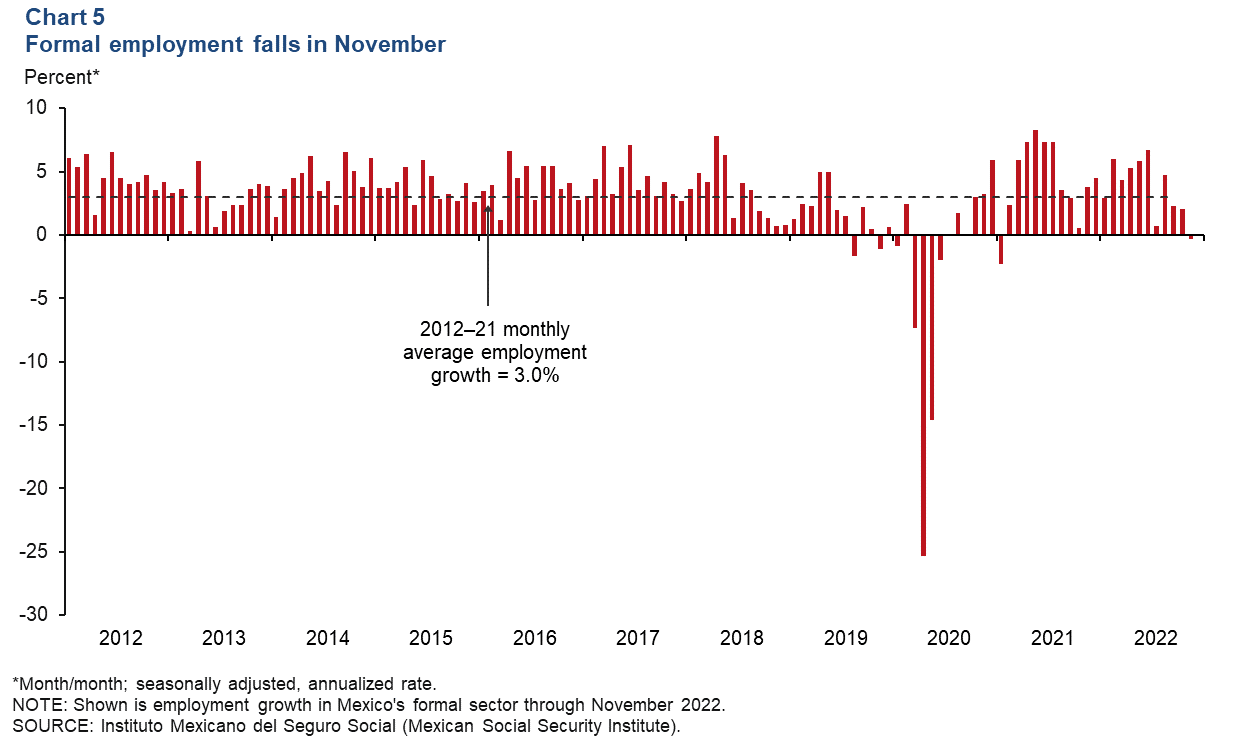 Peso strengthens against the dollar in November
The Mexican currency averaged 19.4 pesos per dollar in November, stronger than October's average of 20.0 pesos per dollar (Chart 6). The peso is still down 3.1 percent from its prepandemic value in February 2020. The peso has been under pressure due to high inflation and increased uncertainty regarding domestic and global growth. However, it has remained relatively stable over the last two years as Mexico's central bank has aggressively raised domestic interest rates in anticipation of and in response to U.S. interest rate hikes this year.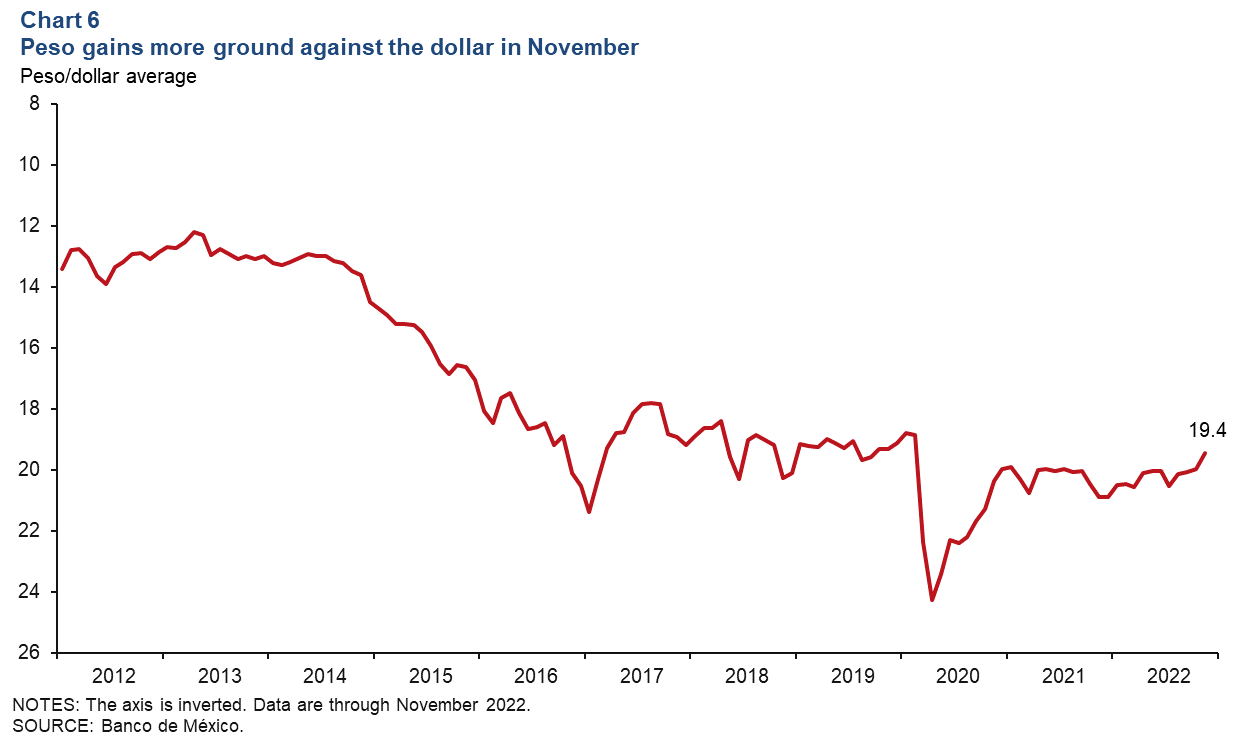 Remittances grow further in October
The three-month-moving average of real remittances to Mexico rose 0.7 percent in October after rising 1.1 percent in September (Chart 7). On a month-over-month and unsmoothed basis, remittances rose 1.8 percent in October after increasing 3.8 percent in September. Most likely, remittance flows to Mexico slowed at the beginning of 2022 due to high inflation in the U.S. and elsewhere, which erodes disposable income, including funds for remittances. However, remittances to Mexico bounced back in May and have been on an upward trend since then.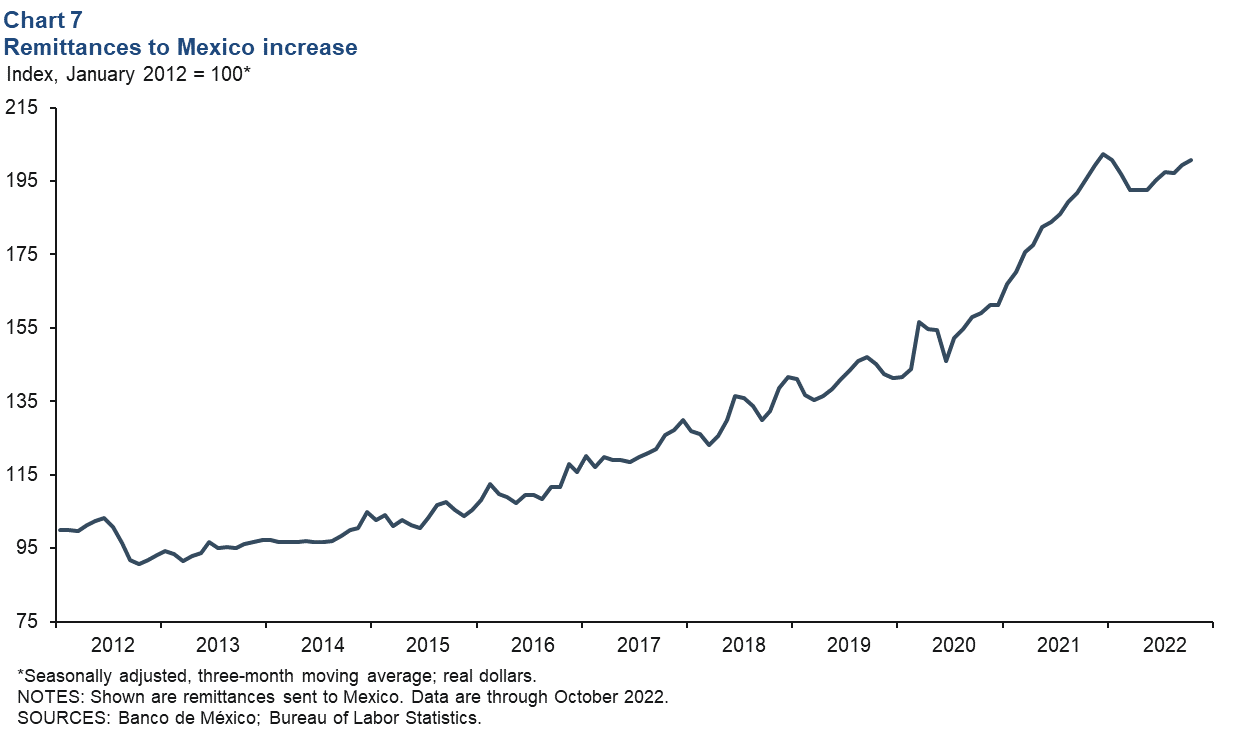 Foreign-owned debt largely flat in November
The three-month moving average of foreign-owned Mexican government securities was unchanged at 16.1 percent in November, equal to its October value (Chart 8). The reading has declined over the course of 2022 due to a reduction in foreigners' ownership of long-term securities. The extent of nonresident holdings of government debt is an indicator of Mexico's exposure to international investors and a sign of confidence in the Mexican economy. It's noteworthy that the measure has been on a downward trend since peaking in early 2015. Long-term government securities make up 83 percent of foreign‐owned Mexican public debt.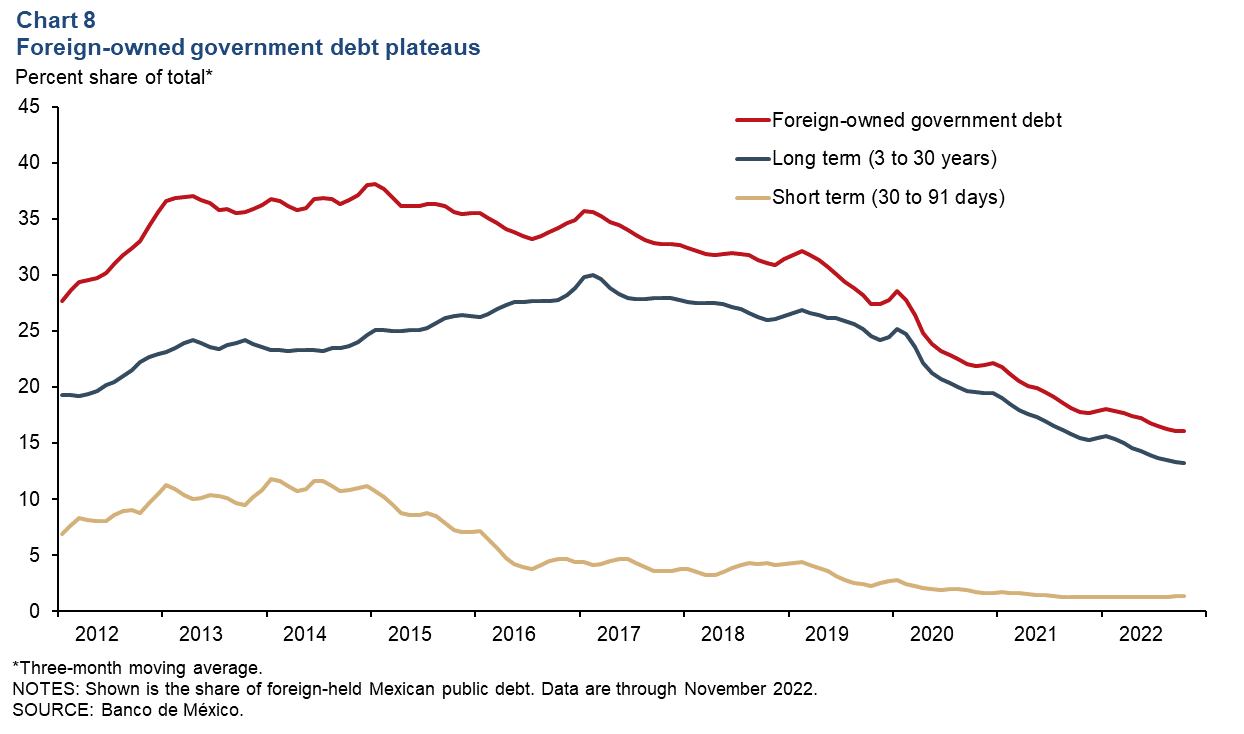 Inflation mellows in November but remains elevated
Mexico's consumer price index (CPI) was up 7.8 percent in November over the prior 12 months, down from October's 8.4 percent reading (Chart 9). CPI core inflation, which excludes fruits, vegetables, meat, eggs and energy, rose 8.5 percent in the 12 months ending in November. Price growth in processed food, beverages and tobacco is pushing core inflation up and continues to worry policymakers at Mexico's central bank. In December, Mexico's central bank voted to increase the benchmark interest rate by 50 basis points to 10.5 percent. This decision followed four 75-basis-point increases and matched the U.S. Federal Reserve's December increase. In the public announcement accompanying the interest rate decision, Mexico's central bank reported anticipating further hikes in line with prevailing economic conditions.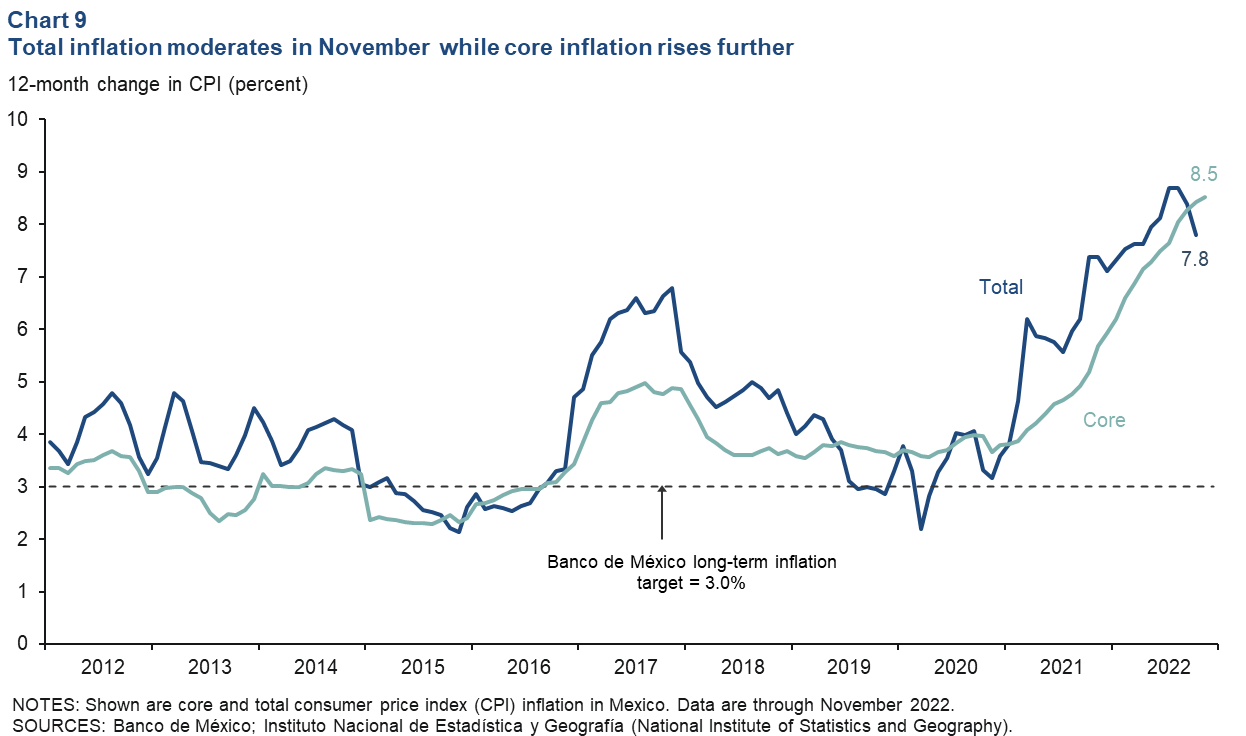 About the Authors
The views expressed are those of the authors and should not be attributed to the Federal Reserve Bank of Dallas or the Federal Reserve System.