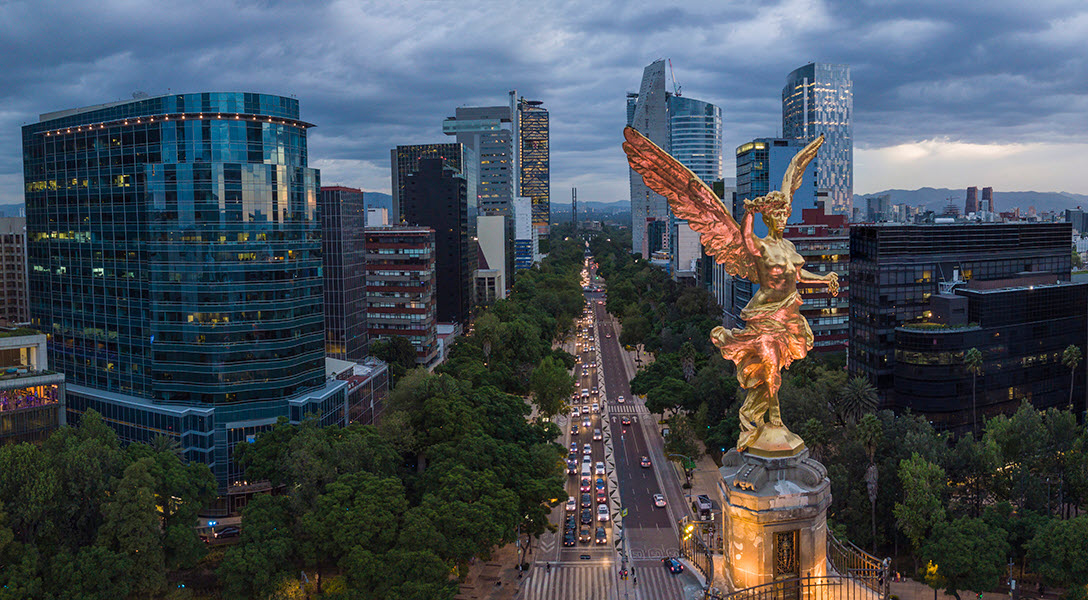 Mexico Economic Update
Mexican economy picks up steam in first quarter
May 24, 2023
April 2023 economic report
GDP, real
Q1 '23
Employment, formal
April '23
CPI
April '23
Peso/dollar
April '23
4.5% q/q
109,200 jobs m/m
6.2% y/y
18.1
Mexico's GDP grew an annualized 4.5 percent in the first quarter, an acceleration from the previous quarter's growth of 1.8 percent. Service sector and export strength surprised to the upside, pushing first-quarter output growth above analysts' expectations of 3.2 percent. Nevertheless, the consensus forecast for 2023 GDP growth (fourth quarter/fourth quarter), compiled by Banco de México, held steady in April at 0.7 percent (Table 1).
Table 1
Consensus forecasts for 2023 Mexico growth, inflation and exchange rate
March
April
Real GDP growth (Q4/Q4)
0.7
0.7
Real GDP (average year/year)
1.4
1.6
CPI (Dec. '23/Dec. '22)
5.2
5.1
Exchange rate—pesos/dollar (end of year)
19.4
19.1
NOTES: CPI refers to consumer price index. The survey period was April 19–27.
SOURCE: Encuesta sobre las Expectativas de los Especialistas en Economía del Sector Privado: Abril de 2023 (communiqué on economic expectations, Banco de México, April 2023).
Recent data are mixed for the Mexican economy. While exports, retail sales and employment grew, industrial production ticked down. Inflation mellowed, and the peso strengthened further against the dollar.
Output grows in first quarter
According to the most recent estimate, Mexico's first-quarter GDP rose an annualized 4.5 percent (Chart 1). The services-providing sector (wholesale and retail trade, transportation and business services) grew 1.5 percent while the goods-producing sector (manufacturing, construction, utilities and mining) rose 0.7 percent. Agriculture output fell 3.2 percent.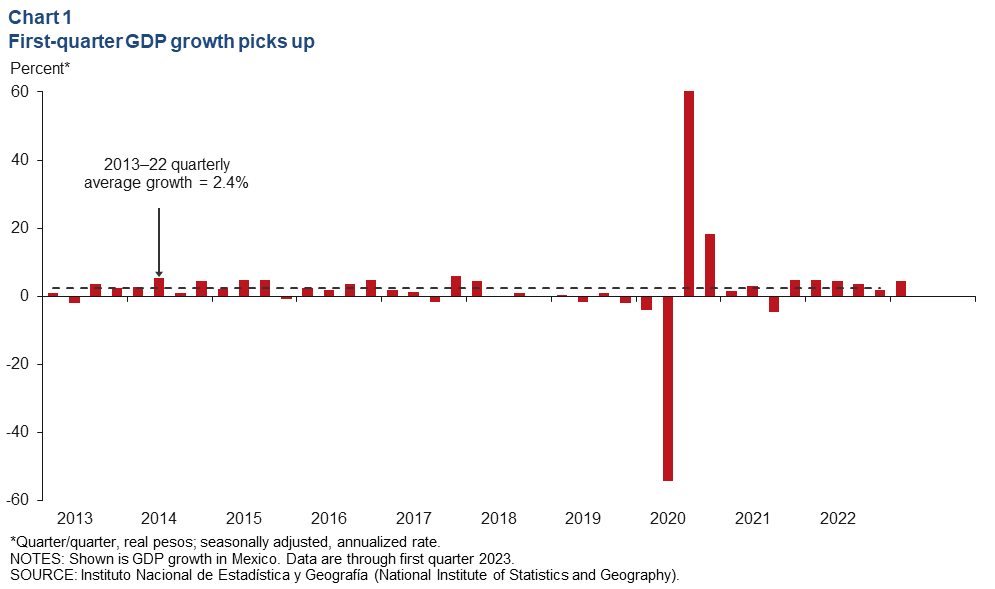 Industrial production ticks down in March
The three-month moving average of Mexico's industrial production (IP) index—which includes manufacturing, construction, oil and gas extraction, and utilities—fell 0.1 percent in March, while the smoothed manufacturing IP index ticked down 0.4 percent (Chart 2). North of the border, the smoothed U.S. IP index rose 0.2 percent in April after rising 0.3 percent in March. U.S. and Mexican IP have become more correlated with the rise of intra-industry trade between the two countries since the early 1990s. If U.S. consumer demand decelerates further this year in the face of high inflation and cost of credit, Mexico's manufacturing sector could see further slowing.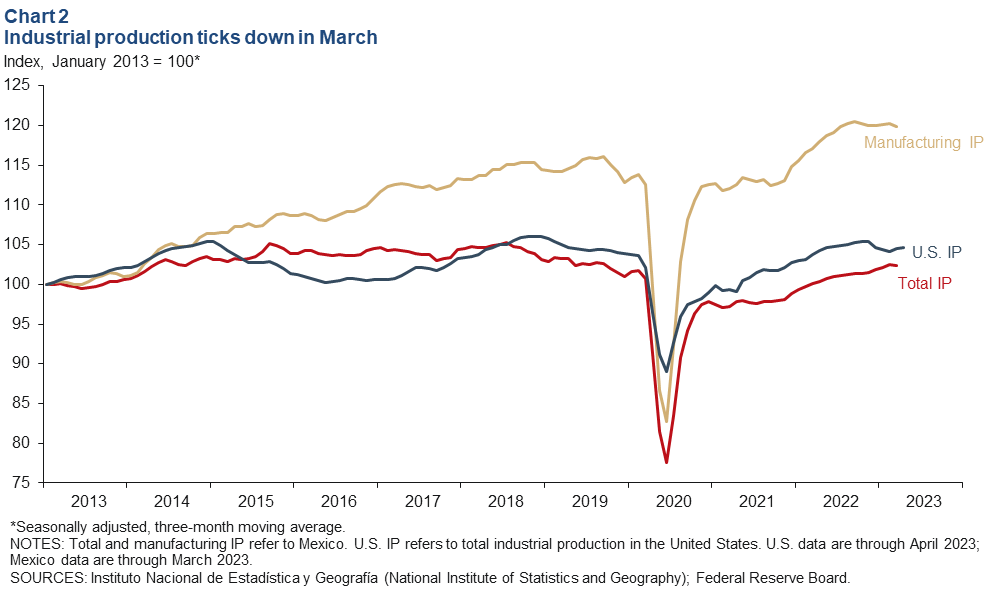 Exports edge up in March; oil exports decline
The three-month moving average of total real Mexican exports rose 0.7 percent month over month in March, while oil exports declined 3.5 percent; however, the much-larger manufacturing sector rose 1.0 percent (Chart 3). Year to date through March, total exports were up 1.1 percent, with manufacturing exports up 2.7 percent and oil exports falling 19.3 percent compared with the same period in 2022.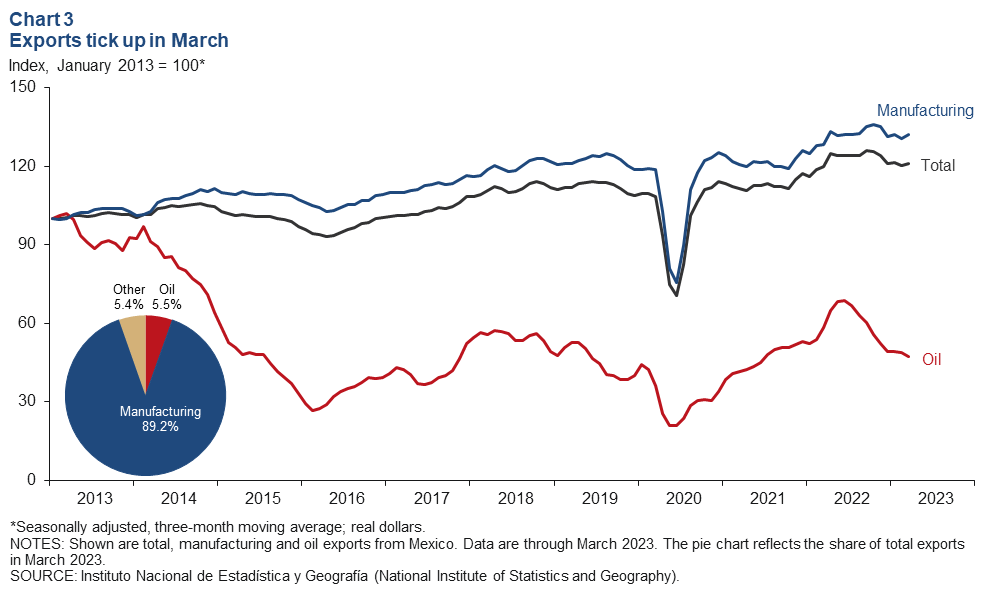 Retail sales remain elevated in February
The three-month moving index of real retail sales rose 0.6 percent in February (Chart 4). Year over year, the smoothed retail sales index was up 3.7 percent. Mexico's domestic market has been relatively strong and that could help mitigate a fall in manufacturing exports resulting from a possible economic slowdown in the U.S.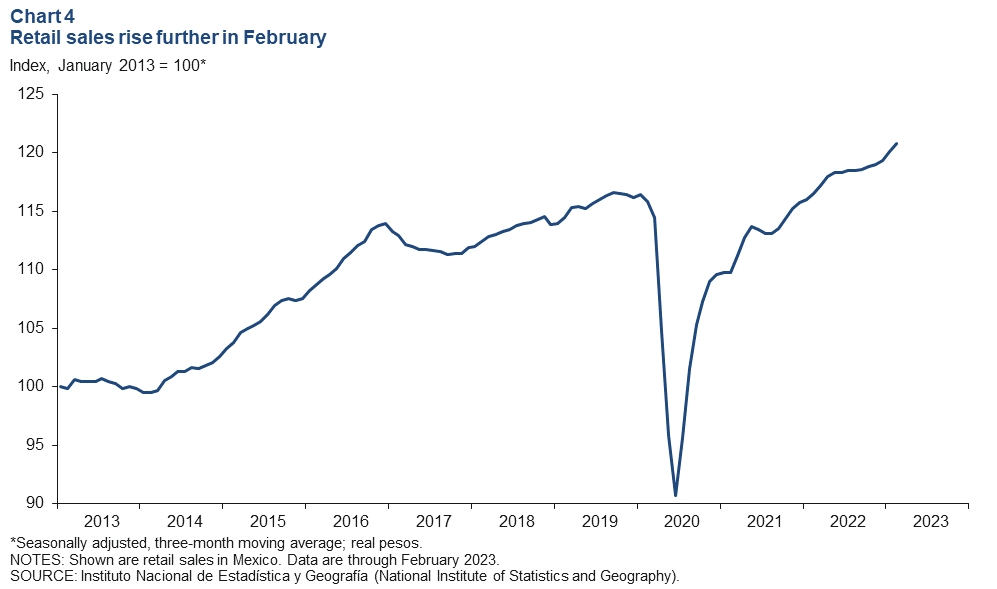 Employment climbs in April
Formal sector employment—jobs with government benefits and pensions—rose an annualized 6.2 percent in April (109,200 jobs) after rising 7.8 percent in March (Chart 5). Total employment, representing 58.3 million workers and including informal sector jobs, grew 3.1 percent year over year in fourth quarter 2022. In March, the unemployment rate was 2.8 percent—unchanged from February.
Peso continues strengthening against the dollar in April
The Mexican currency averaged 18.1 pesos per dollar in April—stronger than March's average of 18.4 pesos per dollar and the strongest average since September 2017 (Chart 6). This marks six straight months of appreciation against the dollar. In April, the peso was 4.0 percent stronger than its prepandemic value. The peso has remained relatively stable in the past two years in the face of high inflation, uncertainty and global headwinds. Mexico's central bank's aggressive interest rate hikes in anticipation of and in response to U.S. interest rate hikes and global inflation likely contributed to this stability.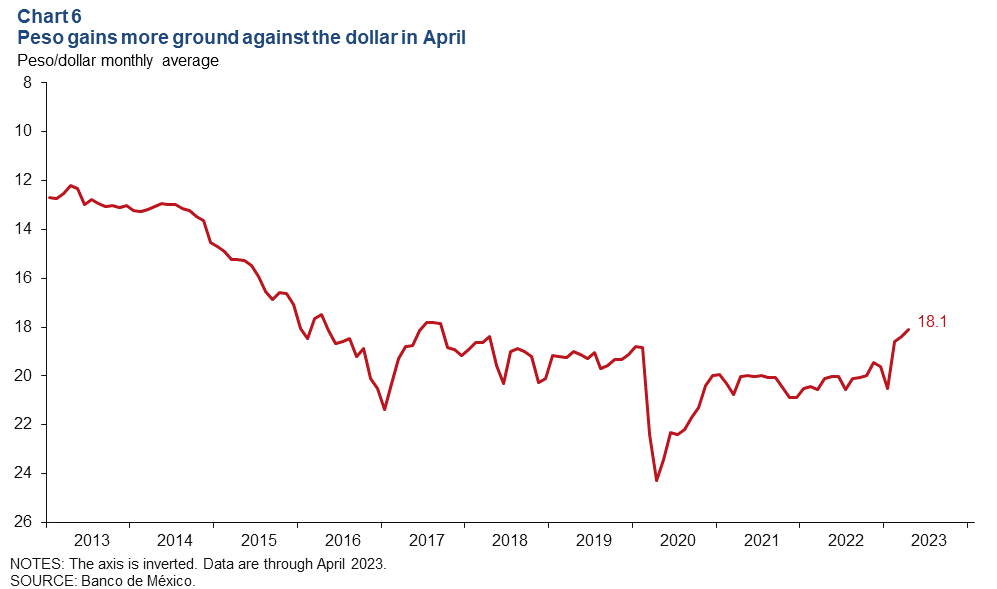 Remittances turn down in March
The three-month moving average of real remittances fell by 1.5 percent in March after rising 0.8 percent in February (Chart 7). Even with the month-over-month dip, remittances are close to record highs.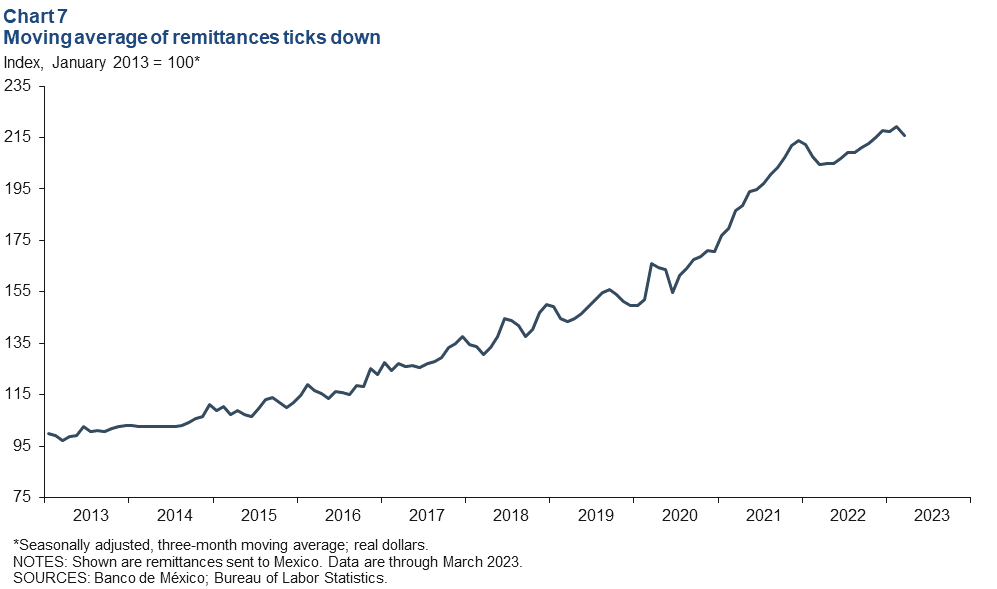 Foreign-owned debt falls in April
The three-month moving average of foreign-owned Mexican government securities dropped to 16.1 percent in April (Chart 8). The extent of nonresident holdings of government debt is an indicator of Mexico's exposure to international investors and a sign of confidence in the Mexican economy. It's noteworthy that the measure has been on a downward trend since 2015. Long-term government securities make up 81.9 percent of foreign-owned Mexican public debt.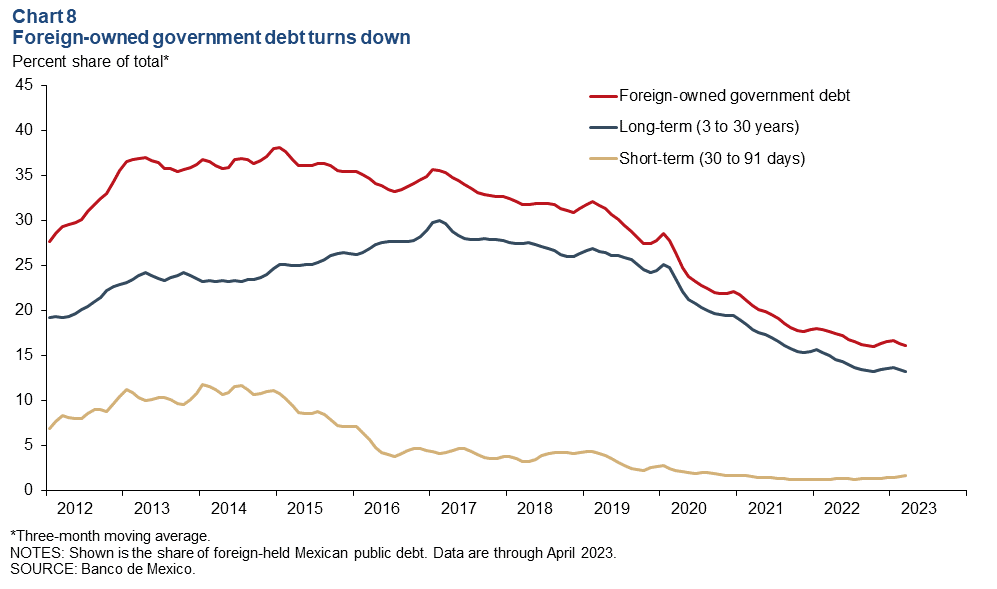 Inflation continues slowing in April
Mexico's consumer price index (CPI) increased 6.2 percent in April over the prior 12 months; this was down from March's 6.9 percent and is the lowest inflation increase since October 2021 (Chart 9). CPI core inflation, which excludes food and energy, also trended lower to 7.7 percent in the 12 months ending in April. In May, Mexico's central bank kept its benchmark interest rate steady at 11.25 percent. This was the bank's first pause in tightening after 15 consecutive rate hikes going back to June 2021. However, in its statement, the bank noted that risks to inflation remain to the upside; therefore, the benchmark interest rate will remain at its current level for an extended period of time.