Regional
Trade Tensions Cloud Outlook as Texas Experiences Moderate Growth
June 27, 2019
The region's moderate expansion continues, despite a weakening outlook. Job gains were solid in May, with most industries and major metros adding to payrolls, and labor markets remaining historically tight. The recent spike in trade- and tariff-related uncertainty, employer difficulty hiring workers, the strong dollar and a slowing global economy pose downside risks.
Jobs Grew Moderately in May
The Texas economy added 22,000 jobs in May, representing a 2.1 percent annualized growth rate that matches the long-run average of 2.1 percent. Texas has gained 122,000 jobs through the first five months of the year, a 2.3 percent annualized rate—the same pace as in 2018. The Dallas Fed's Texas employment forecast suggests the state will add jobs at the same rate through 2019.
Among the goods-producing sectors, construction employment grew a strong 4.3 percent in May, while manufacturing and energy employment dipped. For the first two months of the second quarter, manufacturing inched down, with energy and construction employment expanding robustly (Chart 1).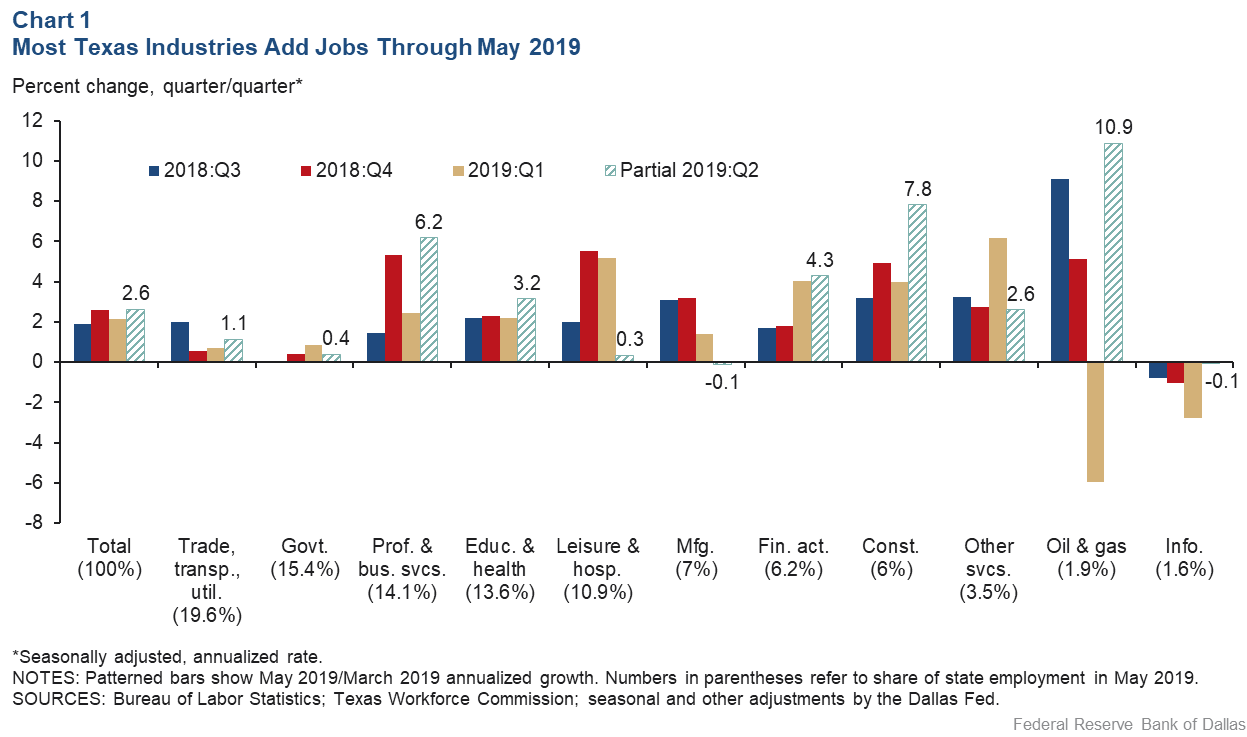 Recent weakness in manufacturing employment coincides with escalating trade tensions, including U.S. imposition of tariffs, and a strengthening dollar. Oil and gas employment declined an annualized 1.6 percent in May following 24.9 percent annualized growth in April. The sector's jobs activity tracks upward-trending oil prices in April and a subsequent decline in May.
Services jobs grew a healthy 2.3 percent in May. Most services supersectors added jobs, though leisure and hospitality employment dipped.
Job growth strengthened in Austin, El Paso and Fort Worth in May while moderating in other major metros relative to April. San Antonio shed jobs in May. Dallas leads in year-to-date job growth, 3.7 percent, followed by Austin, 3.2 percent, and Houston, 3.0 percent. Only Fort Worth lost jobs year to date—a 0.8 percent decline.
The Texas unemployment rate ticked down to a record-low 3.5 percent in May, underscoring labor market tightness. Nationally, the unemployment rate was 3.6 percent. The state's most recent drop was driven by a 0.2 percent labor force contraction with simultaneous 1.3 percent household employment growth. Household employment and the labor force have grown moderately year to date in Texas through May, even as they declined nationally.
Overall Wage Pressures Ease
Wage growth has slowed across most sectors in 2019, hinting at easing in labor market tightness (Chart 2).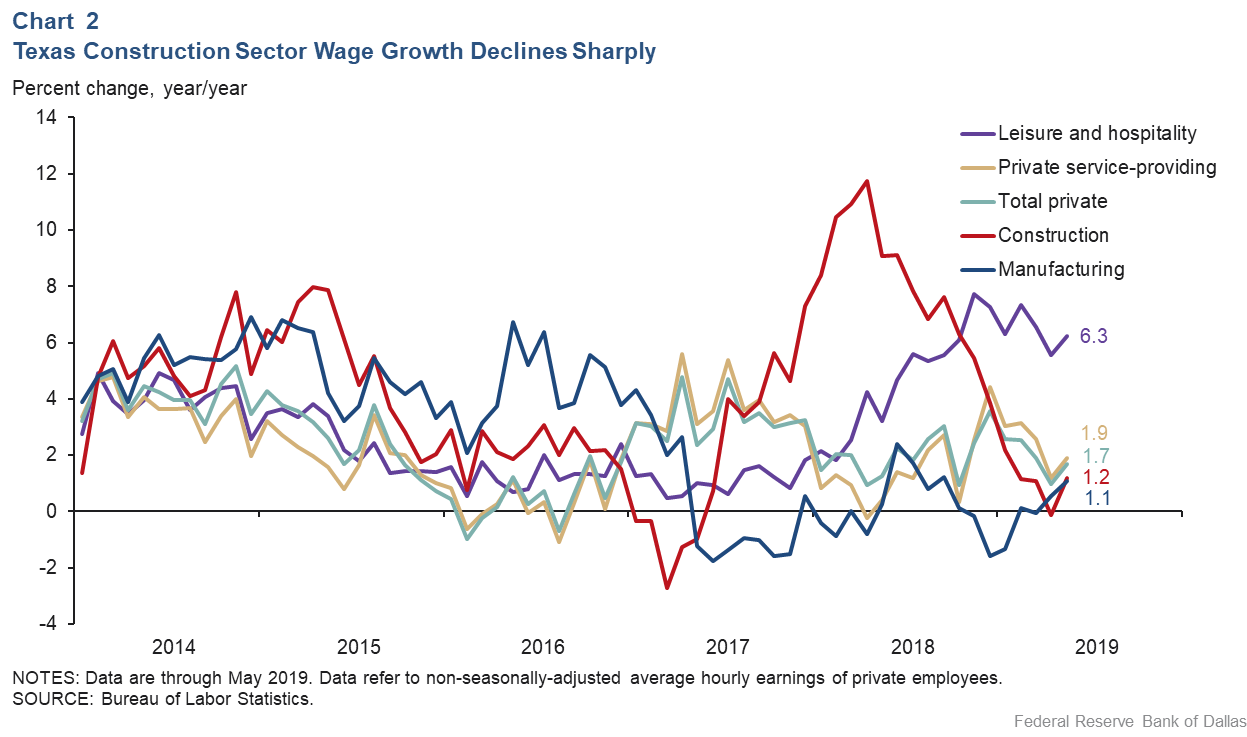 However, wage changes may reflect the composition of net new jobs, rather than actual pay increases or decreases. Hourly earnings of private sector workers in Texas rose 1.7 percent year over year in May, lower than the nation's 3.1 percent rate. A damping of wage gains in Texas construction since mid-2018 is particularly notable. By comparison, there has been outsized wage growth in the leisure and hospitality sector this year.
Export Growth Flattens Amid Trade Tensions
Export growth has moderated in recent months after a 15.3 percent rise in 2018 over prior-year levels. Exports in the first four months of 2019 were an annualized 0.5 percent below levels in the last four months of 2018. Oil and gas exports, banned until December 2015, buoyed export growth. They represented 2.2 percent of Texas exports in 2010, compared with almost 25 percent in April.
Exports have been restrained by declining trade with China arising from trade tensions and tariffs. Texas exports to China this year through April fell 52.8 percent relative to the same period in 2018. China's share of Texas exports dipped from 5.3 percent in 2018 to 3.1 percent in April 2019. While Venezuela represents a small share of Texas exports, exports to the U.S. government-sanctioned country have dropped from $324 million per month in 2018 (1.2 percent of the state's exports) to just $8.5 million in April 2019 (representing 0.03 percent).
Perceptions of Broader Business Conditions Dim
The Dallas Fed's Texas Business Outlook Surveys (TBOS) suggested faster growth in June. The manufacturing and service sector surveys indicated that economic activity expanded more quickly than in May, while the retail survey pointed to a decline in retail sales. Although monthly readings can be volatile, three-month moving averages suggest steadily slowing growth since third quarter 2018. Manufacturers reported declining growth in orders but a slight uptick in new orders in June, indicating weak manufacturing demand.
Manufacturers' perceptions of broader business conditions and company outlooks dimmed further in June, and uncertainty rose notably. Perceptions among service-sector firms rebounded in June, although uncertainty remained elevated. Three-month moving averages of the general business activity indexes reflected continued pessimism in manufacturing and retail and below-average perceptions for services (Chart 3).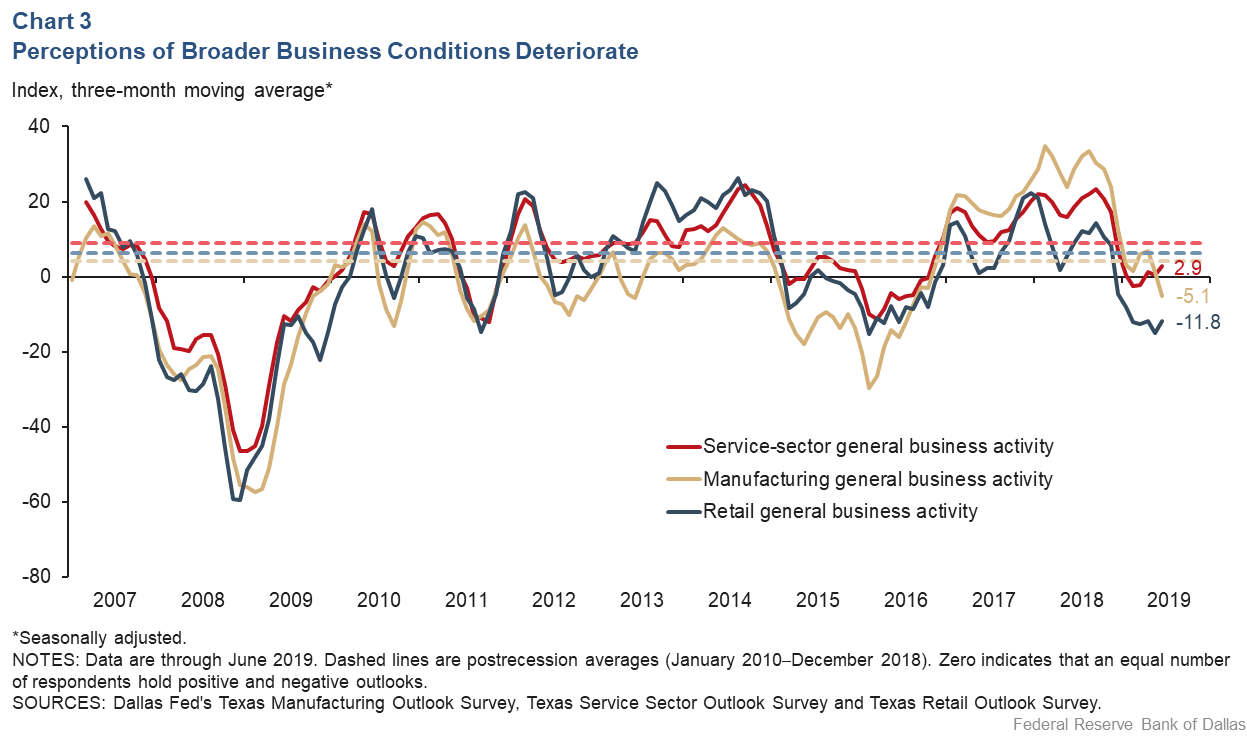 Many survey participants expressed pessimism about the impact of trade tensions with China and heightened uncertainty regarding when the situation might be resolved. Responding to a series of special questions in June, nearly 30 percent of firms reported a net negative impact from tariffs imposed in the past year, compared with fewer than 5 percent of firms saying they had benefited. More than 35 percent of firms reported that trade policy heightened their uncertainty.
Most six-month-ahead indexes retreated in June among manufacturers but improved among service providers, though growth expectations remain positive for both.
Leading Index Points to Further Growth
The Texas Leading Index fell in May, while the three-month change was positive, suggesting continued growth in the next three to six months. However, trade policy developments could affect the forecast even as the regional economy continues expanding at a moderate pace.
About the Authors
The views expressed are those of the authors and should not be attributed to the Federal Reserve Bank of Dallas or the Federal Reserve System.