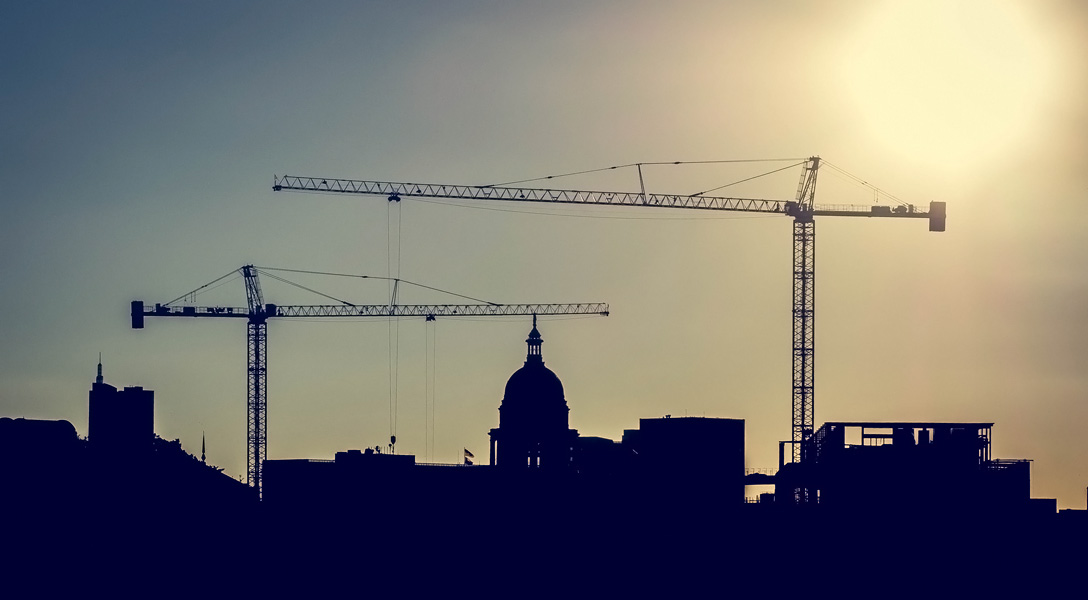 New office buildings rise on Texas skyline despite difficult market
Despite persistent remote work arrangements and high vacancies in existing office buildings, construction cranes erecting new office space continue to dot Texas skylines.
In fact, new office projects are increasing in Texas. So why aren't developers slowing down? Office space isn't all the same, and the incentives to finish new projects can be very different from the drivers of the market as a whole.
Office construction remains active
Roughly 115.8 million square feet of office property was under construction nationally as of June, representing 1.7 percent of the existing stock, according to CommercialEdge, a commercial real estate software firm. The new construction is largely in markets with concentrations of technology, financial and professional services companies—sectors that face challenges getting employees back to the office.
Texas has three of the top 20 markets in the U.S. based on the amount of office space under construction: Austin ranked fifth; Dallas ranked eighth; and Houston ranked 14th (Chart 1).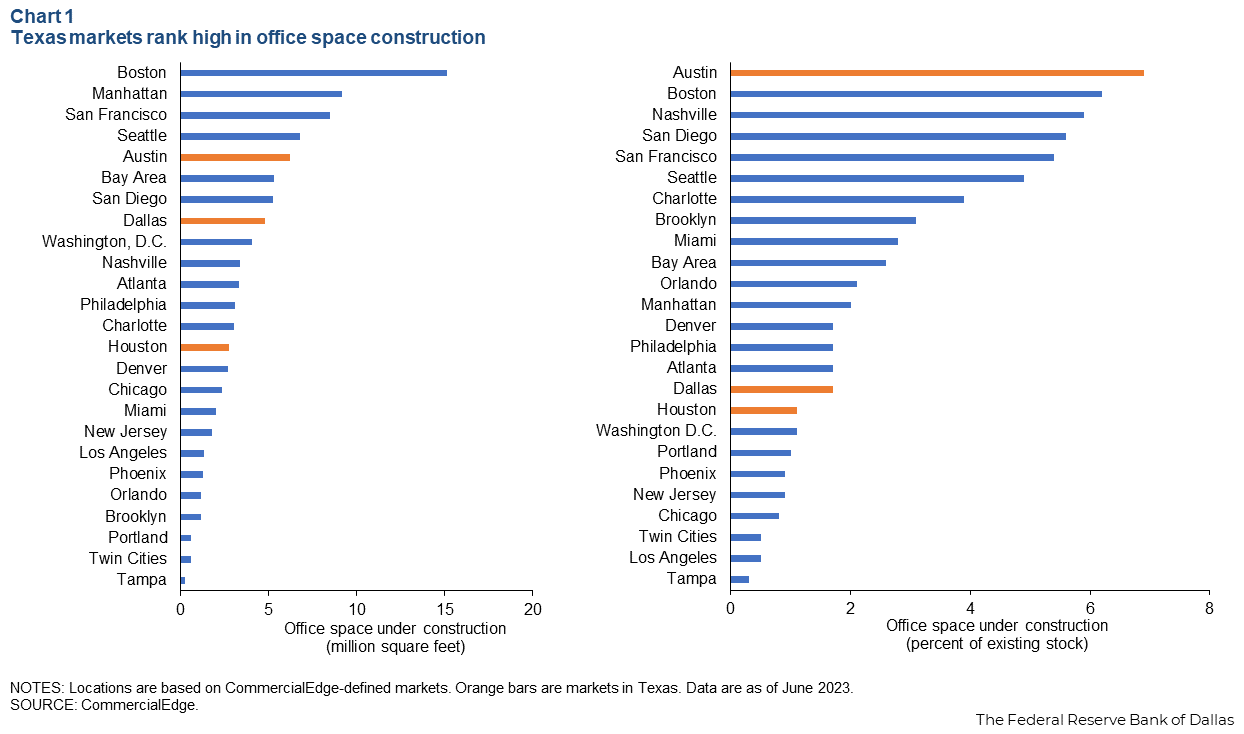 Expectations for continued economic growth and migration of people to Texas are fueling construction in the state. Austin, with 6.2 million square feet of office space in development, equivalent to 6.9 percent of the existing stock, ranks first in construction as a share of existing stock among the nation's largest office markets.
Developers building more office space anticipate sufficient demand to absorb the new supply. Major office projects typically take two to four years from breaking ground to completion. Yet market conditions for office property have undergone a seismic shift since construction on these projects began.
Additionally, construction in progress typically doesn't immediately respond to changes in the market environment. Once construction begins, it is often most economical to finish a project.
Once a staple of white-collar work, the office sector was hard hit during the 2020 pandemic and still suffers as remote work persists and companies continue to redefine the traditional work environment. Even after pandemic lockdowns and capacity restrictions eased and economic activity rebounded, the return to office has been slow. Working from home increased to 25 percent of working days in 2023 from 5 percent of working days in 2019 before the pandemic, according to research from economists Jose Maria Barrero, Nicholas Bloom and Steven J. Davis.
These structural shifts, combined with the typical cyclical effects of rising interest rates, could challenge property owners. While lack of tenant demand is a problem for all building owners, the largest difficulties may be for those who need to show banks they can service their debt, such as owners whose projects are due to be completed and who need to refinance from construction loans into longer-term commercial mortgages. Owners of existing properties whose mortgages require refinancing could face similar challenges.
Office performance faces headwinds
Vacancies inched lower in most major Texas metros during the first half of 2022, and the office market appeared to be stabilizing. However, leasing demand has since failed to gain traction. Vacancy rates in major Texas metros as of first quarter 2023 exceeded peaks reached in 2010 following the Great Recession (Chart 2).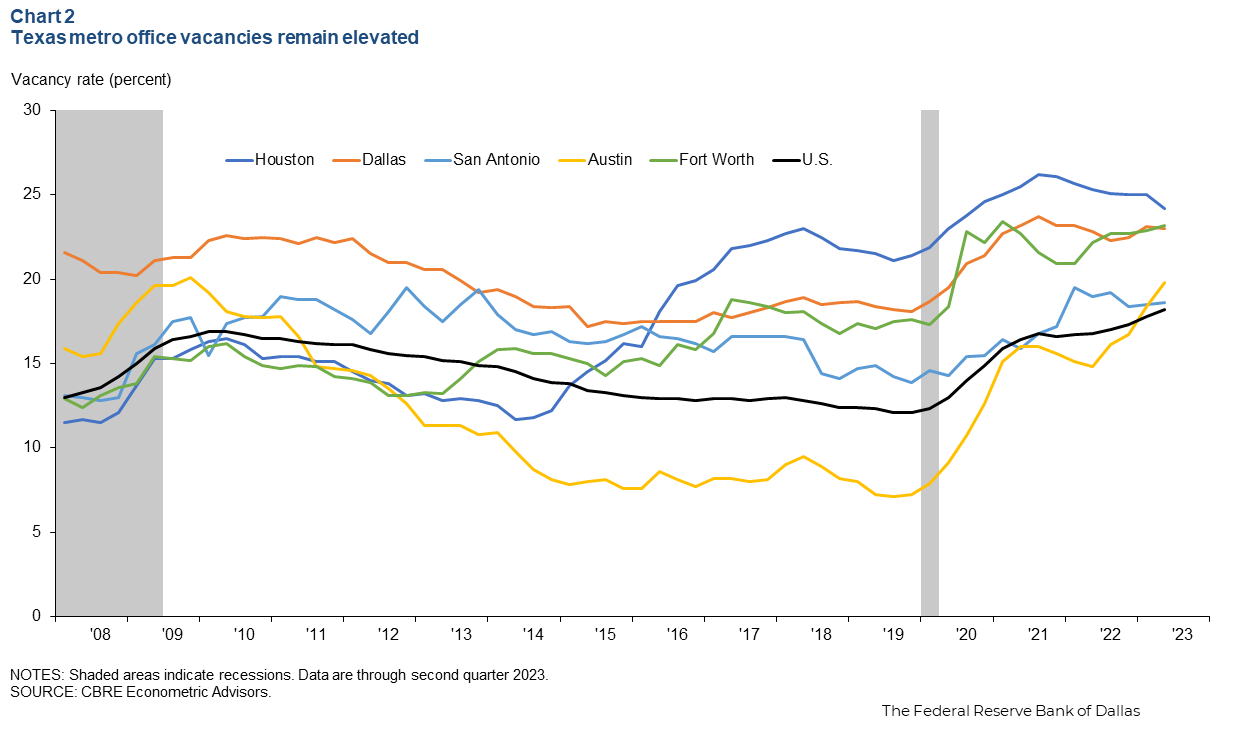 Measured vacancy rates include space available for sublease, that is, tenants attempting to find other parties to take over unneeded space. Office sublet availability has also increased sharply since the onset of the pandemic, quintupling since year-end 2019 in San Antonio, quadrupling in Austin and rising by two-and-a-half times in Dallas-Fort Worth, according to CBRE Economic Advisors data. This compares with a tripling nationally. Greater availability of sublease space puts additional pressure on rents.
Commercial real estate outside the office sector
Office properties have fared worse since the pandemic than other commercial real estate property types, including retail, hotel, industrial and multifamily. The retail and hotel sectors in Texas bounced back from pandemic shutdowns. Minimal construction of new retail space helped limit retail vacancies, and rents for retail space in Texas have accelerated. Hotel occupancy has stabilized in recent quarters—roughly in line with 2019 levels—after rebounding from dramatic declines following lockdowns in 2020.
Booms in industrial and multifamily sectors are beginning to moderate. Demand for warehouse space, included in the industrial sector, increased during the pandemic in line with e-commerce growth. However, as builders complete construction projects, warehouse vacancy rates have inched up nationally and in major Texas metros from near historic lows in first quarter 2023. Multifamily occupancy is roughly in line with historic levels but has slipped lower since peaking in 2021. Rent growth is close to or below trend rates and down from record highs reached in 2021.
Office property factors remain key
While the office sector overall has underperformed other types of commercial real estate, demand for office space varies based on an individual property's characteristics. Newly constructed buildings in major Texas metro areas will likely be more desirable as companies try to bring workers back to the office.

Newer buildings with modern décor and technological capabilities are classified as Class A and tend to command the highest rents. Building owners and brokers base their classifications on qualities such as age, upgrades and amenities. Lesser Class B buildings are generally well-located but tend to be older and do not have the same modern or high-end technology and finishes as Class A, and, accordingly, rent for less. Class C properties are generally older properties located in less desirable areas. These properties may need renovation, and leases typically cost less than other classifications.
Location also drives demand. Geographical factors include proximity to major employers, key infrastructure, cityscape views and other surroundings. Properties are generally segmented into primary (most desirable), secondary and tertiary locations. Characteristics such as design and sustainability also differentiate office buildings. More-desirable office buildings, such as Class A properties in primary locations, have experienced stronger return-to-office, higher occupancy and greater demand.
Class A buildings top Texas office outlook
Demand for office space will depend on companies' plans for bringing workers back into offices, the economic outlook and migration patterns. Major metros in Texas experienced faster returns to offices than other large cities nationally during the pandemic. However, office occupancy remains well below prepandemic levels, according to data on badge swipes from Kastle Systems, a security management firm.
Since the beginning of 2023, office occupancy has leveled off, with card swipes averaging 60 percent of prepandemic levels in Austin and Houston and 51 percent in Dallas, the three metros in Texas reported on by Kastle (Chart 3). The data suggest workers in Austin and Houston are averaging three days per week in the office while Dallas workers average 2.5 days, assuming workers were in the office five days a week before 2020.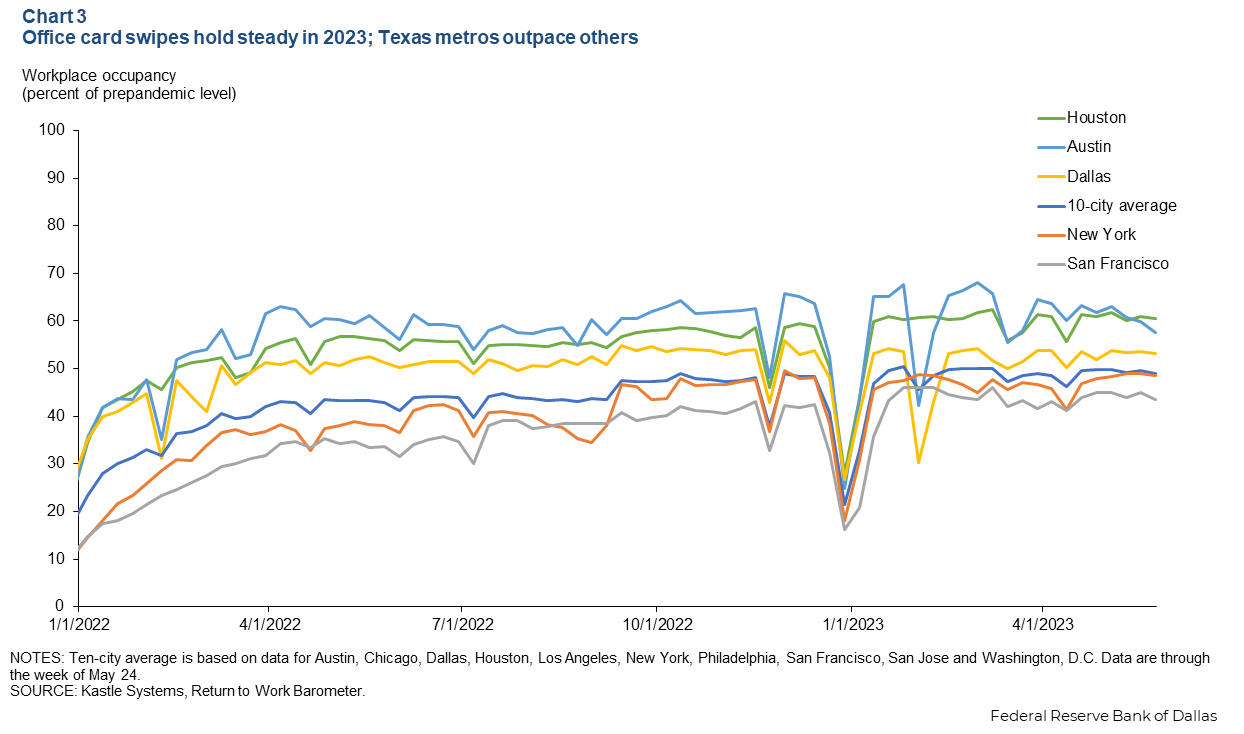 Texas office vacancies are likely to remain elevated going into 2024. Sublease availability remains high, and a substantial amount of new office space is on track for completion. Despite the likelihood of elevated vacancy rates overall, higher demand for new Class A properties means the buildings under construction are more likely than an average property to be successfully leased. Excess supply is likely to cause larger problems for older buildings.
About the authors
The views expressed are those of the authors and should not be attributed to the Federal Reserve Bank of Dallas or the Federal Reserve System.