Houston Economic Indicators

April 3, 2018
The outlook for Houston remains positive. Houston has had a robust start to 2018 job growth, broad measures of output have expanded, energy-related activity and related imports have continued to improve, and oil prices remain in a healthy range for the energy industry. However, lagged data on wages and retail sales suggest that income and spending had not yet turned up by the third quarter of 2017.
Business-Cycle and Leading Indexes
Growth in the Houston Business-Cycle Index was 6 percent over the three months ending in February 2018 (Chart 1). The index likely received a significant post-hurricane-Harvey boost. Growth in the index since Harvey has been a robust 7.6 percent—well above its longer-run average of 3.2 percent.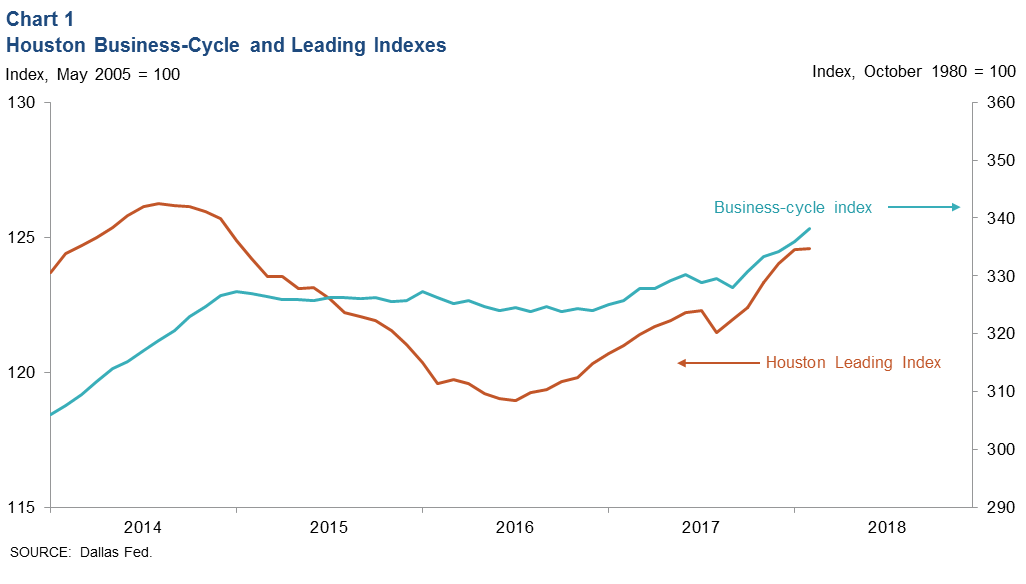 Growth in the index of 11 leading indicators for Houston slowed in the most recent data, but the annualized growth rate of 4.2 percent over the three months ending in February is still supportive of healthy job growth ahead for the metropolitan area.
Employment
Houston jobs grew at a strong annualized pace of 4.7 percent over the two months ending in February (about 23,400 jobs) (Chart 2). The biggest gains were in professional and business services (11,000 jobs). Trade, transportation and utilities was next (4,200) despite faster growth rates in smaller sectors like financial activities (2,000). Job losses over that same time frame were focused in government—particularly local government (2,500).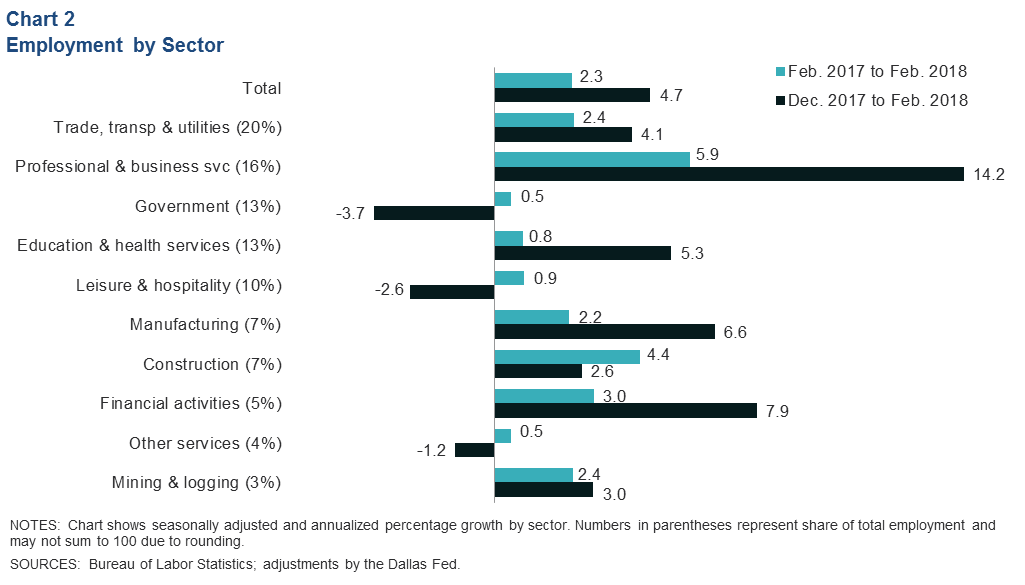 Year-over-year job growth was 2.3 percent in February (70,200), slightly above the long-run trend of 2.1 percent. Professional and business services added the most jobs of all industries over that time (28,000), driven mostly by the professional, scientific and technical sector and employment services (such as staffing firms).
The unemployment rate in Houston was 4.6 percent in February, in line with the six-month moving average. For comparison, the unemployment rate was 4.0 percent in Texas in February and 4.1 percent in the U.S.
Wages and Retail Sales
Total inflation-adjusted wages paid in the Houston metro area declined slightly from the third to fourth quarter of 2017, extending the downward trend that began in early 2015 as the oil bust sapped the region of many relatively high-paying jobs in mining, manufacturing and related services (Chart 3).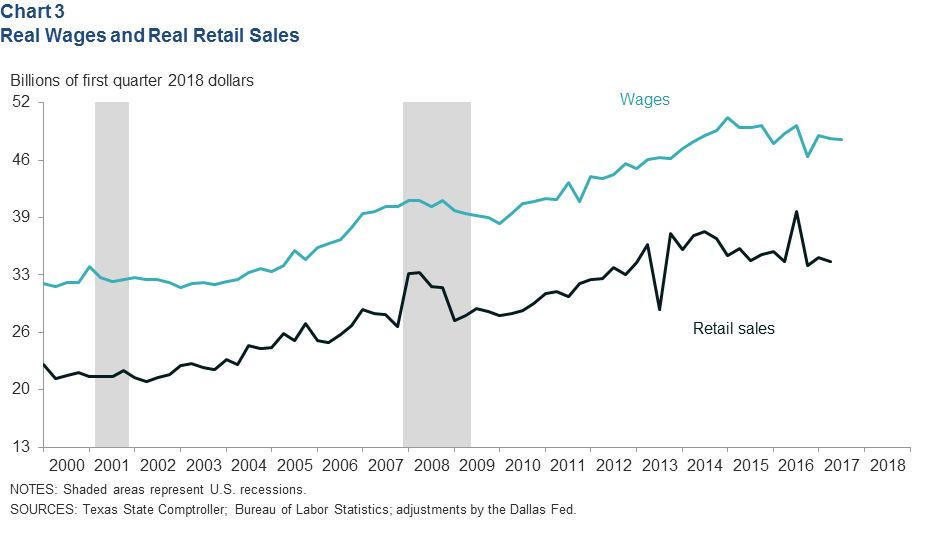 As total wages eroded, so too did regional retail sales, which have largely trended down since the third quarter of 2014.
Oil and Gas
Drilling Activity Expands, Job Recovery Tepid
When the price of oil changes, rig counts follow a few months later. The price of West Texas Intermediate (WTI) crude increased from June through December 2017 and has since averaged just under $63 (Chart 4).  According to the Dallas Fed's fourth quarter 2017 Energy Survey, this price is just in the range (over $60) needed to "substantially" increase the rig count. The U.S. rig count was up to 993 as of March 30, and recent prices have been supportive of further growth.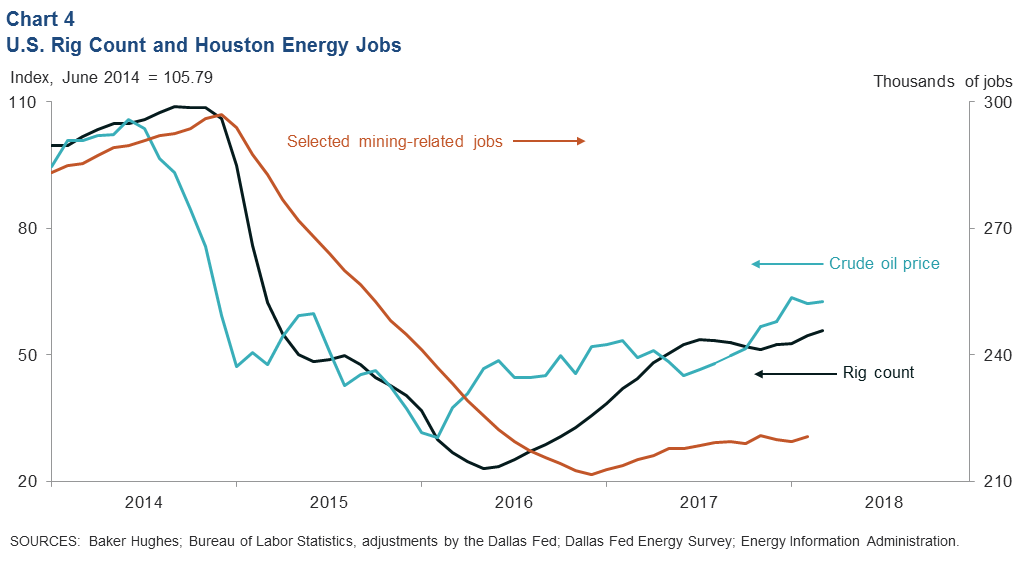 Mining-related employment has been rising in response to increased prices and drilling, but the pace slowed near mid-2017. Most industry job growth has been in the support activities for mining sector, and it has mostly been in the oil fields of West Texas, not in the head offices in Houston. Surveyed firms recently indicated that they expect job growth to continue in 2018, but with well productivity increasing and automation making headway in oilfield technology, it is unlikely that mining-related employment will return to pre-bust levels in the foreseeable future.
Mining-Related Job Growth Mixed
Houston mining-related jobs grew at an annualized 2.4 percent over the two months ending in February (Chart 5). Most of that growth came from fabricated metals manufacturing (960 jobs). Extraction and the architecture, engineering and related categories lost a combined 520 jobs.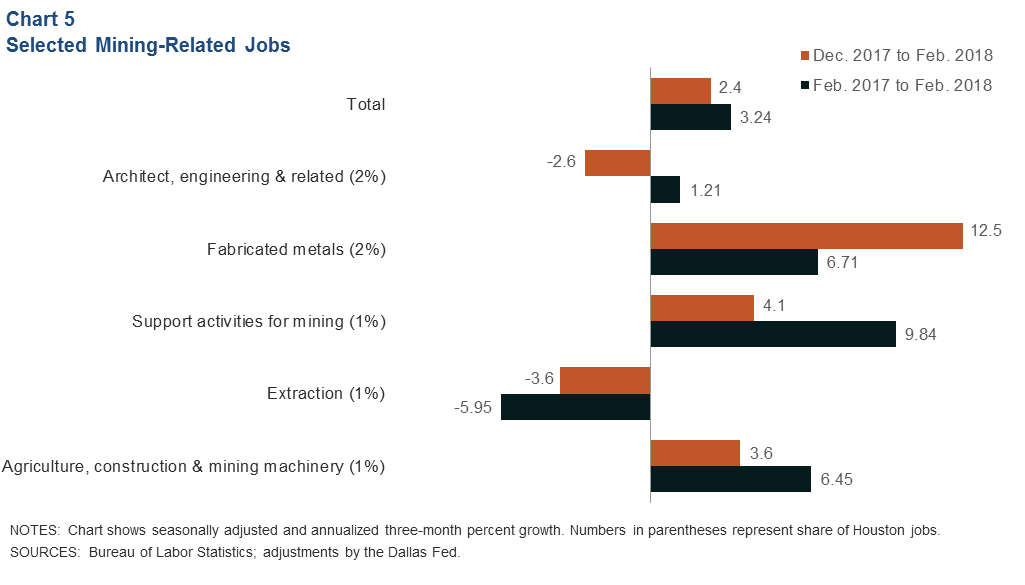 Year over year, most of the mining-related job growth accrued to support activities for mining (3,600), which includes such activities as contract drilling and completion services, and to fabricated metals manufacturing (3,100). These are the more cyclical job categories and are sensitive to fluctuations in oil prices and drilling. The only category to contract over the 12 months ending in February was extraction, which generally includes firms that operate or develop oil and gas properties (2,300).
Regional Steel Imports, Wells Drilled Surge in 2017
The value of steel and steel articles included in recent tariffs and imported through the Houston–Galveston customs district was $1.7 billion in the fourth quarter (Chart 6), bringing the total for 2017 to about $6.7 billion. That represents an annual increase of nearly 93 percent from 2016. Steel imports from several countries have been exempted from the recently imposed tariffs. In 2017, over 60 percent of steel included in this year's tariff and imported to the customs district came from those countries.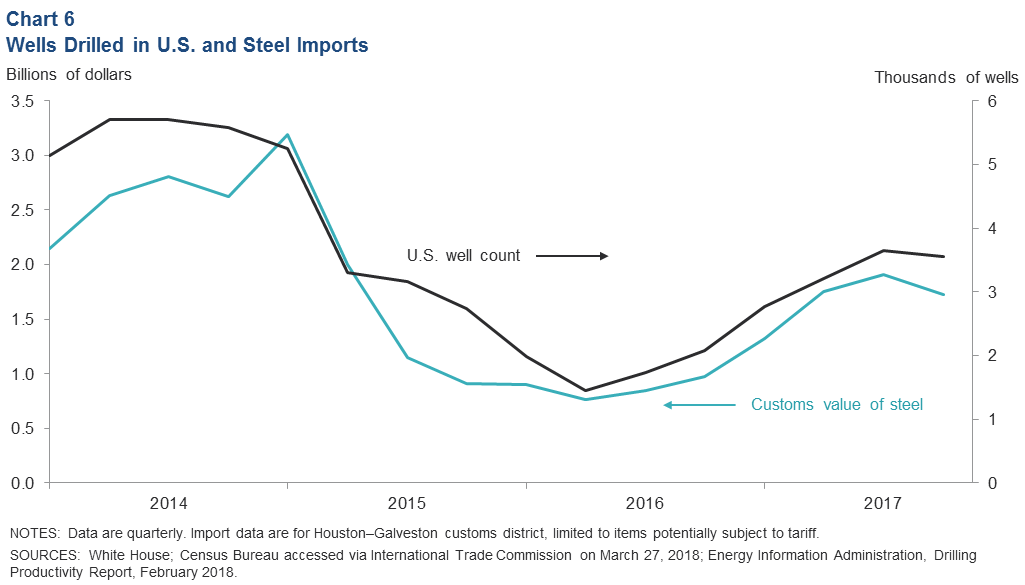 These categories of steel include a wide array of tubular products and materials consumed by the oil and gas industry in pipelines, refining and petrochemical plant construction, and steel consumed in drilling operations. In both dollar value and kilograms, imports of steel to the Texas coast are highly correlated with the number of wells drilled, which increased 82 percent from 2016 to 2017. Monthly data on the number of wells drilled and rig counts suggest that steel imports likely increased in first quarter 2018, although tariffs that went into effect on March 23 may suppress this growth somewhat going forward.
NOTE: Data may not match previously published numbers due to revisions.
About Houston Economic Indicators
Questions can be addressed to Jesse Thompson at jesse.thompson@dal.frb.org. Houston Economic Indicators is posted on the second Monday after monthly Houston-area employment data are released.