Houston Economic Indicators

April 2, 2019
Houston job growth, leading and coincident indicators, and oil and fuel prices have improved over the past few months. Mining-related employment continued to grow, and bank lending expanded faster in the region than the nation. Taken together, the trends suggest the outlook for Houston remains positive.
Economic Indicators
The Dallas Fed's Houston Business-Cycle Index grew at a 2.9 percent pace over the three months ending in February, a modest uptick from January but still well below the 6.0 percent growth for the three months ending in October (Chart 1). The improvement was driven by a slight pickup in local job growth from January.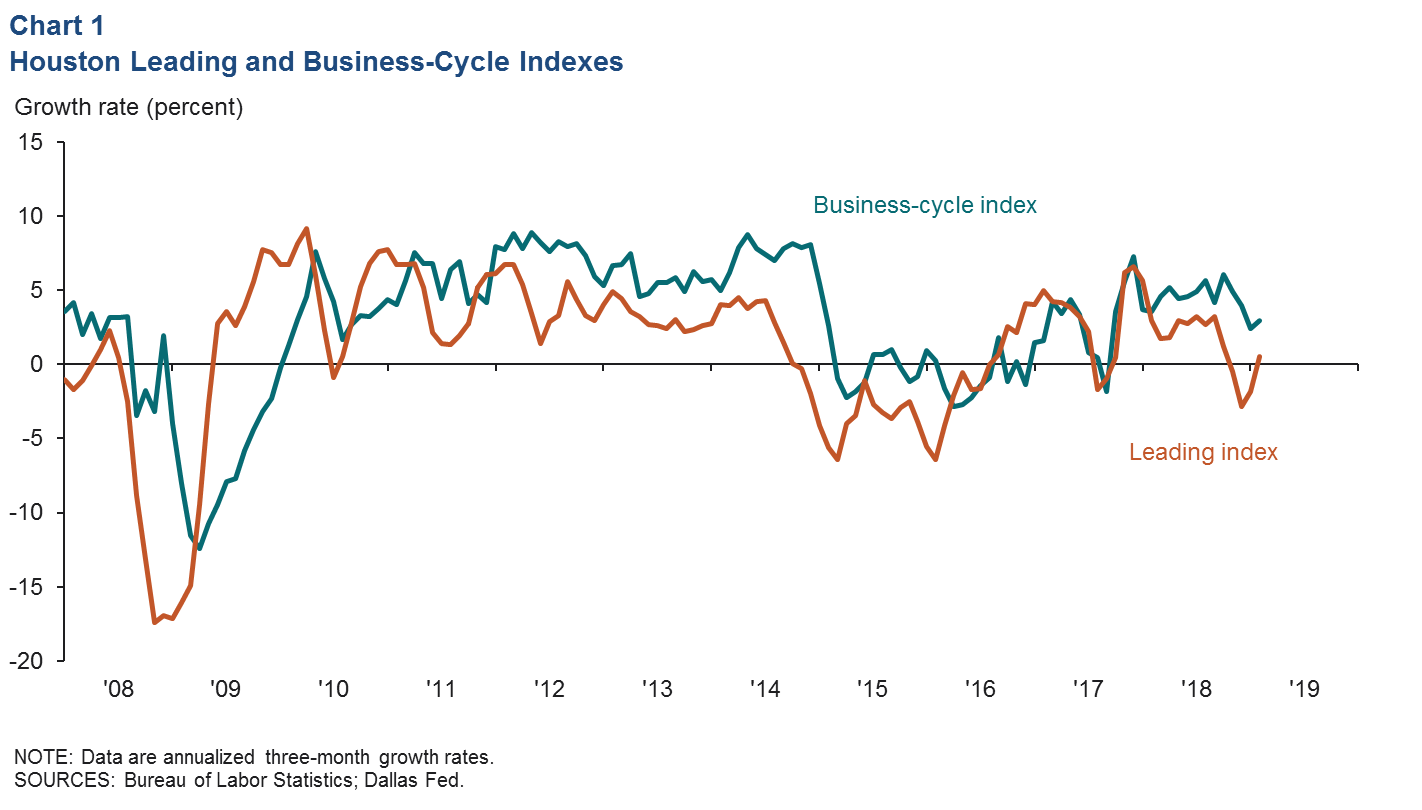 After two months of contraction, an index of 11 leading indicators for Houston rose 0.7 percent for the three months ending in February. The improvement is a positive sign for employment growth, particularly over the next three to six months.
Employment
The three-month job growth rate accelerated from 1.1 percent in January to 1.6 percent in February (Chart 2). "Other services" such as auto mechanics and animal boarding services logged the fastest annual growth rate at 12 percent (3,300 jobs) in February, but the larger professional and business services sector added the most jobs (8,700), followed by manufacturing (5,000) and education and health services (4,000).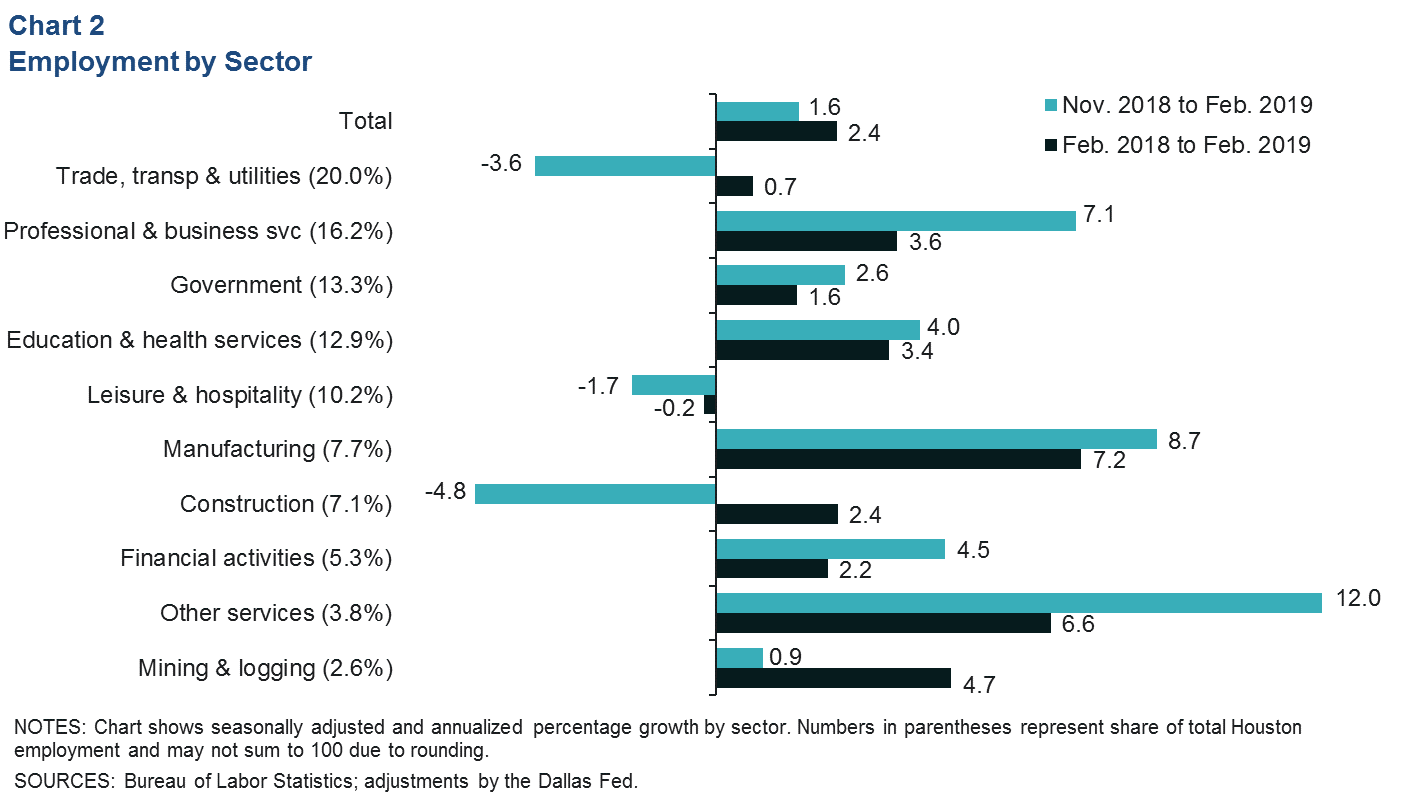 Trade, transportation and utilities saw the biggest drop in the number of jobs (-5,700) over the winter months. Over half of that decline was concentrated in transportation. Construction (-2,700) saw the next-largest decline, owing in part to unseasonably wet weather.
Year-over-year growth in February was 2.4 percent, above Houston's historical average of 2.1 percent, led by professional and business services and manufacturing.
The unemployment rate in Houston was 4.1 percent in February, in line with the six-month moving average. February unemployment rates in both Texas and the United States were 3.8 percent.
Energy
Rig Count Slips as Prices Recover
Energy prices recovered over the first quarter from end-of-2018 lows on a combination of production cuts, production outages and sanctions on Venezuela (Chart 3). West Texas Intermediate crude oil averaged about $58 during March. That is higher than the average breakeven prices for new wells in the Permian Basin, Eagle Ford and elsewhere as reported by the Dallas Fed Energy Survey in March.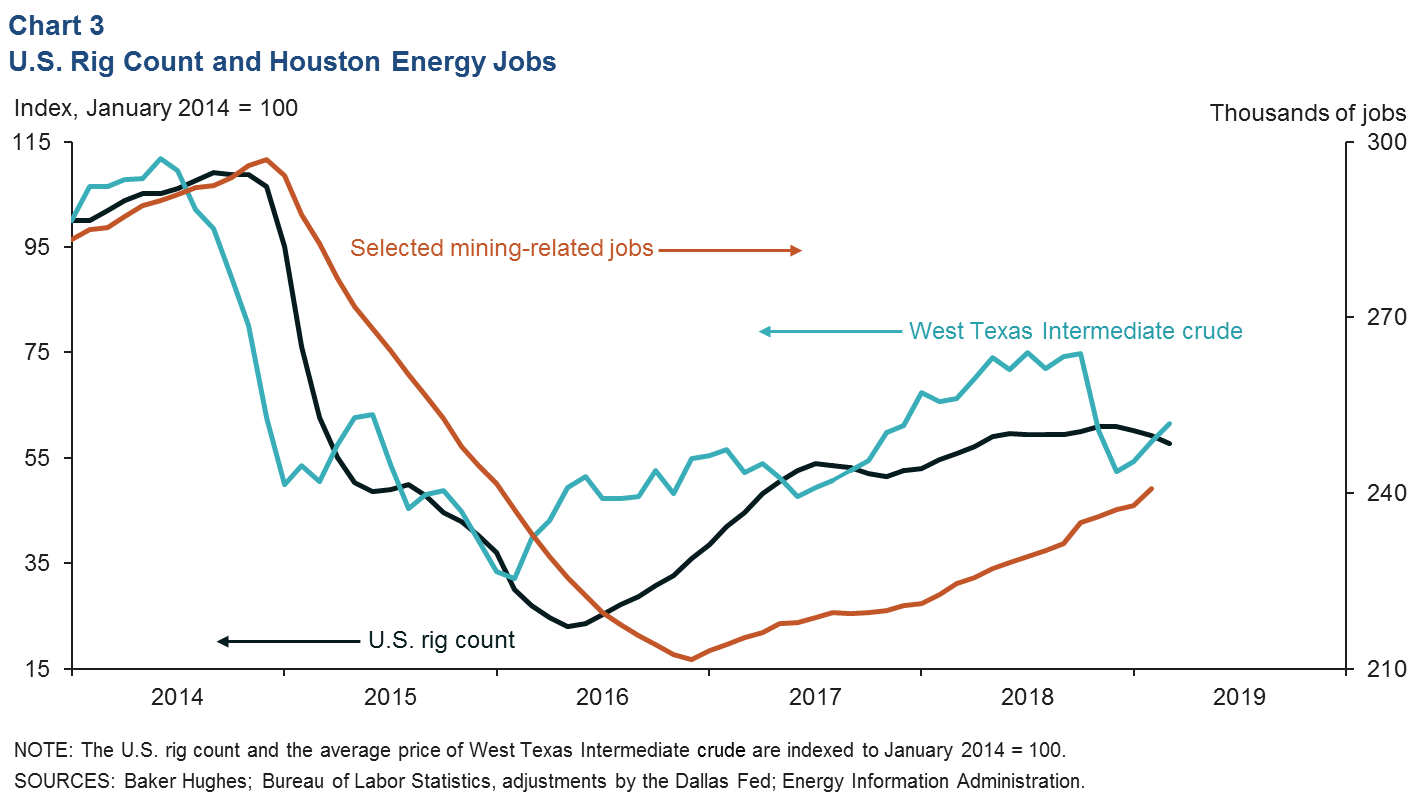 The U.S. rig count dropped by 25 from February to March, the largest one-month decline since May 2016. The rig count typically responds to swings in monthly oil prices with a lag of three months, suggesting that the count may rise slightly as the midpoint of the year approaches. A slew of pipeline capacity is expected to come online as well in the second half of 2019, further enabling production growth.
Fabricated Metals Leads Industry Growth
Selected mining-related employment in Houston extended its two-year upward trend at the start of 2019 (Chart 4). Over the three months ending in February, these sectors grew 8.3 percent in aggregate. Fabricated metals (2,000 jobs) and architecture, engineering and related services (1,800) led that growth. Mining jobs—support activities (500) and extraction (-270)—trailed. Extraction—mostly exploration and production—has been trending down since the 2015 oil bust as labor demand has been concentrated in support activities—mostly oilfield services—in West Texas.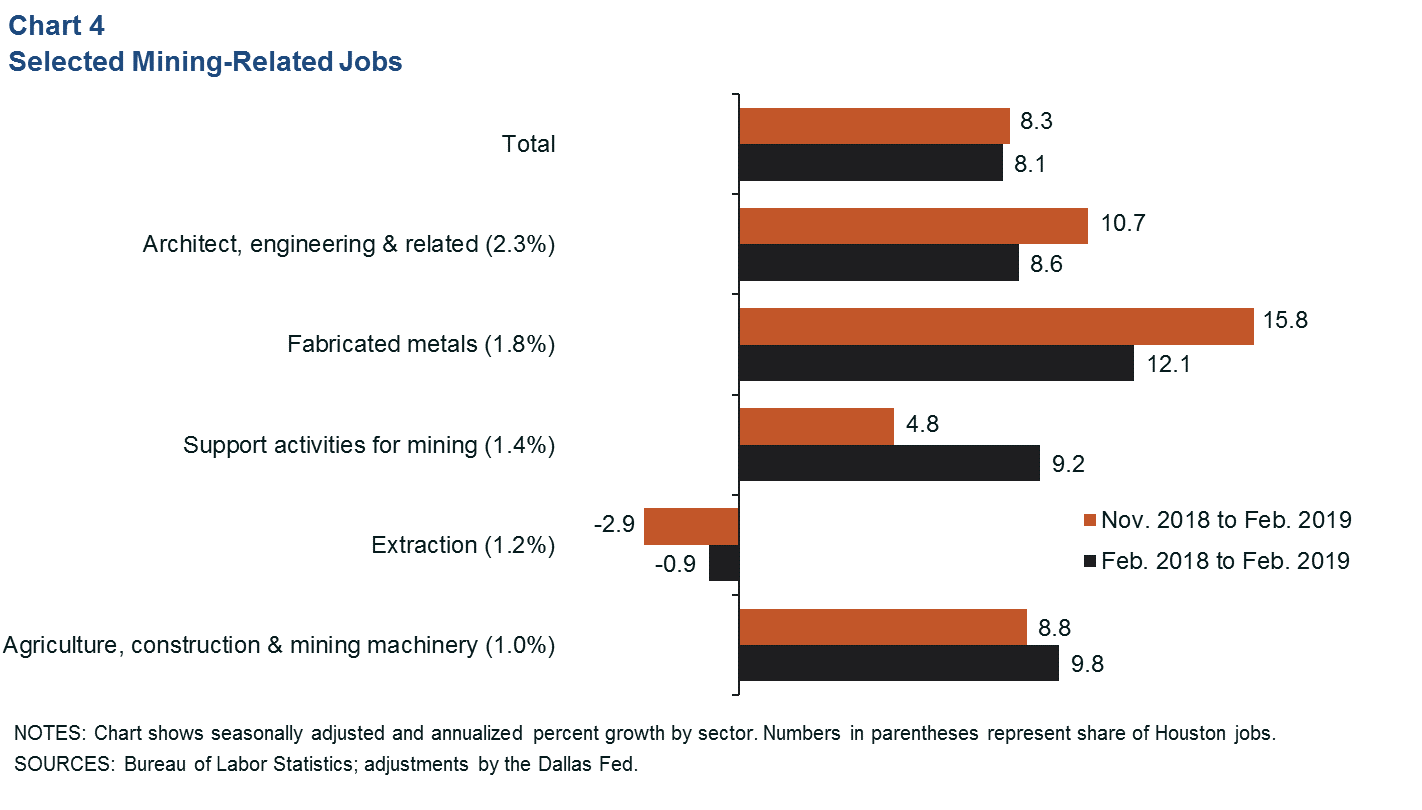 The most recent Dallas Fed Energy Survey registered the weakest employment index since the December 2016 survey, indicating that growth in the overall head count was modest. When asked about expectations for 2019, half of respondents indicated their head count would be flat compared with 2018, and another 32 percent said they planned to increase employment only slightly. In keeping with trends over the past two years, support services firms were more likely to expect an increase in head counts this year than producers.
Fuel Prices
The price of Brent crude was up over 24 percent from the last week of December to the last week of March. The retail price of regular gasoline in Houston was also up about 24 percent over that time despite a relatively soft start to the year when seasonally high inventories kept fuel prices in check (Chart 5). Gulf Coast diesel price increases have been more muted despite inventories persisting below the five-year moving average. The year-to-date increase in on-highway diesel on the Gulf Coast is only 1.2 percent.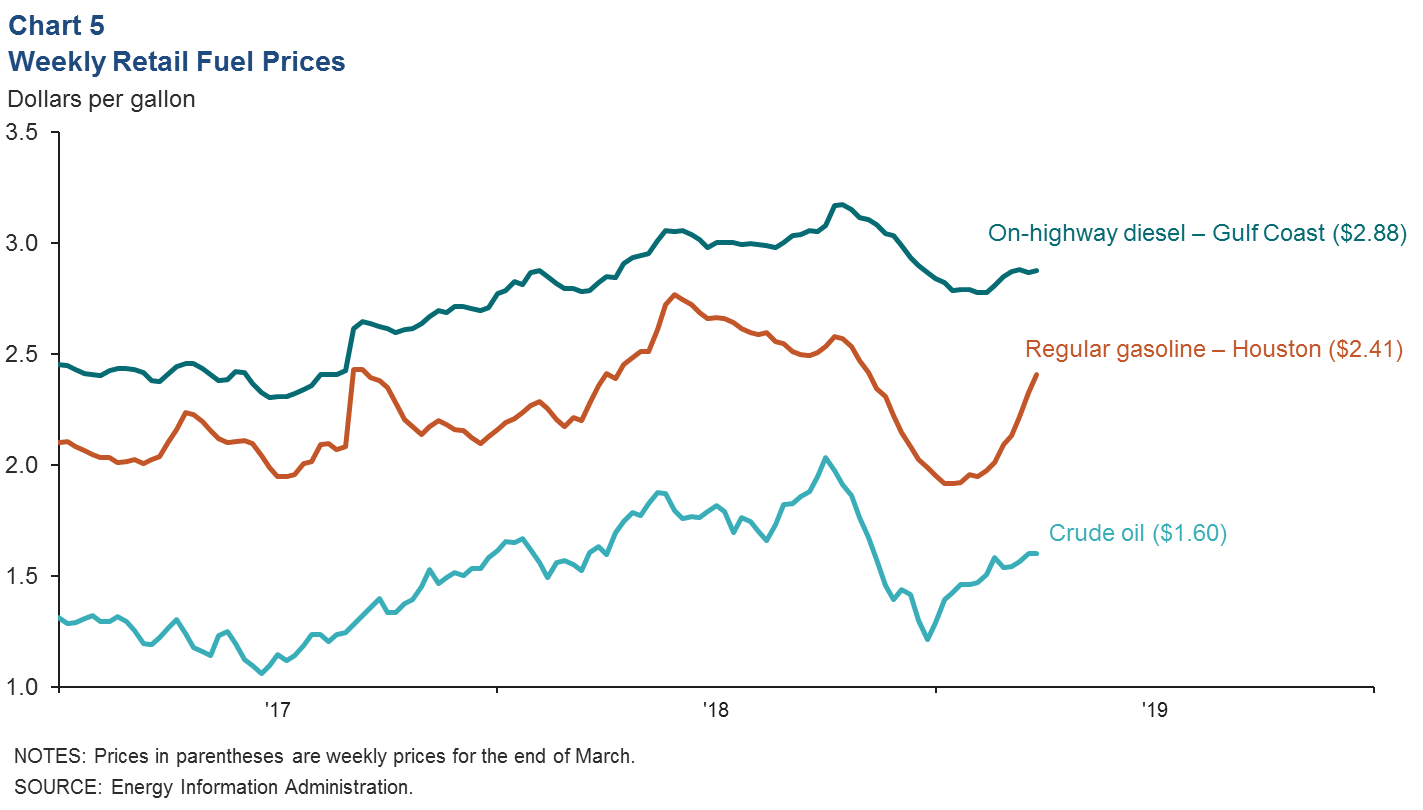 Banking
Growth in the outstanding value of loans at a sample of 37 commercial banks and savings associations chartered or headquartered in Houston significantly outpaced growth in Texas and the U.S. from fourth quarter 2017 to fourth quarter 2018 (Chart 6). Total commercial real estate (CRE), which represented over half of total outstanding loans in the fourth quarter, saw the largest change thanks to demand in the nonfarm nonresidential category that includes warehouses and industrial real estate. Commercial and industrial loans—loans to businesses for investment or working capital—represented a quarter of the sample's loan book value. That category was up 12.6 percent in the fourth quarter.
Consumer loans and multifamily CRE loans were the only categories at Houston banks that declined year over year, but they represented only about 1.3 percent and 2.8 percent of the total, respectively.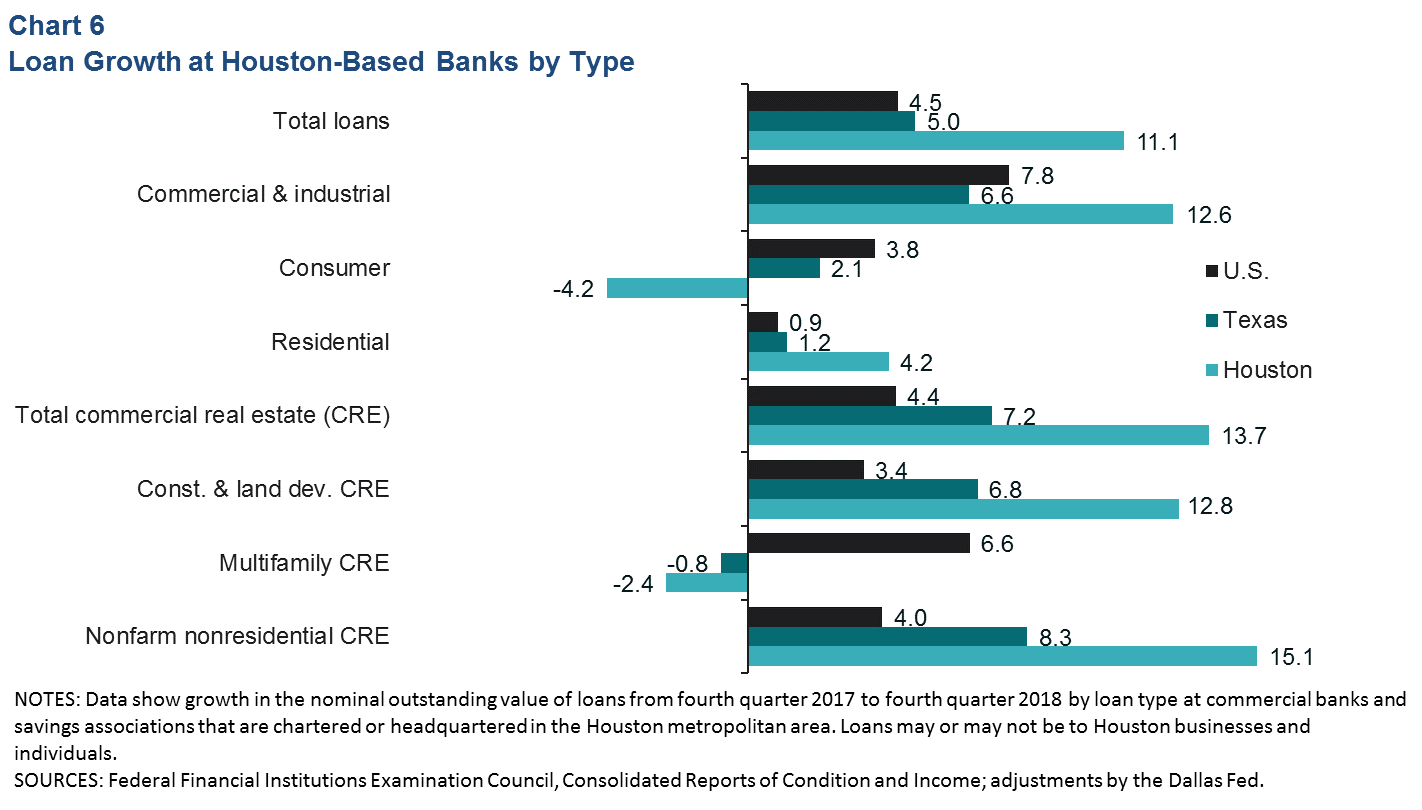 NOTE: Data may not match previously published numbers due to revisions.
About Houston Economic Indicators
Questions can be addressed to Jesse Thompson at jesse.thompson@dal.frb.org. Houston Economic Indicators is posted on the second Monday after monthly Houston-area employment data are released.