Houston Economic Indicators

June 3, 2020
The Houston economy declined at a dramatic pace in April as the impact of COVID-19 and efforts to contain it swept through the region. While employment and unemployment showed record-breaking deterioration, there are already some early signs of economic recovery. Daily measures for mobility and engagement and the number of hourly employees working at small firms show that Houstonians are beginning to leave home and return to work. Taken together, the data imply that declines in the economy were slowing in May. A protracted recovery and a great deal of uncertainty remain ahead.
Business-Cycle and Leading Indexes
The Houston Business-Cycle Index dropped at a record-shattering annual pace of 37.0 percent over the three months ending in April, as the damage from COVID-19 and efforts to contain it ravaged local employment and unemployment (Chart 1). Similarly, a leading index of economic data for Houston contracted at an annual pace of 17.7 percent—the largest decline in the index's history, surpassing the joint effects of Hurricane Ike and the collapse in oil prices in the fall of 2008 that ushered Houston into the Great Recession. This decline has characteristic elements of both a natural disaster and a traditional recession. In the context of the broader economy, these data point to a difficult period ahead with an uneven and relatively lengthy recovery in Houston.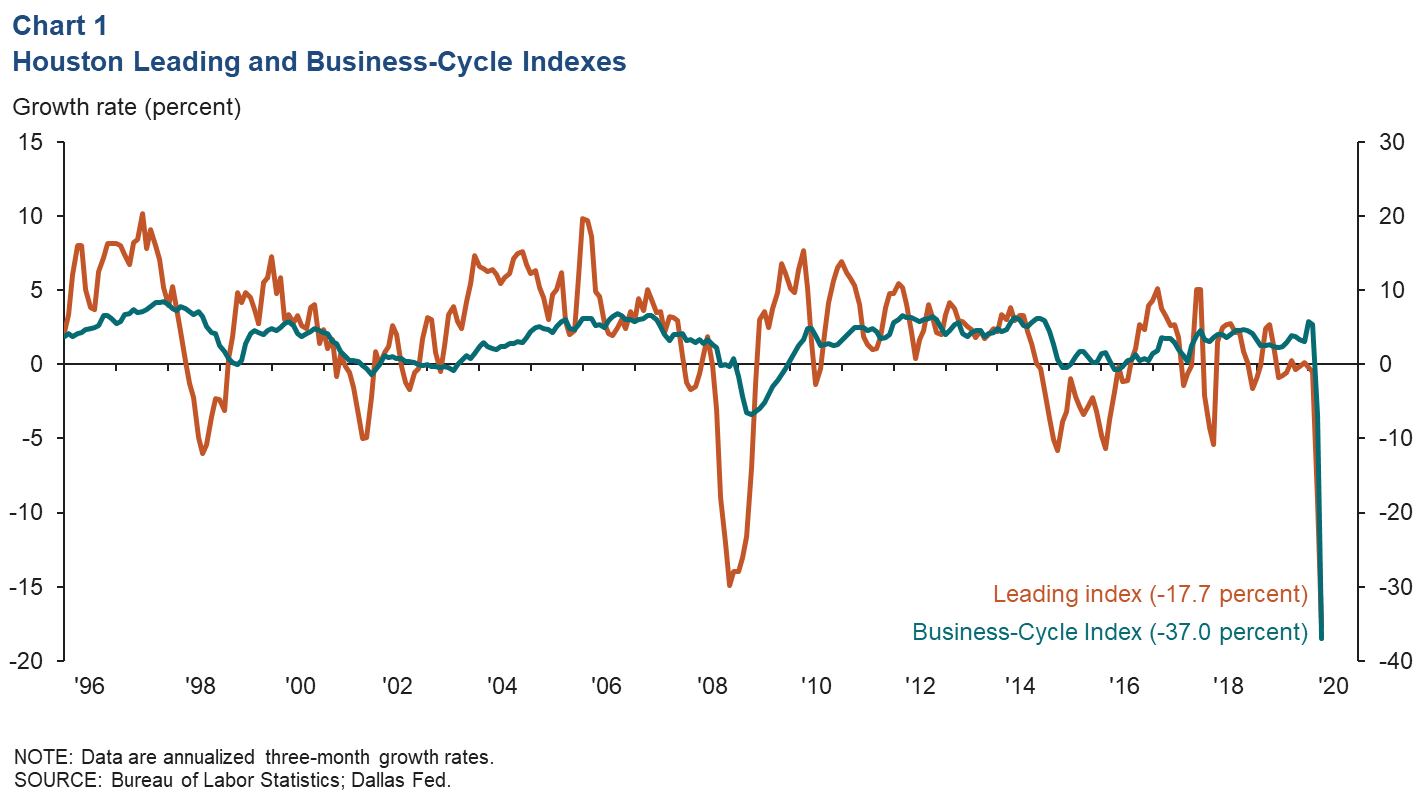 Employment
COVID-19 Impact to Houston Payrolls Broad Based
After netting effectively zero job growth over first quarter 2020, payroll employment declined at an annual pace of 71.4 percent (-316,000 jobs, not annualized) from March to April—a slightly faster rate than Texas (Chart 2). All industries were negatively affected. Leisure and hospitality was the hardest hit by far (-121,100 jobs not annualized; mostly from restaurants and bars), followed by education and health services (-51,100; mostly from subsectors like physicians' offices, home-health-care workers and child daycare services) and trade, transportation and utilities (-37,600; mostly from retail). These initial estimates will likely be revised several times over the next 10 months as more comprehensive data become available.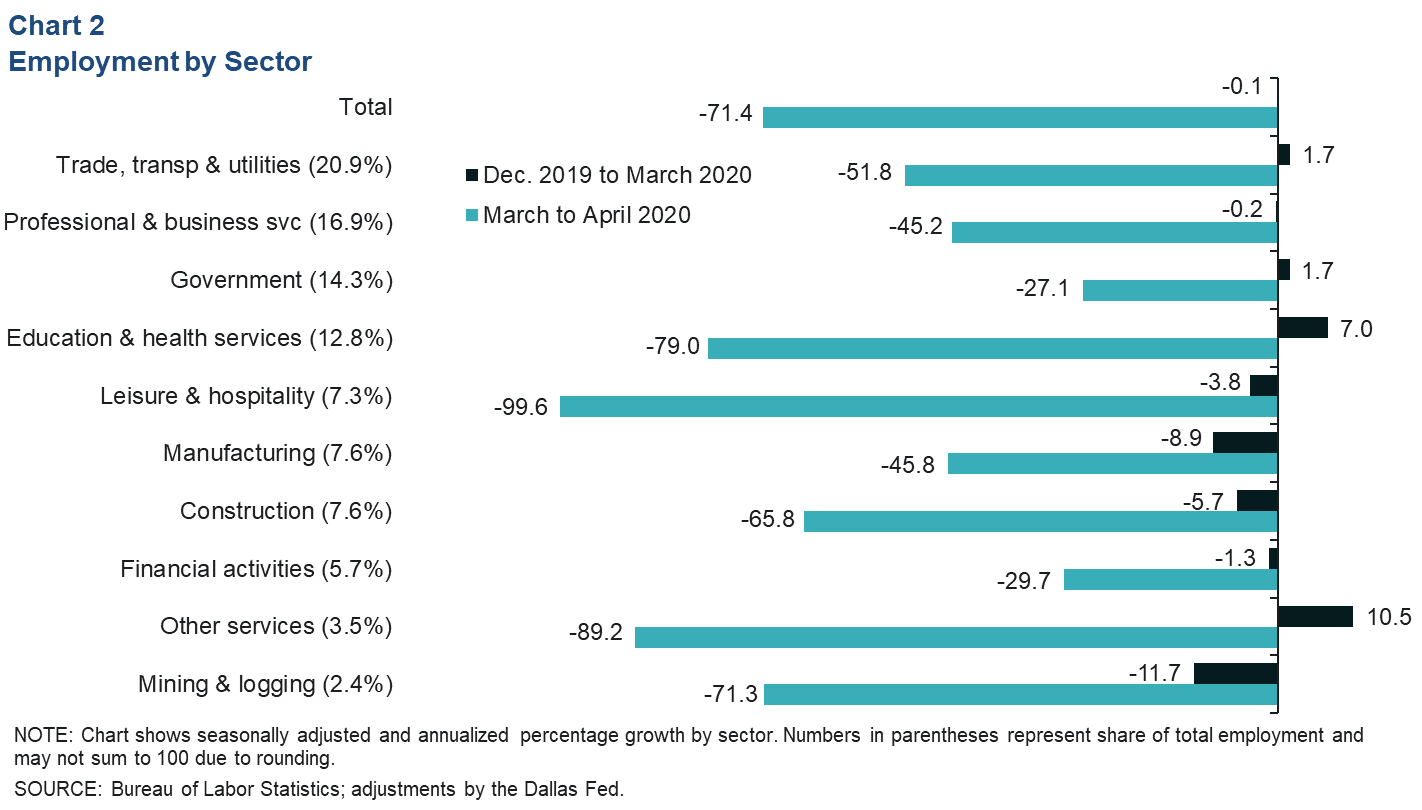 Houston Unemployment Surges
The unemployment rate in Houston surged to 13.3 percent in April, slightly higher than the 12.8 percent rate statewide (in line with projections) but still below the national rate of 14.7 percent (Chart 3). Unemployment rates would likely have been higher if not for the sharp decline in labor force participation. The household survey last month pegged Houston's labor force at 3.25 million in April, a decline of 194,100 people from March (50.0 percent annual decline rate).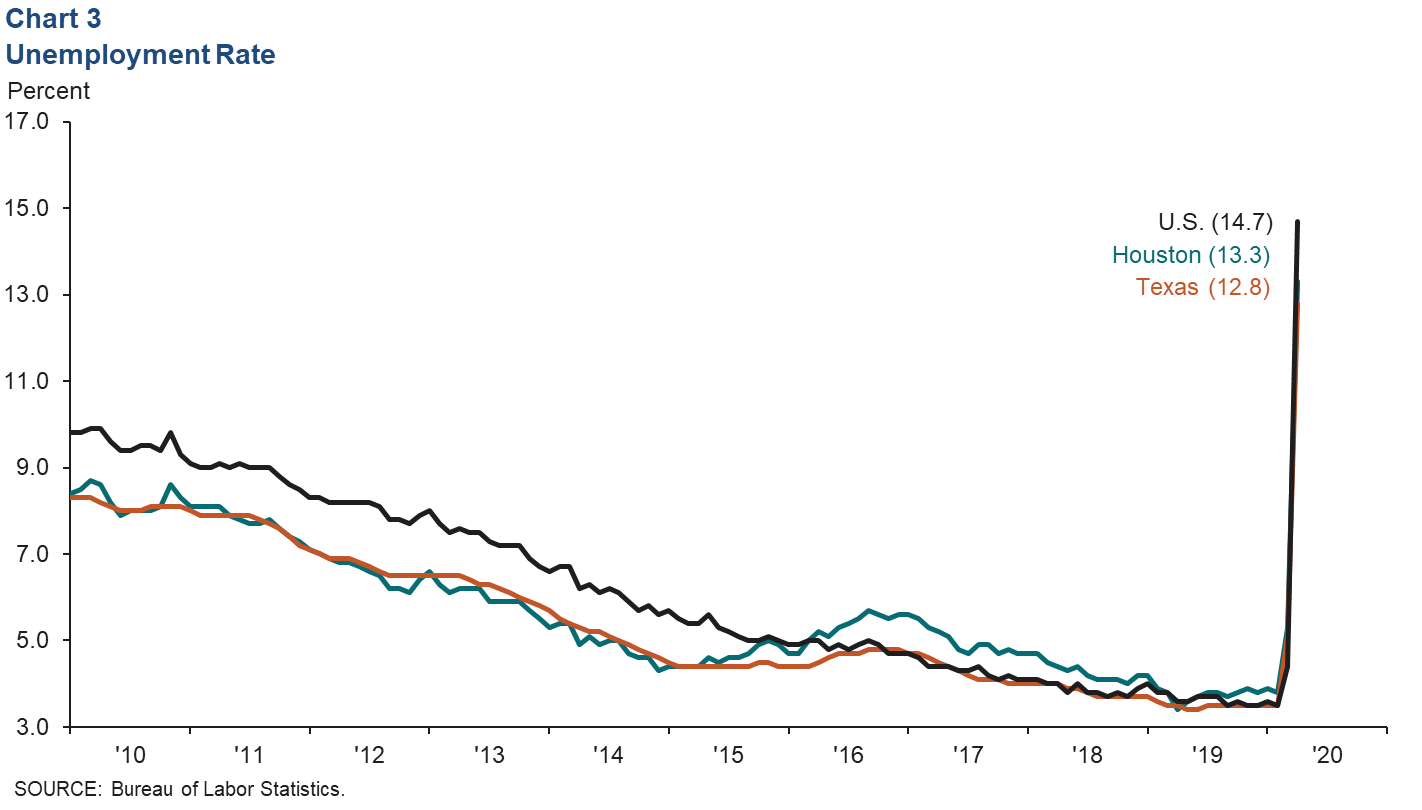 Using the Real-Time Population Survey, U.S. unemployment is estimated to have risen to nearly 24.0 percent by mid-May, with no major changes in the size of the labor force. The Texas unemployment rate is projected to rise to over 20.0 percent in May based on initial claims for unemployment insurance. The rate should then fall over the second half of the year to 10.9 percent at year-end. The deepening crisis in the energy sector will likely be a drag on Houston's recovery relative to the state's.
Houston Unemployment Claims Slowing
Weekly unemployment claims peaked in early April (Chart 4). Data from the Texas Workforce Commission show Houston metro weekly claims have slowed six of the past seven weeks since reaching over 76,000 the week of April 4. Almost 30,000 claims were filed the week of May 23.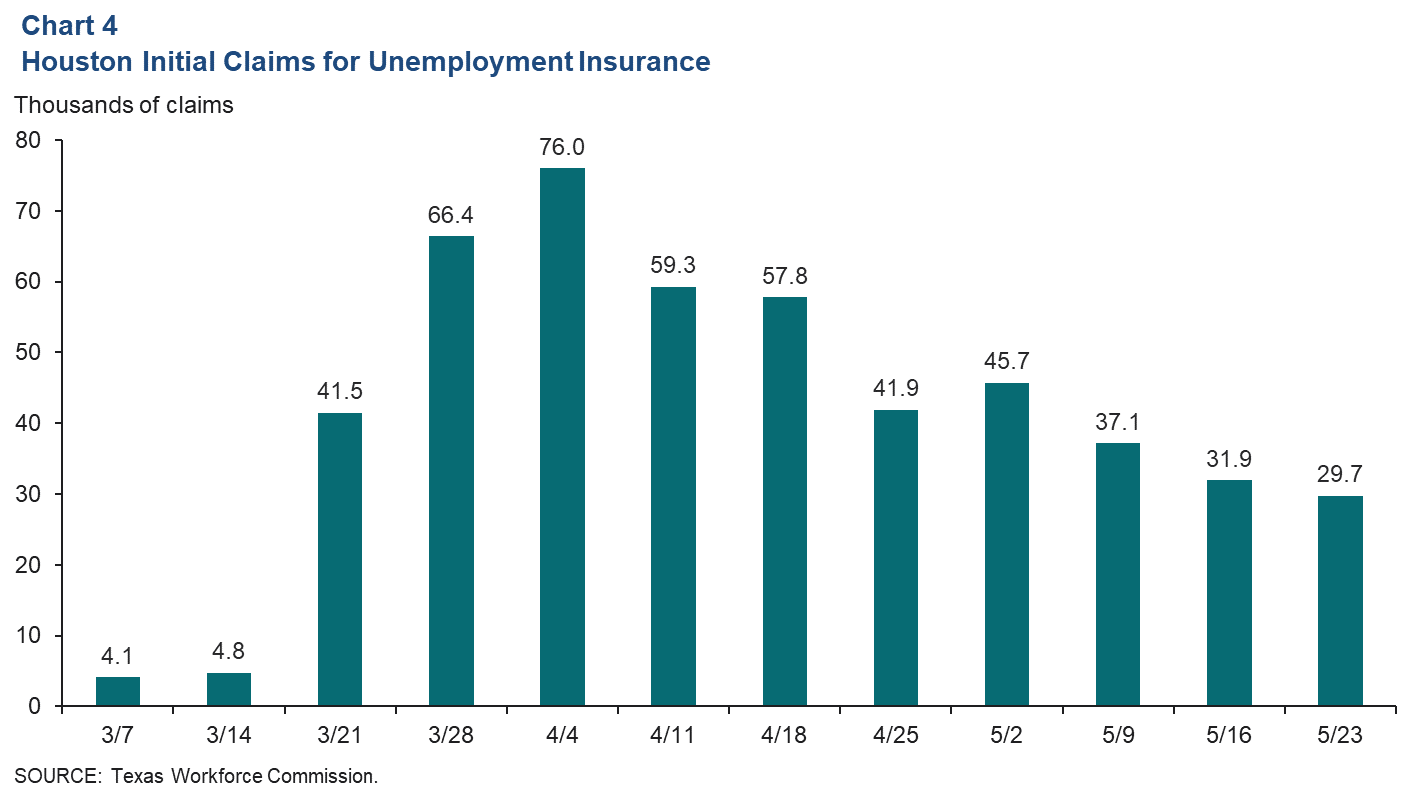 Numbers of Hourly Employees Working in Small Firms at Nearly Two-Thirds of Pre-COVID Levels
With stay-at-home orders lifting, higher numbers of hourly employees in Houston are working, based on a sample of small firms who use Homebase software. Looking at a seven-day rolling average, the number of hourly employees clocking in had recovered to 69.5 percent of January levels at the end of May (excluding Memorial Day) (Chart 5). Texas didn't fall as far as the nation by this indicator and has recovered to 73.3 percent of January levels. The U.S. recovered to 65.4 percent. Note, this does not account for normal seasonal fluctuations in labor utilization between January and May.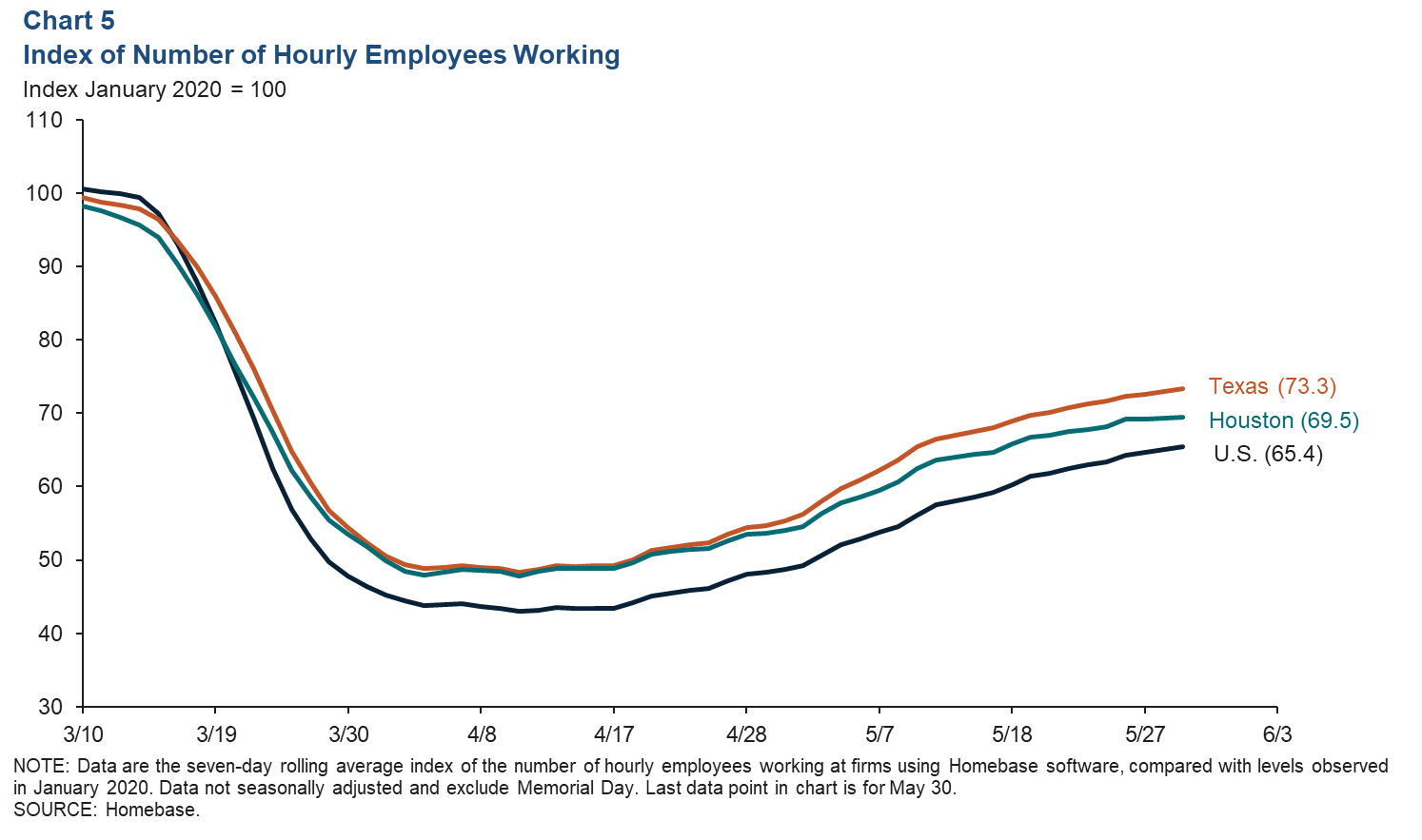 Mobility and Engagement Indexes and COVID-19 Deaths
Both voluntary and mandated social distancing likely contributed to a flattening of COVID-19-related deaths in April. Looking at the seven-day rolling average of deaths in the Houston metropolitan area and Texas at the end of May, the average number of deaths slowed to 3.3 per day for Houston and 21.9 in Texas, due to a decline during and immediately following Memorial Day weekend (Chart 6). It should be noted that these daily data are volatile and subject to some revision.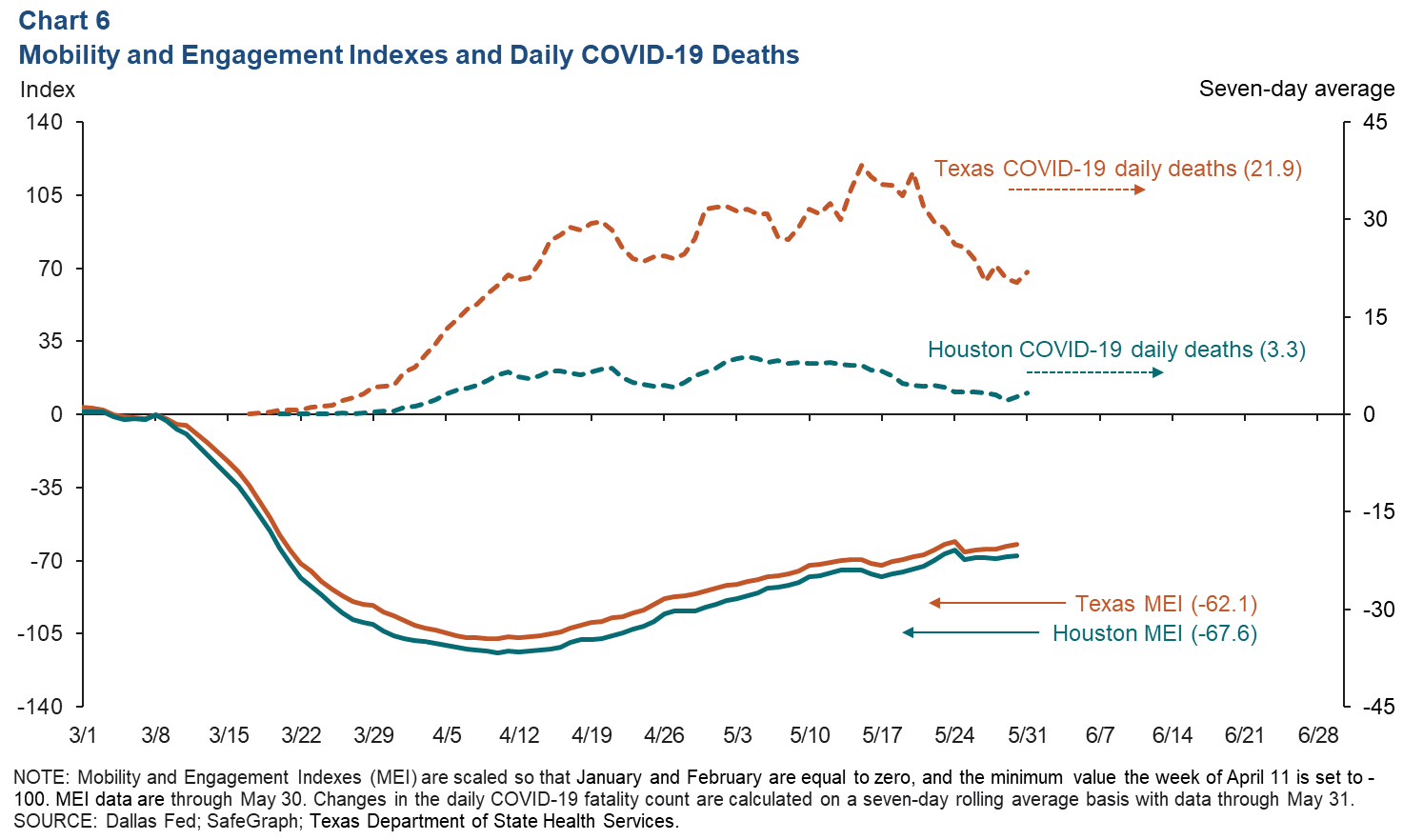 The Dallas Fed Mobility and Engagement Indexes for Houston and Texas, have been trending up since early April, as the economy reopens and individuals left home, spent more time away and traveled further distances. These indexes are strongly related to a range of economic outcomes. Related data published by Unacast online indicate that the density of encounters between individuals is also increasing in Houston-area counties.
NOTE: Data may not match previously published numbers due to revisions.
About Houston Economic Indicators
Questions can be addressed to Jesse Thompson at jesse.thompson@dal.frb.org. Houston Economic Indicators is posted on the second Monday after monthly Houston-area employment data are released.