Houston Economic Indicators

September 29, 2020
Indexes of economic activity for Houston continued to show growth over the second half of the summer thanks to a boost from the services sector. However, the pace of the recovery in the region has slowed, due mostly to ongoing weakness in the energy sector that is weighing down Houston's recovery relative to Texas and the nation. Taken together, these data suggest that while Houston's recovery is likely to continue, it will lag the state.
Business-Cycle and Leading Indexes
The Houston Business-Cycle Index collapsed an annualized 50.2 percent from February to April 2020. In the rebound that followed over the next two months, the index surged an annual 26.5 percent before slowing toward the end of summer. The index grew 2.8 percent from June to August 2020 (Chart 1). This suggests that the broader economy of Houston continues to recover but at a substantially slower pace than at the start of summer.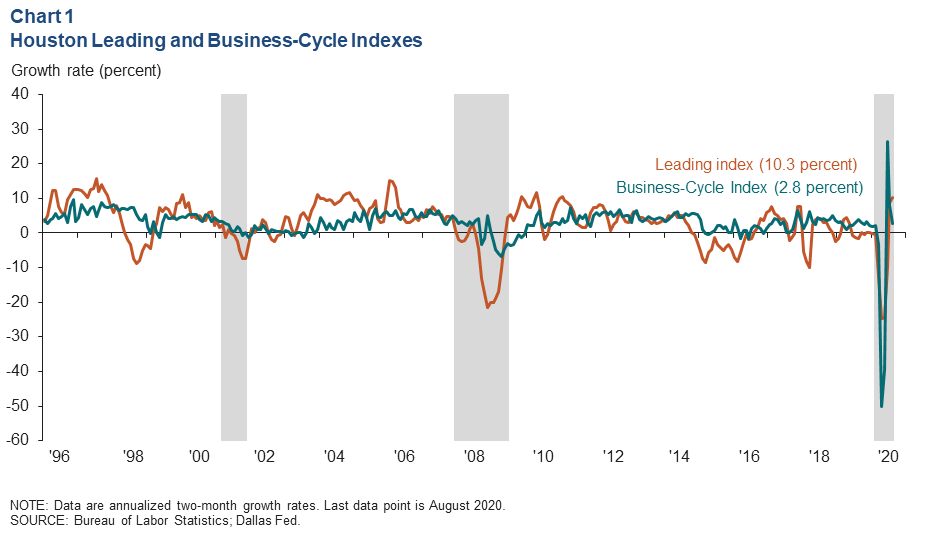 In contrast, an index of 10 leading indicators for Houston accelerated to an annual growth rate of 10.3 percent between June and August 2020. Acceleration in the leading index is generally indicative of faster job growth ahead.
Employment
Thirty-Three Percent of Pandemic Job Losses Recovered
Houston payrolls lost 353,600 jobs between February and April 2020 as pandemic lockdowns curtailed economic activity (Chart 2). The most recent data show that the total number of jobs recovered since April increased from 106,600 in July to 117,100 in August. That puts Houston's recovery at 33 percent of jobs lost. By comparison, 42 percent of Texas job losses and 48 percent of U.S. jobs lost due to the pandemic had been recouped by August.
The local recovery so far has come mostly from leisure and hospitality, education and health services, and trade transportation and utilities. However, the pickup in recovery from July to August came mostly from professional and business services, which added 4,600 jobs to its recovery total, and from the government sector, which added 9,400 jobs. The latter was driven by a surge of 4,300 federal jobs in August—the largest monthly federal job increases in Houston since May 2010 hiring for the census.
While remaining at a high level, initial claims for unemployment continued to trend down in Houston. Claims fell to 11,300 the week of Sept. 12. As a comparison, 4,100 claims were filed that same week in 2019.
Homebase Data
The number of hourly employees working at mostly smaller firms in Houston that use Homebase software slipped at the end of August. This was likely due to the effects of Hurricane Laura, though other end-of-summer seasonal effects may also have contributed to lower numbers (Chart 3). However, total labor utilization as proxied by this measure has effectively plateaued between 70 and 75 percent of January levels since mid-July 2020.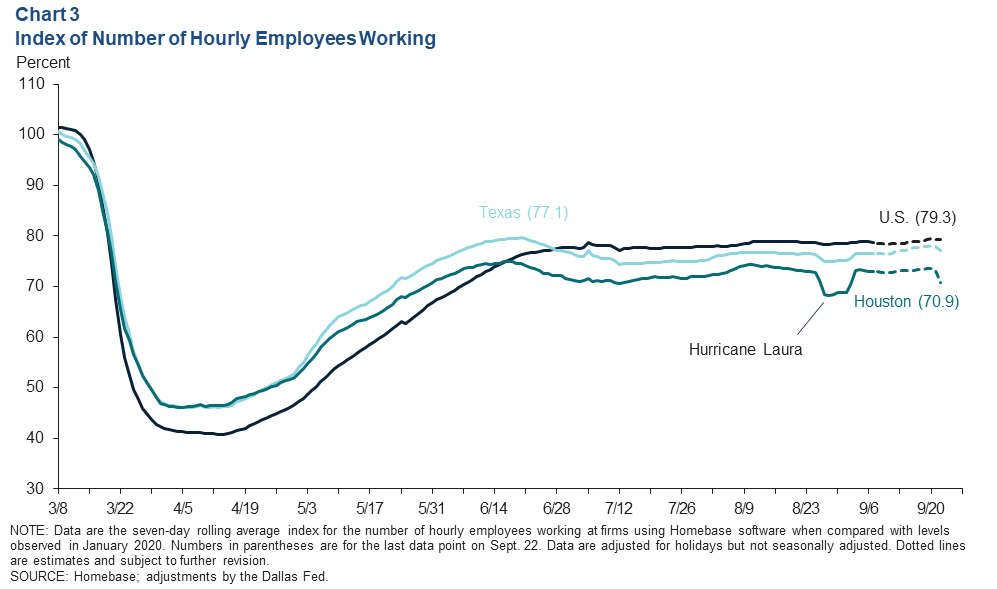 Forty-Two Percent of Services Industry Jobs Recovered
Forty-two percent of services industry jobs lost in the pandemic have been recovered. Sixty-two percent of food services and drinking places jobs (54,700) lost in the pandemic were recovered over the four months ending in August, and 70 percent of retail jobs (20,200) were recouped (Chart 4). In contrast, the accommodation sector only recovered 15 percent (1,300) of pandemic job losses, as travel and tourism remain relatively muted; wholesale durable goods trade has seen no recovery.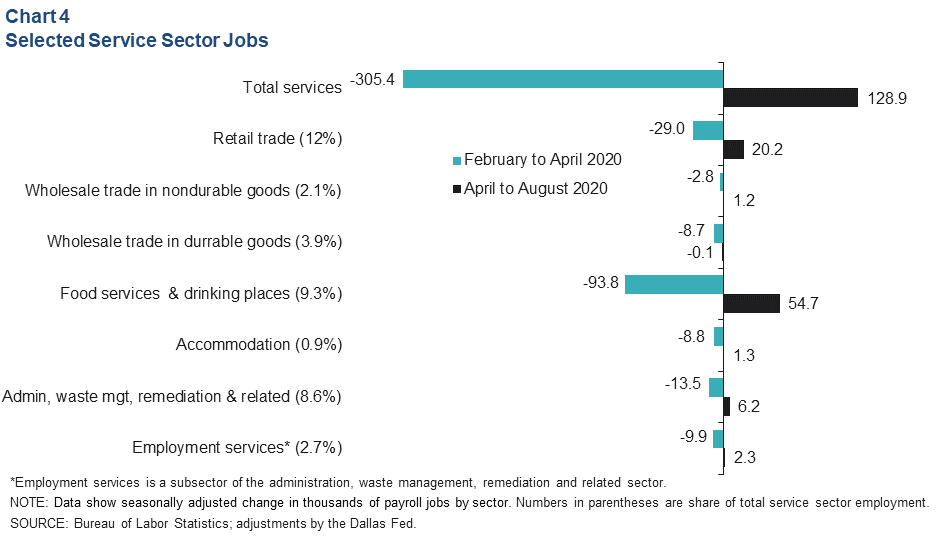 Energy
The price of West Texas Intermediate (WTI) crude oil recovered to the low $40's over the summer. It bottomed in late April 2020, averaging under $17 a barrel that month (Chart 5). Historically, a change in the price of oil precedes a change in the rig count by about three months. The U.S. weekly rig count bottomed in early August, at 244 rigs, a record low, and had only managed to inch up to 261 the week ending Sept. 25. WTI weakened slightly in September, averaging nearly $40 for the month. WTI has yet to break above $50, the level most firms in the Dallas Fed Energy Survey believe will be needed to see a substantial increase in drilling activity.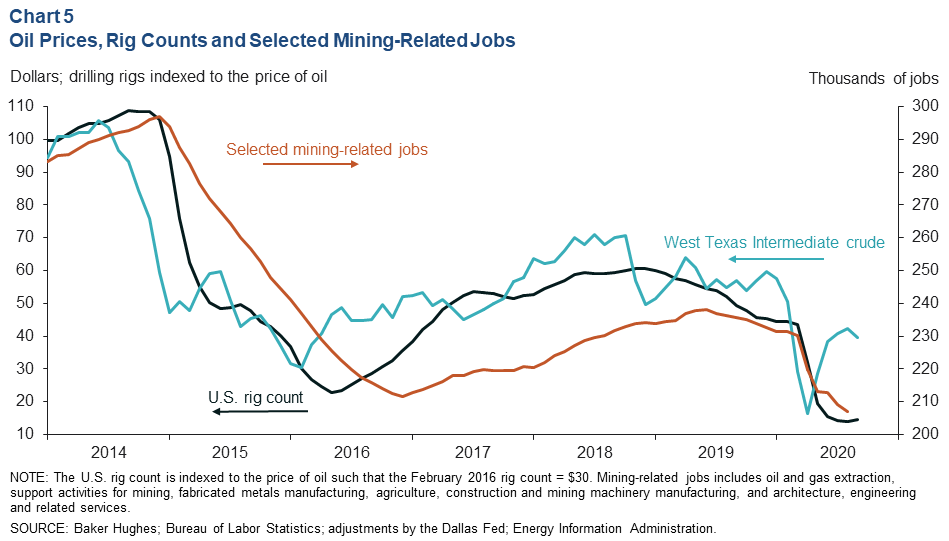 While services employment was recovering, mining and mining-related sector jobs continued to decline over the summer. Altogether, the group shed over 24,300 jobs over the six months ending in August. Within that total, support activities for mining (mostly oilfield services) lost 10,600 jobs, while extraction (mostly exploration and production firms) lost 4,200. Fabricated metals manufacturing and agriculture, construction and mining machinery manufacturing—both of which tend to move in tandem with the energy industry in Houston—lost 9,500 jobs. In past oil busts, mining-related payrolls tended to bottom out around a year after the price of oil.
NOTE: Data may not match previously published numbers due to revisions.
About Houston Economic Indicators
Questions can be addressed to Jesse Thompson at jesse.thompson@dal.frb.org. Houston Economic Indicators is posted on the second Monday after monthly Houston-area employment data are released.