Houston Economic Indicators

December 9, 2020
Local employment data show further improvement in October, though Houston continued to lag the rest of Texas due to weakness in the energy sector. Higher-frequency data (number of hourly employees working) suggest that the recovery weakened in November and early December when accounting for the Thanksgiving holiday.
Employment
Payrolls Continue to Recover
Houston payrolls climbed to 93.7 percent of December 2019 levels in October, or a net drop of 200,300 jobs year to date. (Chart 1). By comparison, the rest of Texas recovered to 94.8 percent of December payrolls, a net drop of 504,200 jobs. The rest of the U.S. saw steeper job losses at the start of the pandemic but had recovered to 93.6 percent of December 2019 levels by October.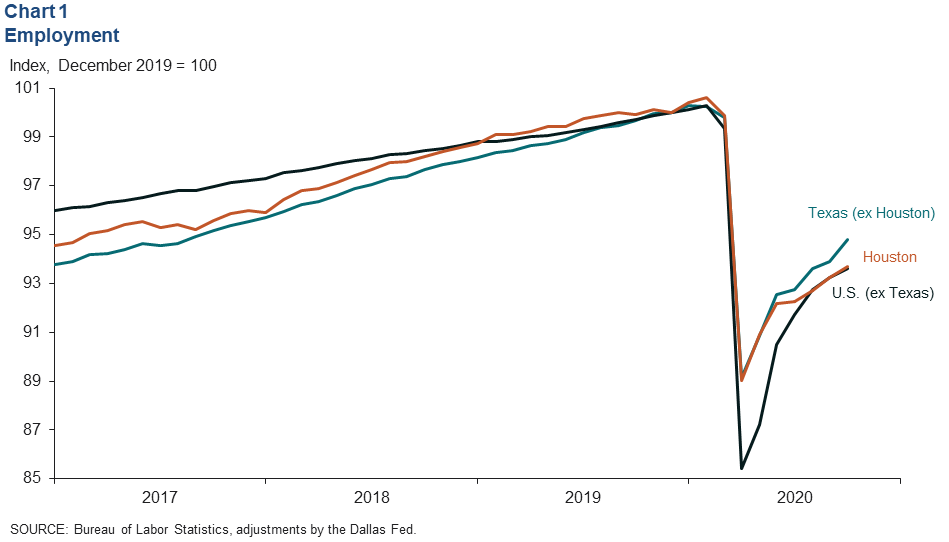 Revision Reveals Deeper First-Half Job Losses; Recovery Broad Based
Earlier estimates for Houston's pandemic job losses showed the metro lost 353,600 jobs from February to April 2020. However, revised data released in November show a net drop of 366,800 jobs (Chart 2). Many sectors were revised, but the bulk of the additional job losses occurred in professional and business services, which shed 40,900 jobs versus 27,400 in the earlier estimate.
Since April, Houston has added back 147,500 jobs. Nearly half of that recovery was in the hard-hit leisure and hospitality sector—mostly restaurants and bars. Next were trade, transportation and utilities (mostly retail) and education and health services, aided by ambulatory health care (such as physician offices) and social assistance (child care).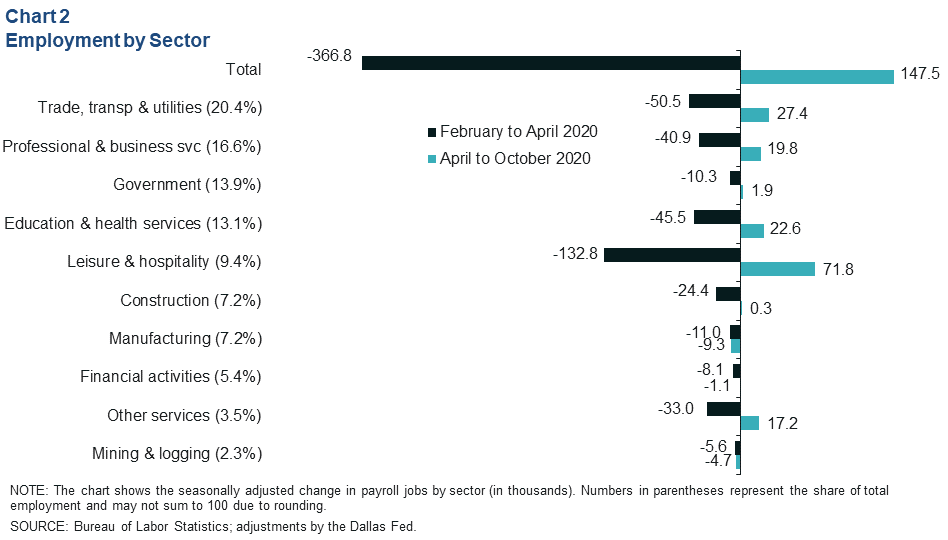 Mining and manufacturing have led job losses since April and are down an additional 14,000 jobs. Layoffs, consolidation and bankruptcy continue to mount in oil and gas and in the energy supply chains that run through Houston's manufacturing sector. However, while considerable uncertainty remains in the outlook for Houston's energy jobs, the biggest job losses in the sector are likely in the past.
Number of Hourly Employees Working Levels Off
The number of hourly employees clocking in at firms using Homebase software in Houston had been more or less improving between July and late October, notwithstanding hurricanes, based on a seven-day moving average (Chart 3). The number then slipped moderately and was essentially flat up to Thanksgiving. The moving average dropped in late November, likely due to holiday effects, but daily employment data for the start of December show a return to pre-Thanksgiving levels.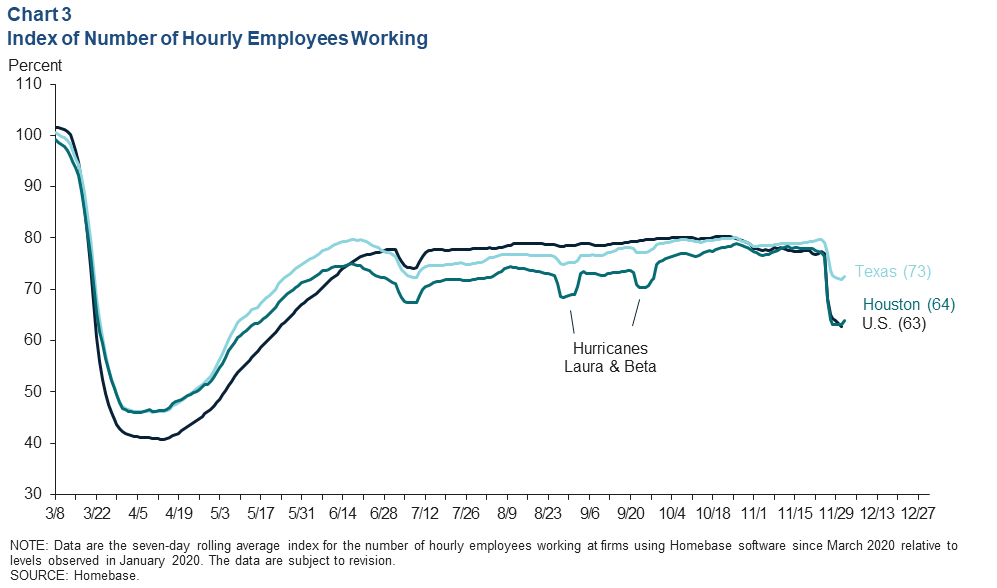 Unemployment Claims Level Off
After falling precipitously from a high 76,007 on April 4, weekly initial claims for unemployment benefits leveled off at between 9,200 and 9,400 in November (Chart 4). That is still roughly double the weekly claims filings from early March.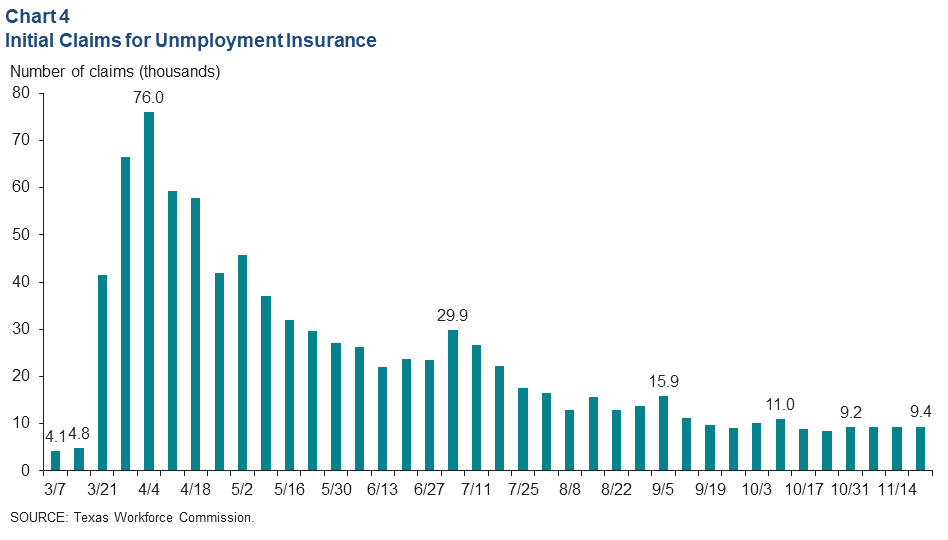 NOTE: Data may not match previously published numbers due to revisions.
About Houston Economic Indicators
Questions can be addressed to Jesse Thompson at jesse.thompson@dal.frb.org. Houston Economic Indicators is posted on the second Monday after monthly Houston-area employment data are released.