Houston Economic Indicators

September 28, 2021
Despite some signs of slowing amid headwinds from the Delta wave, the Houston recovery is on pace to end the year strongly. The number of COVID-19-positive patients in area hospitals is declining, the payroll expansion continues to be broad based (except for construction), the unemployment rate is falling and initial claims for unemployment insurance benefits are approaching early March 2021 levels. However, while area inflation continues to run below the national rate, the gap between the two has narrowed as Houston inflation has accelerated relative to the nation.
Business-Cycle and Leading Indexes
Economic activity continued to expand robustly in August as measured by the Houston Business-Cycle Index, rising an annualized 8 percent over the three months ending in August 2021 (Chart 1). Driven by improvements in employment and unemployment, the index implies the Houston economy is heading into the end of the year with a lot of momentum despite the recent pandemic headwinds.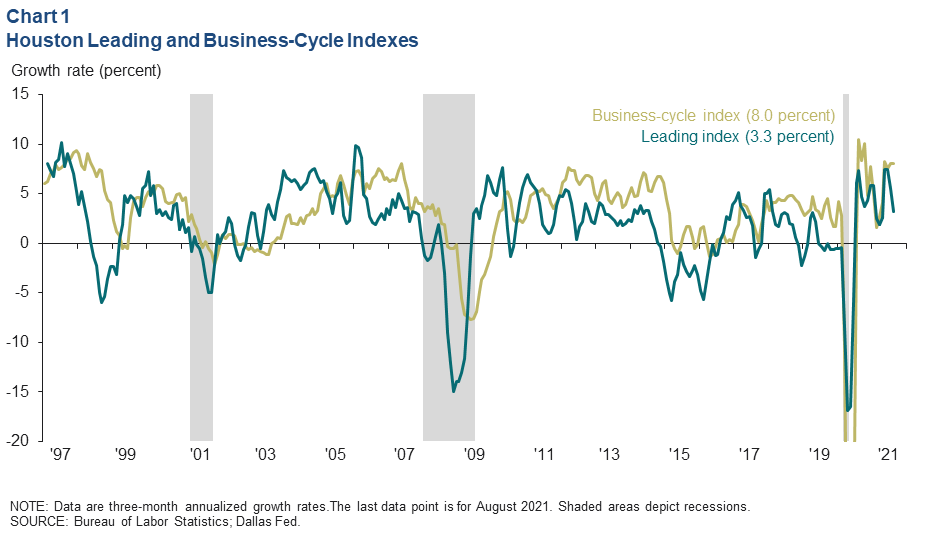 A leading index of 10 economic indicators for Houston slowed from a pandemic-high growth rate of 7.3 percent over the three months ending in June to 3.3 percent over the three months ending in August. The slowing was broad based across components but led by the Texas Leading Index and existing-home sales.
Pandemic
All data point toward a peak in infections driven by the Delta variant. The seven-day moving average of hospitalizations has been in decline since reaching 4,032 in early September (Chart 2). It fell to 3,002 on Sept. 24. The return of children to public school might still support an elevated level of hospitalizations heading into the final months of 2021, but Washington University and the University of Texas COVID-19 modeling consortium, among others, are projecting a substantial decline in the number of COVID patients in area hospitals over the coming weeks. This is contributing to the recent improvement the Texas employment growth forecast to 4.6 percent from December 2020 to December 2021.
Assuming virus hospitalizations have peaked, the daily death count is sure to follow. Daily deaths averaged 59 in the Houston metropolitan area over the seven days ending Sept. 4 and fell further to 51 the following week, though the figures are subject to upward revision. This brought the Houston-area death toll from COVID to 11,411 as of Sept. 9. Preliminary counts through Sept. 24 bring the total to at least 11,695 locally and to 62,469 for Texas as a whole.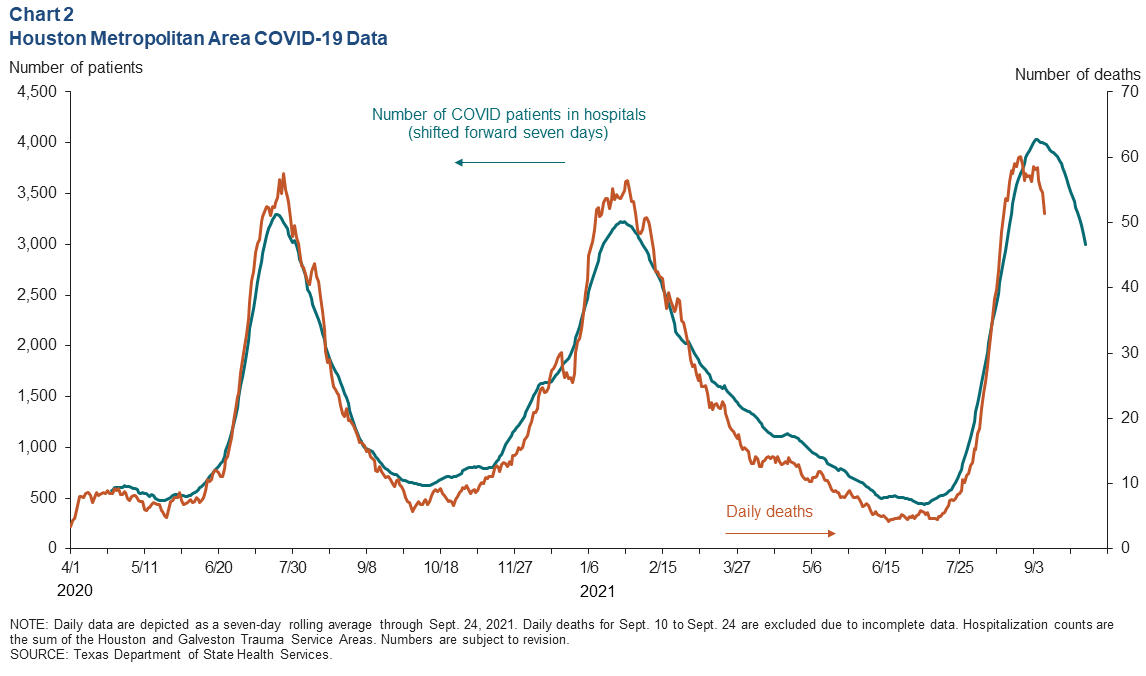 High-frequency data such as mobility, OpenTable restaurant demand, job postings and monthly employment show a modest impact from the Delta wave on economic activity in August and early September. The impact was centered on the leisure and hospitality sector—though that sector is also beset by challenging labor market conditions. As the third wave of the pandemic recedes, so will some of the pressures suppressing business activity in the sector.
Employment
Jobs Recovery Continues
Houston's recovery stayed on track in August, though the area has lagged the rest of Texas since early in the pandemic. This was due largely to weakness in the energy sector. Houston payrolls rose to 95.6 percent of prepandemic levels in August, having recovered nearly two-thirds of all jobs lost (Chart 3). The rest of Texas rose to 98.4 percent, led mainly by growth in the Interstate 35 corridor (San Antonio, Austin and Dallas–Fort Worth). The U.S. is back to 96.4 percent of prepandemic employment.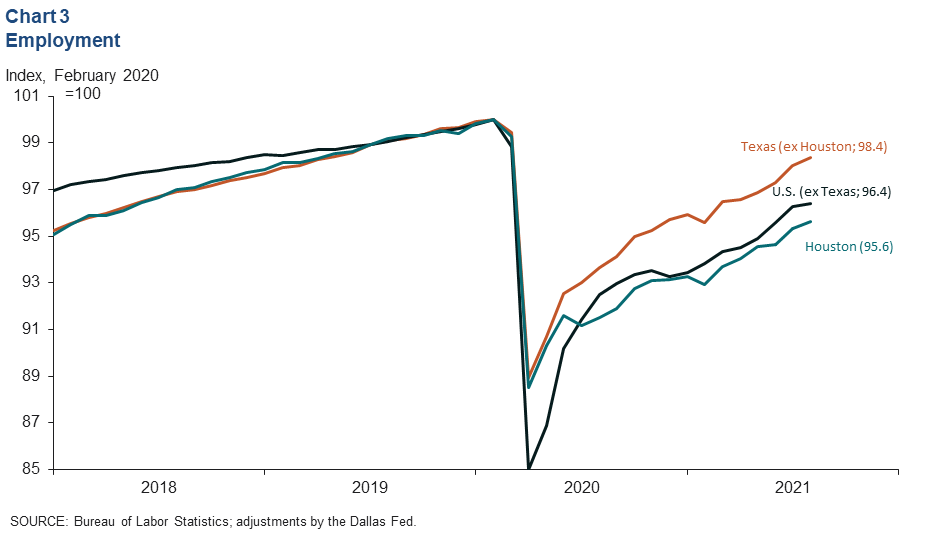 Job Growth Broad Based Since March 2021
Based on benchmarked data through first quarter 2021, Houston saw a net a loss of 202,000 jobs between February 2020 and the full reopening of Texas by the governor in March 2021 (Chart 4). This decline is larger than the current estimate of 192,000 from the Bureau of Labor Statistics, in part due to significant downward revisions to energy sectors.
Since March, payroll growth has been broad based. Job gains have been led by leisure and hospitality industries (22,000 jobs), which were hardest hit by the pandemic. Close behind were professional and business services (17,000) and education and health services (11,000). Construction is the only sector that has registered job losses since March 2021, according to initial estimates.
Unemployment Claims Inch Toward Prepandemic Levels
The number of initial claims for unemployment insurance in the Houston metropolitan area fell to 4,200 in mid-September 2021, near pandemic lows (Chart 5). For comparison, this is still nearly 22 percent above the average number of weekly claims filed in September 2019.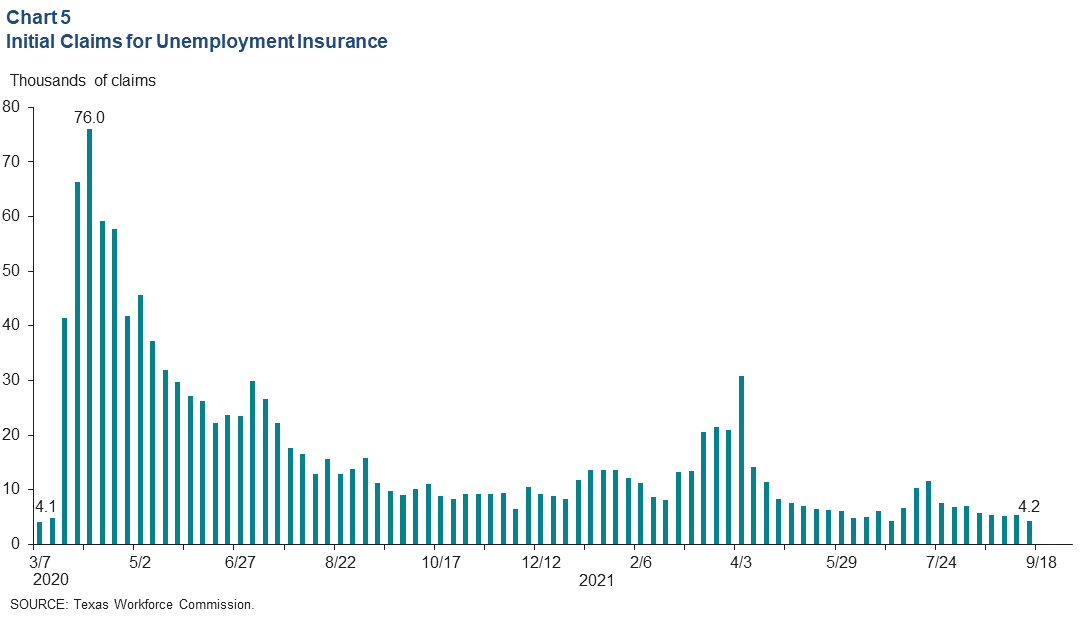 Unemployment Dropping as Labor Force Expands
Local unemployment has been declining precipitously relative to the nation and Texas (Chart 6). The Houston unemployment rate dropped 1.2 percentage points over the summer, from 7.2 percent in May to 6.0 percent in August. Texas overall dropped 0.7 points to 5.9 percent, and the nation fell 0.6 points to 5.2. Houston has lagged the nation in unemployment largely due to energy industry woes.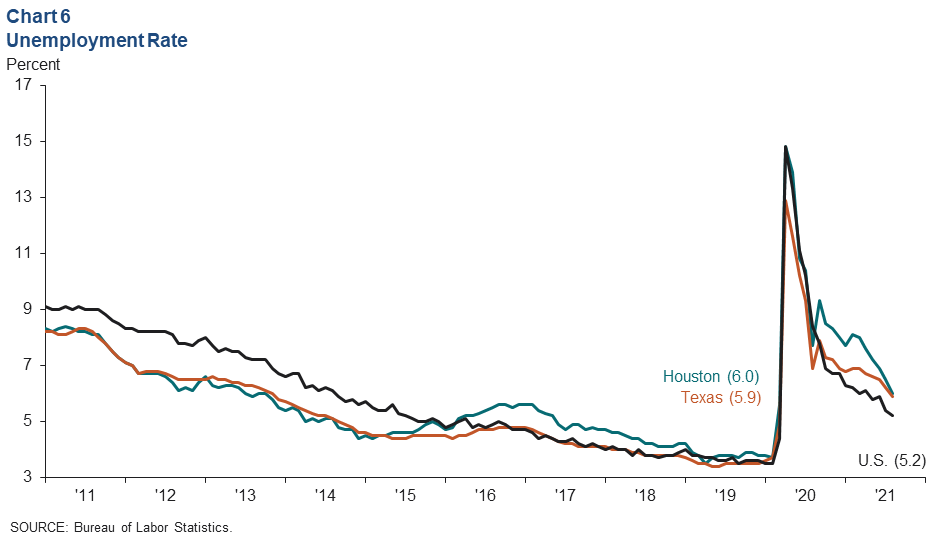 The size of the Houston-area labor force increased to 3.4 million in August, based on a seasonally adjusted, three-month moving average. That is roughly 98.6 percent of prepandemic levels and marks a recovery to December 2020 levels. However, measures of local unemployment and labor force participation can be subject to significant revisions.
Consumer Price Inflation
August's Consumer Price Index (CPI) for Houston continued to pick up steam. The annualized pace of inflation since February 2020 rose to 2.9 percent from 2.5 percent in June (Chart 7). This longer view avoids distortions caused by comparing the present to the unusual circumstances of the pandemic. Nationally, the headline CPI inflation rate remained higher but registered a more modest increase to 3.6 in July and August from 3.5 percent in June.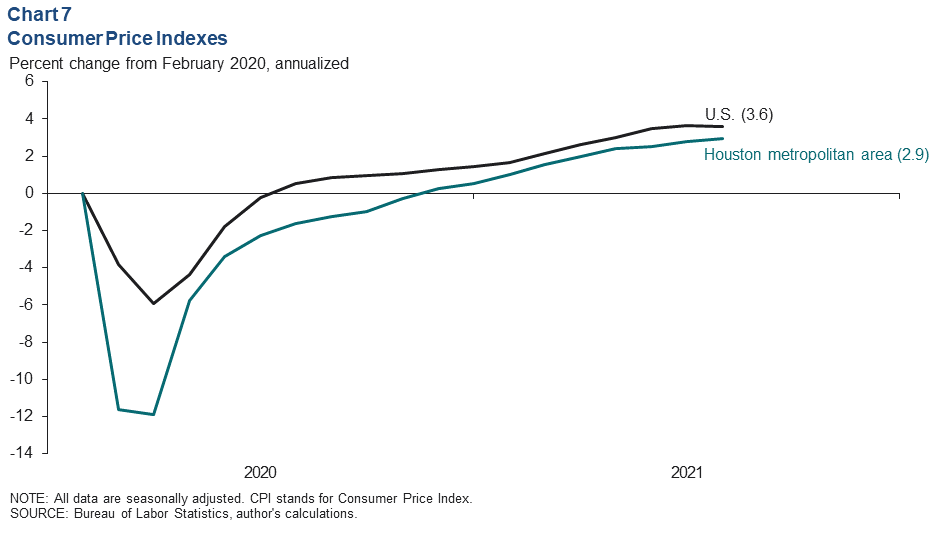 Transportation and housing have made outsized contributions to CPI inflation at the national and local level the past two years, but growth in these components was more modest in Houston. Nationally, the new and used car price index grew an annualized 13 percent from February 2020 to August 2021. By comparison, Houston's auto inflation index grew 9.8 percent, and it is given a slightly higher weight in the aggregate index locally than nationally.
The shelter price index—which accounts for over a third of the CPI—grew at an annual pace of 2.4 percent from February 2020 to August 2021 in the U.S. versus 0.8 percent in Houston. Rising home prices may have far-reaching implications for overall inflation.
Home Prices
Nominal Houston home values were up 9.1 percent through the second quarter of this year based on area mortgages—close to the growth observed at the height of the shale boom in 2013 and 2014, according to Federal Housing Finance Agency (FHFA) indexes (Chart 8). By comparison, Texas overall saw home prices grow 15.4 percent, while the U.S. was up 15.0 percent. Both are record rates. The slower pace of growth in Houston this year is likely due to headwinds from the oil bust.
Tracking the closing price of conventional mortgages on the same properties across time, the FHFA price indexes capture a broad-based picture of home price appreciation that avoids some of the challenges caused by changes in the composition of housing over time.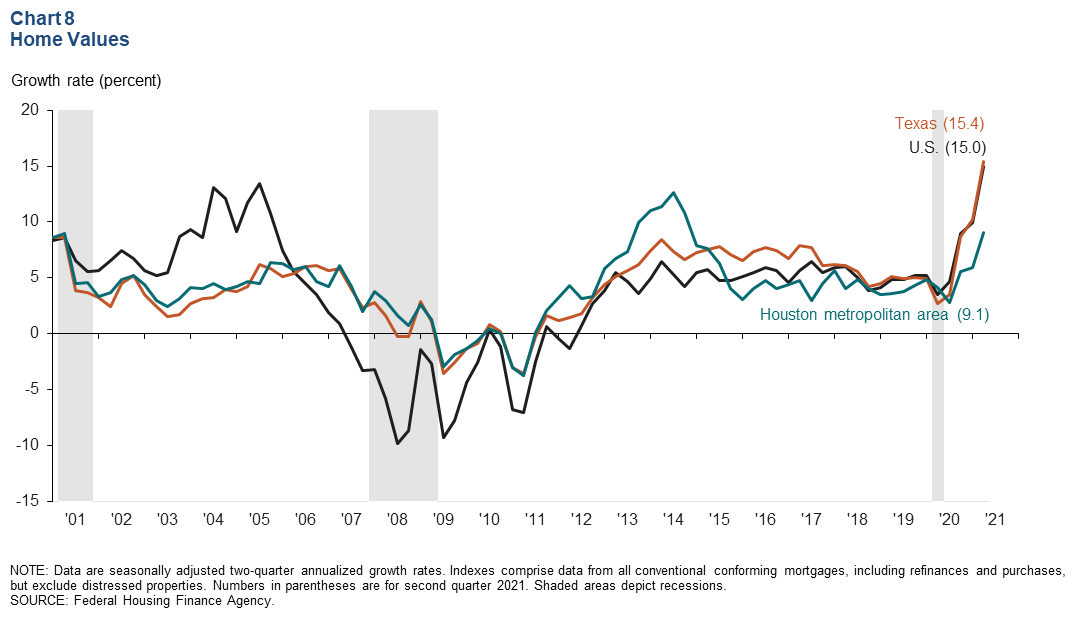 NOTE: Data may not match previously published numbers due to revisions.
About Houston Economic Indicators
Questions can be addressed to Jesse Thompson at jesse.thompson@dal.frb.org. Houston Economic Indicators is posted monthly after Houston-area employment data are released.