Permian Basin Economic Indicators

April 19, 2018
The Permian Basin economy remains robust in terms of employment, energy and housing. Employment expanded for the 18th month in a row during February. Unemployment has held steady at the prebust low since December. Oil production and the rig count increased along with the West Texas Intermediate spot price. Housing in the Permian Basin remains tight with solid sales and prices.
Labor Market
Nonfarm employment rose to 172,700 in February—an increase of 7 percent year over year (Chart 1). Employment growth has slowed somewhat since the first half of 2017 but has still expanded continuously. Employment gains are consistent with results of the first quarter 2018 Dallas Fed Energy Survey, which indicated growing energy employment.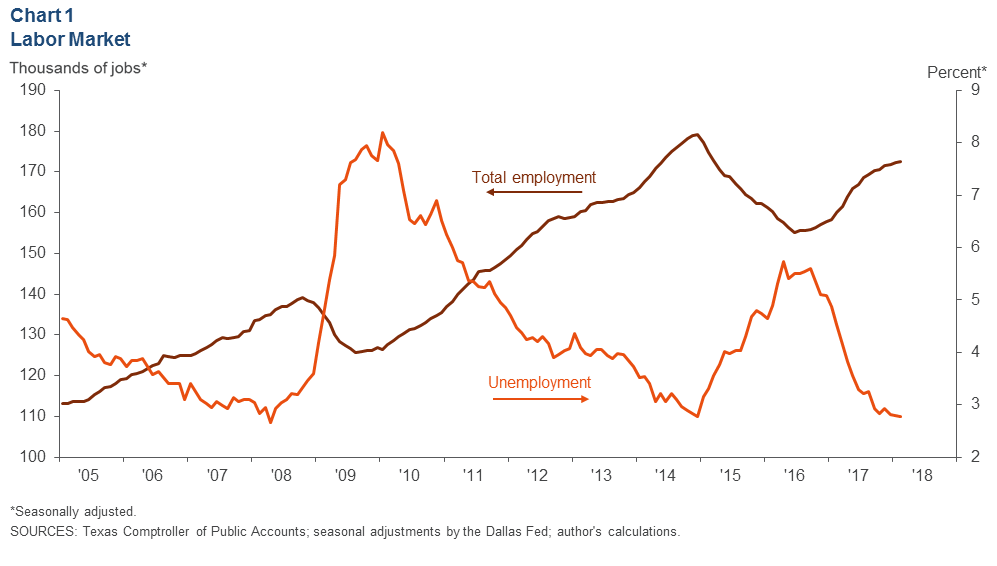 Despite the additional jobs, unemployment has remained at 2.8 percent since December 2017. The low unemployment rate is corroborated by some comments and results in the first-quarter Dallas Fed Energy Survey. Comments indicate "service companies are overworked" and companies are having a hard time finding workers. The survey also indicated business activity and employee hours increased.
Energy
Rig Count Growth Slows Slightly, Production Continues Upward Trend
The Permian Basin rig count increased to 439 in March from 433 in February (Chart 2). The 1.3 percent increase was the slowest since November 2017. The Permian accounts for over half of the oil rigs in the U.S.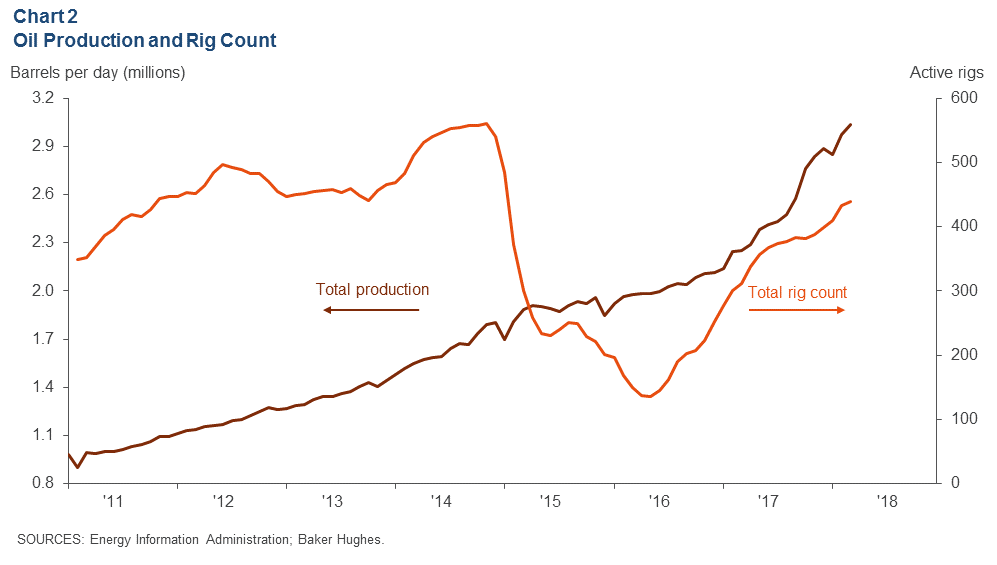 Monthly oil production was 3.04 million barrels per day (b/d) in March. Production increased just over 5 percent since December 2017 and 34 percent year over year. Results are in line with first-quarter Dallas Fed Energy Survey results. The company outlook index remained positive for the 8th quarter in a row, while the uncertainty index was roughly unchanged.
Price of West Texas Intermediate Increases
The average WTI spot price increased slightly from $62.23 in February to $62.73 in March (Chart 3). This is well above the average price needed to profitably drill a new well in the Permian, which was on average $50 a barrel, compared with $52 in the U.S.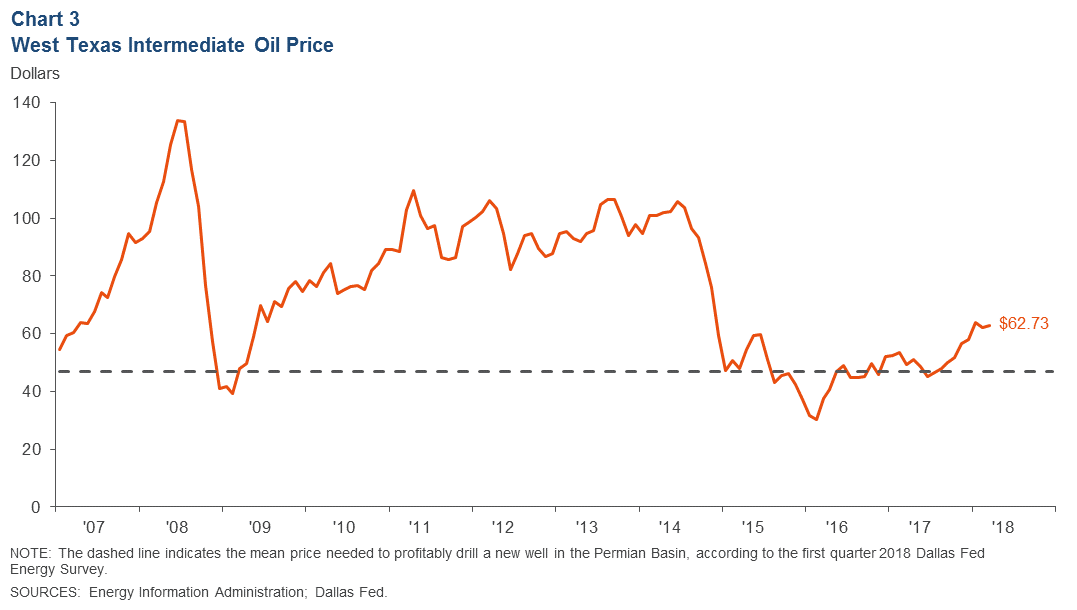 Drilled but Uncompleted Wells Continue to Rise in the Permian
The number of drilled but uncompleted wells (DUCs) in the Permian increased by 122 to 3,044 between February and March (Chart 4). The number of DUCs in the U.S.—minus the Permian—fell for the fifth straight month to 4,648.
Housing
Home Inventories Fall Again
Midland–Odessa's supply of existing homes continued to tighten between January and February (Chart 5). The six-month moving average for months of inventory was 1.4 in Midland and 2.4 in Odessa.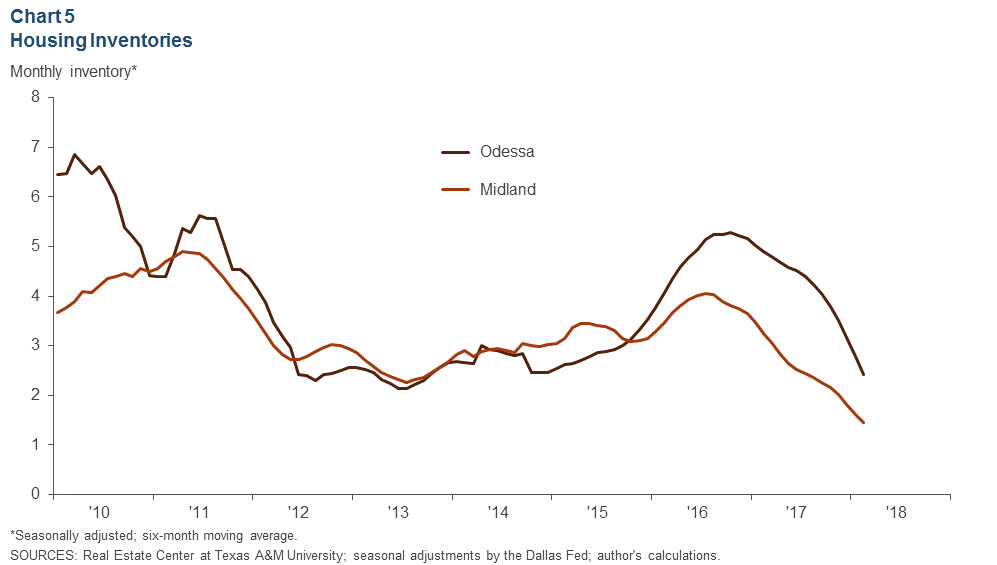 Home Sales and Prices Increase
Existing-home sales and prices increased again in February (Chart 6). Home sales continued to accelerate with the six-month moving average for February totaling 378. Sales have increased by 7.5 percent since December 2017. The average home price increased for the third month in a row in February to $267,800. Prices have remained elevated for almost a year.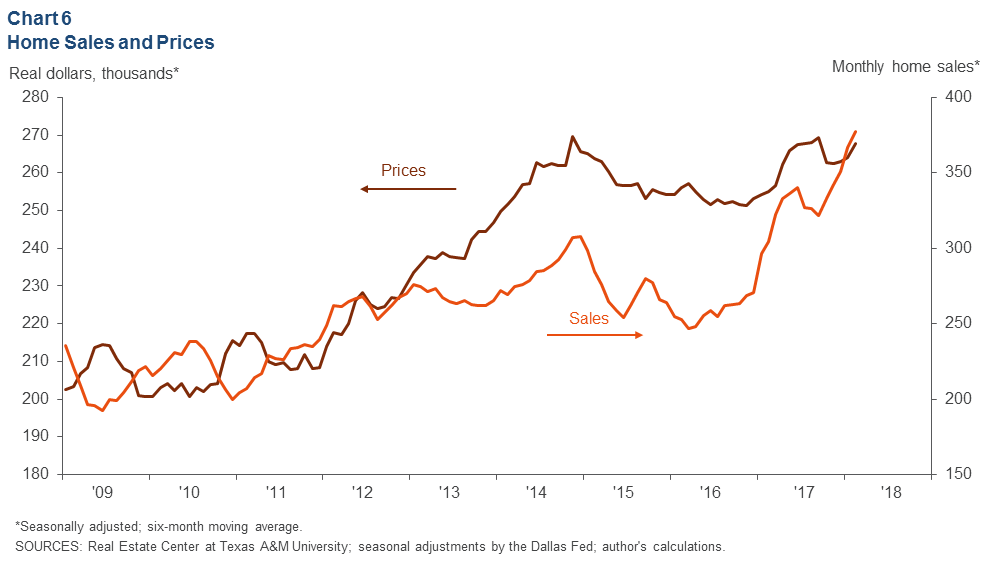 NOTES: Data are for the Midland–Odessa metropolitan statistical area (Martin, Midland and Ector counties), except for energy data, which cover the 55 counties in West Texas and southern New Mexico that make up the Permian Basin region. Data may not match previously published numbers due to revisions.
About Permian Basin Economic Indicators
Questions can be addressed to Dylan Szeto at Dylan.Szeto@dal.frb.org. Permian Basin Economic Indicators is released on the third Wednesday of every month.