Permian Basin Economic Indicators

July 26, 2018
The Permian Basin's economy remains robust. Employment growth picked up in the second quarter, and unemployment remains near historic lows. The rig count has stalled, but production continues to grow. The price per barrel of West Texas Intermediate crude oil fell between May and June. Housing conditions remain tight with elevated sales and prices.
Labor Market
Employment rose to 179,500 in June from 179,400 in May (Chart 1). Employment growth slowed to about a 1 percent annualized rate after growing at a rapid pace in the previous three months. Employment growth was 2.1 percent in the second quarter—considerably stronger than the first quarter's 1.6 percent growth despite June's relatively small increase. Results of the second-quarter Dallas Fed Energy Survey indicated rapid growth in energy sector employment, with employment indexes at their highest levels since the survey began in first quarter 2016.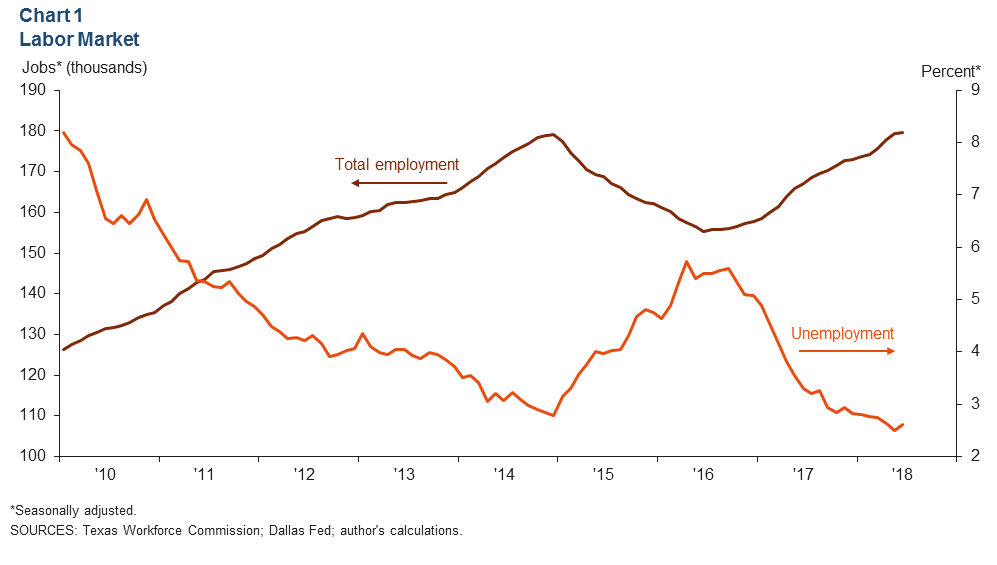 The Permian's unemployment rate remains near historic lows despite inching up from 2.5 percent in May to 2.6 percent in June. Fifty-two percent of respondents to a second-quarter Dallas Fed Energy Survey special question said problems finding workers could limit the Permian's near-term growth.
Energy
Rig Count Flattens Out and Production Grows in June
The Permian Basin's oil rig count fell slightly from 477 to 473 between May and June (Chart 2); the rig count has barely ticked up through July 20. Permian Basin production stood at 3.26 million barrels per day in June. That is an increase of 2.1 percent from May and 6.6 percent quarter over quarter. The Energy Information Administration expects Permian production to grow to just over 3.3 million barrels per day in July. Respondents to the most recent Dallas Fed Energy Survey noted lack of crude oil pipeline capacity as the most likely factor to slow near-term growth in the Permian.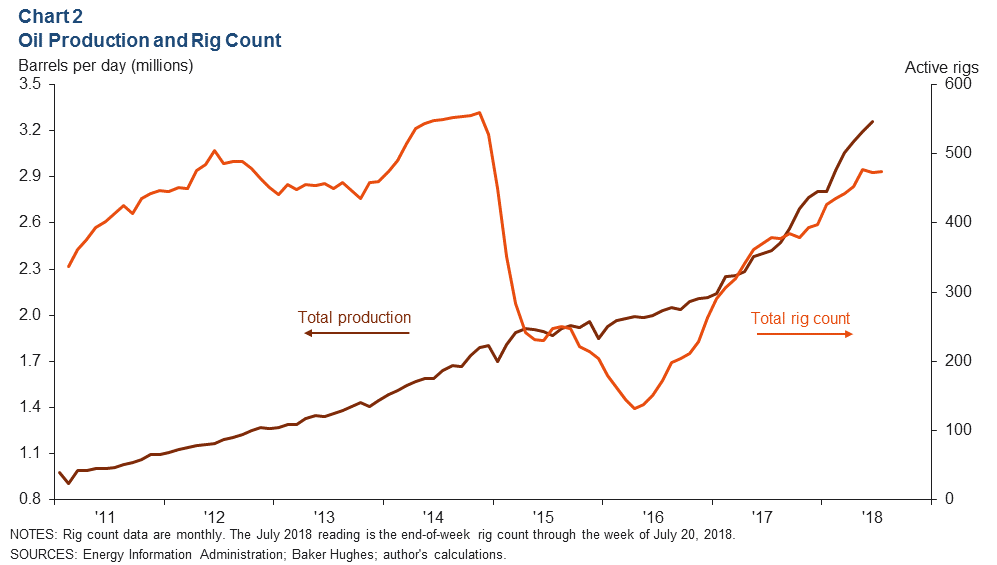 Current Price of West Texas Intermediate Bounces Around $70
The average monthly price per barrel of West Texas Intermediate (WTI) crude oil fell from about $70 in May to just under $68 in June, despite a notable increase to above $70 toward the end of June (Chart 3). Prices have averaged about $71 during July. Respondents to the Dallas Fed Energy Survey, on average, anticipate the WTI price to be $65.68 per barrel by year-end 2018—well above the Permian Basin's breakeven price.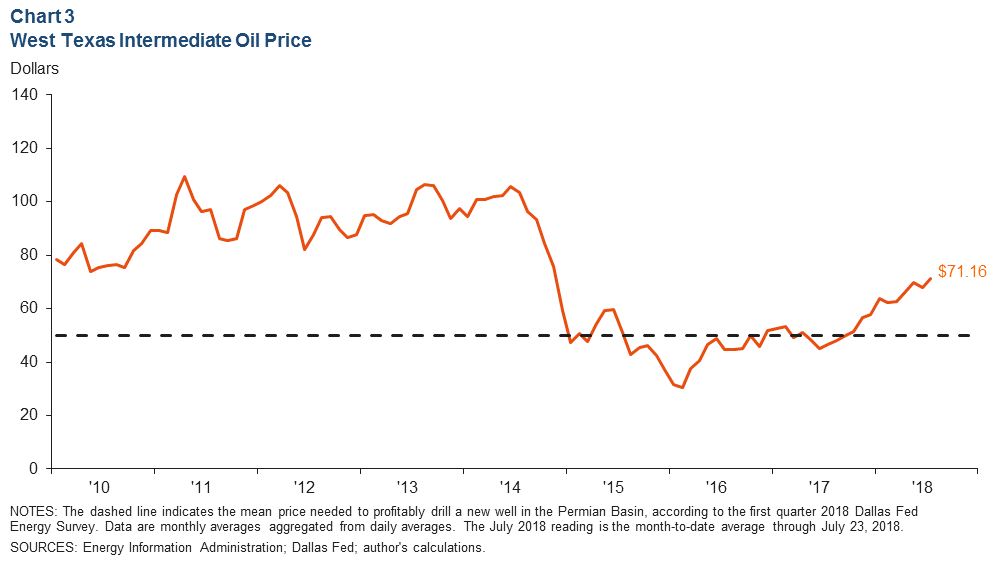 Permian's Drilled but Uncompleted Wells Still on the Rise
The Permian Basin's drilled but uncompleted (DUC) well count was near 3,400 in June, an increase of about 5 percent from May (Chart 4). The number of DUCs outside the Permian Basin has increased since December 2017 but at a much slower pace than the Permian Basin's 35 percent.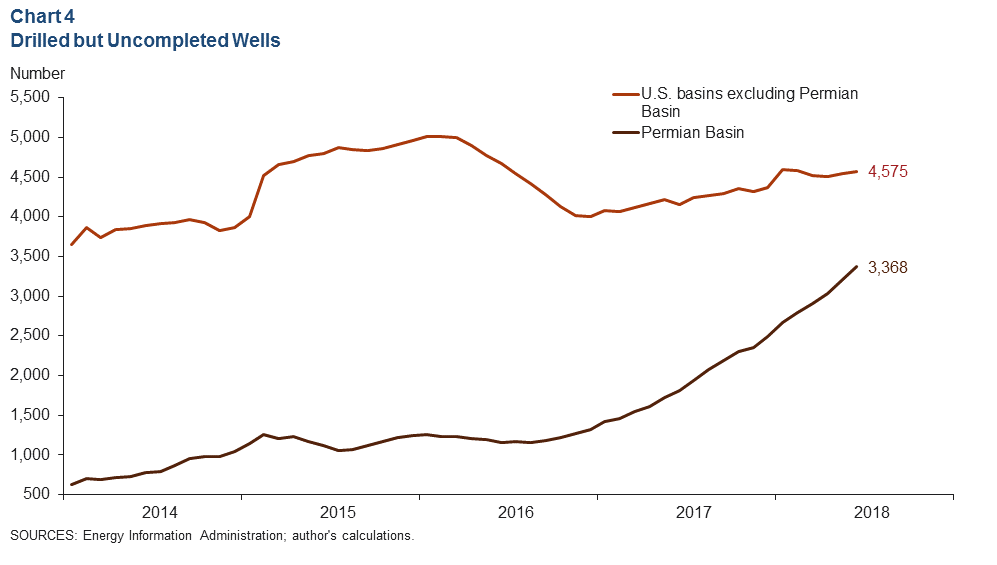 Housing
Sales Fall and Prices Rise in Midland–Odessa
The Permian Basin's six-month moving average for existing-home sales remains elevated, but year-over-year growth has cooled in recent months (Chart 5). Existing-home sales were 368 during June, a growth of 8.6 percent year over year. June was the first month with single-digit year-over-year growth since December 2016. Home prices have accelerated recently. The six-month moving average for existing-home prices was about $284,000 in June—6 percent higher than the same period last year.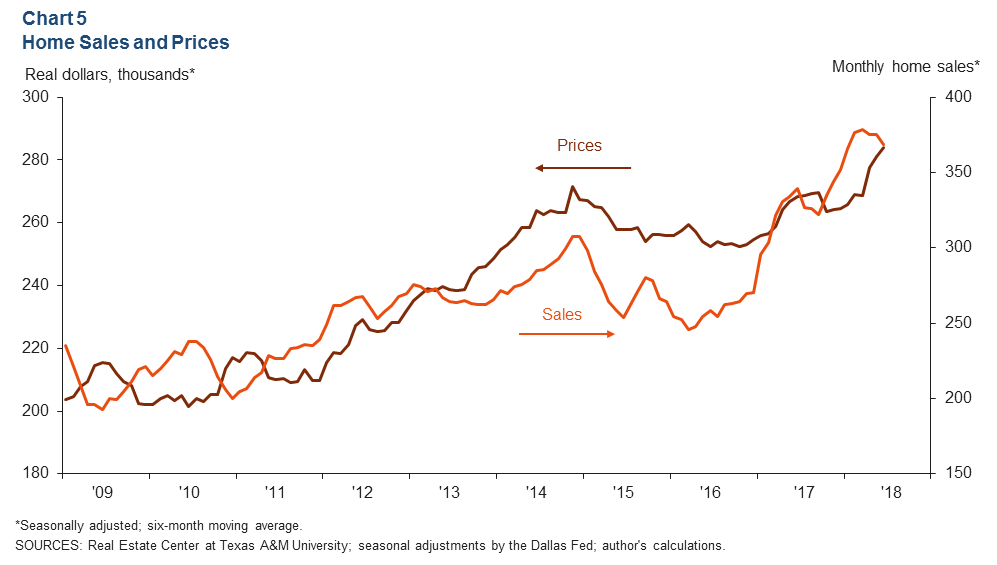 Single-Family Permits Accelerate in 2018
The six-month moving average for single-family permits has accelerated in recent months (Chart 6). After dipping about 2.4 percent in 2017, permits have risen by 40 percent between December 2017 and May 2018.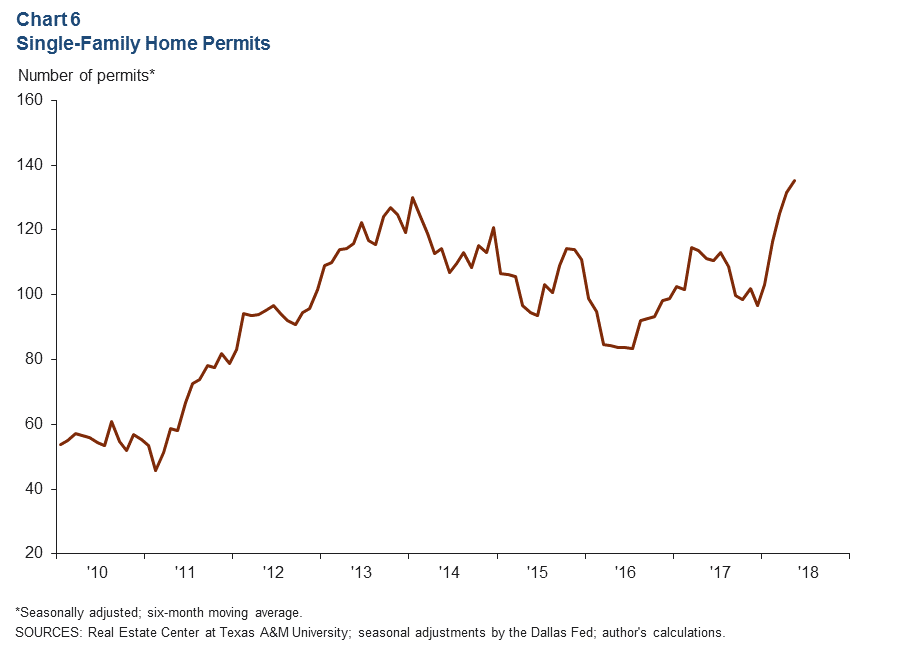 NOTES: Data are for the Midland–Odessa metropolitan statistical area (Martin, Midland and Ector counties), except for energy data, which cover the 55 counties in West Texas and southern New Mexico that make up the Permian Basin region. Data may not match previously published numbers due to revisions.
About Permian Basin Economic Indicators
Questions can be addressed to Dylan Szeto at Dylan.Szeto@dal.frb.org. Permian Basin Economic Indicators is released on the third Wednesday of every month.