Permian Basin Economic Indicators

February 21, 2020
Permian Basin payrolls stagnated in 2019, and the unemployment rate ticked up. Oil production reached a new high in December even as the rig count stalled. Home sales steadied, while the median home price ticked up.
Labor Market
Employment Stagnates in 2019
While the Permian region posted strong employment growth in 2018, payrolls were unchanged in 2019 (Chart 1).
The energy slowdown led to a 4 percent decrease in the metro's largest industry, mining and construction. Government, another of the metro's main sectors, declined 6.3 percent. Trade, transportation and utilities, and leisure and hospitality continued to post job gains.
Unemployment Ticks Up
As payroll gains have slowed, the unemployment rate has moved up. In December 2019, the unemployment rate stood at 2.4 percent, up from a low of 2.0 percent in May 2019 (Chart 2).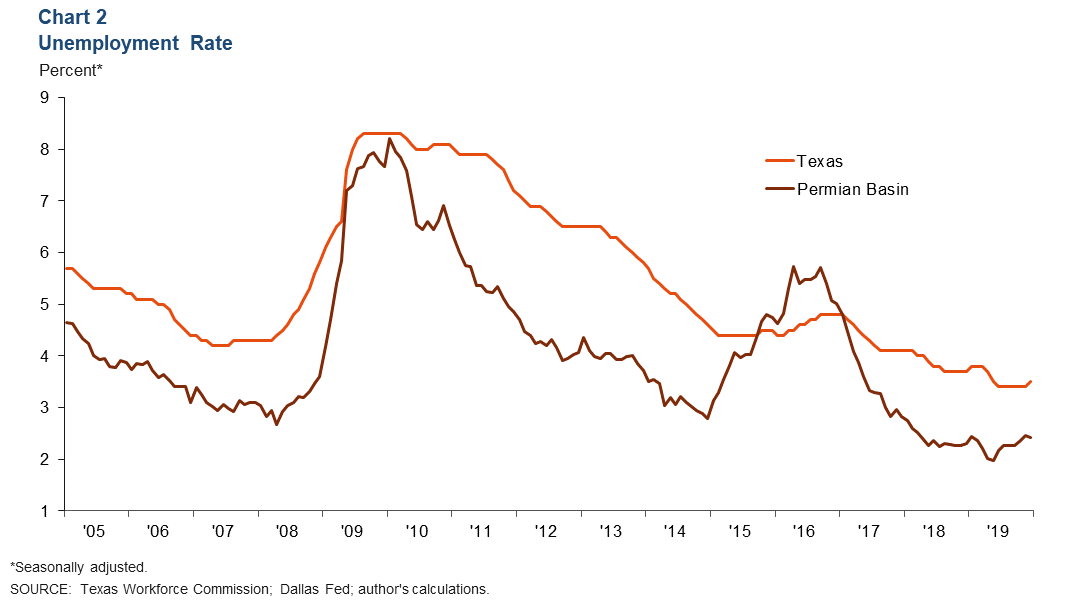 While the jobless rate in the Permian is up, it remains well below the Texas average of 3.5 percent.
Midland Wages Still Rising
While Permian Basin job growth was flat in 2019, the three-month average for private sector hourly wages in Midland continued to climb (Chart 3). The average in Midland stood at $32.78 in December, up 16.8 percent from a year earlier. The average in Odessa fell 1.7 percent from the prior year to $28.32. However, both the Midland and Odessa averages were above the Texas average of $26.20.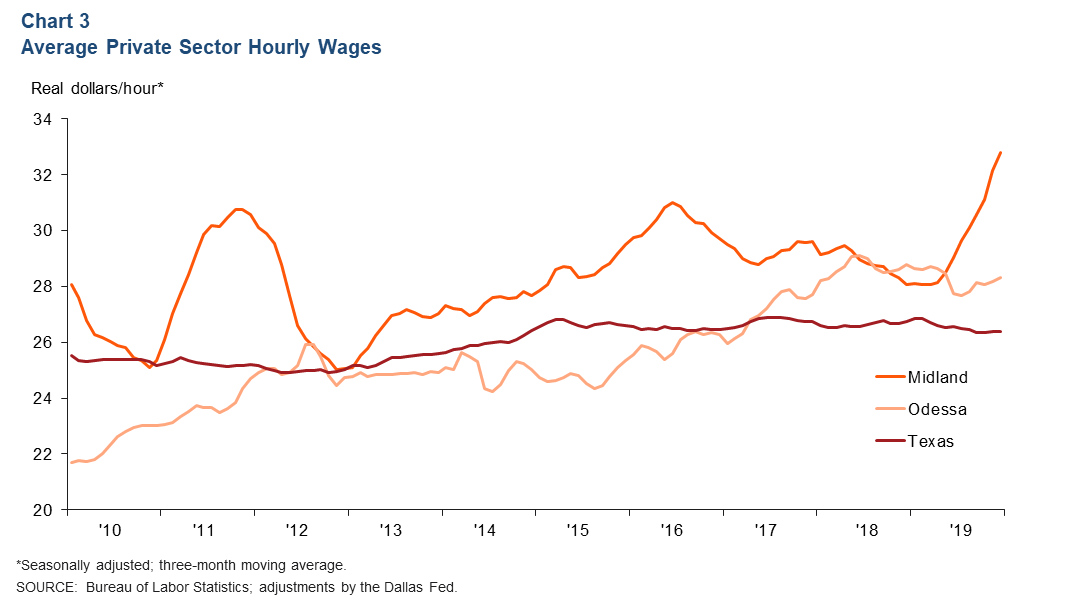 Energy
Oil Production Climbs
Permian Basin oil production continues to climb, with production estimated to have reached an all-time high of 4.7 million barrels per day in December (Chart 4). While the rig count has flattened, it is 87 below its recent peak of 493 in November 2018.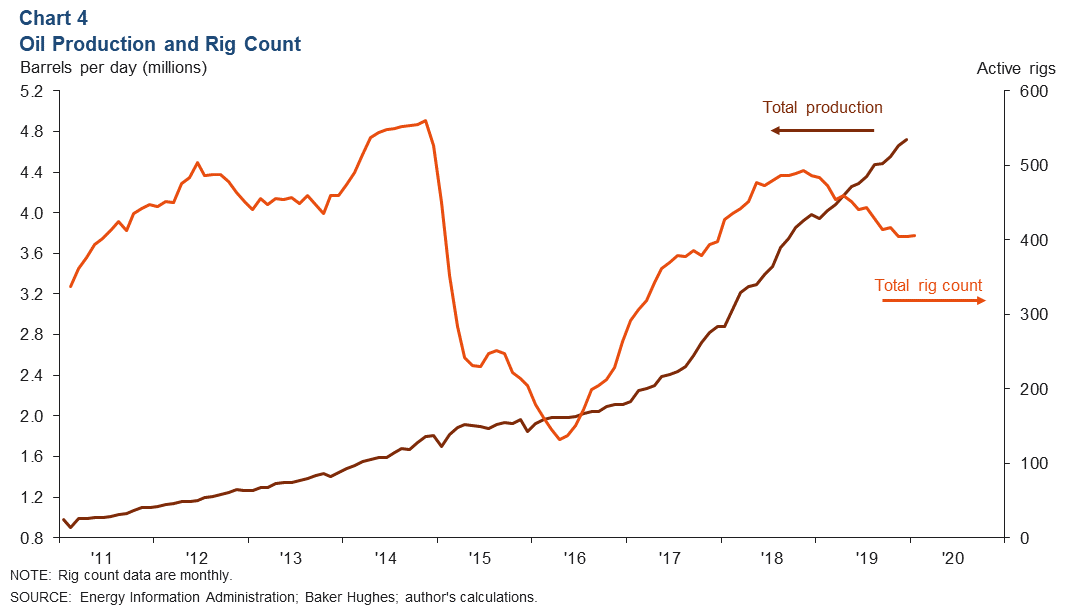 Oil Prices Edge Down
Oil prices have fallen from their January average. West Texas Intermediate has averaged $50.23 per barrel to date in February, compared with $57.27 in January (Chart 5).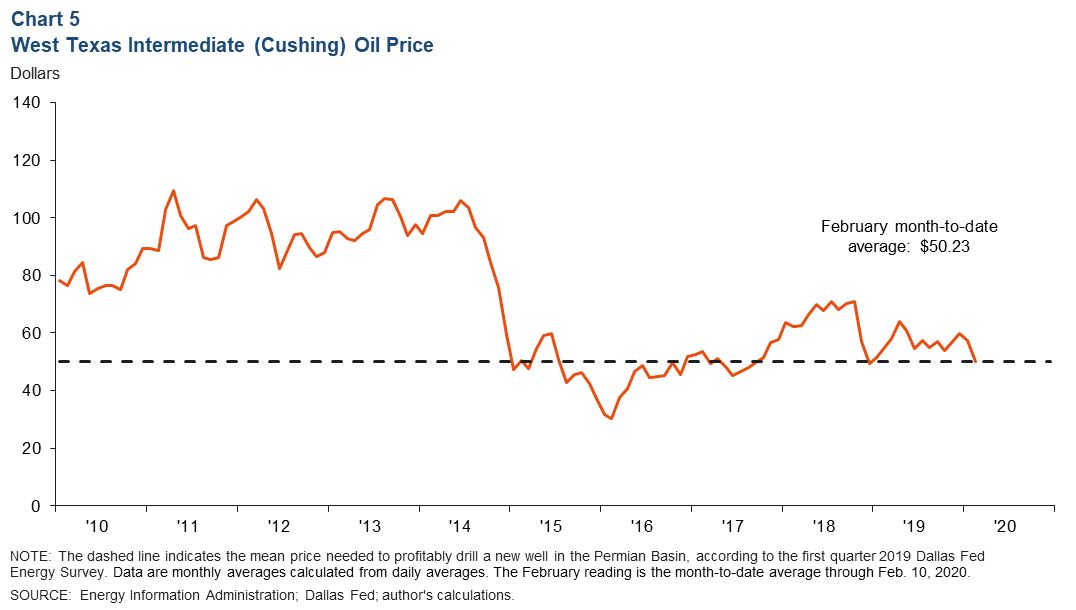 Housing
Home sales remained nearly unchanged in both Midland and Odessa in 2019. Total Midland sales inched up 1.6 percent to 2,864, while Odessa sales edged down 1.8 percent to 1,673 (Chart 6).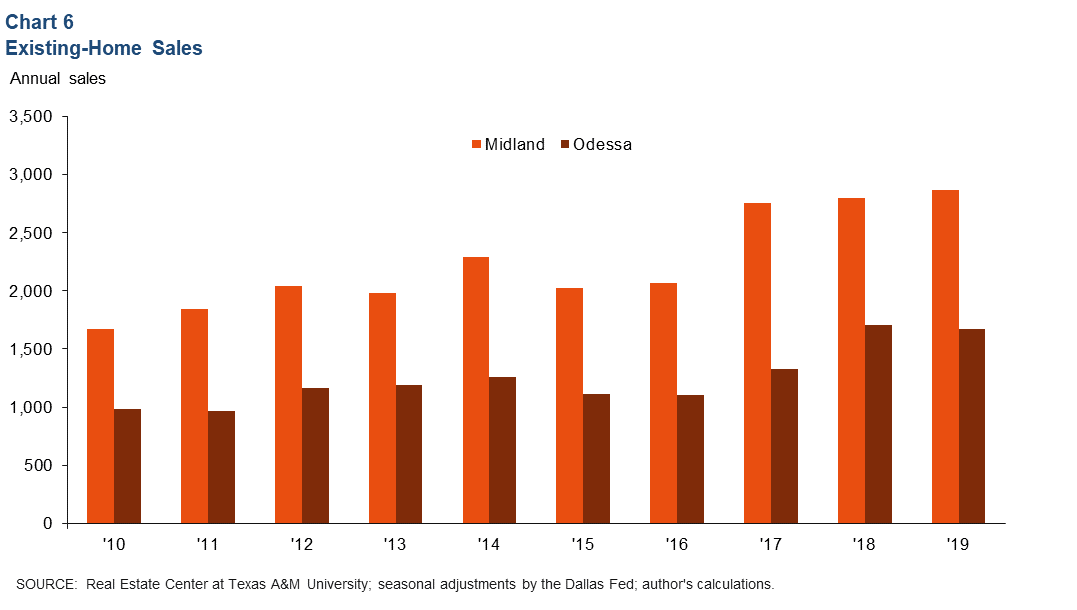 Median home prices rose 1.6 percent in 2019 to $300,000 in Midland, and Odessa prices jumped 9.7 percent to $226,650.
NOTES: Employment data are for the Midland–Odessa metropolitan statistical area (Martin, Midland and Ector counties), unless otherwise specified. Energy data include the 55 counties in West Texas and southern New Mexico that make up the Permian Basin region. Data may not match previously published numbers due to revisions.
About Permian Basin Economic Indicators
Questions can be addressed to Marycruz De León at marycruz.deleon@dal.frb.org. Permian Basin Economic Indicators is released monthly.