Permian Basin Economic Indicators

August 12, 2022
The Permian Basin economy grew during the second quarter as employment increased and unemployment fell. Midland and Odessa continued to recover from the COVID-19 pandemic. Oil prices and production rose in the quarter, and with the ongoing war in Ukraine, expectations are that oil and gas producers will continue to see elevated profits.
Energy
Oil Prices Continue to Rise in Quarter
Oil prices rose in the second quarter due to Russia's invasion of Ukraine and the West's resulting sanctions, tight global supply, and strong consumer demand as the world continues to emerge from the COVID-19 pandemic. West Texas Intermediate (WTI) crude was $105.76 per barrel in the second quarter, compared with $100.28 in the first quarter (Chart 1). The July report from the Energy Information Administration (EIA) forecasts WTI crude to average $98.79 a barrel for 2022, indicating a decline in prices in the second half of the year. The expected decline is due to concerns of slower economic growth in the coming months.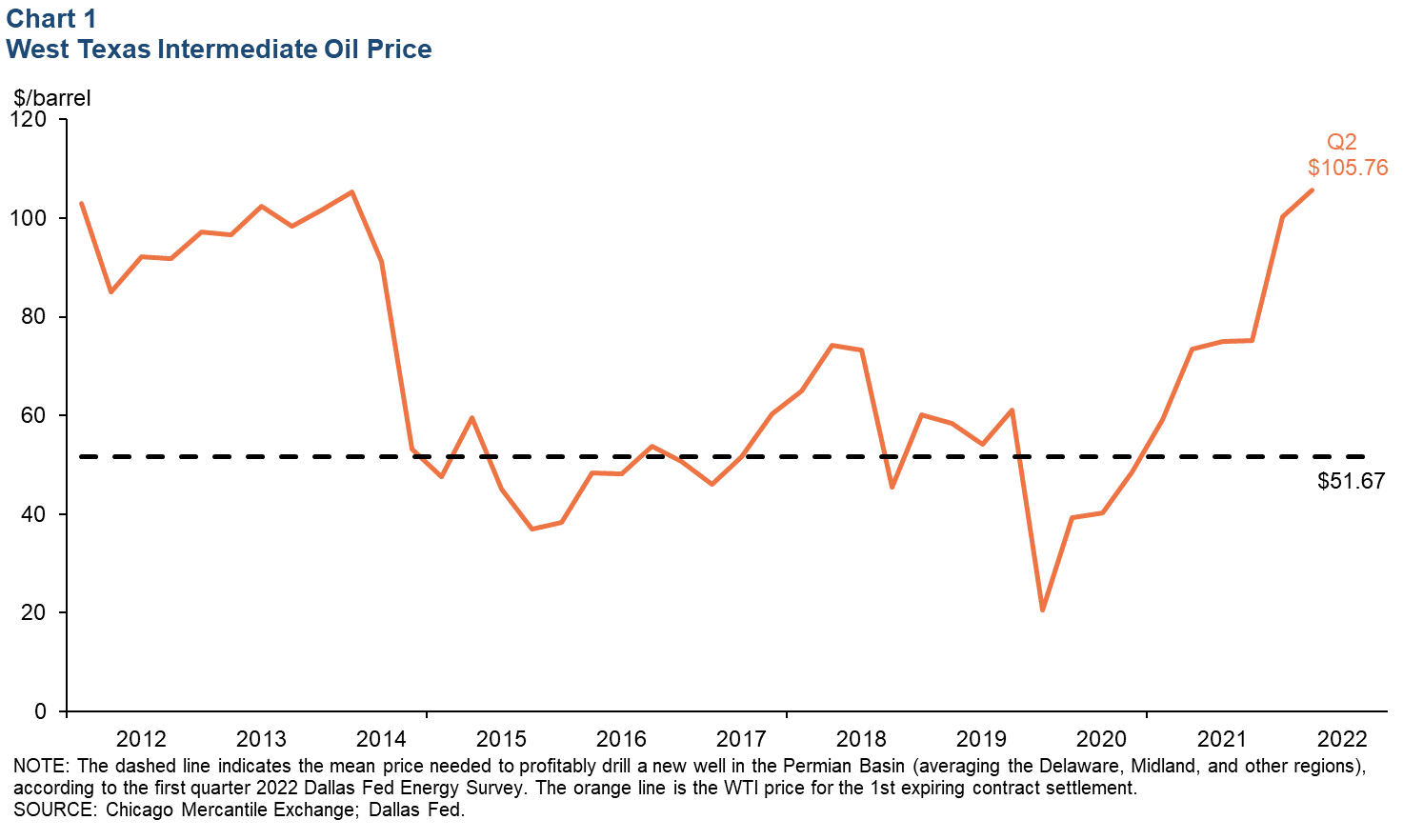 Rig Count and Production Climb
The Permian Basin oil rig count has been trending up since August of 2020. It increased by 35 from the first quarter to 338 at the end of June (Chart 2). Production has also been trending up since August 2020 and reached an average of 5.2 million barrels per day in the second quarter. U.S. shale producers have kept a lid on supply amid pressure from shareholders to maintain capital discipline and use profits for dividend payments and buybacks rather than for pumping up production.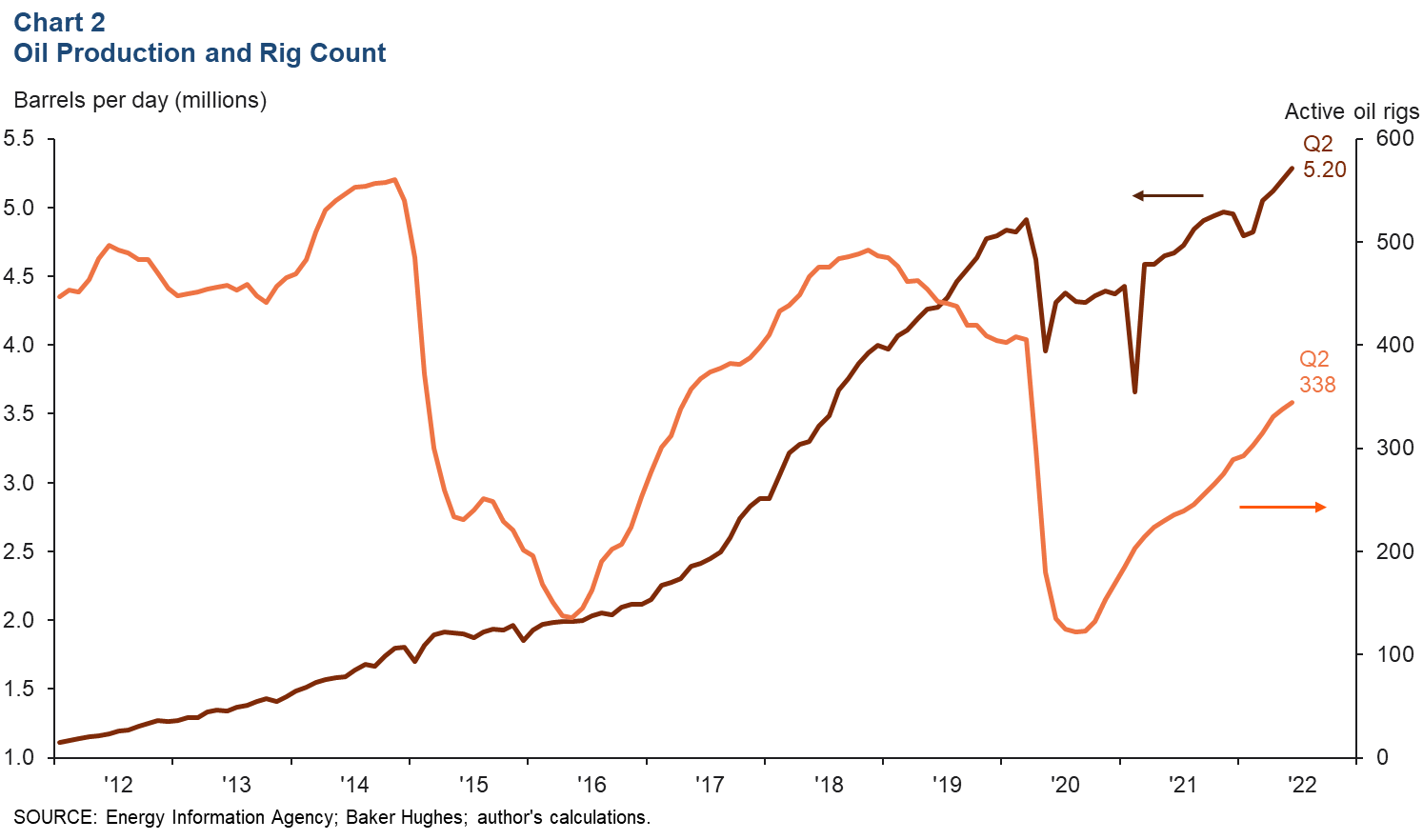 Labor Market
Unemployment Continues to Fall
The unemployment rate fell in Midland to 3.8 percent and in Odessa to 5.5 percent in the second quarter (Chart 3). Midland's unemployment hovers below the statewide rate, while Odessa's remains above it. The Permian Basin's labor market looks poised to improve due to forecasts for strong oil demand the remainder of 2022 and into 2023. The region is important for domestic production, pipelines and processing.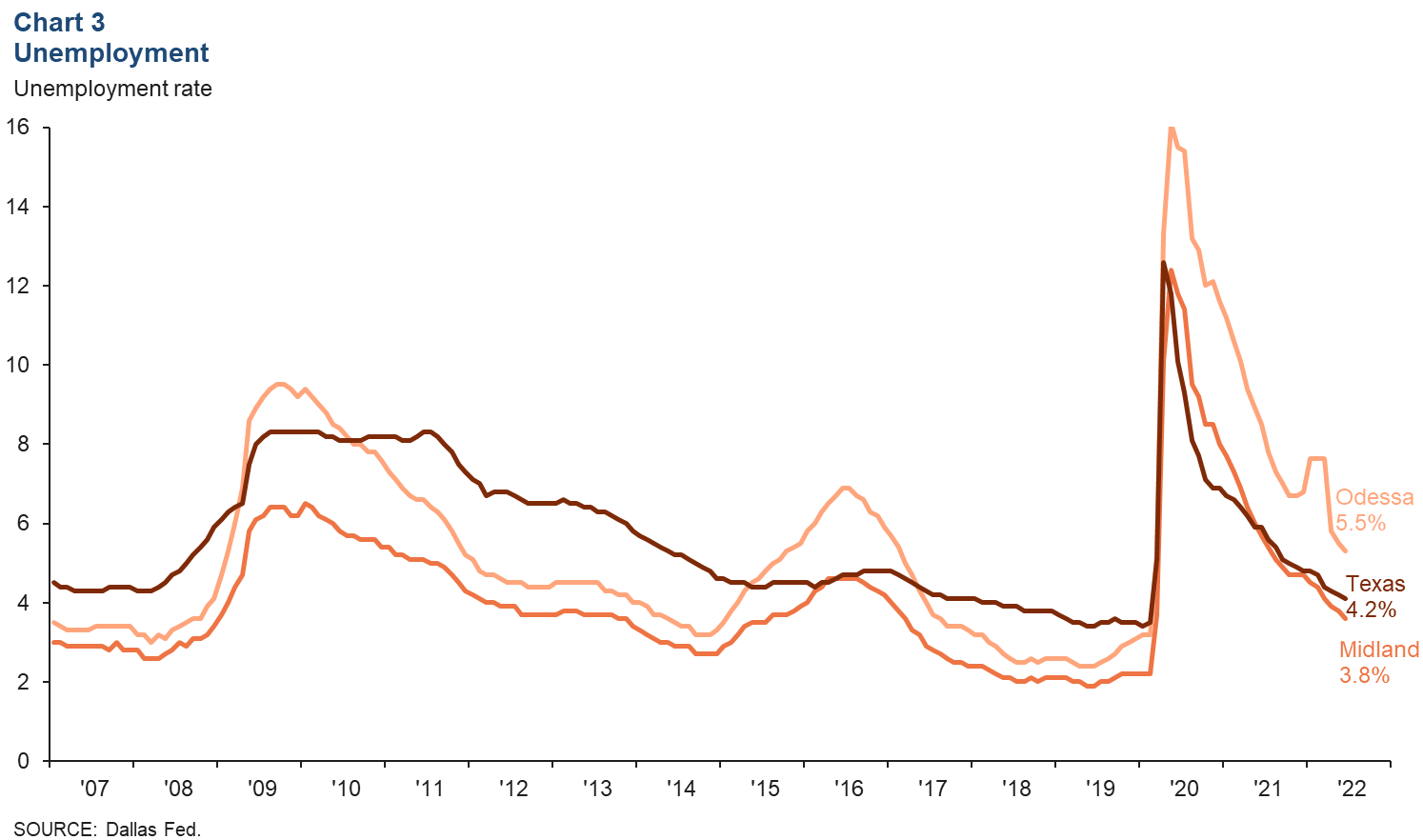 Wages Edge Down
Hourly wages in both Midland and Odessa inched down in the second quarter relative to the first quarter. Wages in Midland and Odessa averaged $37.15 and $28.02 per hour, respectively (Chart 4). From second quarter 2021 to second quarter 2022, inflation-adjusted wages decreased 6.6 percent in Midland but increased 3.7 percent in Odessa. Midland has more corporate oil and gas jobs, while Odessa employs more oilfield and service workers.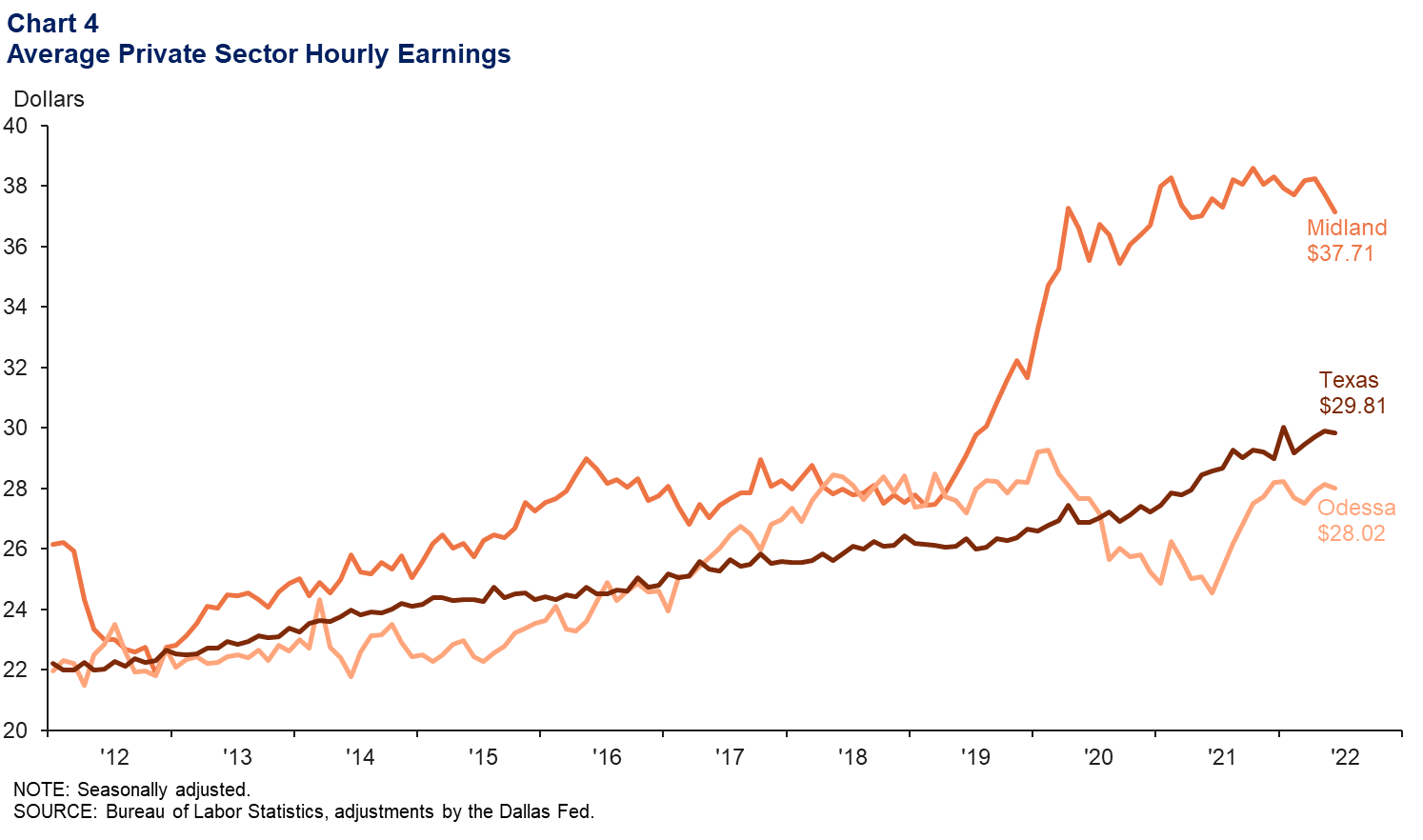 Leisure and Hospitality Shows Strongest Growth
In the second quarter, total nonfarm employment grew 5.0 percent in Midland and Odessa, lagging slightly behind the year-to-date growth rate of 6.0 percent (Chart 5). Leisure and hospitality job gains surpassed the growth in all other sectors. In addition, manufacturing and mining, logging and construction jobs also registered strong job gains. Employment grew in Midland and Odessa in the second quarter at a slightly higher rate than in the rest of the state, which grew at 4.5 percent. However, employment has not yet returned to prepandemic levels in either metropolitan statistical area.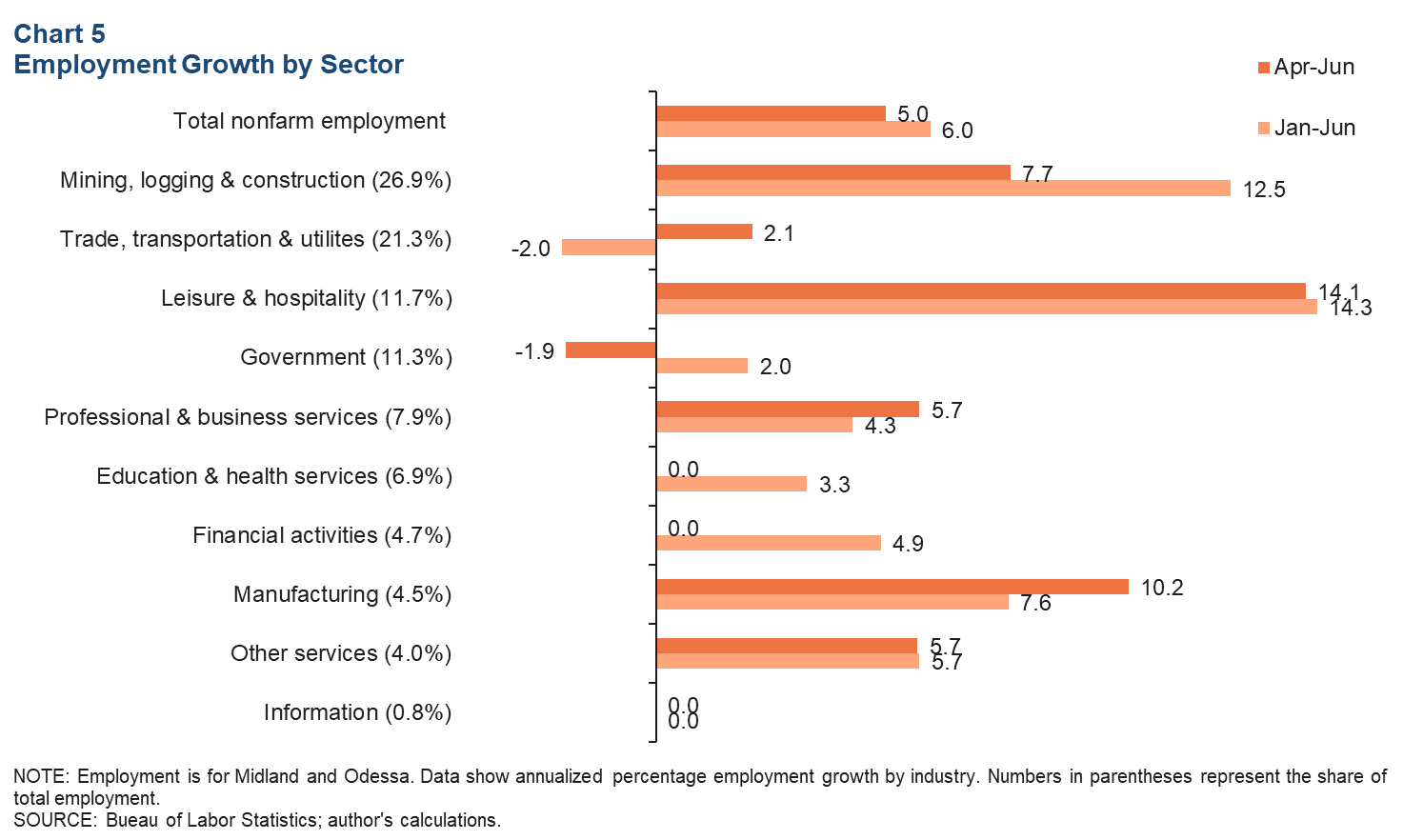 Housing
Existing-home sales declined in the second quarter, but prices still increased over the period despite a decline in June (Chart 6). The weighted-average home price for Midland and Odessa was $308,100 in May, but it declined to $298,480 in June. The decline was probably due to a composition effect of lower-priced homes increasing market share, accompanied by a decline in homes sold at a higher prices. The housing market is expected to slow due to higher mortgage rates for the rest of 2022 and in 2023.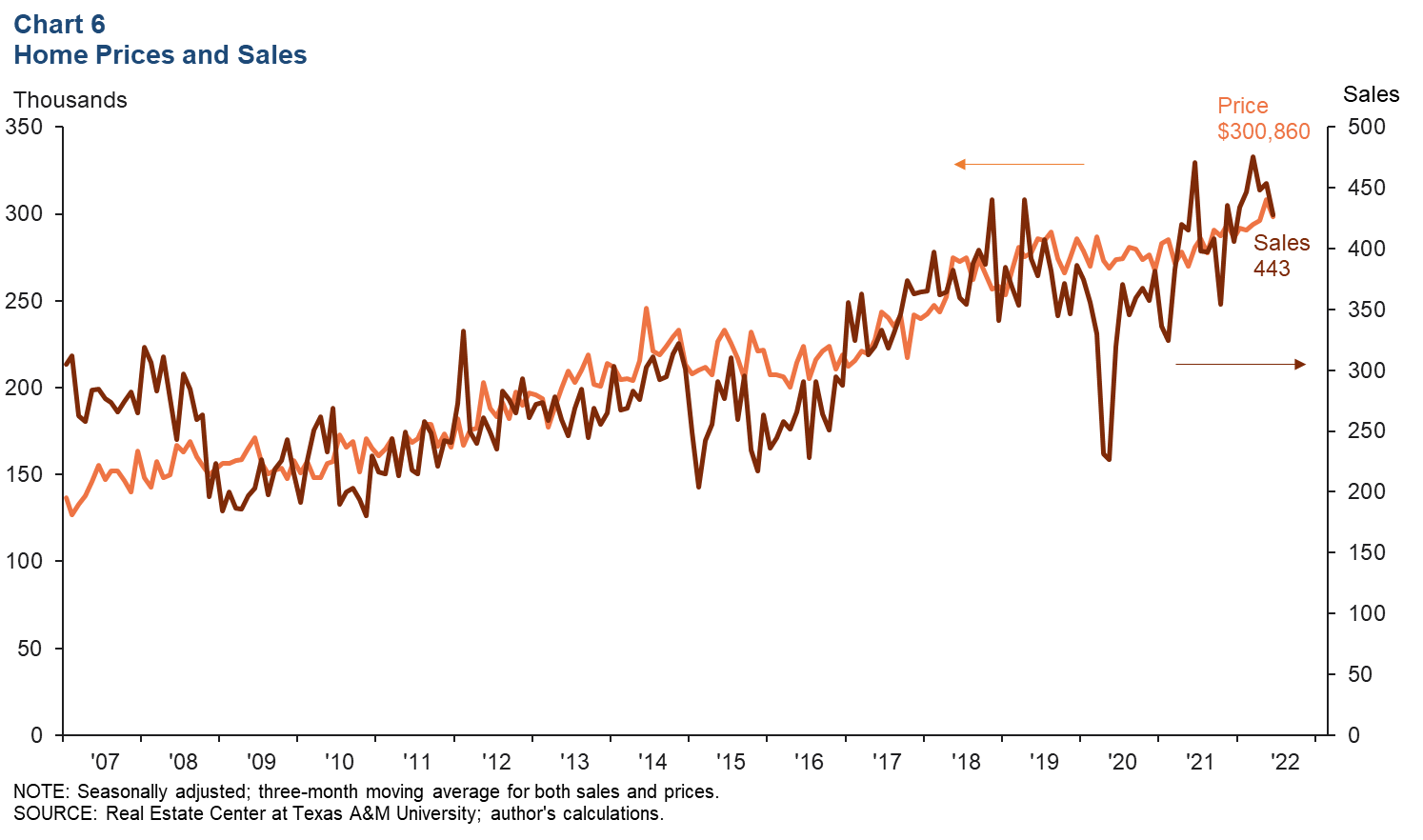 NOTES: Employment data are for the Midland–Odessa metropolitan statistical area (Martin, Midland and Ector counties), unless otherwise specified. Energy data include the 55 counties in West Texas and southern New Mexico that make up the Permian Basin region. Data may not match previously published numbers due to revisions.
About Permian Basin Economic Indicators
Questions can be addressed to Kenya Schott at kenya.schott@dal.frb.org. Permian Basin Economic Indicators is released quarterly.