Texas Economy
Texas Manufacturing Outlook Survey
May 30, 2017
Texas Manufacturing Expansion Picks Up Pace
Texas factory activity increased at a faster pace in May, according to business executives responding to the Texas Manufacturing Outlook Survey. The production index, a key measure of state manufacturing conditions, moved up eight points to 23.3, reaching its highest level since April 2014.
Other measures of current manufacturing activity also rose to levels not seen since mid-2014. The new orders index pushed up to 18.1, and the growth rate of orders index rose to 12.3, marking its fifth consecutive positive reading. The capacity utilization index moved up to 19.4, with roughly a third of firms noting increased utilization. The shipments index surged 15 points to 24.7, reaching a level not seen in nearly 10 years.
Perceptions of broader business conditions improved again in May. The general business activity index held fairly steady at 17.2, and the company outlook index rose five points to 20.2.
Labor market measures indicated continued employment gains and markedly longer workweeks this month. The employment index came in at 8.3, posting a fifth positive reading in a row. Eighteen percent of firms noted net hiring, compared with 10 percent noting net layoffs. The hours worked index shot up 10 points to 15.7, its highest reading in six years.
Prices continued to rise in May, albeit at a somewhat slower pace, while wage pressures increased. Upward pressure on input costs receded slightly again, with the raw materials prices index falling three points to 17.5. Upward pressure on selling prices also abated, with the finished goods prices index falling from 12.0 to 5.9. The wages and benefits index, however, rose to 24.3, indicating a stronger rise in compensation costs than was seen in April.
Expectations regarding future business conditions continued to improve. The indexes of future general business activity and future company outlook came in at 31.6 and 30.9, respectively, up several points from last month's readings. Other indexes for future manufacturing activity pushed further into positive territory.
Next release: Monday, June 26
Data were collected May 16–24, and 113 Texas manufacturers responded to the survey. The Dallas Fed conducts the Texas Manufacturing Outlook Survey monthly to obtain a timely assessment of the state's factory activity. Firms are asked whether output, employment, orders, prices and other indicators increased, decreased or remained unchanged over the previous month
Survey responses are used to calculate an index for each indicator. Each index is calculated by subtracting the percentage of respondents reporting a decrease from the percentage reporting an increase. When the share of firms reporting an increase exceeds the share reporting a decrease, the index will be greater than zero, suggesting the indicator has increased over the prior month. If the share of firms reporting a decrease exceeds the share reporting an increase, the index will be below zero, suggesting the indicator has decreased over the prior month. An index will be zero when the number of firms reporting an increase is equal to the number of firms reporting a decrease. Data have been seasonally adjusted as necessary.
May 30, 2017
Results Summary
Click on links in the table for greater details. Historical data are available from June 2004 to the most current release month.
*Indicator direction refers to this month's index. If index is positive (negative), indicator is increasing (decreasing) or improving (worsening). If zero, indicator is unchanged.
**Number of months moving in current direction.
Data have been seasonally adjusted as necessary.
May 30, 2017
Production Index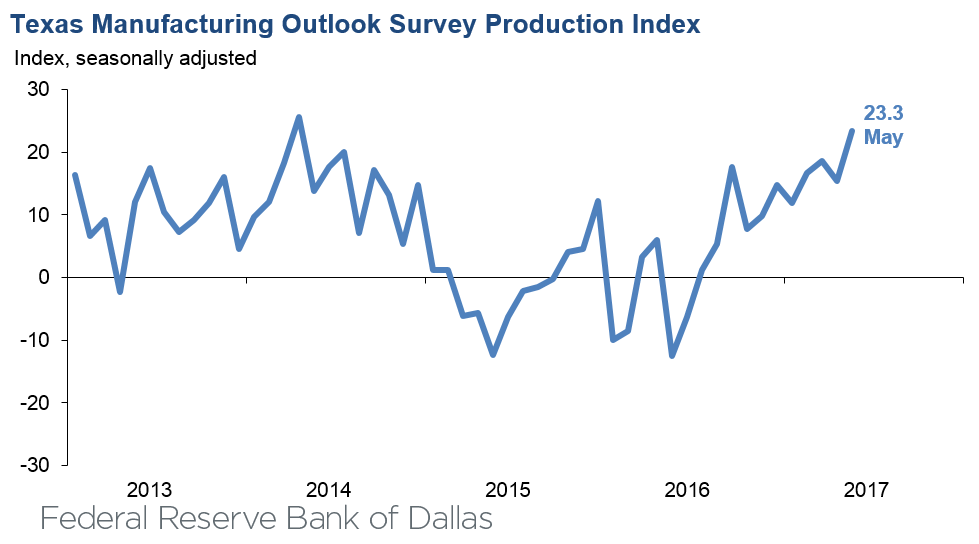 May 30, 2017
Comments from Survey Respondents
These comments are from respondents' completed surveys and have been edited for publication.
Primary Metal Manufacturing
Phone activity is slower; we are still working a little over 40 hours, but incongruently looking for employees. We are having to give raises for the bottom-rung employees to create an opening for new hires. Two of the last three new hires did not stay more than a month. The third one is now in jail, and I don't know whether he will be returning.
We look for the construction industry to be strong through 2018.
Hiring employees is a challenge.
We have seen an overall increase in orders.
Fabricated Metal Product Manufacturing
The key for our business will be the summer, which is traditionally slow. But with this fall and the spring of 2018 refinery turnaround season being strong, we could see a pickup in business. It will depend a lot on refinery utilization.
There has been a slowing in our markets, which appears to be a lull because quoting activity remains brisk but orders are slower to book. Our leading indicators are pointing to a 10 percent increase over the next 12 months in low-rise (five stories and less) volumes.
Business is slightly up in May from a disappointing April and year-to-date averages.
Significant capital expenditures are planned to absorb additional volume required.
The global economies and U.S. economy are very weak and uncertain.
Machinery Manufacturing
We have seen a great increase in orders in the first quarter. Sales have gone down a bit since then; however, we remain optimistic. Our customers continue to only make short lead-time orders (10-12 weeks), causing our forecast to look artificially low. We are hoping as the market improves, we will have longer delivery periods.
Most publicly traded companies in the segment are reporting flat to declining sales versus the same quarter last year. This is in contrast to industry trade publications, which still forecast modest growth. These forecasts are interpolated from survey respondents and may be influenced by dealer consolidation.
Computer and Electronic Product Manufacturing
Business definitely feels stronger than a year ago, but the question is how long it will last.
The world economy should revive in many areas between Asia and Europe. South America is still very slow. The manipulation of the dollar by other currencies is affecting our customers' ability to sell capital equipment out there.
Paper Manufacturing
Our industry put a raw-material price increase in place.
Electrical Equipment, Appliance and Component Manufacturing
We went through a little choppy environment in 2016, with a consolidation of a smaller competitor by a larger one that compressed margins and volumes. While we think our end markets are doing well, we are just getting back to where we should have been last year, so things are improving. We are getting hammered on aluminum-wire margins due to dumping by China.
Transportation Equipment Manufacturing
Imports from Asia still severely limit this company's ability to manufacture at a competitive price.
Our sales are down 15 percent through April.
Oil and gas offshore market conditions have negatively affected our business in the last couple of years.
President Trump's policies need implementing or we will fall back to weakness.
Historical Data
Historical data can be downloaded dating back to June 2004.
Indexes
Download indexes for all indicators. For the definitions of all variables, see Data Definitions.
All Data
Download indexes and components of the indexes (percentage of respondents reporting increase, decrease, or no change). For the definitions of all variables, see Data Definitions.
Questions regarding the Texas Manufacturing Outlook Survey can be addressed to Emily Kerr at emily.kerr@dal.frb.org.
Sign up for our e-mail alert to be automatically notified as soon as the latest Texas Manufacturing Outlook Survey is released on the web.