Southwest Economy, Second Quarter 2022
Looking Back: Harris County Five Years After Hurricane Harvey Hit
Looking back at a past Southwest Economy article, with updates to the story through today.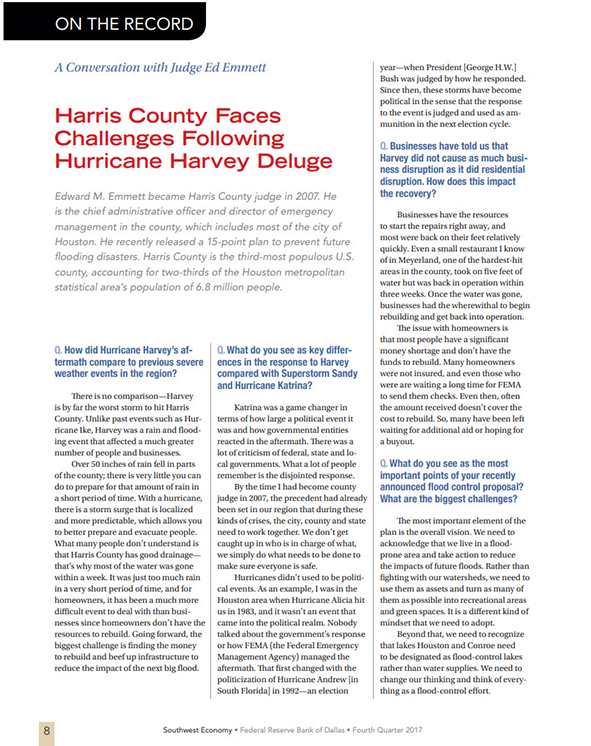 In late 2017, then-Harris County Judge Ed Emmett went "On the Record" in Southwest Economy ("Harris County Faces Challenges Following Hurricane Harvey Deluge") to discuss the response to Hurricane Harvey, the Category 4 storm that struck in August.
Comparing Hurricane Harvey to previous severe weather events in the region:
There is no comparison—Harvey is by far the worst storm to hit Harris County. Unlike past events such as Hurricane Ike, Harvey was a rain and flooding event that affected a much greater number of people and businesses.
Over 50 inches of rain fell in parts of the county; there is very little you can do to prepare for that amount of rain in a short period of time. For homeowners, it has been a much more difficult event to deal with than [for] businesses since homeowners don't have the resources to rebuild. Going forward, the biggest challenge is finding the money to rebuild and beef up infrastructure to reduce the impact of the next big flood.
Update: Harris County acquired $7.7 billion in mostly federal funding to mitigate the impact of future storms. Almost $2.8 billion was allocated for emergency work, flood-control infrastructure, housing, and planning and administration.
How the recovery proceeded given that residential disruption was more pronounced than business disruption:
Businesses have the resources to start the repairs right away, and most were back on their feet relatively Harris County Five Years After Hurricane Harvey Hit quickly. Even a small restaurant I know of in Meyerland, one of the hardest-hit areas in the county, took on five feet of water but was back in operation within three weeks.
The issue with homeowners is that most people have a significant money shortage and don't have the funds to rebuild. Many homeowners were not insured, and even those who were are waiting a long time for FEMA [Federal Emergency Management Agency] to send them checks. Even then, often the amount received doesn't cover the cost to rebuild. So, many have been left waiting for additional aid or hoping for a buyout.
Update: Harris County has spent $30 million for rehabilitation and repair of homes, much of it from the U.S. Department of Housing and Urban Development Homeowners Assistance Program.
The most important points and biggest challenges in the county's initial post-Harvey flood-control strategy:
The most important element of the plan is the overall vision. We need to acknowledge that we live in a flood-prone area and take action to reduce the impacts of future floods. Rather than fighting with our watersheds, we need to use them as assets and turn as many of them as possible into recreational areas and green spaces. We need to change our thinking and think of everything as a flood-control effort.
An important use of funds would be to buy out homes in true flood plains. If people have been allowed to build in flood-prone areas, where they really shouldn't have built, we need to buy them out so that we don't keep paying out insurance.
Update: A total of $446.2 million had been spent on home buyouts in Harris County as of year-end 2021. More than 4,000 property owners have volunteered for a buyout: 1,600 were approved, 457 are in process; 718 were purchased as of April 2022.
The Houston metropolitan area's governmental structure and implementation of flood-prevention strategies:
We need a long-term revenue source that encompasses unincorporated Harris County to finance these infrastructure projects. A huge number of people live outside of incorporated areas of Harris County. Compared with Dallas County, where there are about 6,000 people in unincorporated areas, there are almost 2 million in Harris County—nearly the same as the city of Houston's population.
Update: Counties that include large parts of the unincorporated Houston suburbs (not part of an established city) attracted new residents from 2017 to 2021—Waller County, up 3.7 percent; Montgomery, 3.2 percent; and Fort Bend, 2.8 percent. To avoid future catastrophic flooding, Harris County alone has spent $1.5 billion on flood-control infrastructure and $199.4 million on other flood-control projects as of year-end 2021.
About the Author
Luis Torres
Torres is a senior business economist in the San Antonio Branch of the Federal Reserve Bank of Dallas.
Southwest Economy is published quarterly by the Federal Reserve Bank of Dallas. The views expressed are those of the authors and should not be attributed to the Federal Reserve Bank of Dallas or the Federal Reserve System.
Articles may be reprinted on the condition that the source is credited to the Federal Reserve Bank of Dallas.
Full publication is available online: www.dallasfed.org/research/swe/2022/swe2202.