Regional
Texas Economy Building Momentum to Start Year
February 06, 2020
Growth in the Texas economy picked up at year-end 2019 and accelerated into January, according to the Texas Business Outlook Surveys (TBOS). Job gains in December were led by service sector growth, adjusted Bureau of Labor Statistics payroll employment data showed.
Separately, TBOS respondents reported a return to mild expansion in manufacturing at the start of 2020.
The housing industry remained a bright spot, with increased home sales and construction permits, while the oil and gas sector continued to decline. Company outlooks have improved, with Texas business executives optimistic about activity in 2020.
Fourth Quarter Employment Growth Accelerates
The number of jobs grew at a 2.6 percent annualized rate in December, while November results were revised slightly lower, to 3.8 percent. This put fourth-quarter growth at a robust 3.2 percent, a marked pickup from 1.9 percent in the third quarter (Chart 1). The number of jobs in Texas rose 2.0 percent in 2019, compared with a 1.4 percent gain nationally.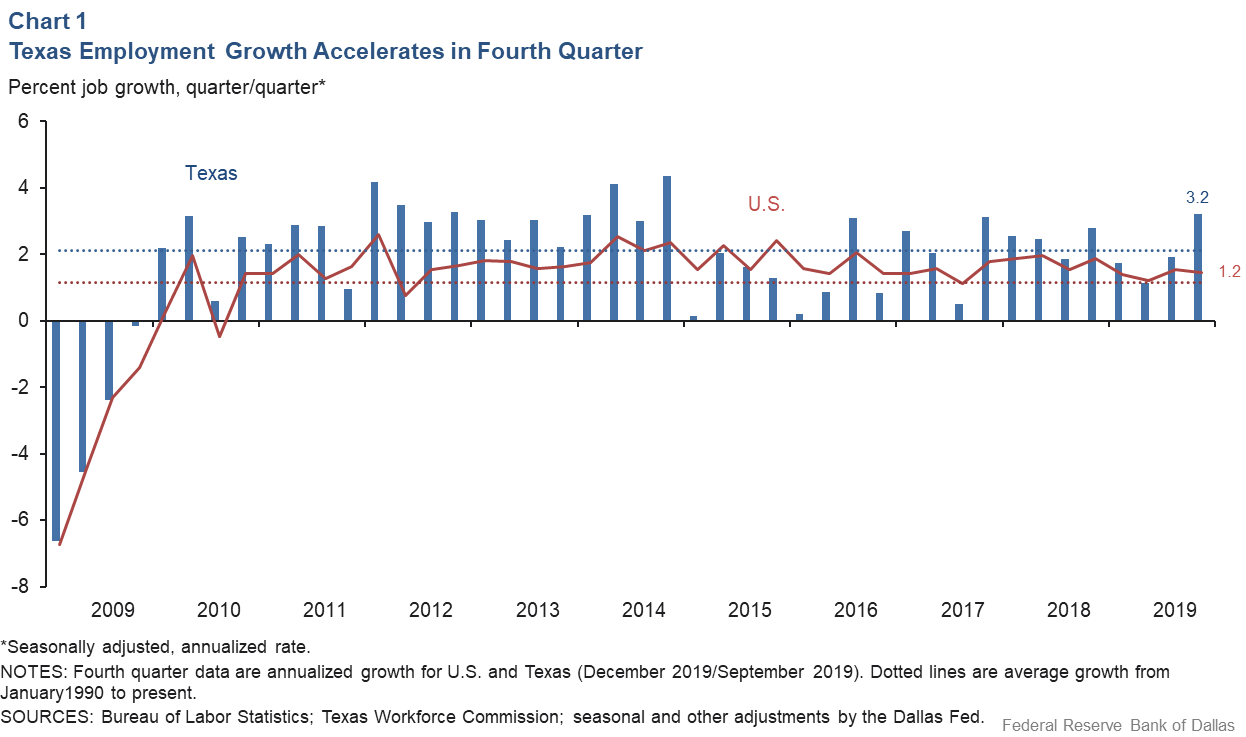 Construction and financial activities led fourth-quarter job gains, followed by trade and transportation. Jobs in the energy sector fell 12 percent, following a 5.0 percent decline in the third quarter. By region, job growth spanned all major metros, picking up in several.
The Texas unemployment rate edged up to 3.5 percent in December from 3.4 percent in November.
TBOS Points to Uptick in Output Growth
The manufacturing sector exhibited comparatively mild growth last year—stalling out completely in November before showing an uptick in the latest data. On the services side, growth picked up in January—returning to the pace of 2017–18—after more muted growth in 2019.
The Dallas Fed Texas employment forecast is 2.1 percent, a slight increase from 2019 and in line with the state's long-run average.
Executives Note Improved Outlooks, Signaling a Stronger 2020
The company outlook indexes in TBOS remain positive. Also, the indexes measuring uncertainty retreated notably in the fourth quarter, though the manufacturing and service sectors were mixed in January. Notably, the company outlook index in the Dallas Fed Energy Survey turned slightly positive in the fourth quarter after negative or near-zero readings in the prior two quarters.
In a December TBOS special question, contacts were asked to compare their firms' anticipated production (if in manufacturing) or revenue (if in services) in 2020 relative to 2019. About 60 percent of respondents expect higher production/revenue this year, with manufacturers slightly more positive than services firms (Chart 2).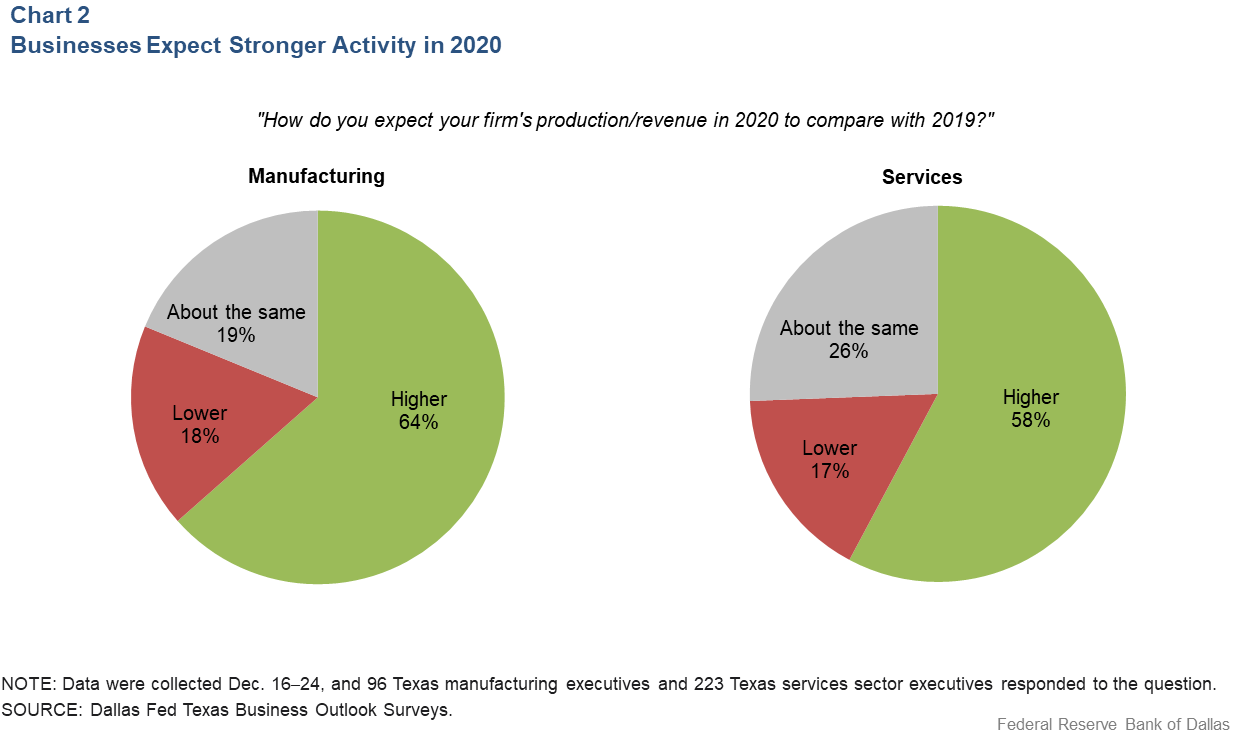 For those expecting a more positive 2020, respondents cited increased marketing efforts and expansion into new products/services/markets, as well as higher pricing, stronger demand and investment in additional employees and capital. For those expecting a weaker 2020, responses centered on trade policy concerns and weakness in the energy sector, along with increased competition.
Texas Housing Activity Remains Strong
Home sales rose broadly in the fourth quarter, with demand exceeding expectations in some areas thanks to healthy job growth and low mortgage rates (Chart 3). Contacts believe the outlook for home sales in 2020 to be similar to the high volumes of 2019. On the homebuilding side, housing permits have gained in recent months, primarily due to a sharp rise in housing demand, driven by lower mortgage rates; U.S. housing permits show a similar trend.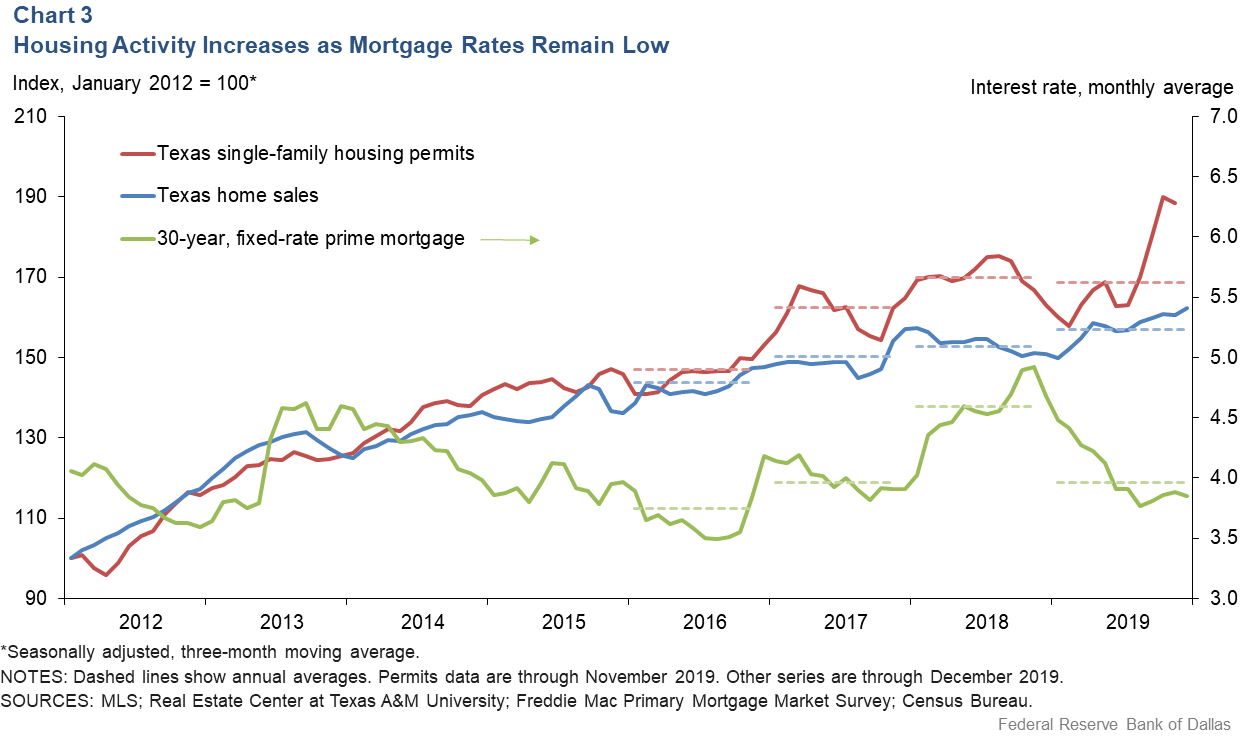 Other factors include increased development of moderately priced lots and weather delays from a wet spring and summer pushing projects back. Demand for new homes remains particularly strong at the lower end of the market. As a result, development in previously less-desirable locations has accelerated as builders focus on expanding offerings at more affordable prices. Builders note that margins are mostly steady, as material and labor cost increases are relatively modest and can be passed on to customers.
Texas Exports Slip in November amid 2019 Deceleration
Texas exports inched down in the latest monthly data (through November, three-month moving average). Exports through November were up 4.7 percent from the January–November 2018 period—much lower than that period's growth rate of 16.4 percent. Oil and gas exports rose sharply in the second half of 2018 and the first half of 2019 but leveled off thereafter.
Texas Rig Count Appears to Stabilize
Dallas Fed contacts indicate that the rig count is likely near a soft bottom, although further declines are possible. The Dallas Fed Energy Survey shows that Eleventh District energy activity is still contracting slightly overall, though there was a rebound into positive territory among exploration and production firms in the fourth quarter.
About the Authors
The views expressed are those of the authors and should not be attributed to the Federal Reserve Bank of Dallas or the Federal Reserve System.