Regional
Texas Economy's Rebound Stalls in July after Gains in May, June
The resurgence of COVID-19 in July appears to have reversed economic gains in Texas that emerged when the virus' frequency abated in May and June. Employment and other activity had increased strongly from April lows during initial pandemic disruptions in the state.
As a result, the Texas Employment Forecast suggests that on net the number of jobs will decline 4.8 percent this year on a December-over-December basis.
Texas employment improved in June—though more slowly than May's pace—after historic contractions in April. The state recovered about 522,000 jobs in May and June, about 40 percent of the 1.3 million jobs lost during March and April.
June total employment grew 1.5 percent on a nonannualized basis (181,700 jobs) on top of a 2.9 percent gain in May (Chart 1). While the Texas advance was significant, it trailed the 3.6 percent rebound in U.S. employment in June.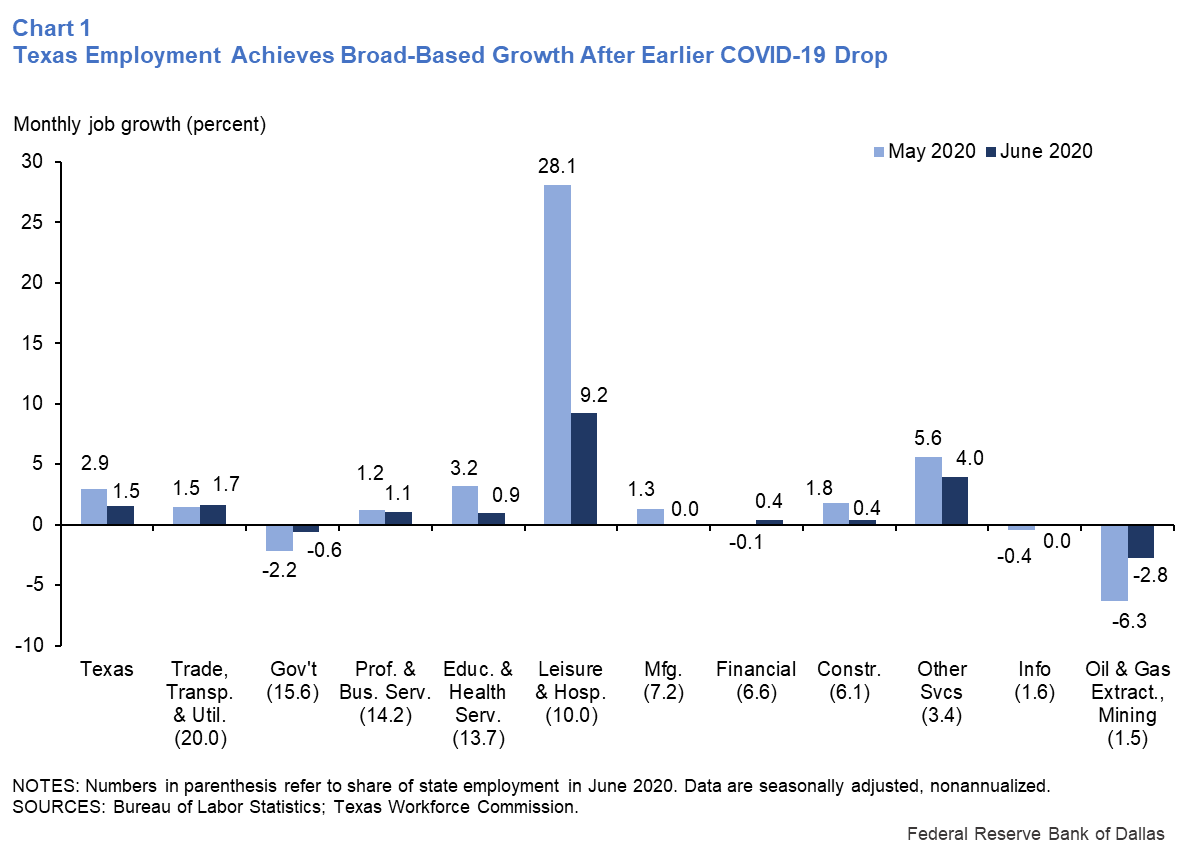 Texas job growth was broad based across private service sector industries, with only government, mining and information services sectors declining. Employment growth in the highly impacted leisure and hospitality sector was considerably slower in June than in May. Employment in this sector remained down about 16 percent (227,300 jobs) from February levels. Trade, transportation and utilities, the state's largest sector, was the most resilient, adding 39,700 jobs in June (1.7 percent) versus May's addition of 35,200 jobs (1.5 percent). However, this sector's employment remained down 3.7 percent, or 94,000 jobs, from pre-COVID levels in February.
The state unemployment rate of 8.6 percent in June was lower than the U.S. jobless rate of 11.1 percent. The state's recent jobless rate was more than double its figure of 3.5 percent in February but considerably lower than its peak of 13.5 percent in April.
However, weekly unemployment insurance claims suggest continued distress in the state labor market. Continuing and initial unemployment claims filed in Texas remained elevated. Claims totaled 1.3 million for the week ended July 18, 5.2 percent higher than the prior week, though down 14.1 percent from a peak of 1.5 million claims in the week ended May 23.
Mobility Decelerates, COVID-19 Cases Escalating Since Late June
High-frequency data through July—the Dallas Fed Mobility and Engagement Index (MEI) and a separate measure of the number of hourly employees working in small business—suggest that as COVID-19 infections spread in Texas, economic growth slowed.
The MEI summarizes information drawn from seven different variables based on geolocation data collected from a large sample of mobile devices to gain insight into the economic impact of the pandemic.
The number of hourly employees working at small firms is drawn from the Homebase software firm that included data for more than 60,000 businesses and 1 million hourly employees in the U.S. in January 2020. The data compare the number of employees working on a particular day relative to the median for that day of the week from Jan. 4 to Jan. 31, 2020.
After stay-at-home orders designed to contain the spread of COVID-19 were lifted at the end of April, the Texas economy began reopening in May and June. As the MEI increased and the number of hourly employees working grew, new COVID-19 cases surged several weeks later before easing in late July.
From late June through late July, the MEI declined 3.1 percent, and the number of hourly employees working fell 22.3 percent (Chart 2).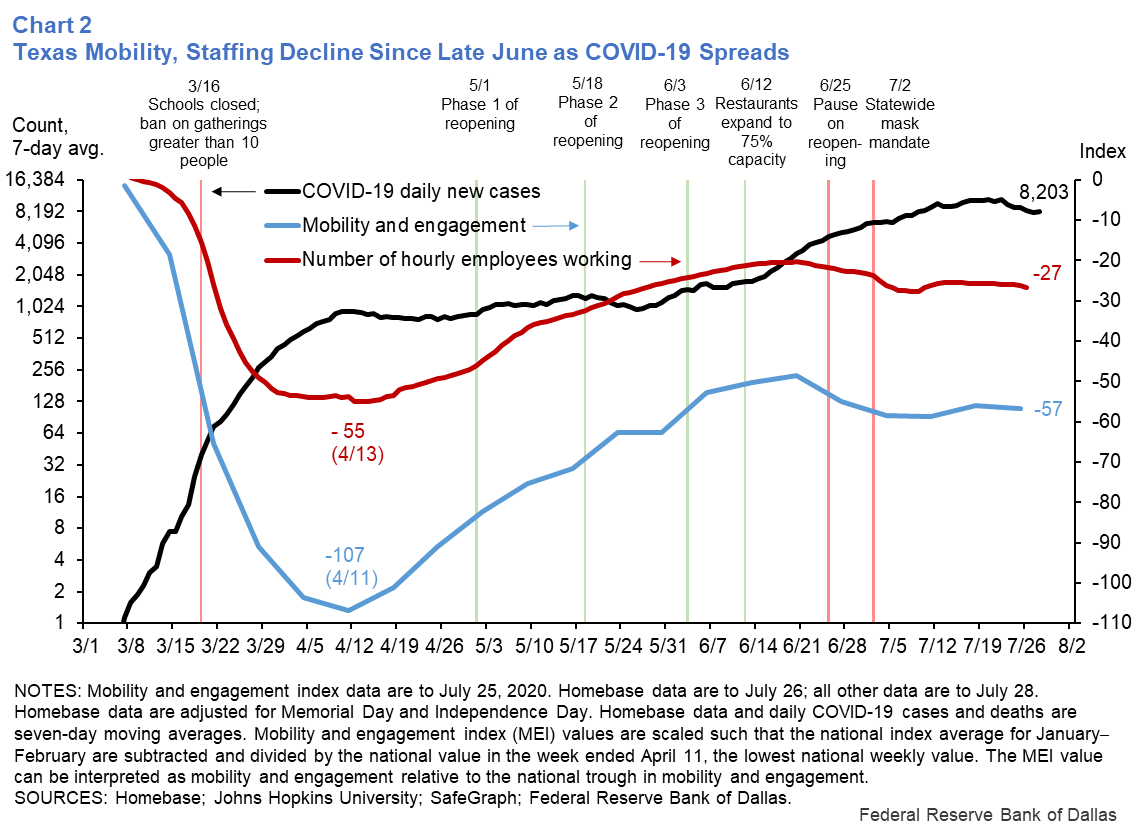 Manufacturing Outlook Still Improving; Services and Retail Outlooks Retreat
Texas Business Outlook Survey (TBOS) results in July suggested mixed economic activity, with steady growth in manufacturing and declines in the service sector. Survey responses are used to construct an index that is calculated by subtracting the percentage of respondents reporting a decrease from the percentage reporting an increase. Thus, positive numbers suggest growth, and negative numbers suggest contraction.
Outlooks were mixed across industries. Manufacturers' optimism increased, despite worsening perceptions of current business conditions, while service sector and retail firms became more pessimistic relative to June. The manufacturing company outlook index rose 3.2 points to 5.9. Conversely, the service sector company outlook index contracted after rising in June, dropping 18 points to -15.8. Retailers also expected activity to decline, with the retail company outlook index falling 23.3 points to -6.8.
Nevertheless, few respondents reported that it was likely they would permanently shut down—the share was lowest in manufacturing (less than 6 percent) and higher for services (nearly 10 percent).
Texas Employment Forecast Suggests Lackluster Outlook
With the economic headwinds in the second half of the year, job growth is expected to slow significantly from May and June levels, leading to the loss of 622,600 jobs this year (-4.8 percent), with 12.3 million individuals employed at year-end (Chart 3).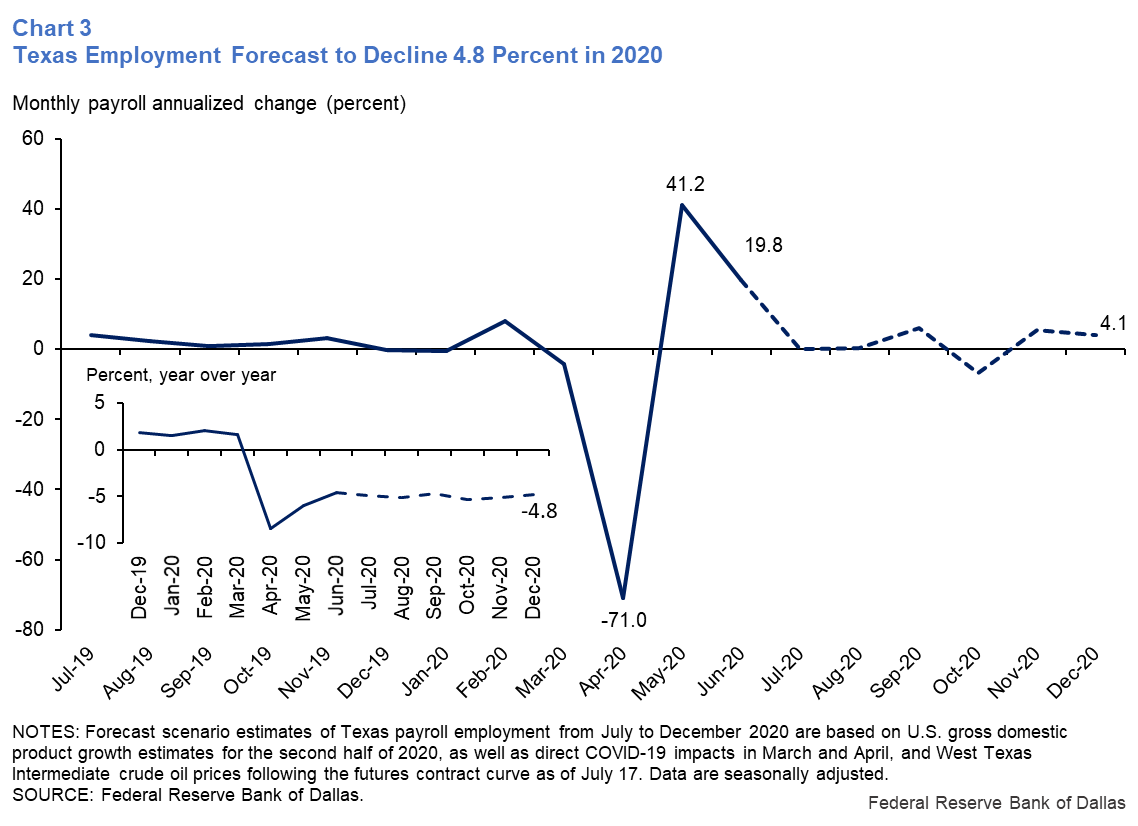 Texas jobs will recover in the second half of the year but not enough to overcome the sharp declines in March and April. Forecast uncertainty remains elevated as COVID-19 continues to spread throughout the state, presenting significant downside risks to the outlook.
About the Authors
The views expressed are those of the authors and should not be attributed to the Federal Reserve Bank of Dallas or the Federal Reserve System.