Regional
Texas Economic Activity Springs Ahead as Growth Strengthens
Economic activity in Texas accelerated sharply in March, according to recent data that also indicate a continuation of the strong momentum. Fiscal stimulus, greater mobility and increasing COVID-19 vaccinations are driving the improving outlook.
Following a winter-storm-related contraction in February, Texas employment rebounded in March, expanding an annualized 11.3 percent, compared with 8 percent for the U.S.
The growth in March was the strongest since June 2020 and contributed to an overall employment gain of 4.7 percent in the first quarter (Chart 1).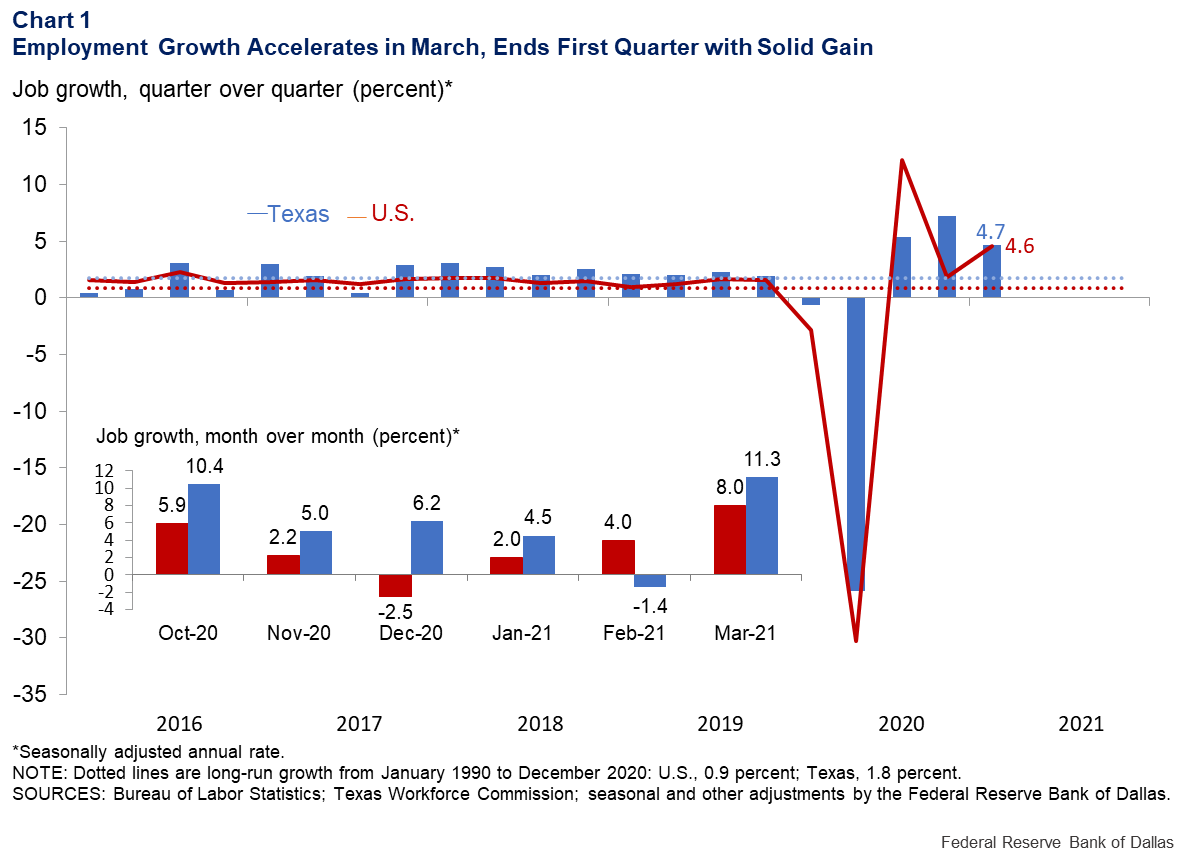 As a result of the strong performance and other economic tailwinds, the 2021 Texas employment forecast improved to 6.6 percent growth from 6.0 percent.
Labor Market Slack Remains Despite Gains
The state unemployment rate was unchanged at 6.9 percent in March and continues to exceed the national rate despite recent gains. Even so, recent data point to a rapidly improving labor market. New claims for unemployment insurance in Texas declined steeply in April, and the number of job postings has reached levels not seen since the pandemic began more than a year ago.
Yet, slack remains in the market. Initial jobless claims are still well above pre-COVID-19 levels, and the share of the labor force receiving jobless benefits—including the self-employed and part-time workers eligible under the Pandemic Unemployment Assistance program—has been slow to improve, hovering at around 8–10 percent this year.
The broader unemployment rate, which includes those working part time for economic reasons, exceeds 12 percent and has moved largely sideways following sharp declines from its pandemic peak. Continued unemployment insurance benefit extensions, enhanced government payments and a difficult labor market for many workers have contributed to a steady increase in long-term unemployment, with workers jobless for six or more months exceeding 3 percent of the labor force in March.
Jobs Still Below Prepandemic Levels
Texas payroll employment in March trailed its February 2020 peak by just 3.7 percent, though some sectors still have a long way to go before recouping all jobs lost in the pandemic. For example, employment in Texas' energy sector remained 22.6 percent below prepandemic levels.
Two other sectors disproportionately impacted by late-pandemic job losses face a significant deficit relative to February 2020—leisure and hospitality (-13.7 percent) and other services (-11.8 percent). Most other sectors remain below their prepandemic employment levels in Texas, with just two exceptions—financial activities and trade, transportation and utilities (Chart 2).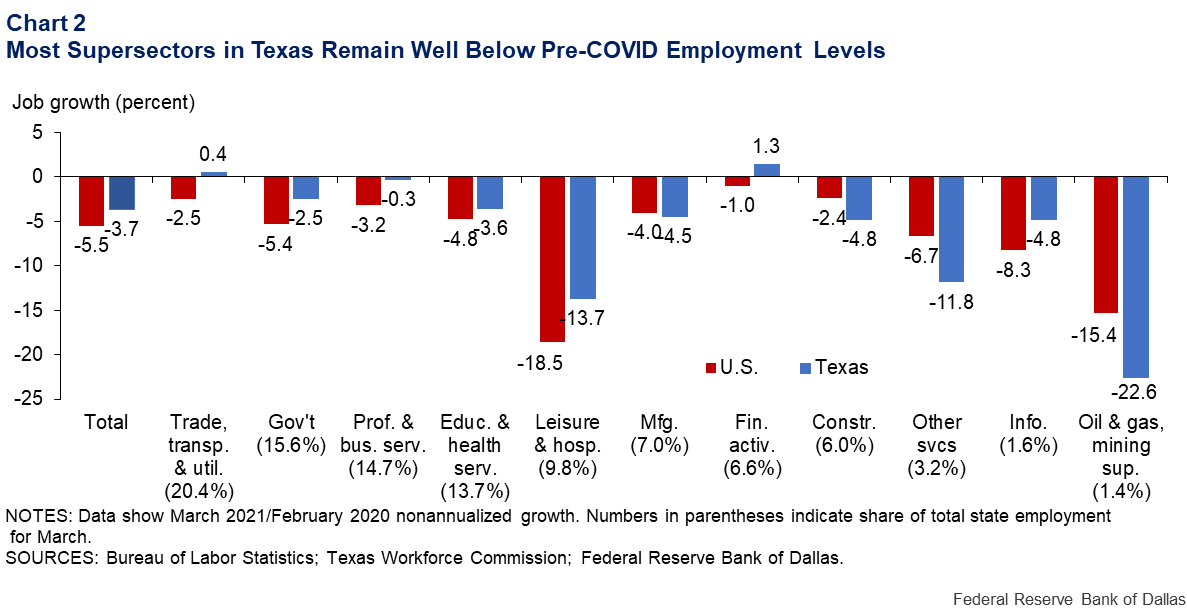 Also notably, while Texas leads the nation in this year's pandemic employment recovery overall and in most service sectors, it lags in the goods-producing sectors of manufacturing, construction and energy. The significant March employment gains in Texas' goods-producing sectors helped close the gap in the recovery vis-à-vis the U.S., a difference that will narrow in the future.
With oil prices firming, the Texas rig count has risen modestly, and the energy sector has added jobs every month since September. The manufacturing sector is expected to benefit from the improving energy sector and a strong rebound in Texas exports as the global economy recovers and as the dollar depreciates, making U.S. goods more cost competitive.
This year's pandemic recovery has been uneven across Texas' major metros. Largely due to the energy sector's woes that occurred at the onset of COVID-19, Houston remains 6.1 percent below prepandemic employment levels. Meanwhile, Austin is just 1.3 percent short, likely due to the high-tech sector's recovery and to government jobs showing more resilience than expected.
House Price Growth Accelerates
Driven by relatively low mortgage rates and a strong demand for suburban homes, the housing market remains extremely tight, with marked acceleration in house price growth. Some of the price surge is related to severe housing supply constraints, exacerbated by a run-up in construction costs and an acute shortage of vacant and developed lots.
The inventory of existing homes reached a low of just 1.4 months of supply. Housing supply constraints will likely persist in the near term absent additional new construction. Indicators of residential construction activity were slow to rebound after the housing bust 15 years ago, with real (inflation-adjusted) contract values, housing starts and single-family permits barely above prerecession levels despite the state's burgeoning population.
Rising Price and Wage Pressures Accompany Increasing Activity
Texas Business Outlook Surveys (TBOS) data indicate continued strength in economic activity in April following a sharp pickup in March (Chart 3). Although the manufacturing production index slipped from record levels in March, manufacturing activity remained robust. Activity in the service sector accelerated further in April, with the revenue index reaching a multiyear high. The retail sales index suggested slower but modest growth from March to April.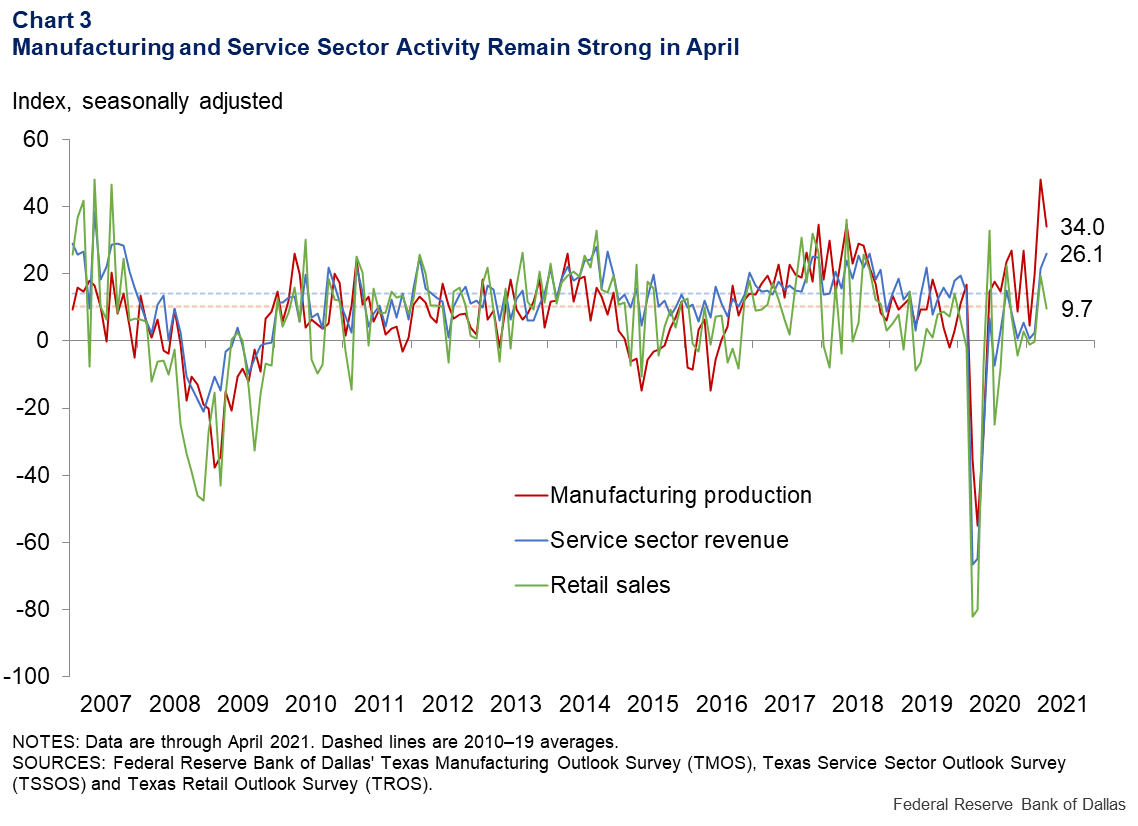 TBOS data also indicate that recent surges in economic activity have come with significant increases in wage and price pressures. The manufacturing sector's raw material prices index closed in on its all-time high in April, while the finished goods prices index and wages and benefits index posted record highs. The service sector's price and wage indexes pushed up further in April, and the retail selling prices index breached its previous record.
Amid surging optimism and waning uncertainty, businesses upwardly revised their expectations for wage and price growth in 2021 (Chart 4).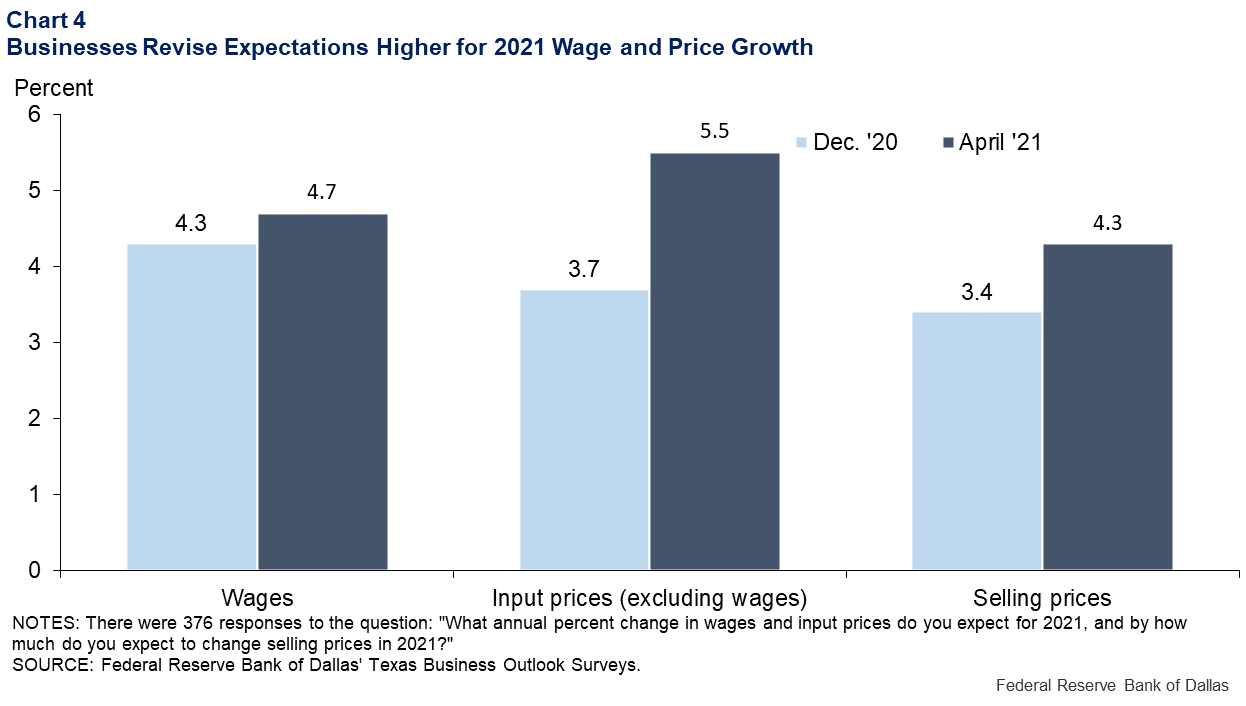 While expectations for 2021 wage growth rose slightly from 4.3 percent in December 2020 to 4.7 percent in April, estimates jumped to 5.5 percent for other input prices and to 4.3 percent for selling prices.
Increased economic activity has led to concerns about hiring. Nearly two-thirds of businesses trying to hire workers reported a lack of applicants as an impediment, with nearly half of those citing generous unemployment benefits as an obstacle.
About the Authors
The views expressed are those of the authors and should not be attributed to the Federal Reserve Bank of Dallas or the Federal Reserve System.