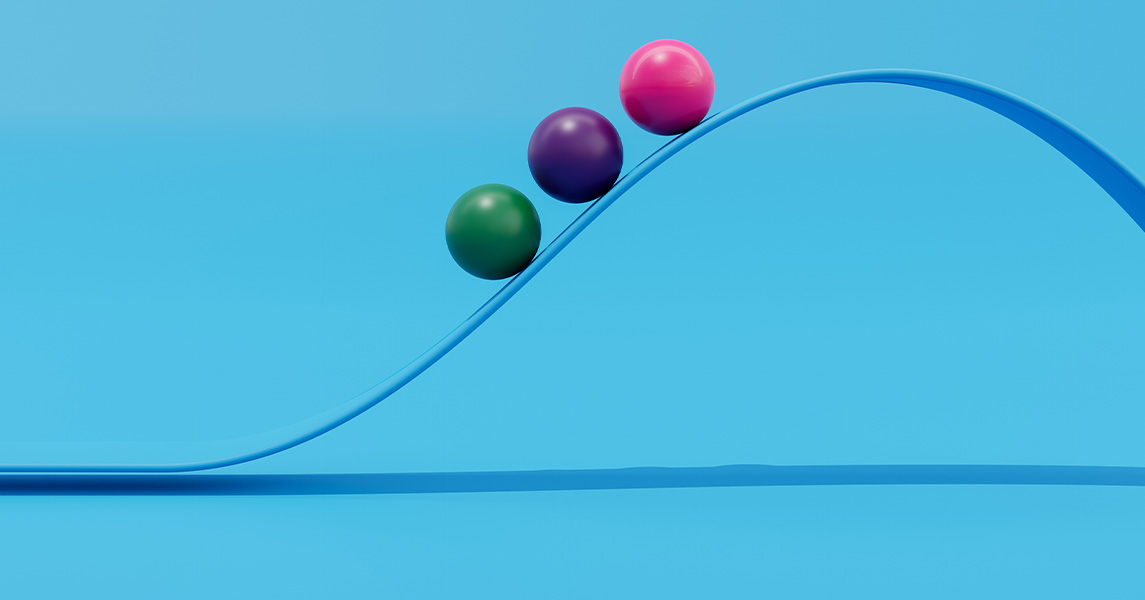 Signs of slowdown growing in Texas; price pressures ease
The Texas economy continued expanding in June and July, though at a decelerating pace compared with earlier this year. There are increasing signs of slowing activity—particularly weakening demand in manufacturing—even as overall job growth remains strong.
Business outlooks were negative, and price and wage pressures eased in July. Home prices in some metros appear to have peaked, and apartment rent increases are slowing.
Texas job growth strong
Texas employment growth accelerated to an annualized 7.3 percent in June, exceeding the downwardly revised 5.6 percent rate in May. The state's expansion was broad based during the second quarter. Texas outpaced the nation in all sectors except government (Chart 1).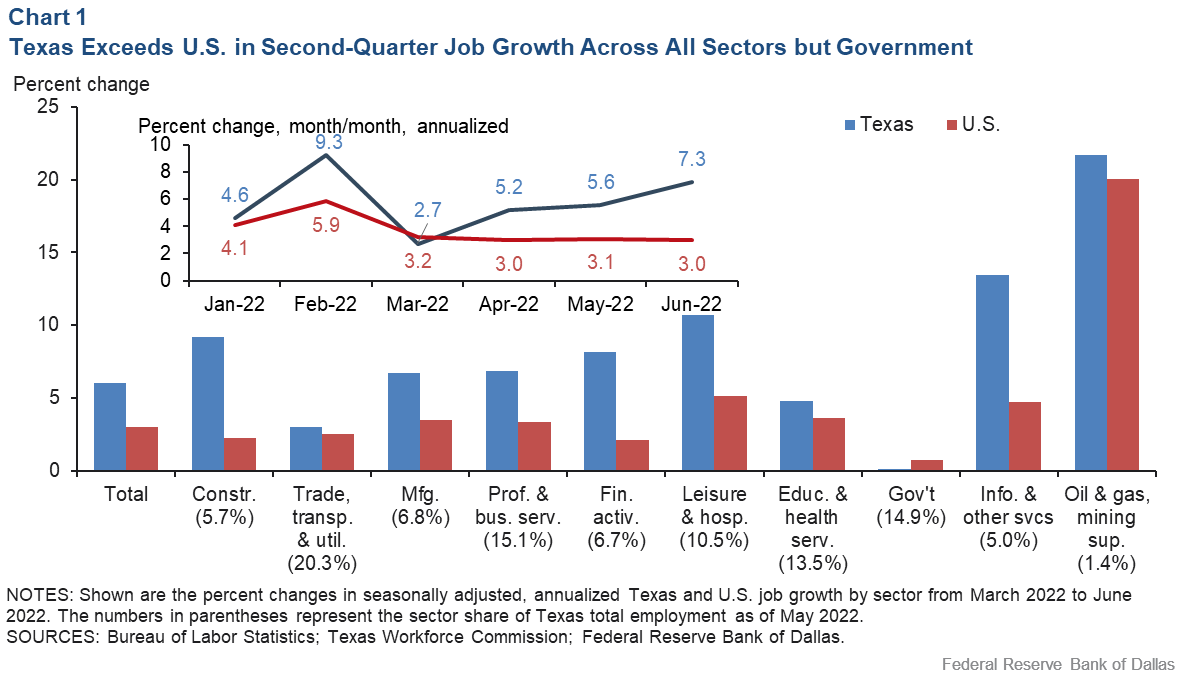 The fastest-growing sector was energy, where employment increased at an annualized 22 percent rate. The information, leisure and hospitality, and construction sectors also strongly expanded in the second quarter. Dallas and Houston led the major Texas metropolitan areas in employment during the quarter, with Dallas gaining 9.7 percent on an annualized basis and Houston rising 7.7 percent.
The Dallas Fed's Texas employment forecast projects 4.5 percent growth this year (December over December), an upward revision from the previous forecast because of the strong June performance. Those gains pushed the growth rate in the first half of the year to an annualized 5.8 percent. While the employment forecast implies a slowing in the second half, the state should still exceed its historical average of 2 percent growth.
The Texas unemployment rate dropped to 4.1 percent in June from 4.2 percent in May. The jobless rates for Black and Hispanic workers decreased more than for white workers over the first half of the year. The improvement indicates that the racial gap in unemployment rates observed during the height of the COVID-19 pandemic has narrowed considerably this year.
Economic activity grows in July; outlooks remain pessimistic
The Texas economy expanded in June and July, although the pace of growth slowed considerably compared with earlier this year, according to Dallas Fed's Texas Business Outlook Surveys (TBOS). The manufacturing production index increased from 2.3 to 3.8 from June to July, while the service sector revenue index was largely unchanged (Chart 2). TBOS indexes are diffusion indexes, with positive values typically indicating growth and negative ones reflecting contraction.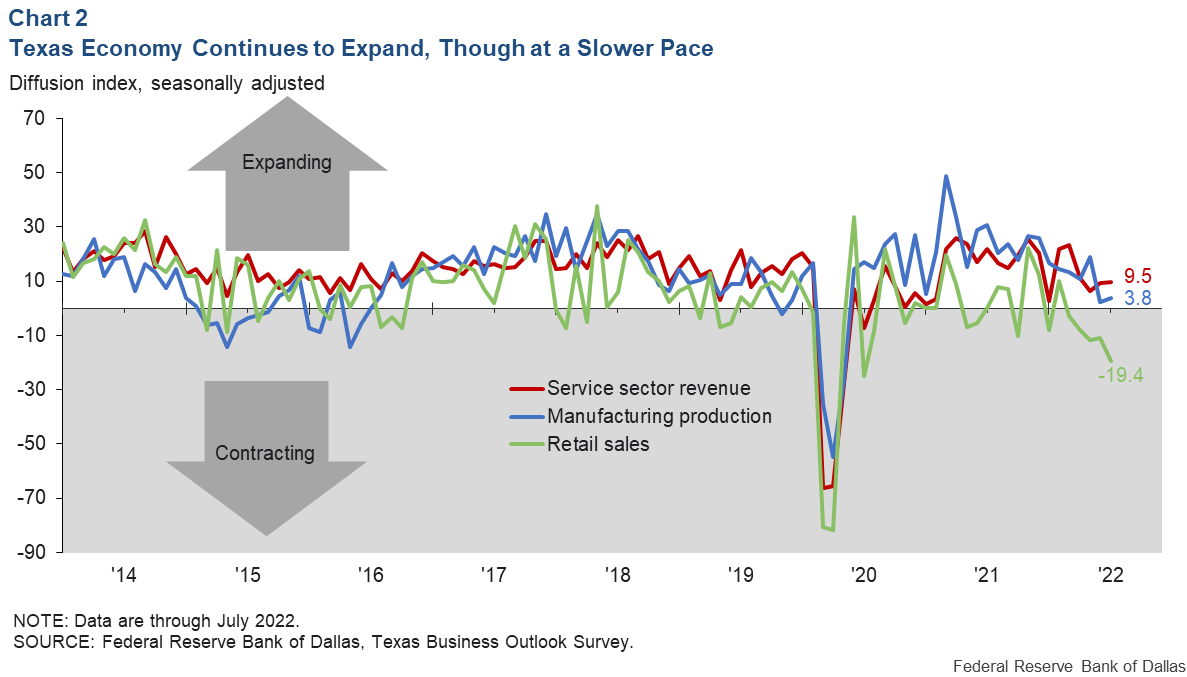 While manufacturing production growth remained positive, indexes of manufacturing demand such as new orders and the growth rate of orders indicated contraction in June and July, reaching their lowest levels since mid-2020.
The retail sector has struggled this year, with sales falling at an accelerating rate. Despite the weakness reported by retailers, state sales tax revenue rose 16.4 percent year over year in June, suggesting spending has gained relative to last year.
In June, TBOS survey respondents were asked a special question about constraints on revenue. Responses suggest that weak demand increasingly limited firms' revenue; 26 percent of firms pointed to weak demand in June, compared with 15 percent in March 2022.
Supply-chain constraints and labor shortages remained the top challenges cited. Additionally, TBOS special questions in July show the share of businesses looking to hire workers has decreased since April, reaching its lowest point in over a year. Even with slightly reduced labor demand, most survey respondents reported that hiring remains troublesome, though the difficulty filling low- and mid-skill positions moderated in July relative to November 2021, when this question was last asked.
Despite the continued expansion, firms' outlooks were pessimistic in June and July (Chart 3). Businesses expressed increasing uncertainty and worry about a potential economic slowdown.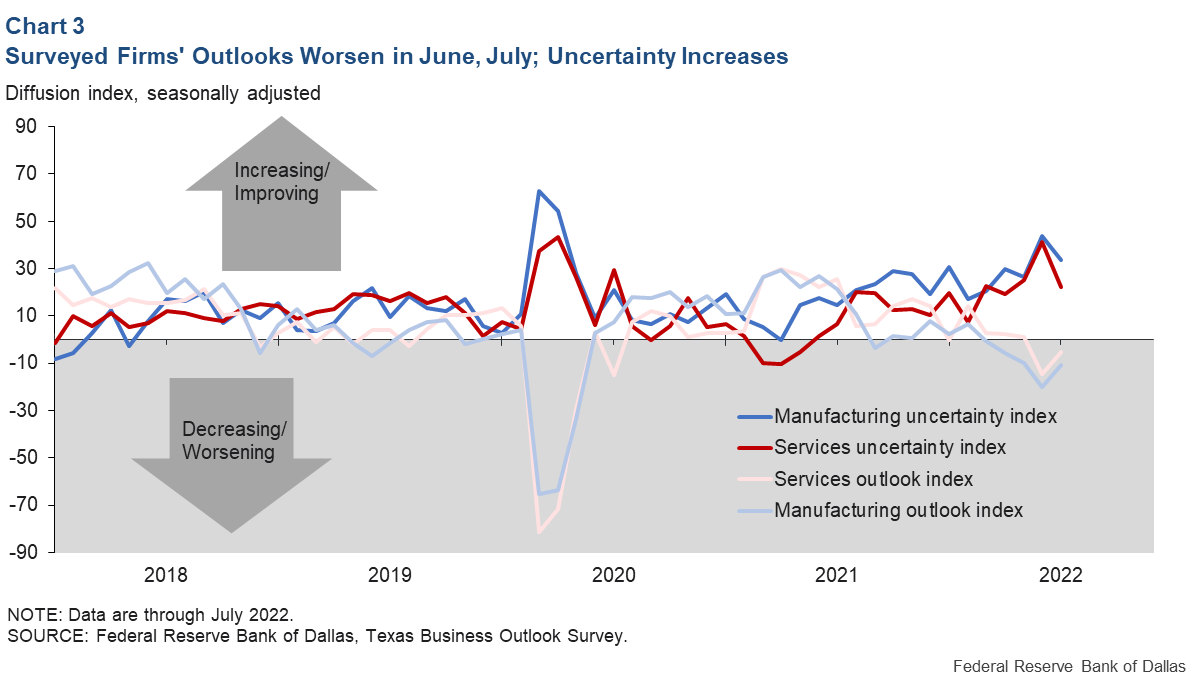 Still, since energy production makes up a larger portion of the Texas economy than it does of the national economy, the state usually outperforms the U.S. when oil and gas prices are high. Chart 4 plots the Texas job growth premium (Texas 12-month job growth rates minus the national 12-month job growth rate) and the concurrent series of benchmark West Texas Intermediate oil prices.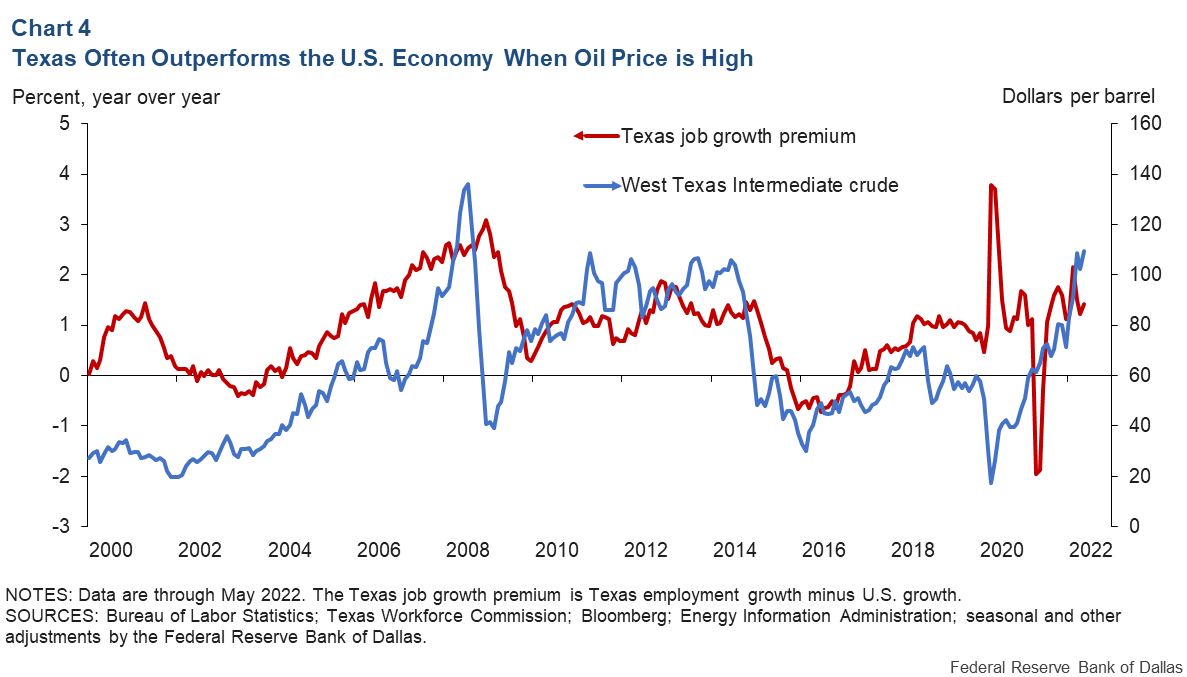 The chart depicts a strong degree of co-movement between those two series. In the event of a national slowdown or a recession, this relationship suggests that the Texas economy may outperform the nation given recent high oil and gas prices.
Housing market slows
The housing market is showing signs of slowing. The months-of-supply of homes across Texas metros was higher in June than at the same time last year. In particular, Austin experienced a more rapid increase in homes for sale than other metros, and the number of sales dropped more quickly than in other areas. The rate of increase in home prices slowed in June, with the median price plateauing in Houston and San Antonio and declining slightly in Austin.
Rent growth similarly decelerated across Texas metros, with Austin experiencing the most pronounced slowdown after a year of rising rents that led other Texas metros in 2021. Apartment occupancy rates have remained high over the past few months.
The Dallas Fed's Banking Conditions Survey shows continued growth in loan volume in June, though residential real estate lending was flat. Texas financial institutions expect loan demand to weaken in coming months.
Price and wage pressure eases in July
Price pressures have grown—the Houston metro's Consumer Price Index (CPI) for June, which reached an annualized 10.2 percent, topped the 9.1 percent national CPI reading. In particular, energy and food prices rose more in Houston than in the U.S.
However, TBOS results indicate that upward price pressure in Texas likely eased in July (Chart 5).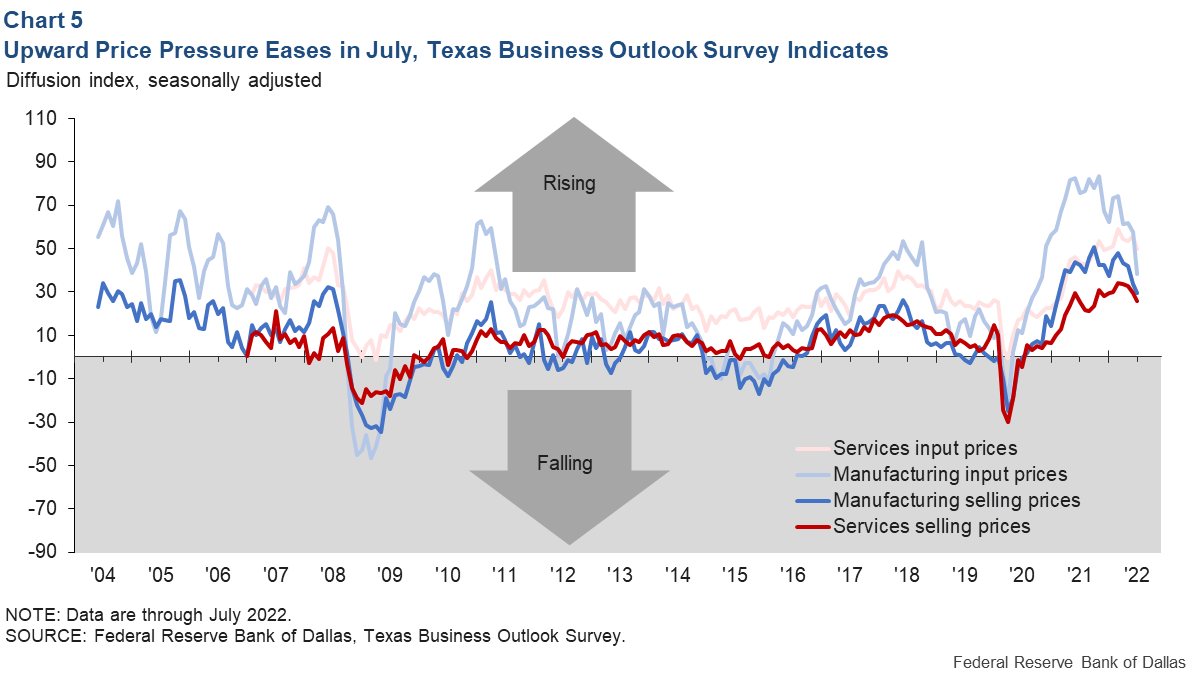 The manufacturing input price index decreased sharply, from 57.5 in June to 38.4 in July. The service sector input and selling price diffusion indexes also declined after remaining at highs through June. Based on the survey results, inflation appears to have slowed in Texas in July.
About the Authors
The views expressed are those of the authors and should not be attributed to the Federal Reserve Bank of Dallas or the Federal Reserve System.