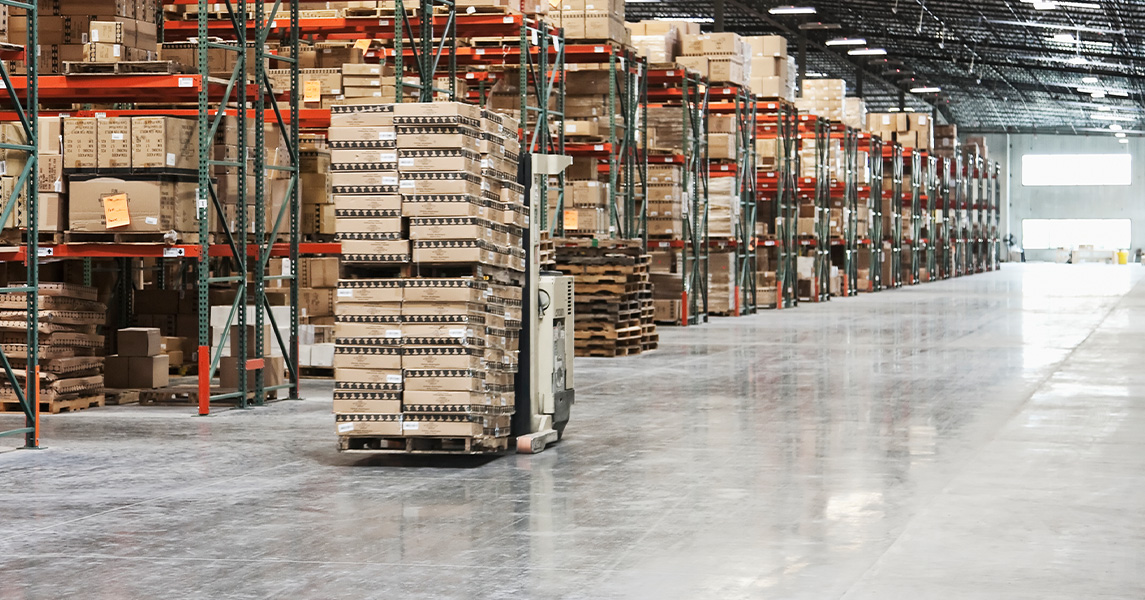 Texas economic outlook weakens, price pressures persist
The Texas economy shows continuing signs of softening, as output and employment indicators suggest slower growth relative to the first half of the year.
Manufacturers in particular have observed a tangible deceleration, as the number of new orders continues to fall despite growing production. Business sentiment is more pessimistic, and uncertainty has increased amid elevated price pressures, higher interest rates and persistent labor shortages.
Employment growth resumes in September
Texas employment expanded an annualized 4.3 percent in September after no growth in August (Chart 1).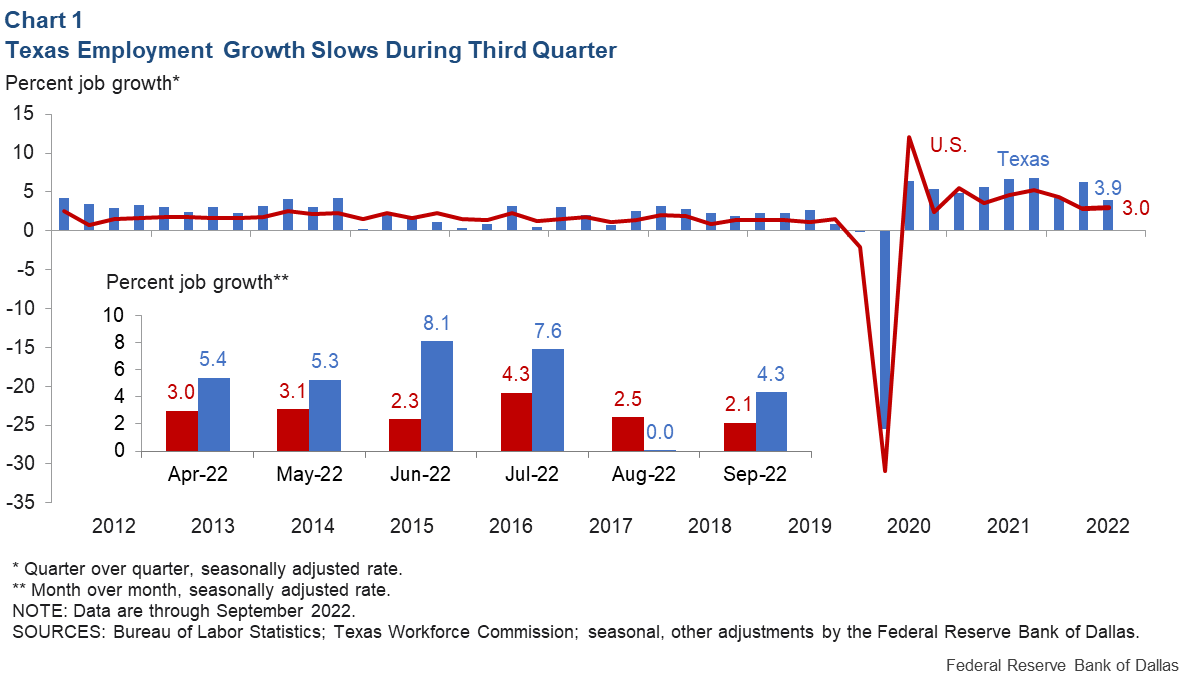 Texas continues outpacing the nation in job growth, with year-to-date employment up 4.8 percent compared with 3.4 percent for the U.S. However, the cooling economy affected the rate of expansion, which declined to an annualized 3.9 percent in the third quarter, down from 5.2 percent in the first half of 2022. Still, job growth remains well above its roughly 2 percent trend rate.
Signs of slowing were mainly concentrated in goods-producing sectors—most notably manufacturing and construction, which moderated after strong expansion in the second quarter. Professional and business services, a leading growth industry in the first half of the year, also slowed sharply in recent months. Conversely, leisure and hospitality continued to surge, with the sector surpassing its prepandemic level of employment in the third quarter.
The Texas unemployment rate declined 0.1 percentage points to 4.0 percent in September. The jobless rate remains above the nation's 3.5 percent rate.
Texas labor shortages persist
Following an accelerating recovery from a brief pandemic recession in 2020, Texas companies have struggled to bolster staffing. Results from the Dallas Fed's Texas Business Outlook Surveys (TBOS) special questions suggest that labor shortages remained a major challenge in October, though there are some tentative signs of easing.
A majority of surveyed firms reported being understaffed, given their outlooks for the coming six months, with a majority of companies planning to hire (Chart 2).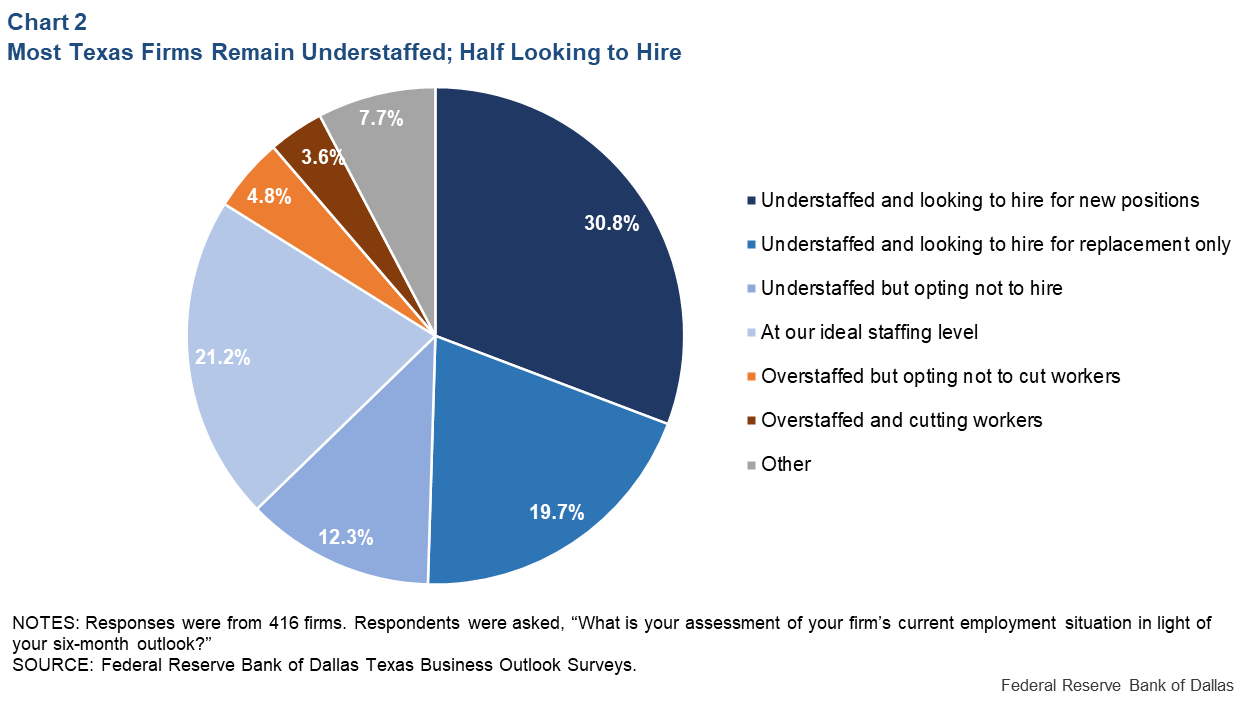 About 31 percent are adding workers, while 20 percent are just covering turnover. A further 12 percent said they are understaffed but holding off on hiring. The relatively small share of firms reporting overstaffing or layoffs suggests that the overall labor market remains quite strong. It also indicates little evidence of labor hoarding, which would imply holding on to "extra" workers because of anticipated difficulty eventually hiring replacements.
Output, activity measures continue slowing
There has been an overall moderation in economic activity relative to earlier in the year, according to responses from manufacturers and service sector TBOS firms in October.
The manufacturing production growth rate, though positive, continued to decline, while new orders fell again. This is suggestive of manufacturers increasingly working through the backlog of orders built during the pandemic rather than producing output to meet new demand. Services firms, meanwhile, experienced a slight uptick in revenue growth over the prior month but remained at a pace below the long-run average.
Interest-rate-sensitive industries have been especially hard hit in recent months; the housing market in particular has undergone a sharp slowdown. Texas home prices and sales have cooled—much as they have nationwide—as mortgage rates exceeded 7 percent in October (Chart 3).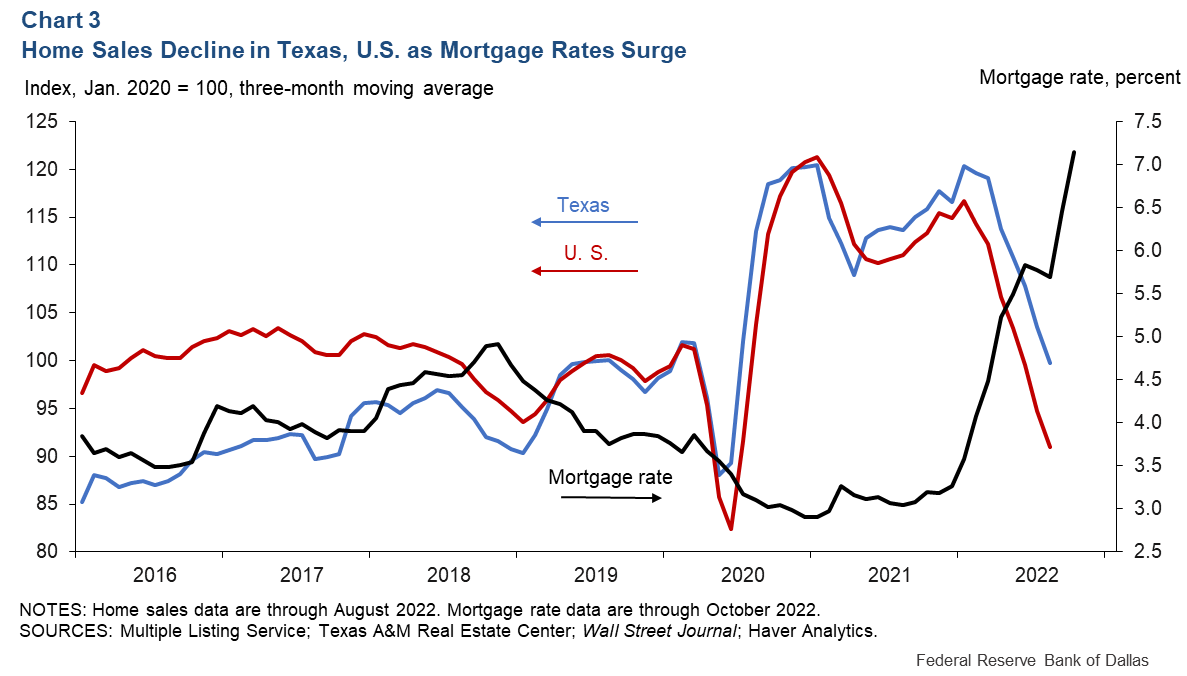 The pace of home sales has slowed to near its prepandemic rate, and housing inventory sits at 2.2 months' supply for Texas—still below the six months considered a balanced market but well above the lows earlier in 2022.
Price pressures persist as outlooks soften
Price pressures remained elevated in October, as TBOS respondents reported encountering high levels of inflation. Manufacturers indicated some moderation in growth of their raw materials costs on net and an increase in pressure on finished goods prices, though not to an extent suggesting that higher prices have been passed on to consumers.
Services firms overall noted a slight acceleration in input costs but a decline in the growth of selling prices. Wage pressures were generally steady, though they, too, were elevated compared with the long-term average.
Overall perceptions of business conditions continued to deteriorate, as firms reported a net worsening in general business activity and outlooks (Chart 4).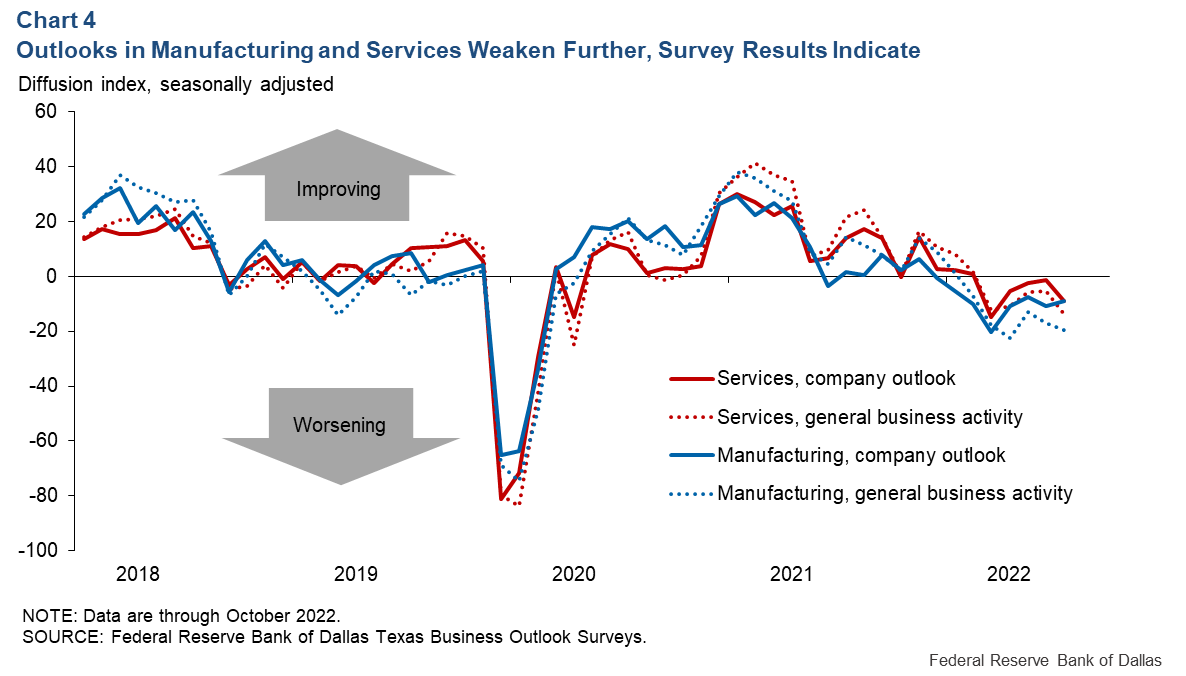 The outlook among manufacturers in particular has weakened since March, with high input costs and labor shortages reported as the largest drags on expectations in the September survey. Uncertainty measures surged in October across the business outlook surveys, rising to their highest readings since the beginning of summer.
Despite the weakening outlook, employment growth through the rest of 2022 is expected to remain above trend. The Dallas Fed's Texas employment forecast anticipates jobs increasing at an annualized 3.0 percent pace in the fourth quarter—bringing growth to 4.4 percent for 2022. Employment growth next year is likely to decelerate and converge toward the 2.0 percent long-term trend rate.
About the Authors
The views expressed are those of the authors and should not be attributed to the Federal Reserve Bank of Dallas or the Federal Reserve System.