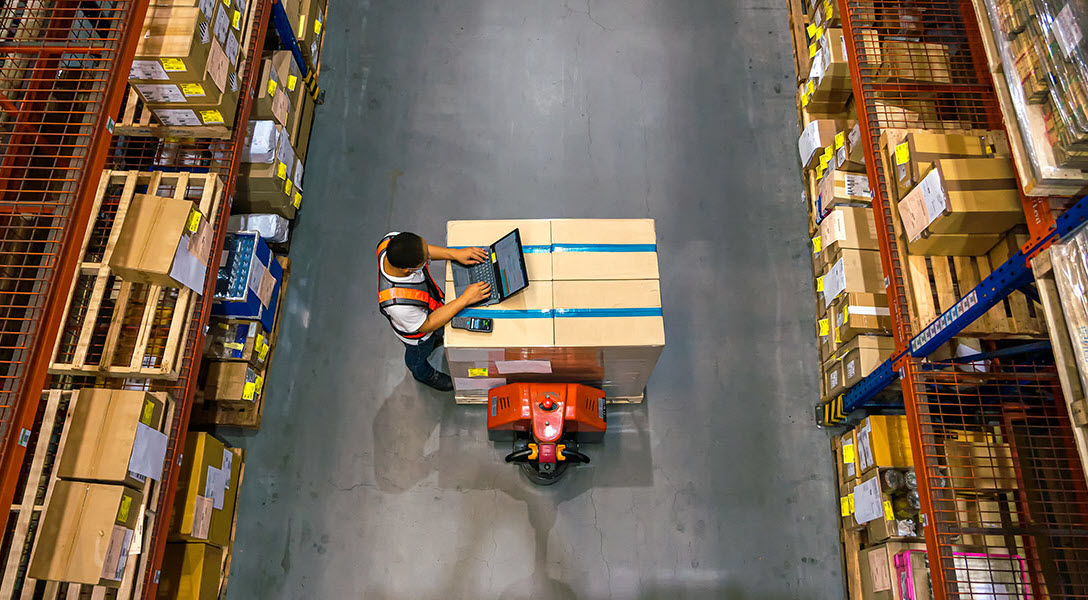 Southwest Economy, Third Quarter 2022
Supply Chains Slowly Mend as Texas Firms View Normalization in 2023
Since the COVID-19 pandemic began in early 2020, disrupted global supply chains have strained Texas businesses trying to meet strong demand. Initial supply shortages affecting primarily manufacturers and retailers intensified and broadened, impacting firms across most industries. Many Texas firms don't expect supply-chain normalization until 2023, though the latest data suggest conditions are improving.
The onset of the COVID-19 pandemic in spring 2020 brought massive disruption to economies across the world, with shelter-in-place mandates sidelining many businesses, especially those whose staff could not work from home. Layoffs and furloughs were widespread, and efforts to mitigate the spread of the virus impacted many aspects of everyday life and consumer decision-making.
Supply chains and the manufacturing they served quickly became strained, causing shortages and helping drive prices higher. But after enduring more than two years of these challenging conditions, Texas businesses appear to have pivoted, finding solutions that not only mitigated some of the impact of shortages but better positioned operations against future disruptions.
Stimulus-Fed Demand
An unprecedented wave of stimulative fiscal and monetary policies followed the pandemic's initial impact, including supplemental unemployment benefits and stimulus checks, which propelled incomes above prepandemic levels. This windfall, coupled with reduced expenditures on services—travel, dining out and entertainment—led to a rapid rebound in goods spending on items such as housing, food, clothing and cars.
Spending on goods was exceeding prepandemic levels by mid-2020 (Chart 1). Services spending lagged behind, hampered by lockdowns, more people working from home and other constraints.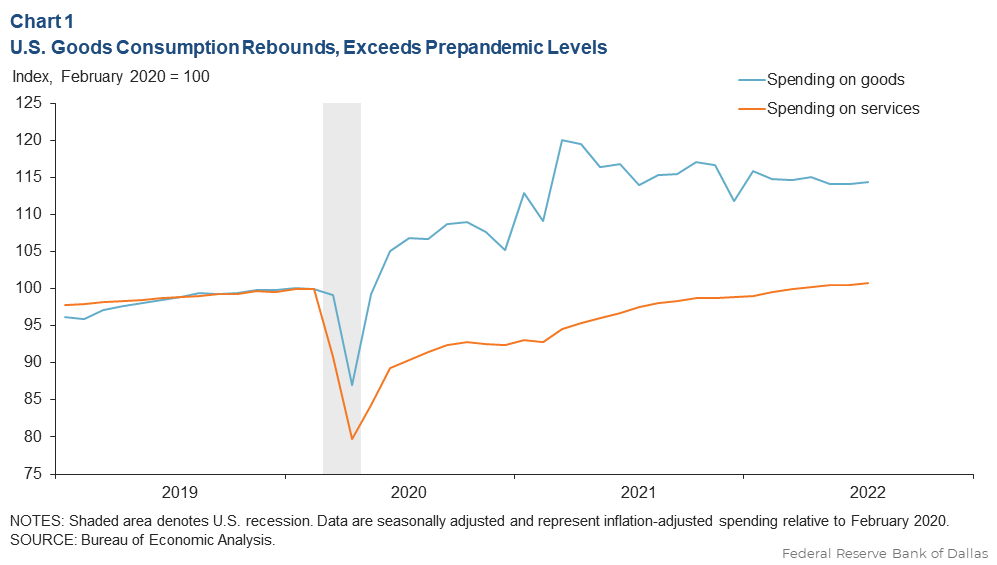 Most businesses struggled to keep up with the surging goods demand, as the dislocation resulting from idled factories and snarled logistics could not be resolved quickly. Manufacturers' production lines were hampered by social distancing measures and shortages of raw materials and intermediate goods.
Ports became congested with backlogged cargo, and insufficient trucking and rail capacity made it difficult for businesses to receive and ship products. Construction contractors struggled to get the materials and supplies needed, resulting in long delays on projects and lost opportunities. Retailers faced rapidly dwindling inventories and an inability to adequately restock.
Texas Hit Hard
Texas, with its large economy and outsized export and manufacturing footprint, became increasingly hard hit by these supply-chain disruptions. Producers in Texas were left trying to catch up on prior orders while also filling the rapidly expanding backlog of new orders spurred by the additional demand. Retailers faced a similar pinch. By February 2021, a majority of Texas manufacturers and retailers in the Dallas Fed Texas Business Outlook Surveys (TBOS) faced supply-chain disruptions or delays (Chart 2).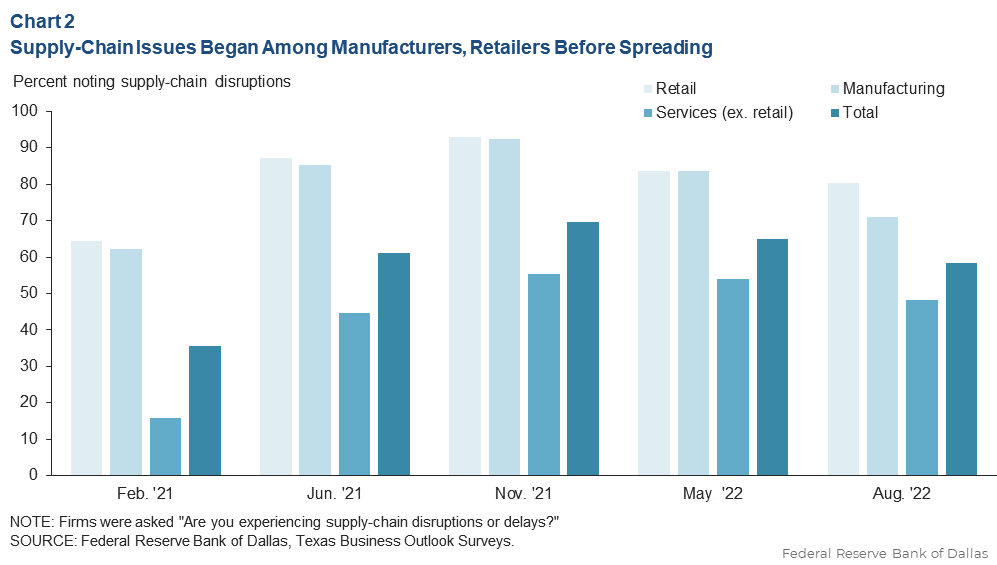 These firms were particularly displeased about shipping delays, extremely long lead times for components and issues with suppliers. One computer manufacturer remarked in the July 2022 TBOS: "We are seeing some lead times out as long as 57 weeks. This is four to five times more than we have seen on parts historically."
While supply-chain woes were initially limited to the manufacturing and retail sectors—only 16 percent of nonretail services firms reported supply disruptions in February 2021—eventually they spread.
By June 2021, a majority of firms and nearly 45 percent of services firms indicated they experienced supply-chain issues, with businesses unable to source computers or paper and restaurants having trouble getting some foods and supplies. Soon, well over half of services firms reported supply constraints, a condition that persisted into mid-2022.
Global Supply Woes
Years of globalization trends led to extensive reliance on worldwide, integrated supply chains when the pandemic hit. Firms dependent on international suppliers quickly realized they were especially susceptible to disruptions.
About half of Texas firms depend on foreign suppliers, and earlier this year, 93 percent of those companies experienced supply-chain disruptions versus 34 percent with solely domestic suppliers, according to TBOS.[1]
This insulation among firms with onshore sourcing partly eroded this year. By May, the share of domestic supply-chain firms experiencing disruptions had risen 8 percentage points to 42 percent, while the share of international supply-chain firms experiencing disruptions had fallen 6 percentage points to 87 percent.
Supply Limits Curb Revenue
The constriction of supply chains has become more than an inconvenience; a majority of businesses note it is a tangible constraint on their revenue. This is a marked shift from the early days of the pandemic when weak demand was the top restraint and only a minority of TBOS respondents mentioned supply chains (Chart 3).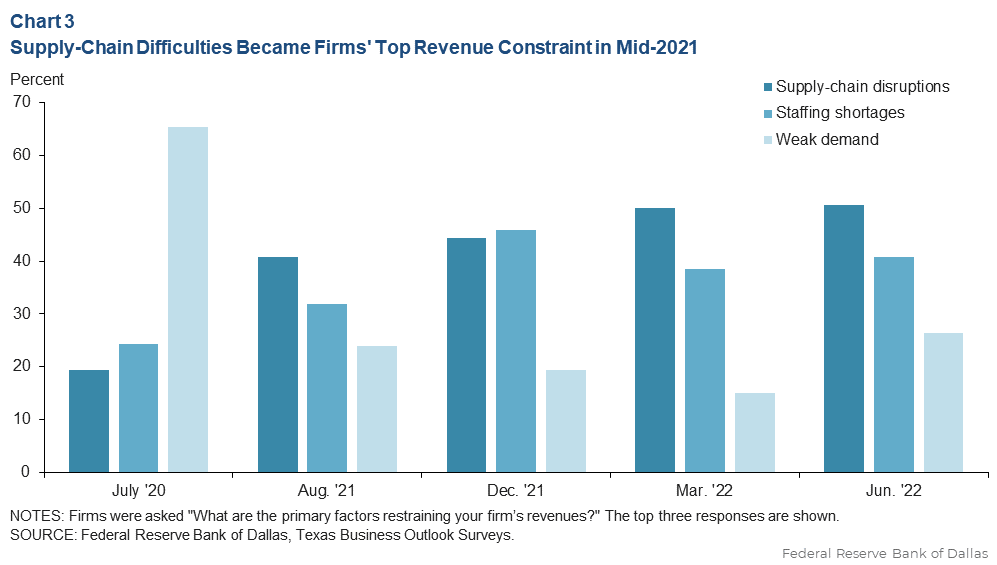 Supply-chain disruptions became the top limitation in August 2021 and still hold the No. 1 spot, with half of firms citing them as a primary factor restraining revenues. The share is even higher among manufacturers and retailers, at more than 70 percent. Staffing shortages continue to have a widespread impact on businesses' revenues.
The pandemic brought about an unusual dynamic. As incomes rose, spending on services was inhibited, and excess demand flowed into goods consumption. Meanwhile, the pandemic sidelined workers and hampered production, transportation and distribution, leading to supply-chain disruptions that are taking years to unwind.
This disparity between supply and demand is perhaps most apparent in automotive sales. Vehicle producers faced severe constraints on production—first due to pandemic restrictions and COVID mitigation measures at auto plants, then because of shortages of semiconductor chips and other necessary components.
As a result, auto dealers found themselves receiving far fewer new vehicles. At the same time, demand for vehicles surged in the months following the onset of the pandemic as consumers began receiving federal stimulus payments.
Auto dealers were quickly drained of both used- and new-car inventories, leading to surging prices and a prolonged period of missed sales opportunities. One Texas dealer summarized the difficulty facing the industry, saying in November 2021, "Supply-chain issues, primarily chips, have crippled the automobile business. Currently, our new-car inventory is in single digits— it's normally 150–200 cars."
Historic Price Spike
Another notable business impact from supply shortages is an unprecedented increase in input costs and selling prices. As businesses vied for limited available goods, they had to pay more to secure what they needed. Input price growth among Texas firms surged to record levels, first in manufacturing and later in services (Chart 4).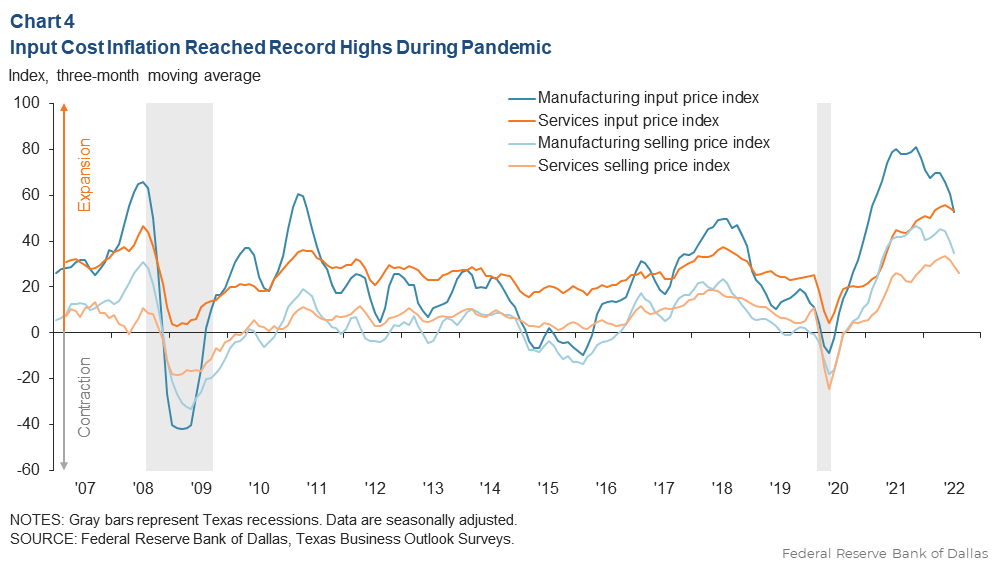 Input prices rose an astounding 9.9 percent in 2021, on average, soaring above the 2.7 percent average cost increase in 2020, according to TBOS.[2] Cost pressures have since peaked and are now moderating. The manufacturing input price index fell to 34.4 in August, its lowest reading since fall 2020.
The services input price index is coming down more slowly, trending lower from its peak in March 2022. Despite the moderating pace of input cost inflation, firms project those prices will rise 9.7 percent in 2022 because of relatively large increases in the first half of 2022.
Rapidly rising input costs and rising wages amid persistent worker shortages have pushed selling prices higher. Many firms have noted that they could more readily pass rising costs on to customers, aided by increased public awareness of market conditions.
TBOS firms noted an average selling price increase of 6.9 percent in 2021, up significantly from 1.1 percent in 2020. Firms expect prices to rise 7.1 percent in 2022, though much of this surge has already occurred.
Normalization in 2023
At the beginning of the pandemic, businesses and policymakers held out hope that supply-chain disruptions were transitory and would quickly resolve as economies rebounded from the initial lockdowns. That scenario didn't occur, and expectations for supply-chain normalization have been repeatedly pushed further out.
In June 2021, when TBOS survey respondents were first asked when they expect their supply chain to normalize, the average response was just over seven months (by early 2022). The latest data, from August 2022, show that supply chains are not anticipated to normalize for more than nine months, well into 2023 (Chart 5).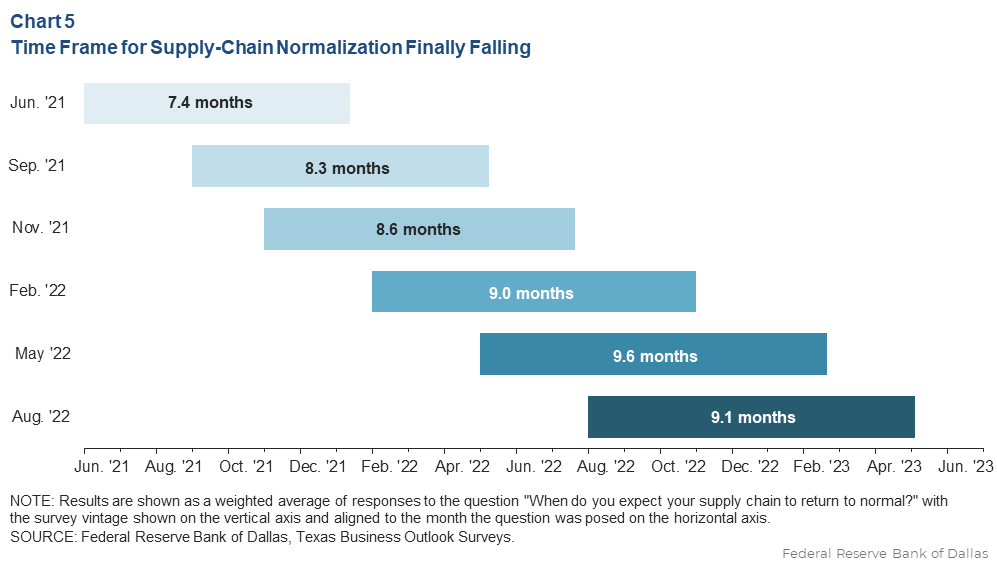 Across industries, retailers—particularly auto dealers—have the longest average time horizon for expected supply-chain normalization, at 10.0 months, pushing into second quarter 2023. Health and education services has the shortest horizon at 7.7 months.
Overall, what began with a broad expectation that supply chains would take just six to eight months to return to normal has become a multiyear headwind with diminishing hope for a comprehensive resolution in the near future.
Mending Supply Chains
Even as expectations for a return to normal seem further out of reach, there are some tentative signs that the worst has passed and that supply-chain constraints have begun unwinding. Forty-three percent of businesses reported an improvement in August, exceeding the share reporting worsening shortages (24 percent) for the first time since the pandemic's initial economic effects in 2020.[3]
In manufacturing, where the pace of production has lagged demand for most of the pandemic, growth in unfilled orders has abated, signaling that backlogs are no longer increasing. Delivery time decreased in August for the first time since mid-2020. Also, retail inventories have begun rebuilding after a two-year downward trend that began with the pandemic.
Looking beyond Texas, the logjam at the two busiest U.S. ports (Los Angeles and Long Beach, California)—which peaked in fall 2021 with a record number of ships waiting offshore to be unloaded—is unwinding. There's been a steady rise in handled inbound containers this year, and both ports posted record cargo volumes in July. Also, the New York Fed's Global Supply Chain Pressure Index shows diminishing delays involving containerized cargos since April.[4]
Gaining Supply Resiliency
Texas businesses pivoted as supply chains deteriorated, with a majority adjusting their supply sources, mostly bringing on additional vendors rather than being reliant on just one.[5] Onshoring also accelerated, as some businesses sought U.S.-made products to avoid long transit delays and to have more assurance of supply timing.
Other companies increased inventory, carrying more inputs to create a buffer. These changes often mean higher costs to businesses but are intended to reduce future supply-chain vulnerability.
Notes
About the Authors
Southwest Economy is published quarterly by the Federal Reserve Bank of Dallas. The views expressed are those of the authors and should not be attributed to the Federal Reserve Bank of Dallas or the Federal Reserve System.
Articles may be reprinted on the condition that the source is credited to the Federal Reserve Bank of Dallas.
Full publication is available online: www.dallasfed.org/research/swe/2022/swe2203.