Rent inflation expected to accelerate then moderate in mid-2023
The Federal Reserve has tightened monetary policy, raising its policy rate to aggressively tackle inflation that has reached a 40-year high. One consequence is sharply rising mortgage rates that are expected to cool demand for home purchases and slow house-price growth.
Surging house prices have steadily pushed up rent and owners' equivalent rent (OER), the amount of rent equivalent to the cost of ownership. These measures of housing costs are the most important components of the Consumer Price Index (CPI) and the personal consumption expenditures (PCE) price index and have accounted for a large part of overall inflation since late 2021.
As mortgage rates rose in recent months, the housing market showed signs of cooling. With housing price moderation, it is important to assess the implications for rent inflation and OER inflation and, in particular, whether they may soon ease and help slow overall inflation.
Updated rent, OER inflation forecasts suggest moderation in mid-2023
To address this issue, we update our earlier analysis that forecasts the paths of future rent and OER inflation and quantified the contribution of the shelter component to overall inflation in 2022 and 2023. We use the latest data on PCE rent and OER price indexes and the Zillow Home Value Index—available from January 1996 to June 2022—to update the analysis.
A key insight from our earlier assessment was that surging house prices feed into rent and OER inflation with a significant delay of 1–1.5 years. This is partially due to the construction of the CPI and PCE rent indexes, which are intended to measure monthly changes in rent experienced by typical renters who are unlikely to adjust their leases very frequently. In contrast, rent measures based on new leases tend to move with house prices more instantaneously.
This insight extends to our updated forecasts. Year-over-year OER inflation is expected to continue rising from 5.4 percent in June 2022 to 7.7 percent in May 2023 before easing. Likewise, rent inflation is expected to increase from 5.8 percent in June 2022 to 8.4 percent in May 2023 (Chart 1).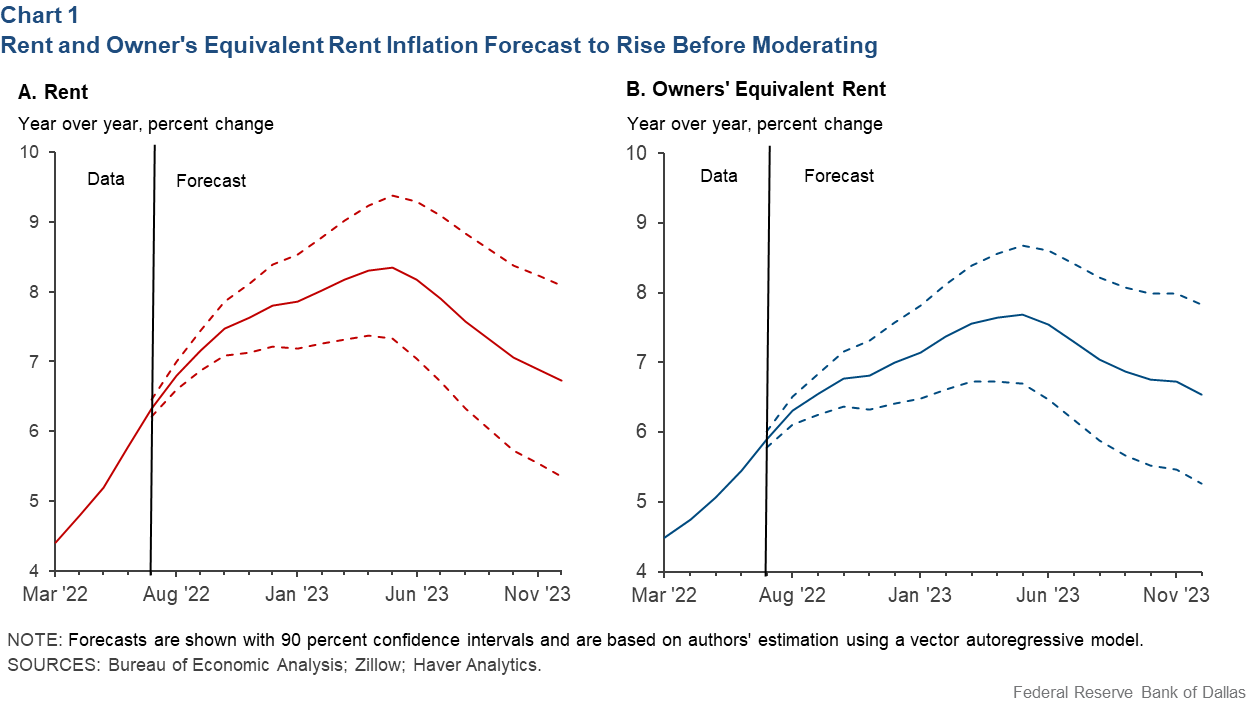 Shelter component to add more pressure to overall inflation
Given these forecasts and the expenditure shares in the PCE price index of rent (3.6 percent) and OER (11.2 percent), all else equal, we expect the shelter component to add another 0.35 percentage points to the headline PCE inflation in the coming months before slowing in second quarter 2023 (Table 1).
Table 1: Expected Increase in PCE Inflation Relative to June 2022
June 2022 actual inflation
May 2023 inflation forecast
December 2023 inflation forecast
Expected increase in PCE inflation, May 2023
Expected increase in PCE inflation, December 2023
Rent
5.8
8.4
6.7
0.09
0.03
OER
5.4
7.7
6.5
0.26
0.12
Total
0.35
0.15
NOTES: The expected rise in PCE inflation contributed by rent/OER is calculated by multiplying the difference between the forecasted and actual rent/OER inflation rates by the expenditure share of rent/OER in the PCE price index.
SOURCE: Authors' calculations.
By the end of 2023, the additional contribution of this component to PCE inflation (relative to June 2022) is expected to fall to 0.15 percentage points. The expenditure share of the shelter component in the CPI is twice as large as in the PCE index, so our estimates imply that shelter could add 0.7 percentage points to CPI inflation in the coming months before decelerating in mid-2023.
Rent inflation since July 2021 outpaces forecasts
Our earlier analysis suggested that, given data available in June 2021, rent and OER inflation would continue to rise beyond December 2023. With updated data, the model forecasts an earlier peak (Chart 2).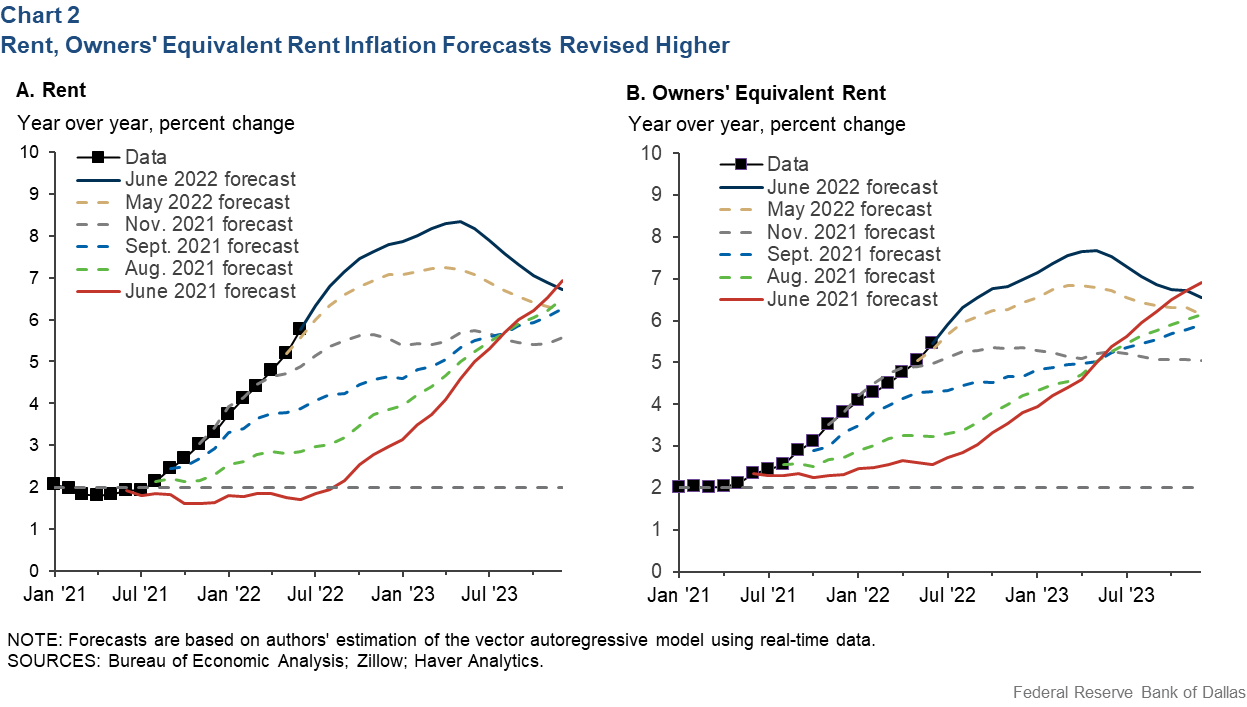 The reason for this revision is that actual shelter inflation kept surprising to the upside in the past year. Higher-than-expected shelter inflation causes the model to revise the near-term forecasts higher while lowering the forecasts at longer horizons.
About the Authors
The views expressed are those of the authors and should not be attributed to the Federal Reserve Bank of Dallas or the Federal Reserve System.