Energy
Dallas Fed Economics
Automakers' bold plans for electric vehicles spur U.S. battery boom
Many automakers with U.S. operations plan to significantly ramp up production of electric vehicles this decade and, in the process, commit huge capital outlays. Meeting these ambitious manufacturing goals will require batteries—lots of them—as an electric vehicle (EV) can use hundreds to thousands of individual lithium-ion batteries.
As a result, there is a wave of new investment in gigafactories—enormous facilities devoted to the production of lithium-ion batteries. Planned investment exceeds $40 billion, targeting parts of the U.S. in an effort to build out a key part of the domestic supply chain for batteries and EVs.
What Is a gigafactory?
Individual batteries, technically known as "cells," come in a wide variety of shapes, sizes and chemistries. For example, a common AA battery is an alkaline cell.
Cells are produced in factories ranging in size from small, pilot production lines to enormous facilities covering hundreds of thousands of square feet that produce millions of cells per year. Their annual capacity is measured not in terms of the number of cells produced but rather in terms of the total energy capacity of all those batteries.
Gigafactories get their name from the fact that their annual capacity exceeds 1 gigawatt hour (GWh), or 1 billion watt hours. To put that number in perspective, a typical household in the U.S. consumes 30 kilowatt hours (kWh) of electricity daily, or 30,000 watt hours, while the U.S. generates several million GWh of electricity per year.
An EV battery pack, which contains hundreds or even thousands of cells, usually has a capacity of 50–100 kilowatt hours (kWh). A gigafactory with 1 GWh capacity operating at full capacity could theoretically produce enough batteries each year to power 10,000 to 20,000 EVs.
Battery factory boom rolling out
The U.S. experienced an initial wave of investment in lithium-ion battery factories after the Great Recession, driven in part by $2.2 billion of funding allocated in the American Recovery and Reinvestment Act of 2009. The capacity of those early factories was relatively small, reflecting modest sales of electric vehicles.
U.S. capacity additions were sporadic until recently when the pace of new announcements picked up. Six new facilities, worth more than $5 billion, were announced from 2018 to 2020. Since the start of 2021, more than 15 new facilities or expansions have been disclosed in the U.S., reflecting a potential investment of at least $40 billion. Several plants have also been announced in Canada.
The production capacity of these just-announced gigafactories generally dwarfs that of the earlier facilities, which was often less than 1 GWh. All but one exceeds 10 GWh of capacity, with the largest exceeding 40 GWh.
Lithium-ion battery production grows rapidly
Experts expect these new investments, as well as future ones, to significantly boost U.S. production of lithium-ion batteries (Chart 1). U.S. capacity is expected to grow more than fivefold from 2021 to 2026, according to data and estimates by Benchmark Mineral Intelligence, a data and market intelligence provider. By 2031, U.S. capacity is expected to expand another 86 percent.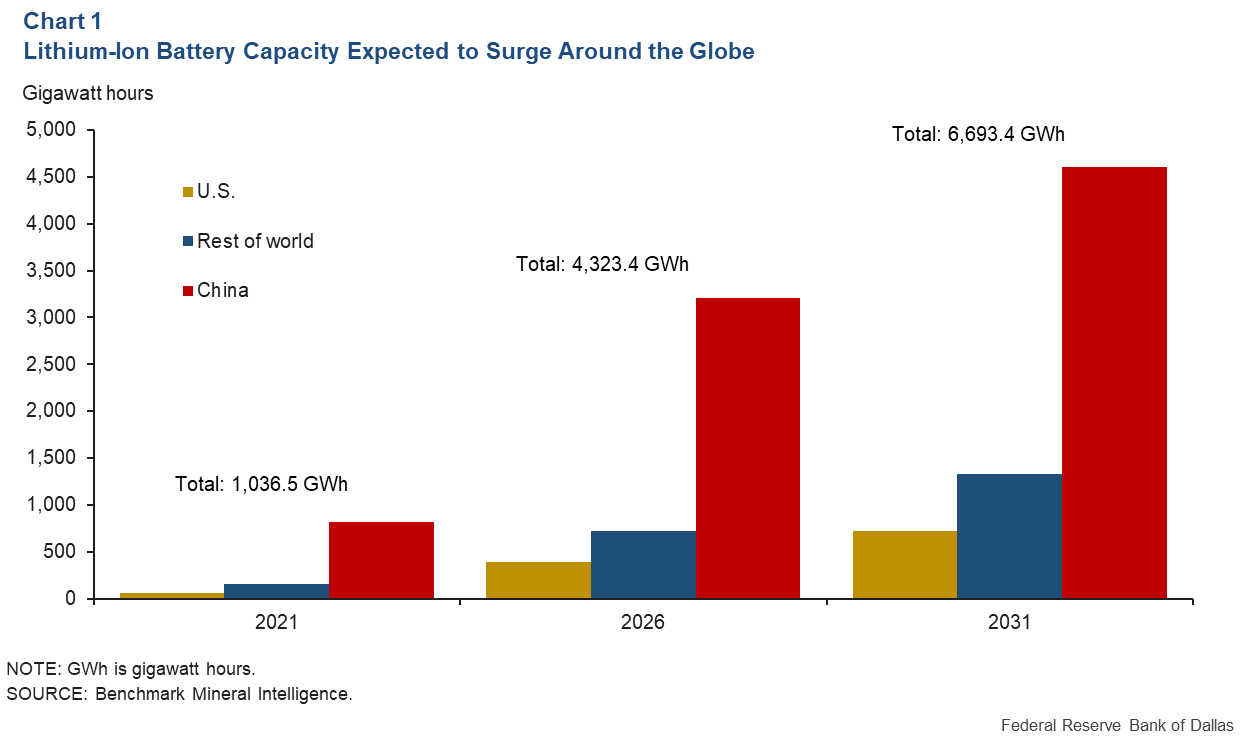 While this will boost the U.S. share of global capacity, current forecasts imply that it will remain modest, advancing from 5.5 percent in 2021 to almost 11 percent by 2031. Other areas of the world—particularly China—are also experiencing gigafactory booms. China's production capacity, which already overshadows all other countries, is expected to rise about 486 percent from 2021 to 2031.
EV production plans drive gigafactory boom
What drives these expansion plans? One factor is electric-vehicle sales growth. While EVs still make up a relatively small share of overall sales in the U.S., sales have risen considerably in recent years (Chart 2).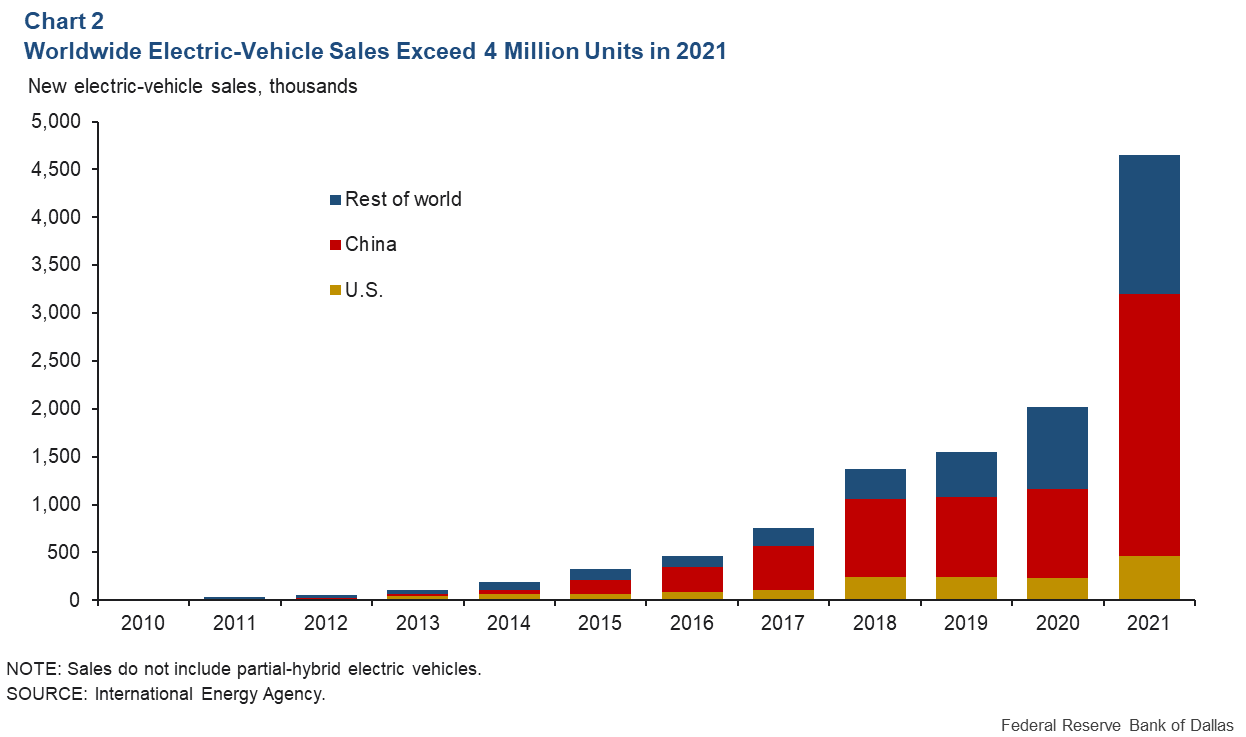 Sales in 2021 totaled more than 466,000 units, double the level of 2020. These trends have been even more pronounced outside the U.S. where, on average, sales have doubled each year since 2010 and reached almost 4.2 million units in 2021. China, in particular, has experienced robust sales growth.
Perhaps more important than recent sales, many U.S.-based automakers plan to rapidly expand electric-vehicle production this decade. For example, Ford plans to spend $50 billion through 2026 to expand its EV production, while GM plans to invest $35 billion through 2025. Both also have ambitious targets for global sales, with Ford targeting 2 million units by 2026 and GM 1 million by mid-decade. Other companies with a footprint in the U.S. are also preparing plans to scale up production in the region.
Auto production for these companies is largely concentrated in the Midwest and the South. Due to the high costs of transporting large quantities of lithium-ion batteries, most of the newly announced gigafactories will be in the same geographical region, an area some have begun referring to as the "Battery Belt" (Chart 3).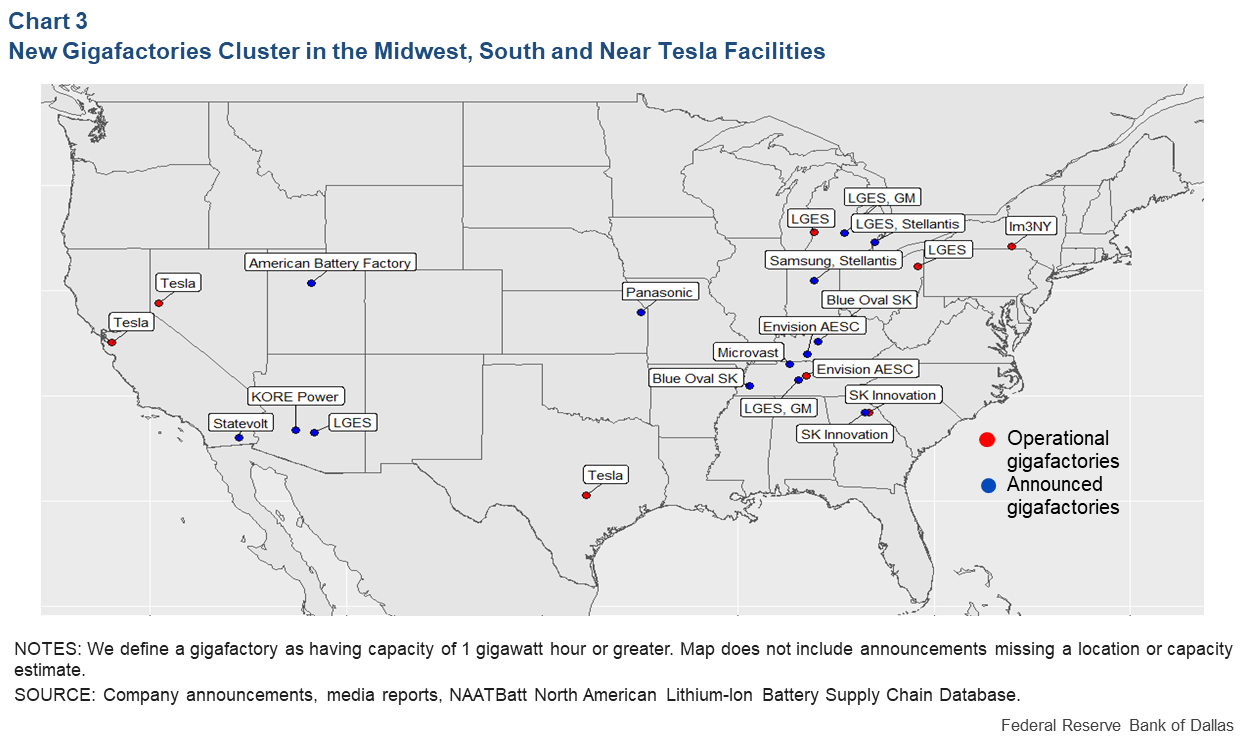 Another feature of many of these investments is that they are partnerships between automakers and battery producers. For example, the largest investment recently announced is a $5.8 billion joint project by Ford and SK Innovation for two 43 gigawatt-hour-capacity facilities in Kentucky. These partnerships allow battery companies to secure demand while allowing automakers to obtain supplies they need to produce EVs.
Investment more modest elsewhere in chain
The supply chain for batteries is much more than just the production of batteries. It begins with the mining of key raw materials, including lithium, nickel and graphite, and subsequent refining of those minerals. The next step is the production of what are known as battery materials, the inputs used in the production of the individual cells. Further downstream, there are also companies that focus on recycling lithium-ion batteries.
U.S. capacity in those parts of the supply chain is limited, and investment has been modest, although interest is growing. A few new U.S. facilities to produce battery materials have been announced over the past year, the largest of which is a $3.5 billion operation in Nevada. Additionally, there are plans for several recycling plants and, further upstream, there is growing interest in lithium mining and refining.
The U.S. government hopes to further boost investor interest in these areas through numerous provisions contained in the Inflation Reduction Act of 2022. The act offers direct subsidies to defray the costs of producing critical minerals, battery components and battery cells. Further, the tax credit available to buyers of EVs—worth up to $7,500 per car—includes requirements for the percentage of both the value of battery components and the value of critical minerals that must be sourced from domestic producers or free-trade partners.
Notably, the subsidy also contains a prohibition on the use of critical minerals, battery materials and other components from "foreign entities of concern." This prohibition includes any output produced within China—a major player in various parts of the global supply chain for lithium-ion batteries. The critical minerals portion of the ban takes effect at the start of 2025; the components prohibition begins at the start of 2024.
Overall, these provisions create potentially powerful incentives to boost investment in other parts of the U.S. supply chain, though it is too early to know how successful they will be.
About the Authors
The views expressed are those of the authors and should not be attributed to the Federal Reserve Bank of Dallas or the Federal Reserve System.