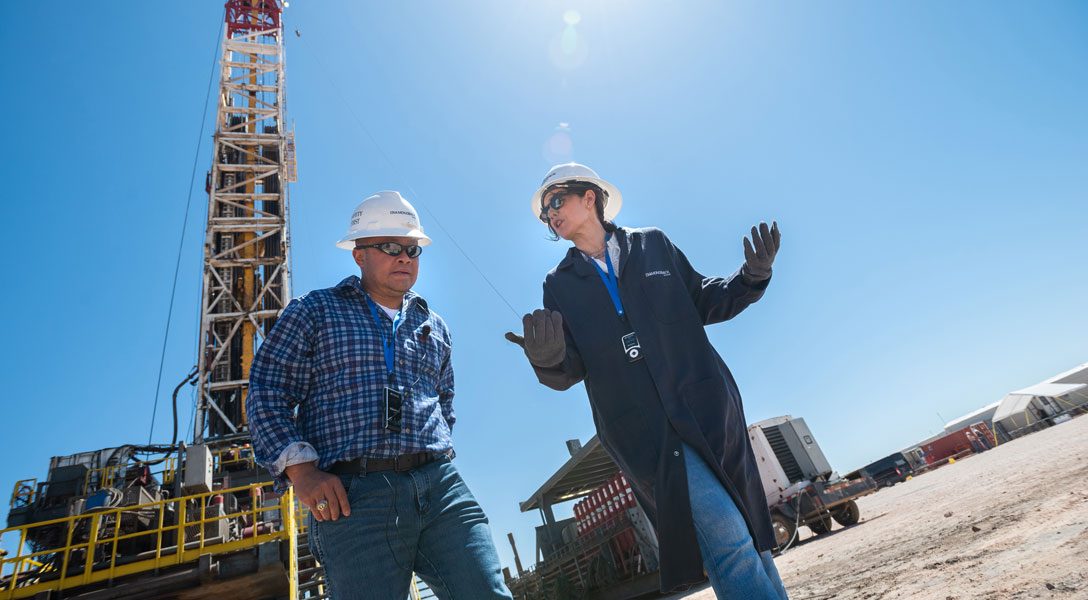 Global energy producer Midland–Odessa seeks economic stability, end to boom-and-bust
360° in 365 Midland–Odessa takeaways
Oil and gas production dominates the local economy, reflecting the region's position as a leading global energy producer, and new oilfield technology is increasing productivity and reducing carbon emissions.
Renewable energy production also has a sizable presence in the region and continues to expand, capitalizing on abundant wind and solar resources and growing demand for electric power in the state.
Reliance on a large transient workforce drawn by high oilfield pay has complicated development of local educational and health services infrastructure. Public–private partnerships are working to address this limitation, driving investment and innovation in these services to better position the area for future economic development.
Dallas Fed President Lorie K. Logan met with Midland–Odessa business and community leaders in mid-April to learn about the area's strengths, challenges and outlook. Midland–Odessa was the fifth stop in the 360° in 365 Listening Tour, as Logan travels through the Eleventh District reaching out to local constituencies so she can represent the district in the national policy discussion and be a force for good at home. These listening and learning gatherings will position her and the Dallas Fed to identify policy priorities that will make the greatest impact for the region over the long term. We describe the Midland–Odessa region and share what was discussed.
The twin cities of Midland and Odessa are the production heart of the Permian Basin, one of the world's most prodigious energy regions, stretching over 55 counties in West Texas and New Mexico. The area's oil and gas resources have helped meet U.S. and global energy and chemical demand for 100 years.
Midland–Odessa has historically been a one-industry community. Investors outside of the energy sector have typically looked beyond the region to areas with greater economic diversity. Because of the Permian Basin's outsized dependence on oil and gas, it is prone to economic booms and busts that affect growth, population size and availability of services.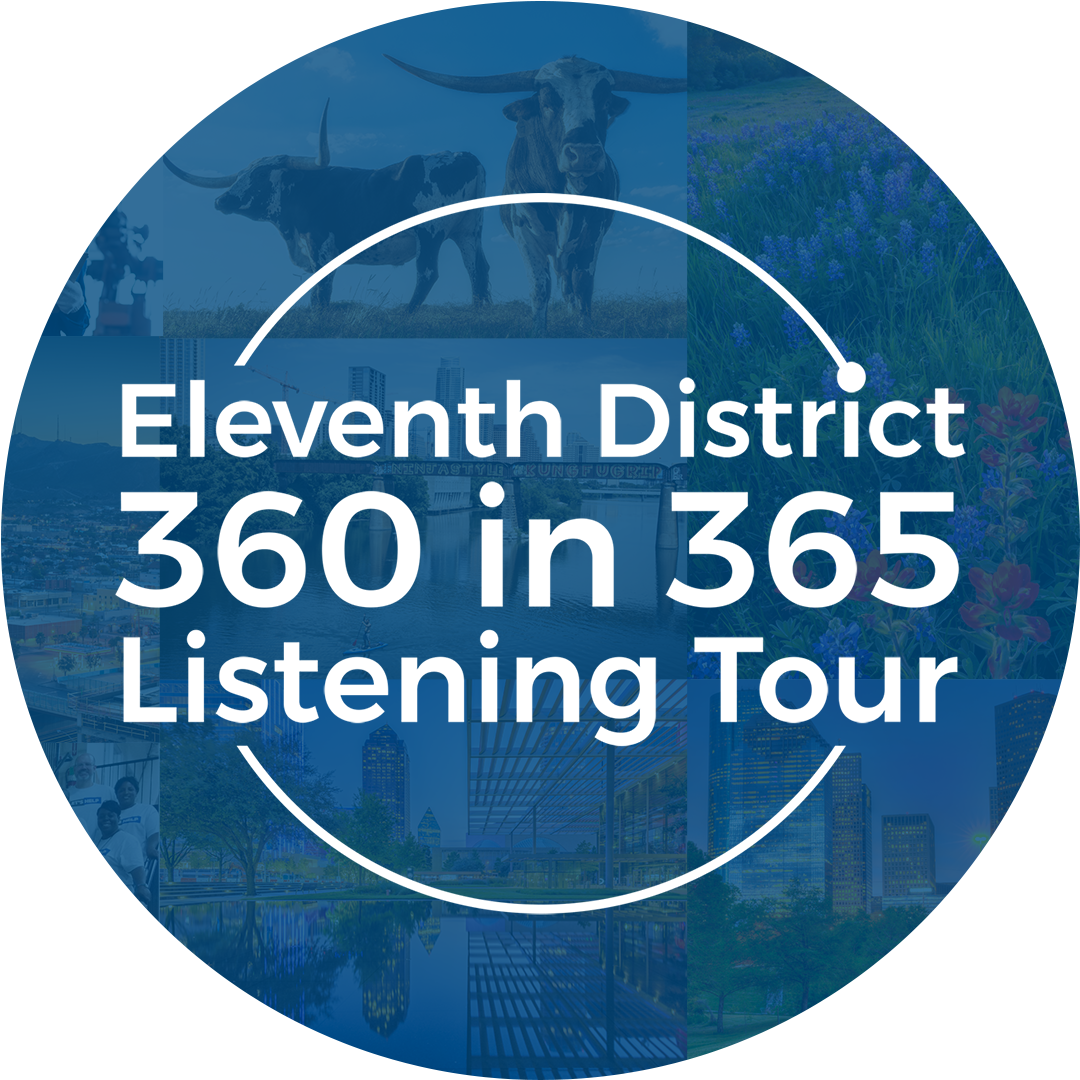 Dallas Fed President Lorie Logan met with local industry leaders, who showcased how new technology has substantially reduced the time and cost of drilling new oil wells and helped mitigate associated greenhouse gas emissions. The executives highlighted their companies' improved profitability and diminished reliance on debt. This is allowing them to better weather oil-price volatility than a decade ago, enhancing operational stability.
Within the broader Midland–Odessa community, Logan learned that underinvestment in education and social welfare is a byproduct of boom-and-bust cycles, an often transient population and high-paying oilfield jobs that compel young people to leave school. This underinvestment leaves segments of the community in a perennially disadvantaged position and inhibits socioeconomic mobility and broader business development. Area public–private partnerships are working to overcome these impediments.
A history of booms and busts
When times are good and well-paid jobs are plentiful, some Midland–Odessa students leave school, leading to a workforce with diminished long-term earnings potential. They join oilfield workers from far outside the area, many living in sprawling "man camps." In bad times, when drilling is unprofitable, workers flow out, heading for opportunities elsewhere (Chart 1).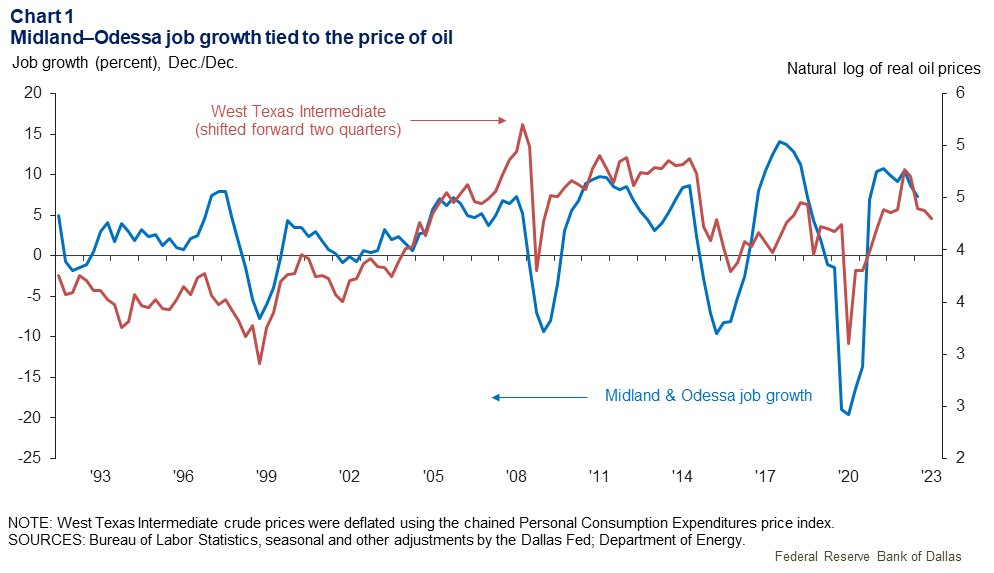 General construction, mining and natural resources industries made up 30 percent of all jobs in Midland–Odessa at the end of 2022, compared with 7.3 percent statewide and 5.5 percent in the U.S. Midland–Odessa job growth reached 8.6 percent last year, outpacing other Texas metros.
Oil and gas production and oilfield services jobs pay well—about $2,357 per week on average. These wages push up the average weekly wage across Midland–Odessa, which was $1,549 in third quarter 2022, about 25 percent greater than in Texas overall. Average area weekly wages in the food services and retail industries—in which pay trails other sectors—run around 8 percent higher than in the state. This partly reflects the cost of attracting and retaining workers whom the high-wage oil industry might otherwise lure away.
The most infamous Permian Basin boom–bust cycle played out in the 1980s after oil production reached a high of 2 million barrels per day in the late 1970s. Prices collapsed in 1986 along with the state's economy. By 2000, oil output was less than half of the production peak, prompting resignation that the old wells were played out and that the Permian Basin would run out of oil.
Shale transformation brings new investment, population growth
The dawn of the shale boom in 2004 changed the trajectory of Permian oil and gas production and, with it, that of Midland–Odessa. High energy prices and a new production technique to release oil and gas—hydraulic fracturing of shale—led to a sixfold increase in energy output.
Today, the Permian Basin produces more than 5.5 million barrels per day of oil—and 22 billion cubic feet per day of natural gas, ranking it among the top five oil-and-gas-producing regions in the world. The region supplies more than 40 percent of the nation's oil and 20 percent of its natural gas.
The shale boom has boosted broader economic activity over the past 12 years, leading to a more than 19 percent population increase since 2010. With benchmark West Texas Intermediate (WTI) oil reaching a high of $120 per barrel in 2022, Permian Basin producers earned record profits while steadily increasing activity and hiring. (WTI was selling for about $80 during Logan's visit.)
Local leaders told Logan they are optimistic about continued development of the Permian Basin's hydrocarbon resources as an essential energy and chemical resource that is environmentally preferable to hydrocarbon production from other parts of the world. At the same time, the region is expanding into renewables to capitalize on its top-tier wind and solar resources.
Crafting strategies to mitigate environmental impacts
In meeting with Logan, oilfield operators highlighted efforts to lower their carbon footprint, including attempts to deploy carbon capture technology—removing carbon dioxide from the atmosphere during energy production and exploration and shunting it underground or using it for other purposes. Natural gas at exploration sites, which was previously flared, has displaced diesel consumption to power generators and field operations.
Renewables are adding to the basin's energy production portfolio. Nearly 8 percent of all new and proposed photovoltaic solar capacity in the nation between 2022 and 2025 is expected to come from the Permian Basin—about 6 gigawatts, according to the Energy Information Administration. (Texas' solar installed capacity has doubled to more than 10 gigawatts since early 2020, with another 19 gigawatts of utility-scale solar capacity anticipated by 2025.) Meanwhile, wind turbines in the region contributed about 22 percent of electricity delivered to the Texas power grid in 2022.
Public–private partnerships seek workforce, education and health solutions
Renewable energy investment in the region is accelerating, and almost all of U.S. net hydrocarbon production growth in the next several years is expected to come from the Permian Basin. In light of such progress, business and community leaders discussed with Logan the challenges of creating a larger, more stable and better-educated workforce necessary to meet future needs.
From 25 percent to 90 percent of energy firms' employees commute from far outside the area (mostly from other Texas metros but also from other states), staying for a few weeks at a time. This lack of workforce stability contributes to chronic labor shortages in public services, including education and health care.
Area leaders told Logan that little of the value-added from the region's oil fields has been reinvested into local schools. Educational attainment lags behind the state and the nation. Nearly 20 percent of the population over age 25 has not completed high school, compared with 15 percent in Texas and 11 percent nationally.
More than half of the enrolled K–12 students in Midland and Ector counties are economically disadvantaged, receiving free or reduced-cost meals. Many in outlying areas lack home access to water infrastructure (public or private wells), adequate septic or sewer access, paved roads or broadband internet.
Educators told Logan about how providing free access to Starlink satellite internet service in West Odessa has been transformative, enabling students to access critical multimedia online educational tools.
Businesses and nonprofits are working with public entities to invest in education. The Permian Strategic Partnership, a group of 20 energy companies with operations in the region; several charitable foundations; and individual philanthropists raised more than $55 million to bring 14 new IDEA public charter schools to Midland and Ector counties beginning in the 2024–25 academic year. (IDEA is a Weslaco, Texas-based network of charter schools.) The schools are expected to supplement other area public charter and college programs such as Third Future Schools.
The Permian Strategic Partnership is also working to improve health care in the region, expanding hospital care, rehabilitation and potentially medical research. Logan learned about a new $40 million behavioral health center that will expand critically needed local mental health services.
About the author
Eleventh District 360° in 365 Tour: Permian Basin Visit
April 19
Meeting with Donald L. Evans, former U.S. Secretary of the Commerce and chairman, Permian Strategic Partnership.
Energy breakfast and roundtable discussion with leaders from Cudd Energy Services, Devon Energy Corp., Diamondback Energy Inc., Elevation Resources LLC, Endeavor Energy Resources LP, Hedloc Investment Co., Latigo Petroleum LLC, OGX Resources LLC, Permian Basin Petroleum Association, ChampionX, Permian Resources Corp. and University Lands.
Visit Diamondback Energy rig and NorAm Drilling 29.
Visit WindHQ Data Center, Andrews, Texas.
Visit Prospero 2 Solar Project, Andrews, Texas.
Dinner and roundtable discussion of the Permian Basin economy with Hedloc Investment Co., McKnight Ranch, Midessa Group, Odessa Chamber of Commerce, Sewell Family of Companies, Star Care Health Services and University Medical Supply.
April 20
The views expressed are those of the authors and should not be attributed to the Federal Reserve Bank of Dallas or the Federal Reserve System.