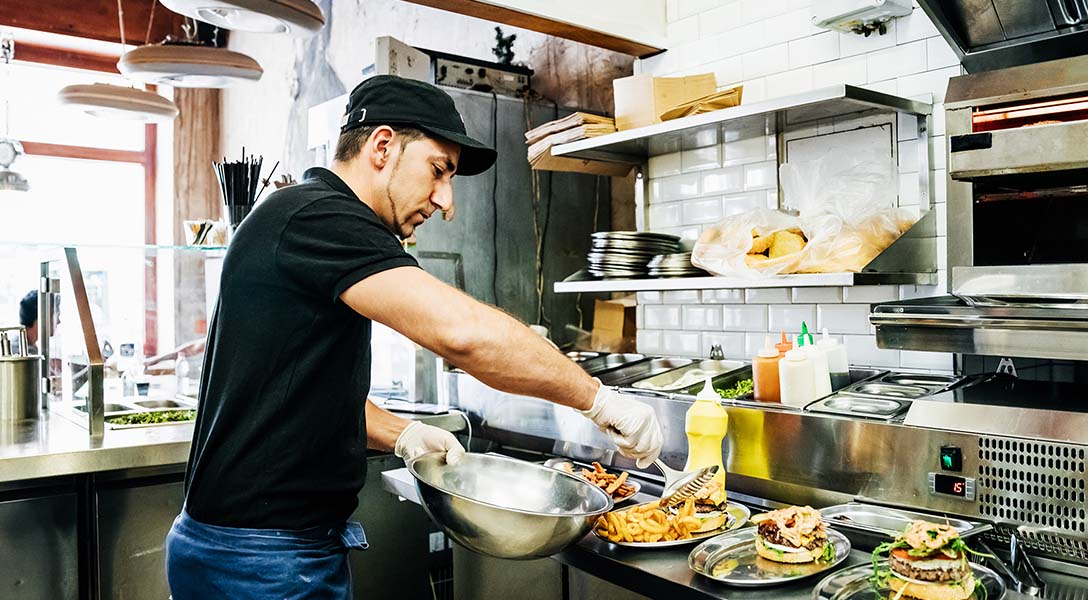 Slowing Texas economy remains on track for a soft landing
The impact of a still-strong Texas job market and moderating business activity and input costs suggest that the state's economy may be headed for a soft landing amid Fed efforts to slow the economy and cool inflation.
Texas job growth picked up in the third quarter, led by a sharp upturn in leisure and hospitality employment. Underscoring a strong labor market, the wage and salary component of the Employment Cost Index for Houston and Dallas accelerated.
Meanwhile, respondents to the Dallas Fed's Texas Business Outlook Surveys (TBOS) reported flattening activity in services in October, while manufacturing production expanded for the second consecutive month. Businesses, while still navigating overall cost and price pressures, reported those pressures were stable or easing.
Texas employment growth ticks up in third quarter
Texas employment grew 3.0 percent (104,591 jobs added) in the third quarter compared with 2.8 percent (94,945 jobs) in the second quarter (Chart 1).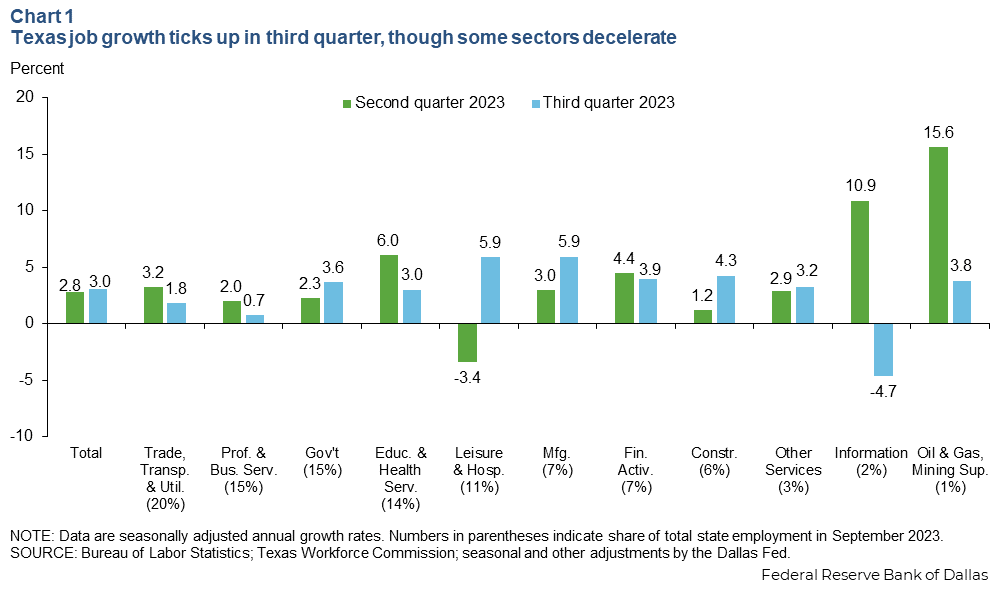 An upturn in leisure and hospitality (21,013 jobs added), strong growth in construction (8,513 jobs) and in manufacturing (13,842 jobs) as well as a pickup in government (18,295 jobs) drove the gains. Despite very strong numbers in September, third-quarter employment growth slowed in trade, transportation and utilities; professional and business services; and education and health. Information jobs, which are mostly high-tech services, declined by 2,895 positions.
Following a strong 5.4 percent one-month job growth rate in September, state employment growth is projected to slow to 2.5 percent in fourth quarter 2023—well above the state's 1999–2019 average of 1.7 percent annually.
Texas wage and salary growth picks up
Concurrent with increasing payroll employment, wage growth also accelerated. The year-over-year growth rate of Texas wages and salaries rose to 3.8 percent in third quarter 2023 from 3.5 percent in the second quarter. It is the first pickup in wage growth since second quarter 2022 (Chart 2). By comparison, growth in U.S. wages and salaries slowed slightly from 4.6 percent to 4.5 percent.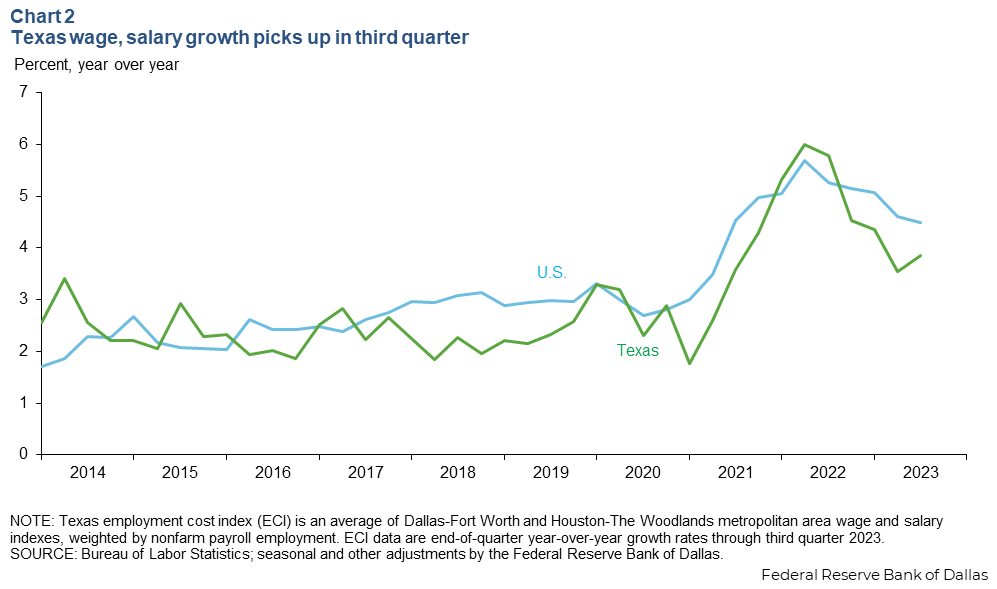 Nonetheless, wage growth broadly appears to be trending down. This is consistent with responses to the October TBOS, where wages and benefits indexes ticked lower after stronger readings in the third quarter.
Service industries slowing, manufacturing stabilizes
Manufacturing output in the state has improved. The Dallas Fed's Texas Manufacturing Outlook Survey (TMOS) production index was 5.2 in October, the second consecutive month above zero after four months of negative readings (Chart 3). Positive numbers indicate expansion; negative ones indicate contraction.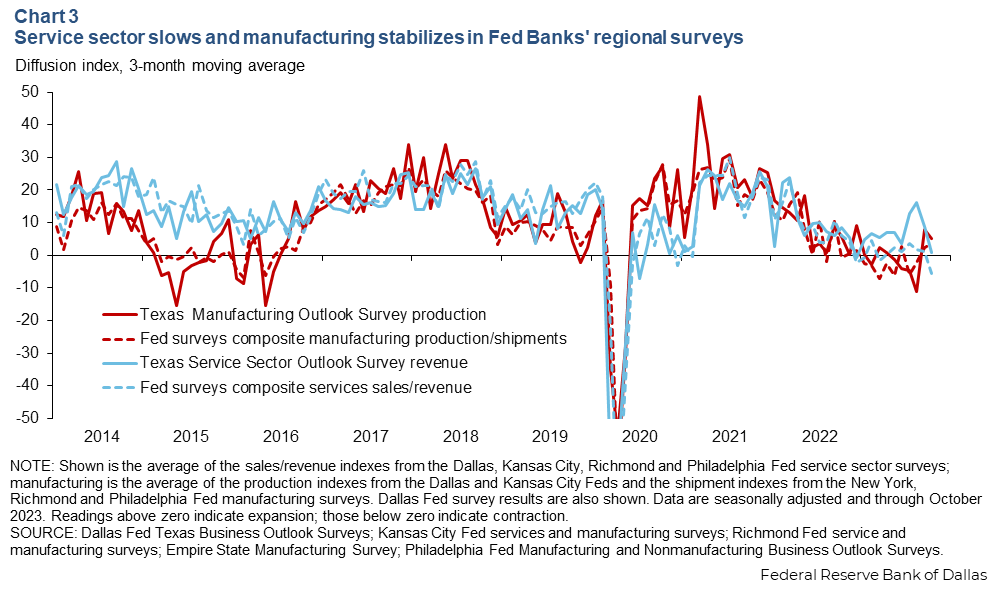 Despite the improvement, the new orders index deteriorated from -5.2 in September to -8.8 in October, meaning new orders fell at a faster rate than the previous month.
This is broadly consistent with Federal Reserve Bank surveys nationwide. Aggregated across districts, a composite of Fed surveys in October showed declines in new orders in the past several months, though production indexes were positive.
In the most recent data, the Texas Service Sector Outlook Survey (TSSOS) respondents indicated zero revenue growth in October, following a pickup in the third quarter. However, Texas firms appear to be faring better than their counterparts nationally. The TSSOS revenue index has been stronger than a nationwide composite of Federal Reserve Banks' service sector sales and revenue indexes since September 2022. The national composite service sector index fell to -5.6 in October, its lowest one-month reading since May 2020.
Firms also reported moderating or stable price pressures in the most recent Dallas Fed surveys. The input price index for manufacturing eased slightly, while the selling price index turned negative for the second time since July 2020. Service sector input and selling price indexes were stable.
Company outlooks have soured in the past month. The Texas manufacturing company outlook index is holding near nonrecession lows, and the service sector company outlook index fell to its lowest level since June 2022. To underscore the rising pessimism, respondents across Dallas Fed surveys more frequently used words in their comments such as "worsen," "decline" and "slow" in September and October.
Taken together, the surveys are consistent with a soft landing for Texas, namely slowing economic activity but no contraction over the next three to six months.
New building, high interest rates pressure housing prices
Apartment rental rates soared after federal pandemic eviction moratoriums ended along with other pandemic-era renter support measures. Demand was also robust in Texas due to heightened domestic migration to the state during the pandemic.
Year-over-year rent growth peaked across Texas markets in early 2022 and began to slow as the year progressed (Chart 4). Inflation—as well as an additional supply of apartments—began to weigh on occupancy in mid-2022, as more and more leases turned over. This eased rent growth that was already slowing from historic highs.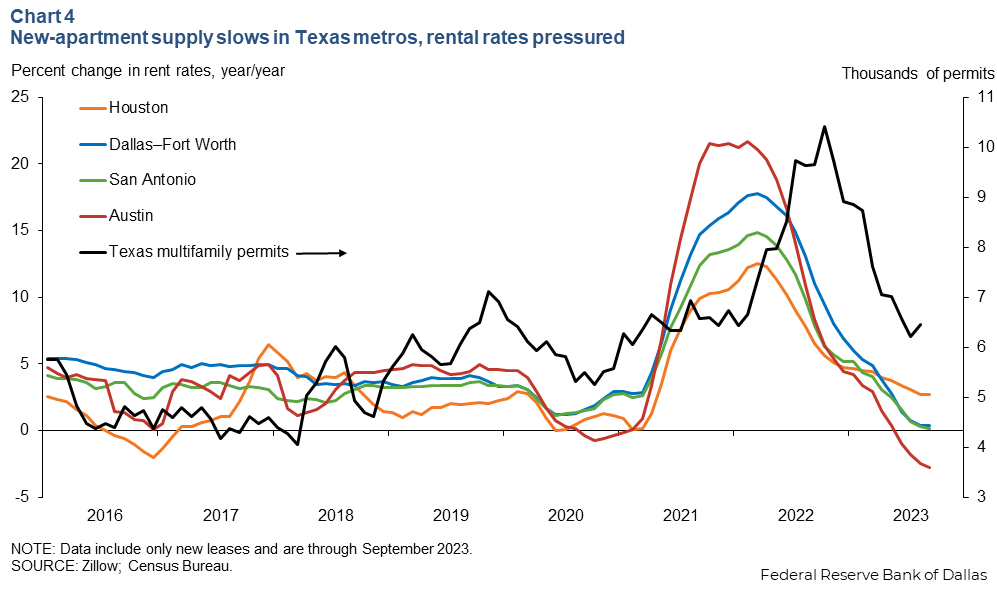 Industry contacts in the multifamily sector note falling occupancy not only among Class A and B apartments—typically newer apartments with more generous amenities that directly compete with new supply—but also among the more-affordable Class C and D apartments. Industry commentary attributes the bleed of tenants to renters doubling up (moving in together as roommates to save rent) and younger renters exiting the market and moving home, and in some cases, exiting to single-family home rentals.
Multifamily building construction permits soared in 2022. After peaking in October 2022 at 10,420 units permitted (a five-month moving average), new multifamily construction permits in Texas fell to 6,447 units—on par with prepandemic levels. Now, as apartment buildings permitted during the past three years come to market over the next three years, they are expected to put continued downward pressure on apartment occupancy and rent rates.
Rent rate growth turned sluggish across most Texas markets by September 2023. San Antonio and Dallas–Fort Worth were treading water year over year. Houston rents were up 2.7 percent, while Austin rental rates fell 2.8 percent year over year, albeit from high levels.
The Texas existing single-family home sales and prices are softening due to slim inventories and high mortgage rates. CoreLogic's repeat sales home-price index for Texas—a measure that controls for changes in market composition—fell 1.6 percent over the three months ended in August (Chart 5). The decline compared with a 7.1 percent increase nationwide.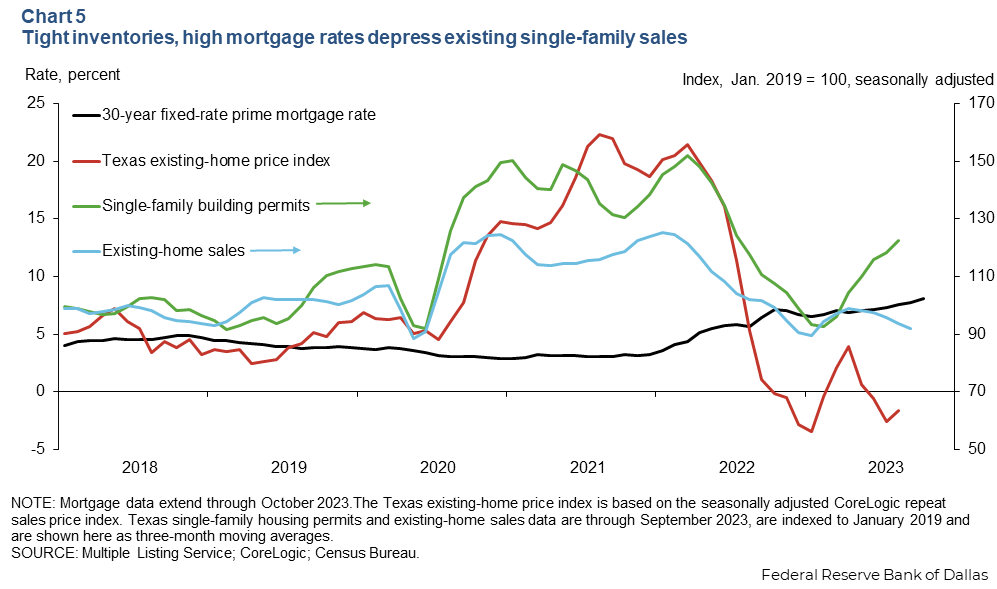 The discrepancy between Texas and U.S. house price trends is partly due to the relative ease of the homebuilding process in Texas. Permits for single-family housing construction are rising. In fact, new-home sales are up 20 percent this year and now account for nearly 22 percent of all sales in Texas—double the historical share—according to the Texas A∓M Real Estate Center. To enable these sales, builders are buying down interest rates and offering other financing incentives that are often unavailable in the existing-home market.
About the authors
The views expressed are those of the authors and should not be attributed to the Federal Reserve Bank of Dallas or the Federal Reserve System.