Regional
Texas Economy Improves Despite Lagging Sectors as COVID-19 Cases Decline
Texas economic growth has picked up with the decline of new COVID-19 cases since July. Still, pockets of deep distress persist in parts of the services, retail and transportation sectors as well as in the energy industry.
Continued growth is projected for the rest of the year, but it may be somewhat restrained by the expiration of federal stimulus programs and election uncertainty. Small-business closures may accelerate if the economy doesn't strengthen sufficiently.
Risks to the outlook are to the downside and include a possible resurgence of the virus and sustained lower oil prices. Early arrival of a safe and effective COVID-19 vaccine would be a game changer, although it would take time for broad dissemination and administration.
COVID-19 Cases Trending Down
By mid-September, new coronavirus cases had dropped 57 percent in Texas from their July high, and hospitalizations had fallen 70 percent. Consumers have regained some confidence and are slowly and increasingly leaving home for shopping, work and travel. However, mobility remains depressed relative to prepandemic levels, as is evident in the Texas Mobility and Engagement Index, which is up from its July low but still far below the January level (Chart 1). Additionally, Texas mobility remains below the U.S. average, although the gap has narrowed.
The Texas economy usually grows faster than the national economy. However, the virus' surge in Texas in June and July—as COVID-19 cases simultaneously declined in the Northeast and elsewhere—caused the state to underperform the nation over the summer and led to Texas job growth falling short of the U.S. average in June, July and August (Chart 2). The Texas Weekly Employment Estimate, a timely indicator of job growth based on high-frequency data, suggests September job growth will come in above the August pace.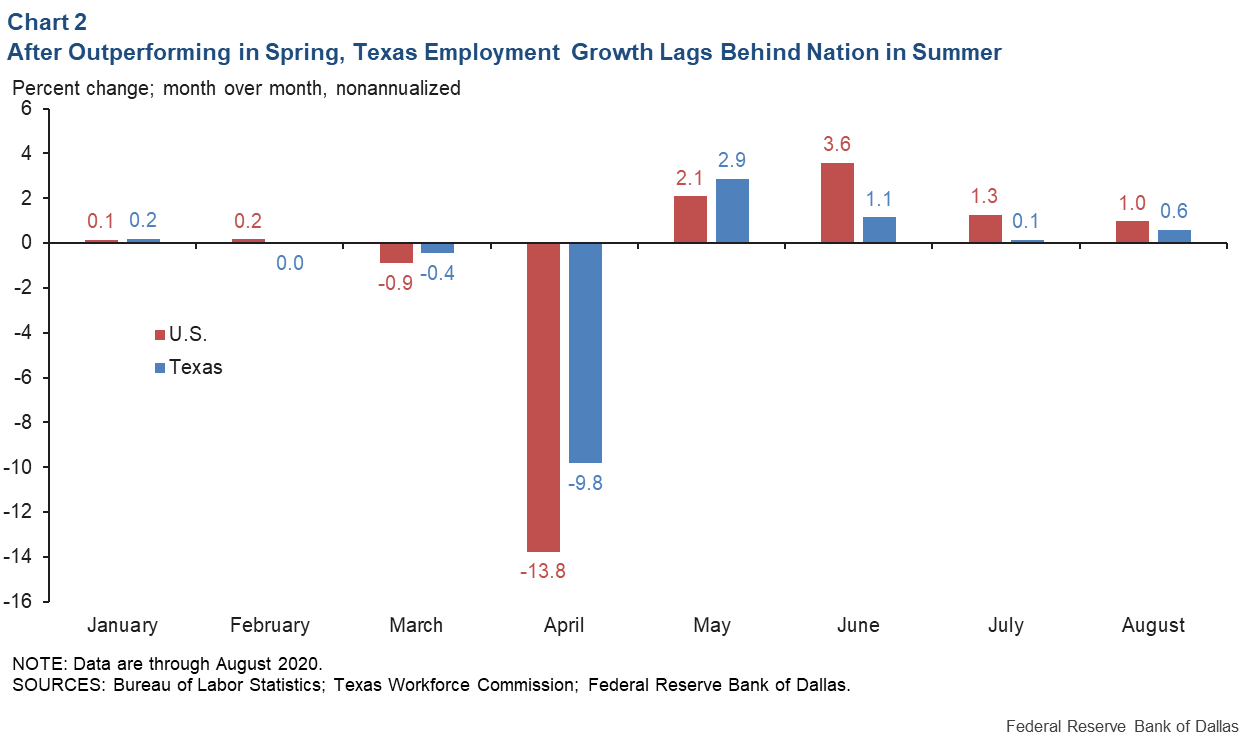 Economy Improves in August, Though Gains Are Modest
There was broad, albeit modest, improvement in the state economy in August that included increasing economic activity, employment, consumer spending, and oil and gas drilling.
Economic activity grew in August in the manufacturing and the broad service sectors, although retailers continued to struggle and experienced lower sales, according to the Dallas Fed's Texas Business Outlook Surveys (TBOS).
The service sector change was particularly noteworthy. While services revenue growth was barely positive, there were other signs of improvement in both current and forward-looking indexes, including large increases in the measures for general business activity, company outlook and future revenue (Chart 3). Selling prices rose for the first time since February.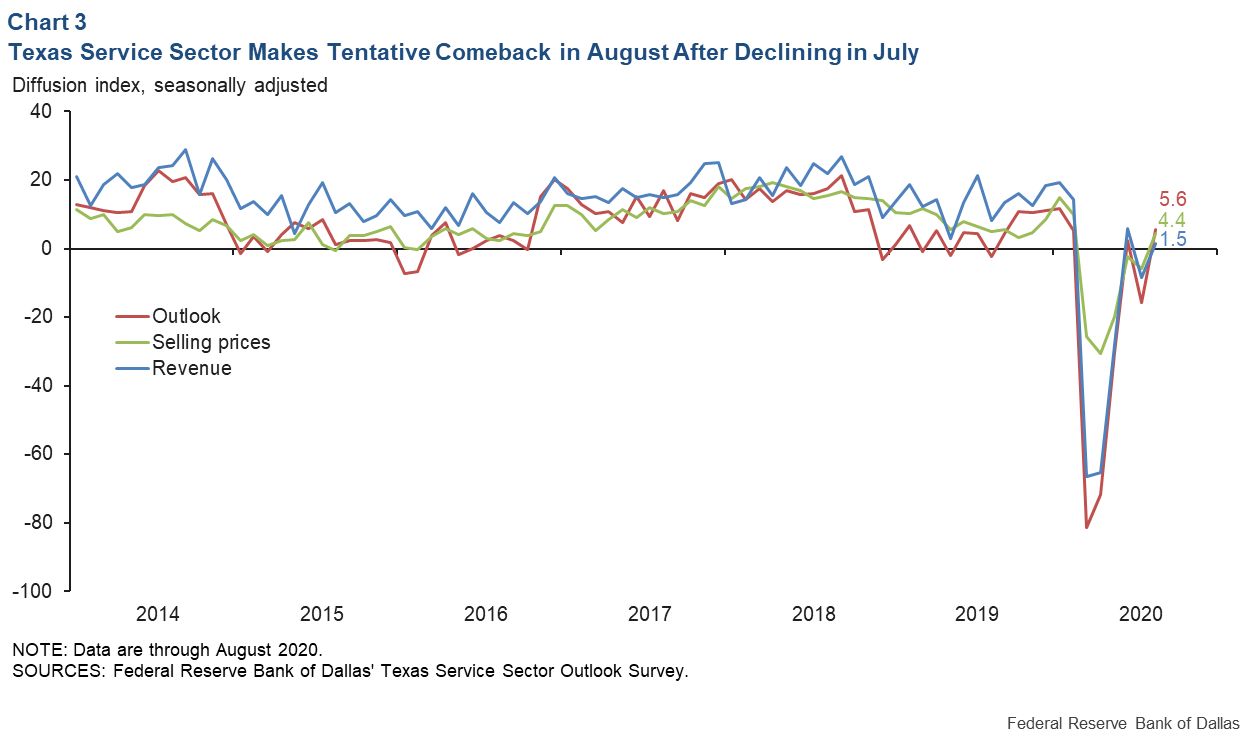 Texas Labor Markets Slow to Recover
Given the depth of the downturn in the spring and resurgence of the virus in the summer, claims for jobless benefits have only slowly improved. Initial and continuing jobless claims generally have trended lower in Texas since mid-July. Ranked against other large states, Texas still has relatively fewer jobless claims per worker, though 975,000 Texans remain unemployed.
While the official headline unemployment rate fell to 6.8 percent in Texas in August, some groups have substantially higher unemployment rates, notably Blacks and Hispanics. In July, Dallas Fed calculations using household survey micro data indicated that the Black unemployment rate was 15.8 percent, followed by the Hispanic rate at 8.9 percent and white rate at 8.0 percent. Patterns of unemployment by race and ethnicity are similar nationally with the exception of Hispanics, whose unemployment rate in Texas is much lower than in the U.S. overall.
Consumer Spending Holding Steady
Despite the disproportionate impact of the pandemic on minority and low-income families, data on credit card transactions from Affinity Solutions, a marketing data aggregator, show spending in Texas rising in August, surpassing the January (prepandemic) high for the first time. Encouragingly, spending rose the most in mid- and low-income ZIP codes, according to tracktherecovery.org, an economic tracking and data website maintained by Harvard and Brown universities and the Bill and Melinda Gates Foundation.
Other positive indications of Texas consumer activity include rent payments, which remain mostly on time. August rent payments in Texas metros came in 1.8 percentage points lower than in August 2019, falling from 96.6 percent to 94.8 percent, according to RealPage, a real estate software and data analytics company. Consumers are also still making other payments, including loans, though there was a rise in serious delinquency rates on credit cards in the spring.
However, while the data are holding up so far, there are several reasons for concern, particularly the expiration of federal pandemic unemployment benefits. A $600 weekly federal supplement expired at the end of July, and a follow-up temporary $300 benefit expired at the beginning of September. Without additional unemployment benefits or fiscal stimulus payments, some families will struggle to meet financial obligations this fall.
Outlook Uncertain for Small Businesses
In addition to households, many businesses face heightened economic distress and uncertainty. Over two-thirds of Texas businesses responding to the most recent TBOS cited shortfalls in revenue that averaged 30 percent in August. While this was an improvement from July, when three-quarters of firms reported revenue shortfalls, this is still a sizable negative impact that many small businesses may not survive.
Data from Womply, which provides commercial platforms and analytics for small businesses and whose data are available on tracktherecovery.org, suggest business closures in Texas (and the nation) have accelerated since July. About 20 percent fewer businesses are open compared with the beginning of the year (Chart 4).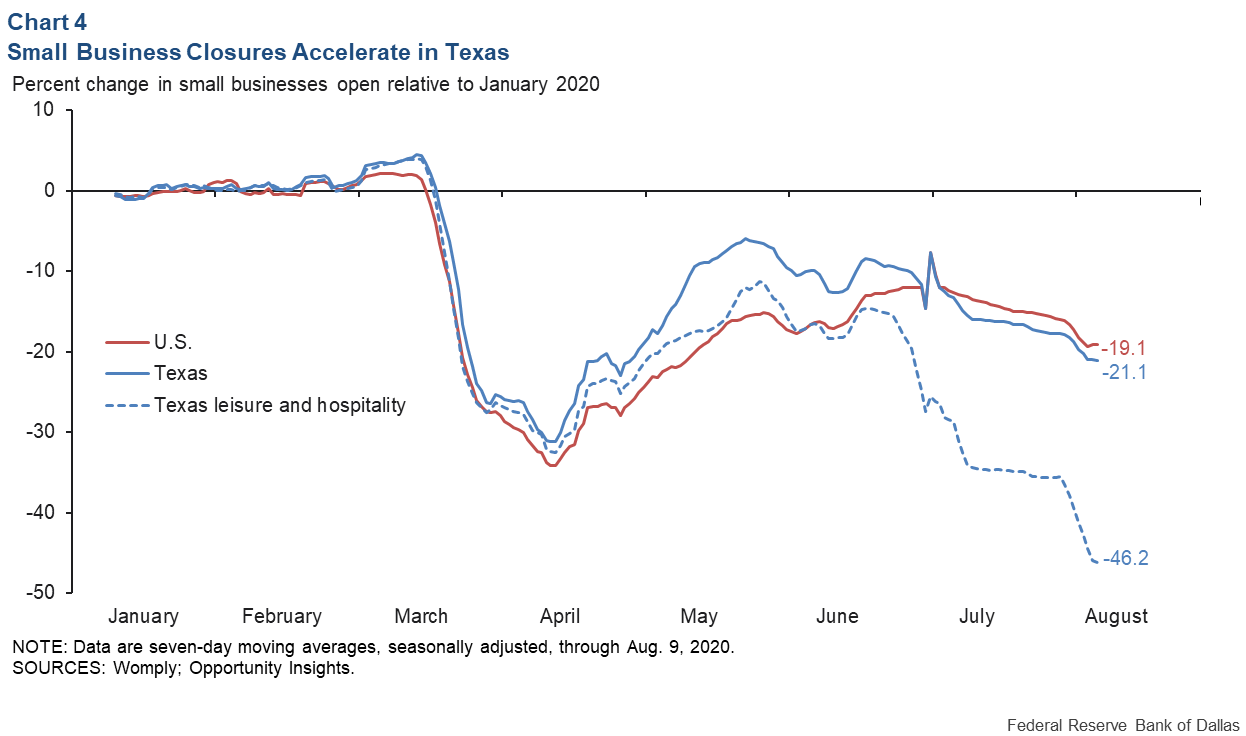 The average effect masks much larger declines in certain sectors, such as leisure and hospitality, where the Womply data suggest almost half of businesses tracked have closed in Texas since the pandemic began. Along with hotel, restaurant and retail businesses, layoffs have been announced in the energy and airline industries—both with outsized representation in Texas.
The Dallas Fed employment forecast for Texas indicates a 4.8 percent decline in 2020 on a December-over-December basis. Job growth is anticipated to average an annualized 3.0 percent in the last four months of the year, faster than the state's long-run average growth rate but insufficient to make up for steep job losses earlier in the year.
About the Authors
The views expressed are those of the authors and should not be attributed to the Federal Reserve Bank of Dallas or the Federal Reserve System.