Regional
Texas economy soft in January, but outlook optimistic for later in 2021
Regional economic conditions appeared to deteriorate in January after picking up at year-end, data show. Nonetheless, there is optimism regarding the outlook for growth later this year. Federal stimulus payments, paycheck protection program loans and greater COVID-19 vaccination availability are supportive of expansion later in 2021.
Results from the Federal Reserve Bank of Dallas' Texas Business Outlook Surveys (TBOS) show that output growth largely stalled in January in the manufacturing and service sectors, with indexes signaling little change in output from December (Chart 1).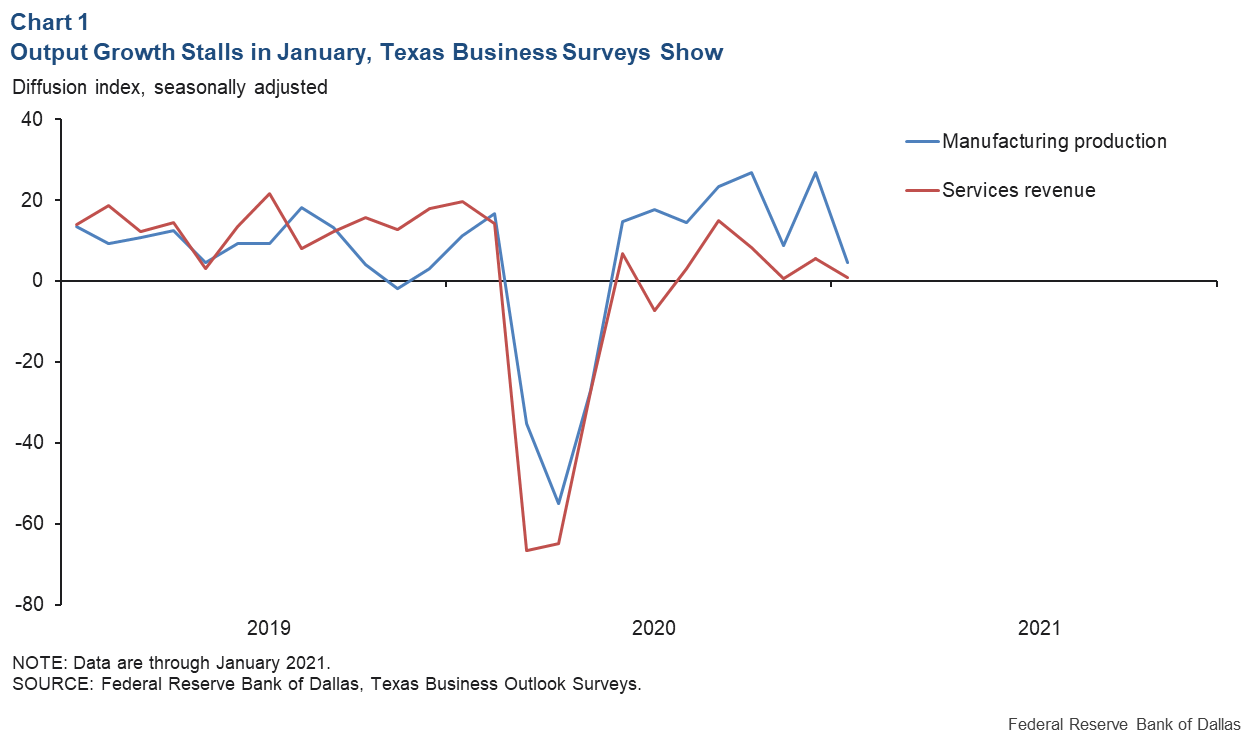 Service sector revenues were flat overall in January, with some high-contact industries such as transportation and accommodation and food services experiencing declines. Survey respondents said rising COVID-19 cases restrained activity.
While the Texas Manufacturing Outlook Survey surprised to the upside in December, production and demand growth decelerated sharply in January. The raw materials prices index reached an almost 10-year high, and some contacts noted supply-chain constraints.
High-frequency indicators reflect virus activity
High-frequency indicators, which present a snapshot of ongoing conditions, were downbeat in January. The pandemic accelerated faster in Texas than in the U.S. in December and early January, with the state reaching new highs for daily new COVID-19 infections and deaths in mid-January. Hospitalizations per capita were more than 20 percent higher in Texas than in the U.S.
The seven-day average of new daily COVID-19 cases in Texas hovered around 20,000 in the first three weeks of January, nearly double the previous peak in July. While new cases and hospitalizations began ebbing in late January, average daily COVID-19 deaths rose and surpassed 300 as of mid-January.
Despite the pandemic's severity, the Texas Mobility and Engagement Index exceeds that of the U.S. (Chart 2). However, the Texas reading is lower in January than it was in December (exclusive of holiday-impacted periods).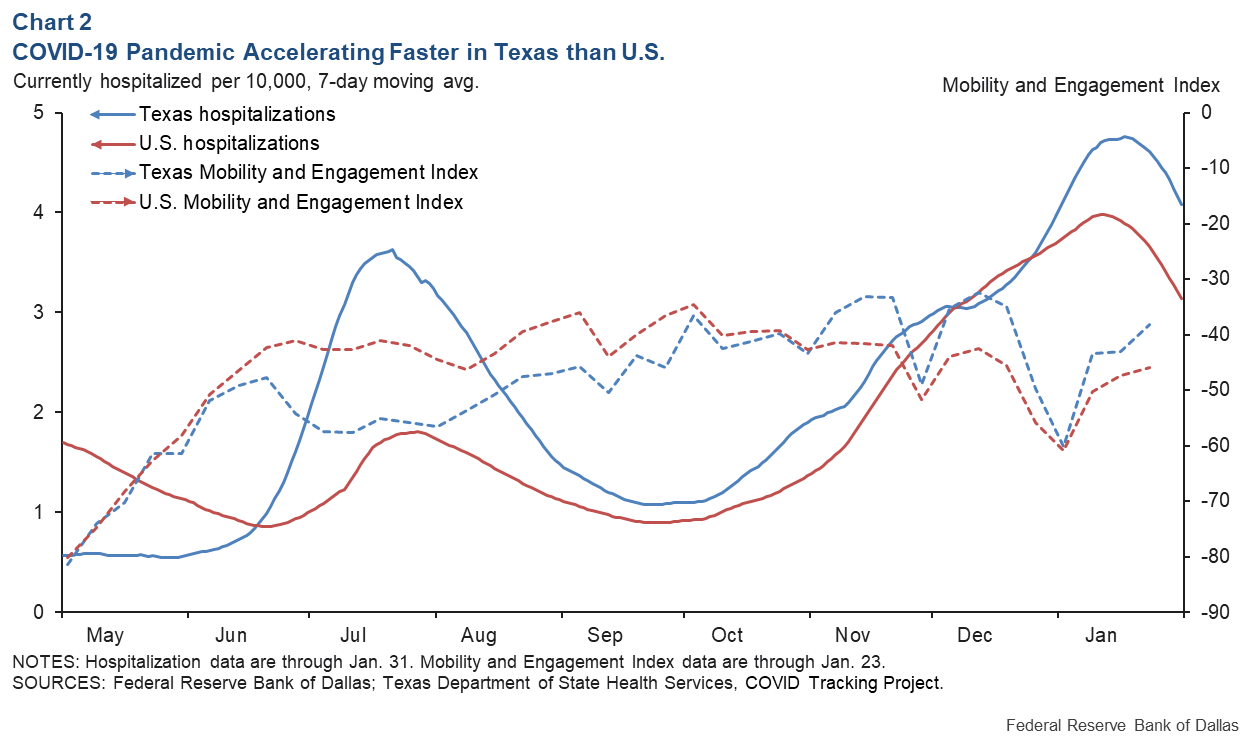 TBOS respondents expect revenues, head counts to improve
A majority of firms expected business revenues to return to pre-COVID-19 levels by year-end, according to TBOS. Despite the economic recovery that began in June, roughly 60 percent of all firms reported that their revenues as of January remained below what they were before the outbreak. When this group was asked when they expect revenues to return to prepandemic levels, 30 percent said within six months and 63 percent said within a year (Chart 3). There was some variance by sector, with manufacturers slightly more bullish than services firms.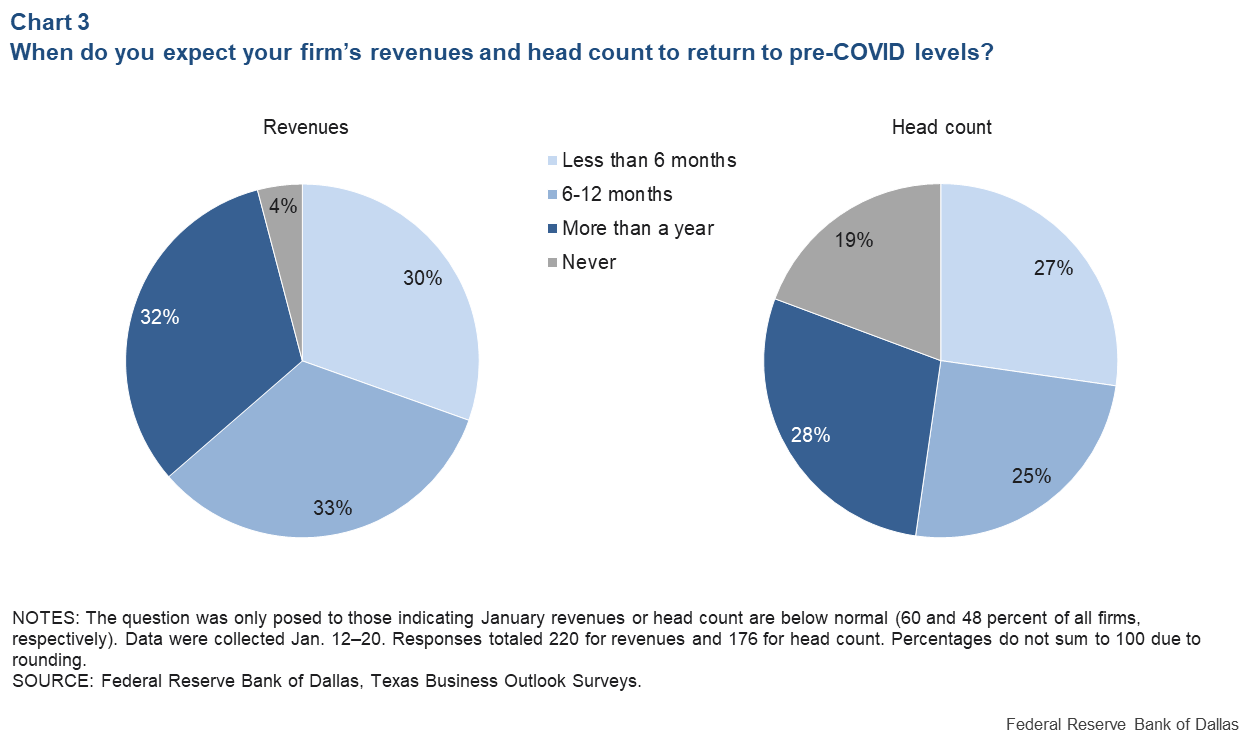 Services firms in January's TBOS cited surging COVID-19 cases and political unrest as headwinds. Additionally, among the 48 percent of TBOS firms reporting reduced head counts, 19 percent said they do not expect personnel levels to return to pre-COVID levels even though the vast majority anticipate an eventual full revenue recovery, as seen in Chart 3. Upon follow-up, those respondents expecting to maintain lower head counts pointed to increased efficiency and productivity, or streamlining due to technology adoption. A couple of respondents reported they were overstaffed before the pandemic.
Other sectors see continued growth
Texas export growth moderated in the fourth quarter after expanding strongly in the prior three months. Declining oil and gas exports drove the deceleration. The value of manufacturing exports continued its steady rise, and agriculture exports surged—a combination of robust global demand and dramatically higher crop prices.
Bankers are optimistic about the second half of 2021, according to the Dallas Fed Banking Conditions Survey. Total loan volume increased in December as declines in consumer loans and commercial and industrial loans were offset by increases in residential and commercial real estate loans.
Nonperforming loans rose, though at a markedly slower rate than in mid-2020. Loan pricing continued to decrease, and some contacts voiced concern about margin compression. While sentiment about current general business activity was mixed, nearly 70 percent of respondents expect an increase in business activity six months from now.
The Texas housing market remains strong, with home sales and building permits at very high levels. Home price appreciation has accelerated, and the homebuilding pipeline remains full amid strong demand.
Apartment demand surprised to the upside in the fourth quarter after weakening earlier in 2020, with absorptions exceeding typical fourth-quarter numbers. However, elevated supply continues to pressure occupancy and rents downward. On the nonresidential side, industrial space remains a star.
Demand is elevated for warehouse and e-commerce/logistics space. The office market continues to weaken, but vacancy rates are expected to stabilize in the second half of 2021.
Energy sector stronger but below year-ago levels
The rebound in the Federal Reserve's Eleventh District energy sector solidified further, though the level of activity remained well below year-ago levels. Headline activity indexes in our Energy Survey turned positive in the fourth quarter after a year and a half in contractionary territory. Oil prices and rig counts pushed higher in the latest data.
Price expectations for year-end 2021 average $50 per barrel, slightly above the average breakeven level for drilling new wells. Outlooks improved notably, and capital expenditures are anticipated to increase.
About the Authors
The views expressed are those of the authors and should not be attributed to the Federal Reserve Bank of Dallas or the Federal Reserve System.