Regional
Delta Surge Disrupts Texas Firms Less than Earlier COVID-19 Waves, Dallas Fed Surveys Say
November 16, 2021
The overall impact on business of the summer and fall wave of the COVID-19 virus infection—largely caused by the highly contagious Delta variant—was more muted than initial surges because firms were better prepared and demand didn't plunge as it did before, according to respondents to the Dallas Fed's Texas Business Outlook Surveys (TBOS).
There were, however, particular impacts of the Delta variant, notably greater employee absenteeism at a time of acute labor shortages.
State Confronts Multiple Surges of Virus Cases
Texas has faced multiple waves of COVID-19 since initial observations of the virus became widespread in March 2020 (Chart 1). With the onset of the virus, infection rates were relatively low in Texas relative to harder-hit areas of the nation, such as the Northeast. Cases in the state steeply rose in summer 2020.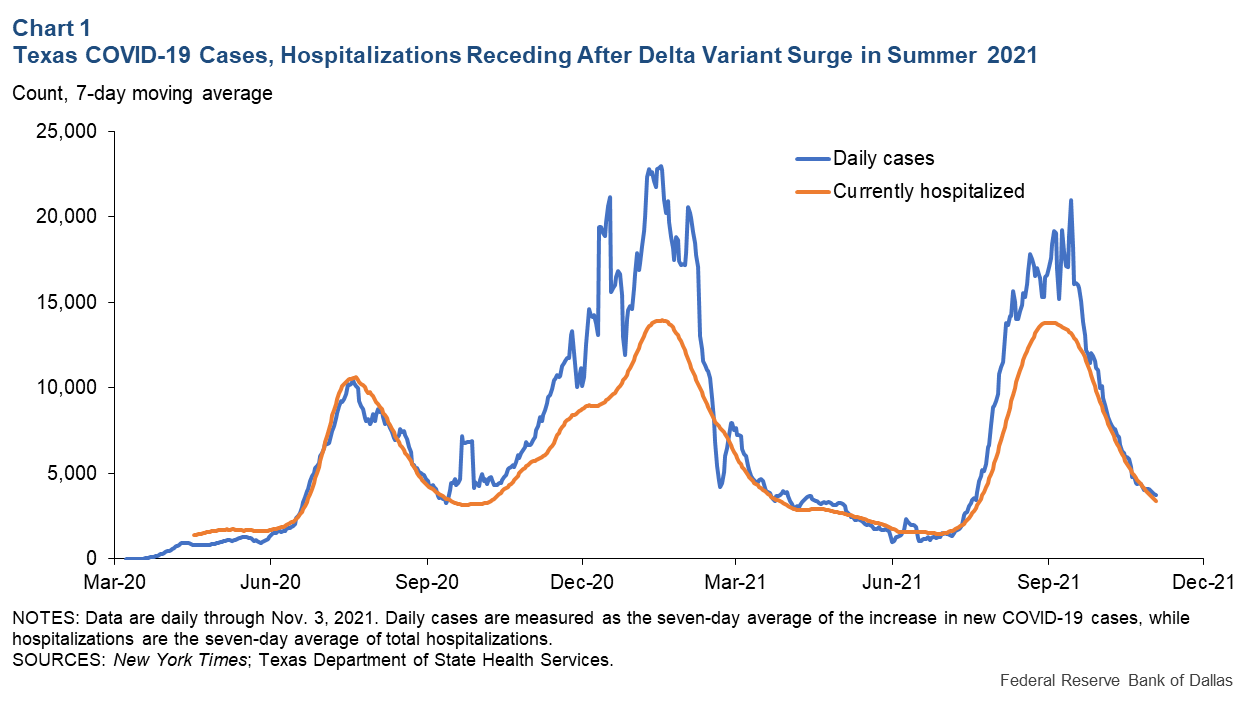 While this initial wave had receded by early September 2020, a renewed and prolonged surge began last fall, with record infection levels, hospitalizations and deaths that peaked in January 2021. As COVID-19 vaccines became available—initially to high-risk groups and later to the general adult public—the winter surge gave way in June to the state's lowest infection rates since the pandemic's onset.
The relief was fleeting as the more-infectious Delta variant arrived, spurring a new surge that peaked in September, reaching infection, hospitalization and death levels nearly as great as those of the winter surge.
Infections Spike; Firms More Resilient
Yet, the recent wave generated a less-intense economic impact, particularly regarding production and revenue (Chart 2).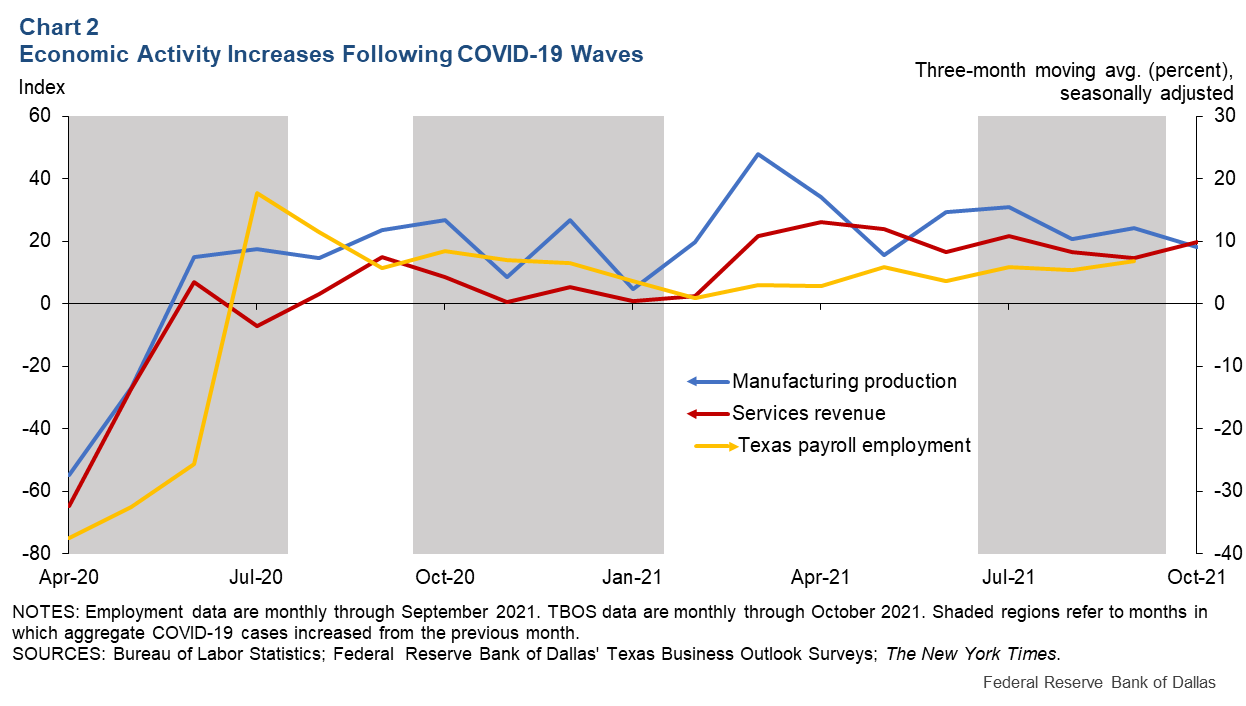 When the pandemic first struck, a combination of shelter-in-place restrictions and self-imposed reductions in mobility and engagement led to a sudden, steep and broad-based decline in economic activity and employment. In May 2020, more than 80 percent of firms responding to TBOS noted a revenue decline of 38 percent on average. High-contact industries faced the worst shocks—leisure and hospitality sector revenue plunged 62 percent on average, and revenue in the transportation sector fell 50 percent.
Following this initial impact in 2020, business stabilized rather quickly, albeit at lower-than-typical levels, only to sustain new blows from subsequent COVID-19 waves. As seen in Chart 2, surging cases affected the service sector and its high-contact businesses more intensely than manufacturing—an outcome of people opting to stay home and away from public places.
More recently, firms have encountered a much more subdued impact on operations than observed during past surges.
Respondents Indicate Less Demand Pullback, Greater Preparedness
August's TBOS posed an open-ended question: "How has this recent surge in COVID-19 cases affected your business differently than prior surges?" Among responding firms, a majority reported either no significant difference or a lesser impact.
Several firms pointed to a less-severe pullback in customer demand:
"… [It's] completely different in customer and employee reactions compared to March 2020." —Wholesaler
"It appears in the midst of this surge, life continues, versus in previous surges, life scaled back." —Auto dealer
"There is less uncertainty with this surge because there is more certainty that the surge will subside eventually. There is less fear in the market, so there is slightly more activity than with previous surges." —Investment firm
These sentiments were reiterated in the data from a survey question on factors hampering business. Fewer than a quarter of firms cited weak demand as a top three revenue restraint in August—substantially less than the 57 percent share in July 2020 amid the initial summer surge.
Additionally, some businesses—particularly those in previously hard-hit industries—said they are better prepared in the current environment. With much more information about how COVID-19 spreads and the availability of vaccines, firms indicated that they more easily handled the Delta variant effects:
"Increased knowledge of the virus and the availability of testing supplies and equipment have helped [us] deal with the current surge more effectively." —Doctor's office
"This year, we are more prepared than we were last year to take care of our customers." —Travel agent
Among firms with less optimism were those noting increased workforce issues. Because the Delta variant is more infectious, numerous firms reported seeing a greater number of positive cases among employees and their families, leading to higher absenteeism:
"There is more absenteeism due to Delta than we experienced with first and second waves." —Wholesaler
"Employee absenteeism increased due to family members testing positive for COVID. Employees quarantined for 10 to 14 days, impacting efficiency of operations." —Auto dealer
In fact, more than 30 percent of firms said in August that staffing shortages (infected personnel, quarantining, absenteeism and difficulty hiring) restrained their revenues. That is up 10 percentage points from the prior year, amid the summer 2020 surge.
Moving Beyond COVID-19's Immediate Impact
As Texas continues to recover from the impact of Delta, other factors appear poised to supplant COVID-19 and limit economic growth next year. Supply-chain shortages and extreme labor market tightness have restrained firms' ability to operate at full capacity and meet consumer demand.
Nevertheless, the state economy remains resilient. While the pace of job growth decelerated amid the Delta surge, it stayed above average and accelerated sharply in September as COVID cases plateaued. The Dallas Fed Texas Employment Forecast predicts robust job growth in the fourth quarter.
Other TBOS indicators point to elevated rates of hiring and generally optimistic outlooks, suggesting that the state economy is on course for a continued strong recovery next year.
About the Authors
The views expressed are those of the authors and should not be attributed to the Federal Reserve Bank of Dallas or the Federal Reserve System.