Regional
Texas Economy Grows Strongly Despite Mounting Supply-Chain Woes, Worker Shortages
December 23, 2021
The Texas economy remains strong despite supply-chain and worker shortages that have grown more intense, Federal Reserve Bank of Dallas survey results and data over the past several months suggest.
Respondents to the Texas Business Outlook Surveys in November expressed concern that rising costs and input and labor shortages were shrinking profit margins and restraining output, while both employment and output grew. Leading indicators show continued strong demand, and the Dallas Fed's 2022 job forecast anticipates growth will slow somewhat from an expected 5.3 percent in 2021, while remaining well above trend (about 2 percent).
State Employment Remains Strong
The Texas unemployment rate fell to 5.2 percent as payrolls increased an annualized 7.4 percent in November. The jobs growth was a marked pickup from the 4.5 percent increase in October and significantly above the nation's 1.7 percent gain. The November rise in jobs was broad based across industries, with most outperforming the national average (Chart 1).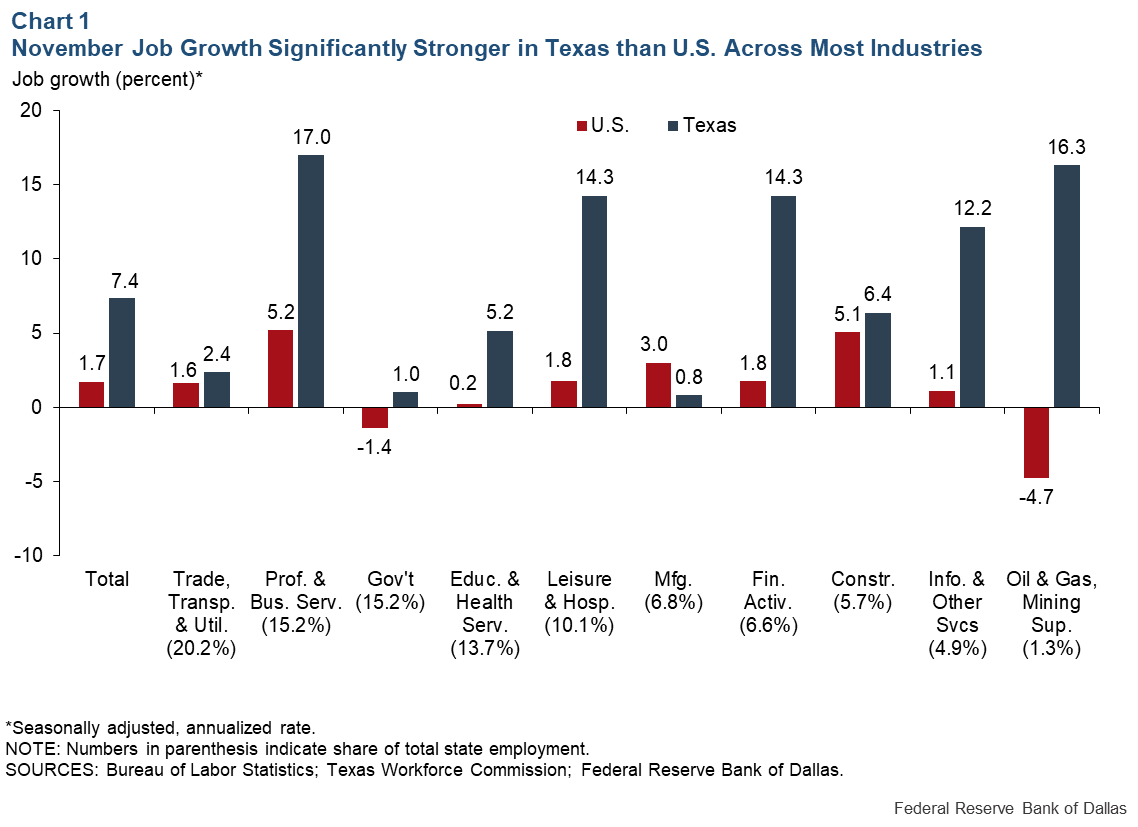 The strong job growth occurred even as Dallas Fed Texas Business Outlook Surveys (TBOS) respondents who were trying to hire workers noted increased difficulty doing so across all skill levels. Those reporting severe difficulty hiring for low-skill jobs increased noticeably from 55.9 percent in August to 61.7 in November. The percentage of respondents reporting difficulty hiring mid-skill workers increased from 46.7 percent to 52.2 percent during the period, and those who reported difficulty hiring high-skill workers increased from 52.6 percent to 53.2 percent.
Tightness in the labor market continued to push up wages in both services and manufacturing (Chart 2).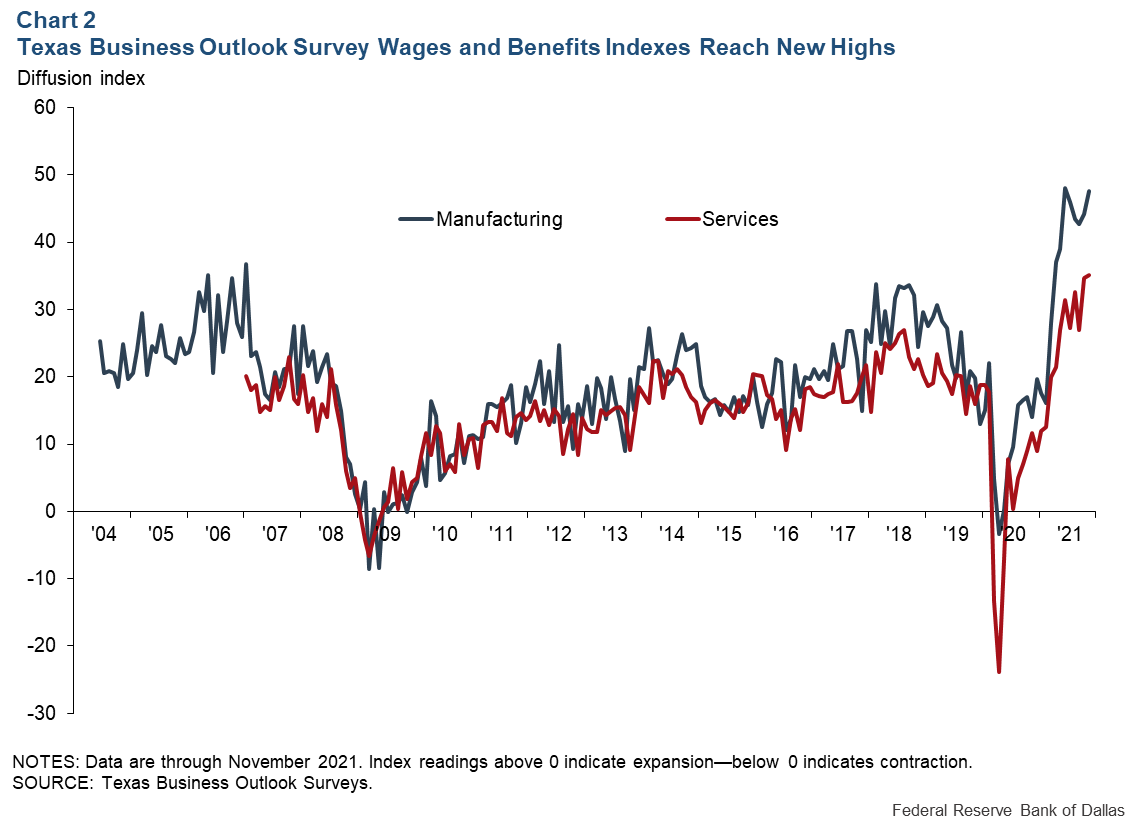 The manufacturing sector's wages and benefits diffusion index increased 3.5 points to 47.6, the second-highest reading since the Dallas Fed began collecting such data in 2004. The services' index reading increased to an all-time high of 35.1. A reading above 0 indicates expansion relative to the previous survey period—below 0 indicates contraction.
When respondents in November were asked about the extent to which they have raised wages over the past 12 months, more than half reported increasing pay 4 percent or more. In particular, sizeable shares reported wage increases of 12 percent or more—22 percent for low-skill workers, 18 percent for mid-skill workers and 16 percent for high-skill workers.
Supply-Chain Problems Worsen
Of 356 survey participants in the TBOS special questions survey, 69.7 percent reported supply-chain disruptions or delays, a 5.2 percentage-point increase from September 2021 and a 34.2 percentage-point rise from February 2021. The disruptions were broad based and most severe for manufacturers and retailers; 92.5 percent of manufacturing respondents and 93.0 percent of retail respondents reported such issues (Chart 3).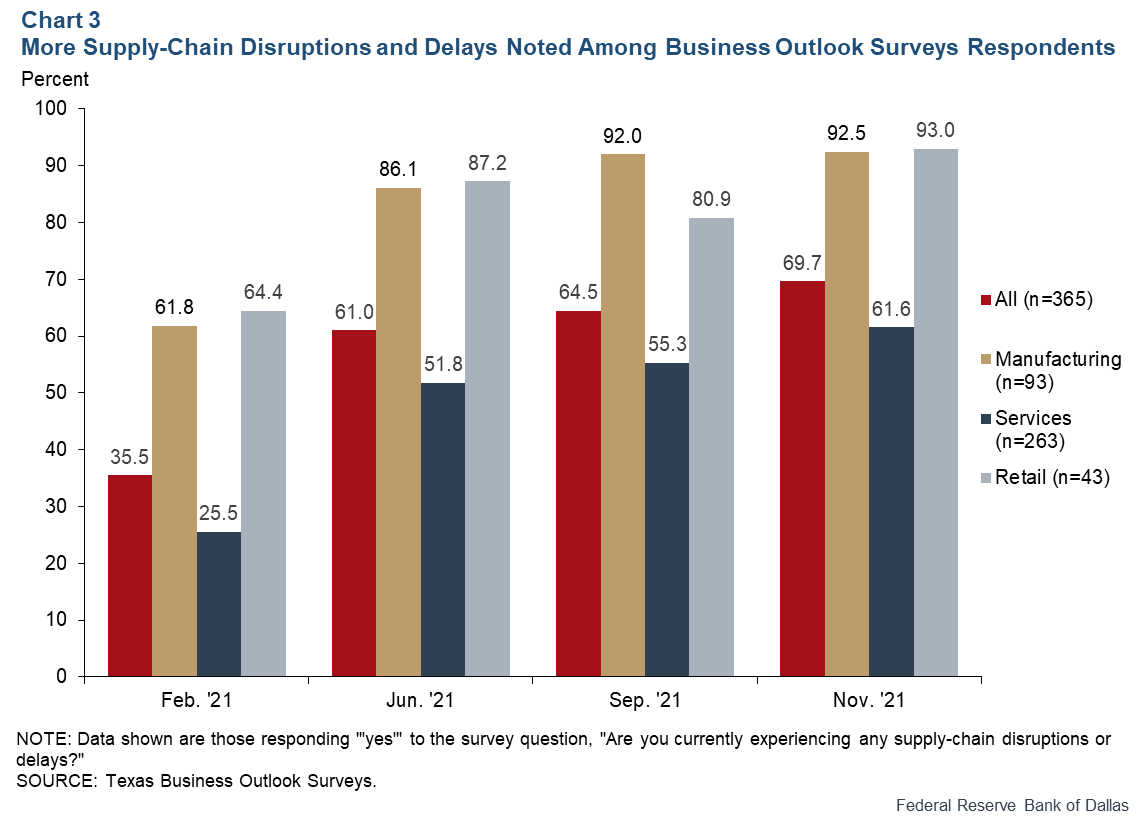 A little more than half who said they experienced supply-chain woes in November indicated that they worsened over the past month, while 19.1 percent reported improvement, and 29.3 said they experienced no change. A quarter expect their supply chain to return to normal in more than a year, while two-thirds anticipate that within four to 12 months.
Manufacturing, Service Sector Activities Accelerate in November
Despite widespread supply-chain disruptions and difficulty finding workers, the pace of expansion in the Texas manufacturing sector increased in November. The production index, a key measure of state manufacturing conditions, rose nine points to 27.4, indicative of robust output growth.
The new-orders index rose five points from October to 19.6 in November, and the capacity utilization index increased almost seven points to 26.4. Labor market measures also indicated strong employment growth and longer workweeks; the employment index inched up to a seven-month high of 28.5, while the hours worked index remained elevated though steady at 19.6.
Cost pressures escalated further, with a historically high net percentage of respondents reporting higher input prices in both manufacturing and services; final-product prices grew at near-historical rates (Chart 4).
The Texas service sector's pace of growth also picked up in November. The revenue index, a key measure of service sector conditions, increased from 19.6 in October to 25.4 in November. Measures of service sector labor market conditions indicated continued growth in hiring and hours worked.
Wage and pricing pressures persisted in November. The input prices index rose from 47.0 to 51.8—the highest since the survey data collection began in January 2007—and the selling prices index climbed seven points to a record high of 29.7. Nevertheless, sentiment regarding current and future business conditions suggests increased optimism compared with October.
Outlook Positive for Year-End, 2022
Continued growth in the national economy, strong increases in Texas leading indicators and high oil futures prices suggest continued strong job growth for the remainder of the year and into 2022. While the impact of the Omicron variant of COVID-19 remains unclear, the growing percentage of the population that is vaccinated and improved treatments suggest that while future infection waves will remain important, they will likely have more muted economic impact.
About the Authors
The views expressed are those of the authors and should not be attributed to the Federal Reserve Bank of Dallas or the Federal Reserve System.