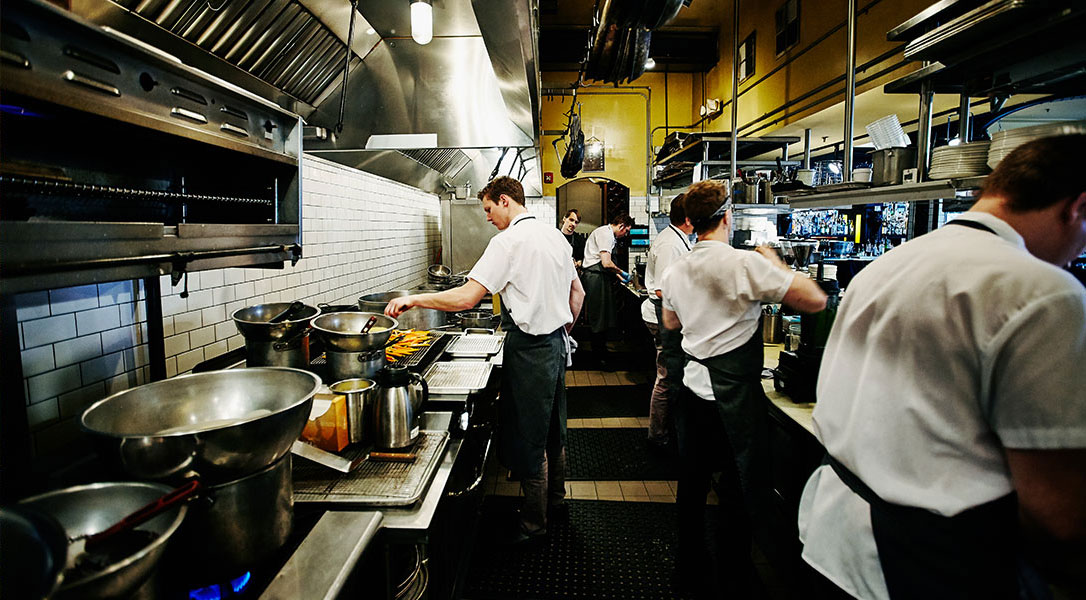 Economic outlook weakens as job growth, inflation slow
The Texas economy is continuing to slow during the fourth quarter, with labor demand and manufacturing output softening and wage and price pressures easing.
There is also evidence that Texas payroll job growth this year has been overestimated and may not reach its 2.0 percent long-term trend rate in 2023. Texas employment growth fell to 3.5 percent in the fourth quarter through November from 4.0 percent in the third quarter. By comparison, employment nationally expanded 2.2 percent during the latest period (Chart 1).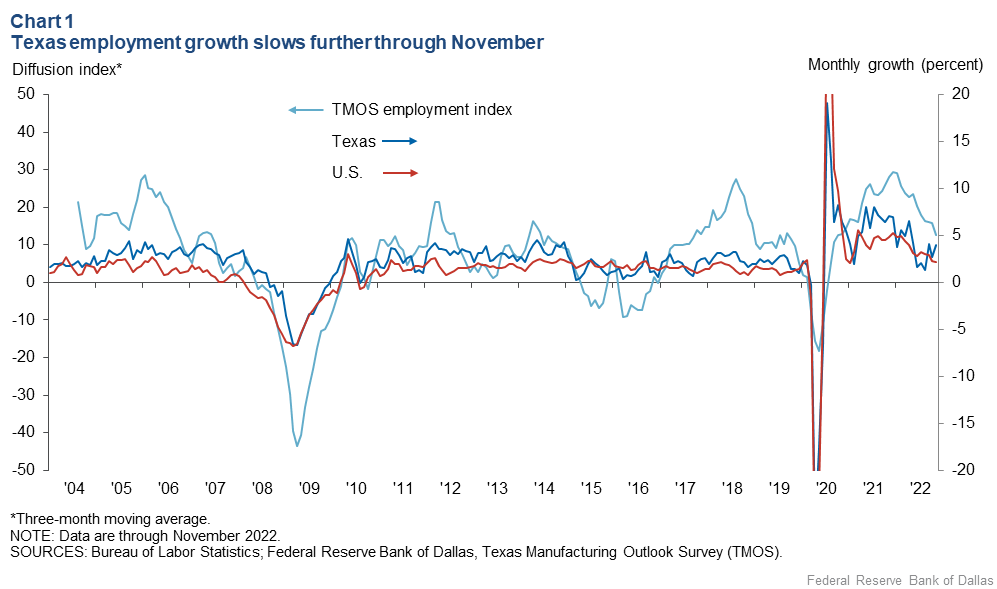 Despite slowing in Texas, the recent-period job gains appear broad based, led by acceleration in oil and gas employment. Professional and business services, and leisure and hospitality also notably advanced.
Additionally, Texas Business Outlook Surveys (TBOS) data suggest slowing employment gains, with the employment index declining for the six months through November. The index—calculated by subtracting the percentage of respondents reporting a decrease from the percentage reporting an increase—remains positive but still signals slowing hiring activity.
A revision to job estimates (known as benchmarking) in the first half of 2022 suggests that Texas job growth has been slower than previously reported. Every quarter, with the release of the Bureau of Labor Statistics' Quarterly Census of Employment and Wages (QCEW), the Dallas Fed uses the comprehensive dataset to benchmark state payroll survey figures. This ensures that the much smaller local payroll survey correctly mirrors employment growth in the broader economy.
In the second quarter, the benchmark revision resulted in a downward revision of quarterly growth from 6.3 to 1.6 percent, shaving 1.2 percentage points off year-to-date job growth through October.
Despite the slowing monthly expansion and large downward revisions to the second-quarter data, employment growth remains above the 2.0 percent trend rate. It is approaching more usual rates of growth after a period of very rapid gains that followed the 2020 pandemic recession.
Statewide unemployment was unchanged at 4.0 percent in November—above the national rate of 3.7 percent. Texas average hourly earnings in November were up 3.7 percent from November 2021.
Manufacturing, service sector activity slows
Texas Business Outlook Surveys show still-easing economic activity in November. The manufacturing production index declined significantly to near zero, its weakest reading since May 2020. It is a key indicator of an economic slowdown moving into 2023.
New-order volume has fallen for six consecutive months. Such a pattern of declines has occurred just twice since the survey's inception in 2004: during the Great Recession and during the 2015–16 oil bust (Chart 2). Other Federal Reserve regional bank surveys tell a similar tale of slowing manufacturing activity in 2022—the Kansas City, Philadelphia and Richmond Feds have all reported softness in new orders over the past half-year.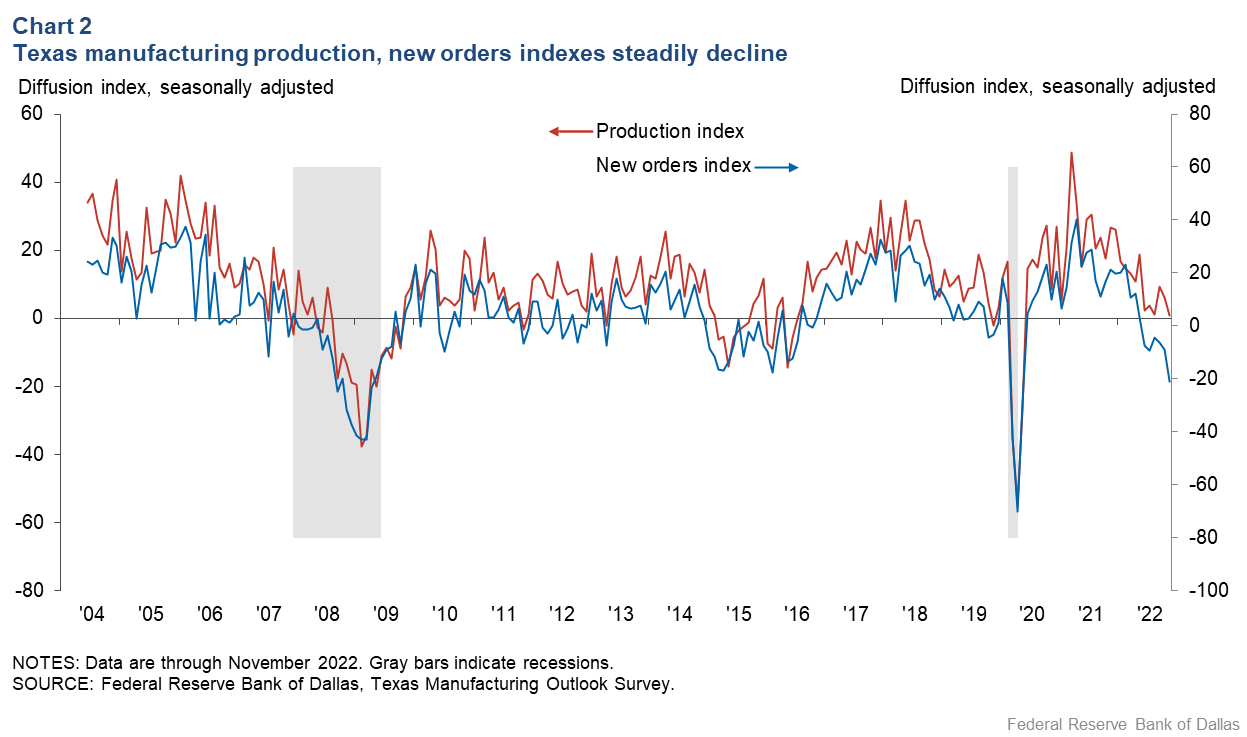 Texas Service Sector Outlook Survey data similarly weakened, with the revenue index slipping further below its long-term average in November. Additionally, perceptions of broader business conditions dimmed, with respondent companies remaining generally pessimistic in their outlooks.
The manufacturing production and service sector revenue indexes have trended lower since March, though still indicating growth. If this pattern continues, the two indexes may turn negative, suggesting contraction.
Price, wage growth ease further
Price and wage pressures have eased in recent months, although they remain elevated. TBOS manufacturing contacts reported slowing input cost growth in November, while service companies noted stable costs. At the same time, selling price growth fell among manufacturers and services firms, implying that a firm's ability to pass through costs has likely deteriorated (Chart 3). Wage pressures eased as well.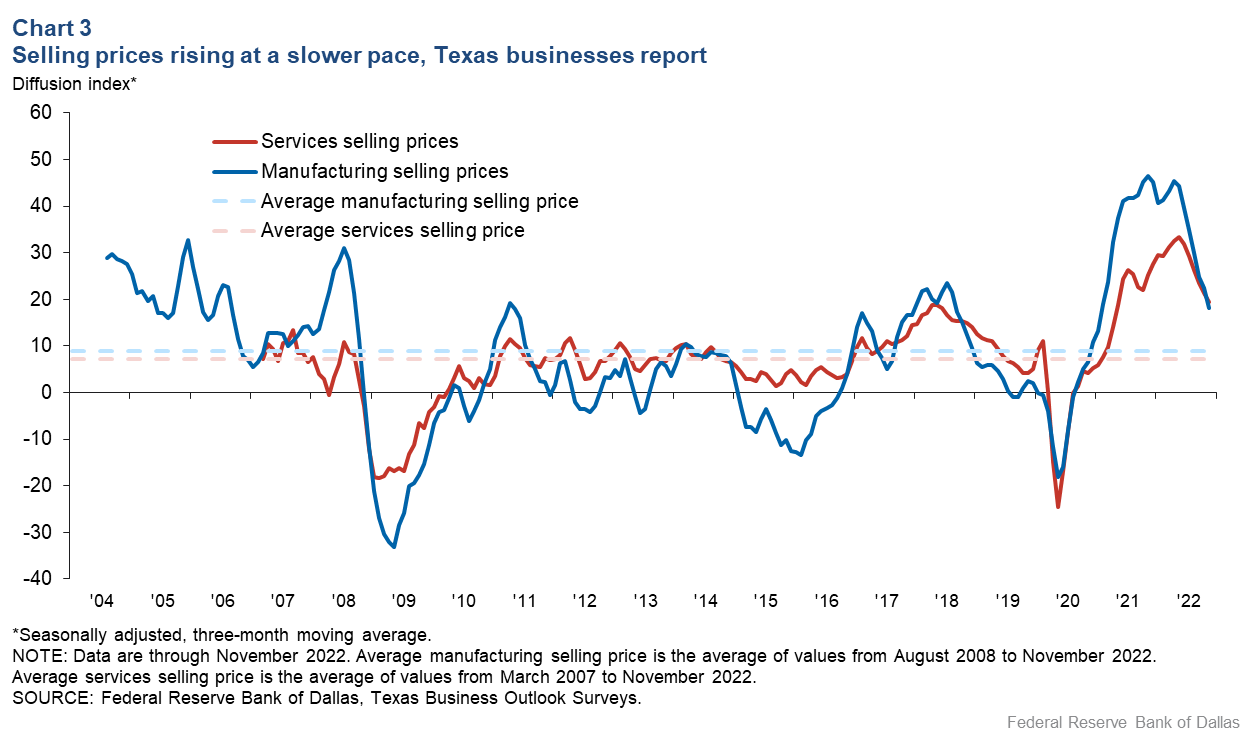 Availability of job applicants, while still a concern, has improved compared with earlier in the year, according to TBOS special question respondents in October. This may be contributing to lower manufacturing and service sector wage growth. A plurality of contacts said prices are still rising, though at a slowing rate that remains above average.
Firms expect narrowing margins in the next six months
TBOS respondents were queried in November about operating costs and operating margins, with slimmer margins expected going into 2023. The most pessimistic sectors were retail (55.4 percent expect falling margins) and education and health (50.0 percent).
Conversely, 53.8 percent of transportation services contacts and 43.6 percent of professional and business services contacts anticipated rising margins (Chart 4). Longer-standing contracts could account for the sectoral differences. As businesses negotiate new agreements in the coming year, these sectors may recoup cost increases.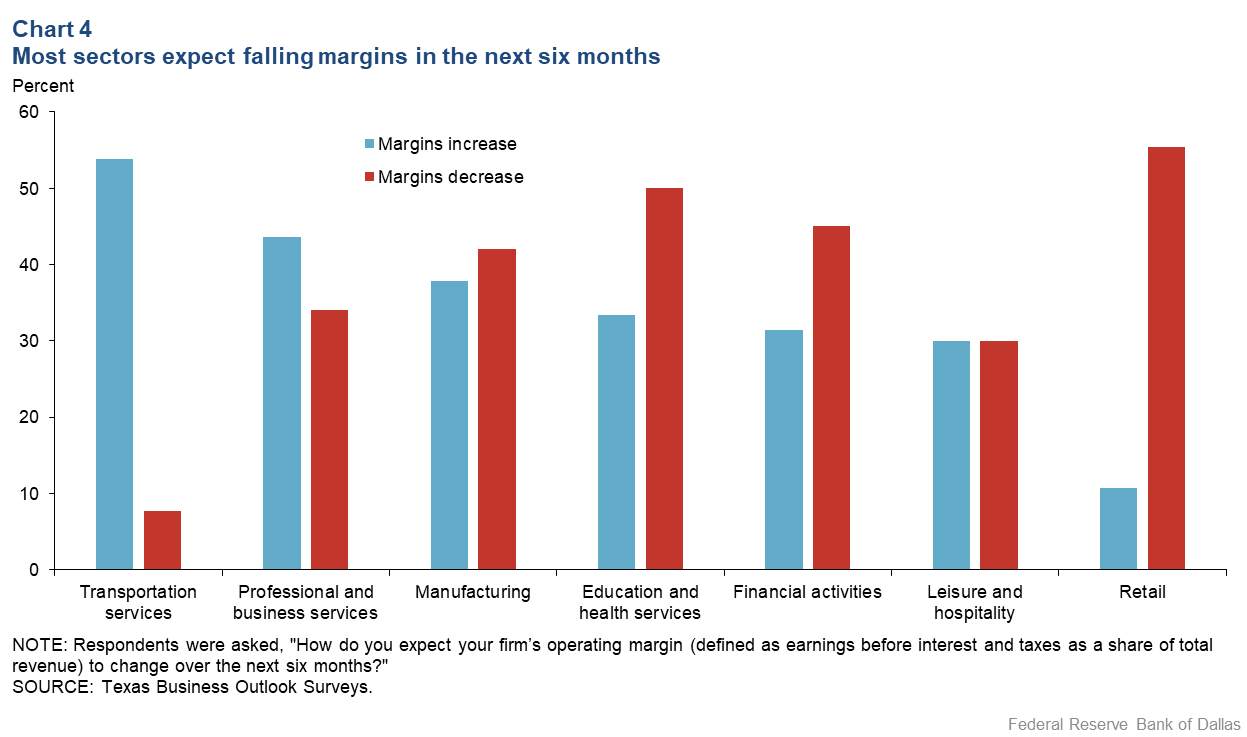 Consumers also appear more resistant to price increases, respondents indicated. The leisure and hospitality and retail sectors have been especially affected, resulting in narrowing margins.
Small firms are also experiencing heightened stress—among TBOS respondents, 37 percent of small companies reported it was harder to pass on cost increases versus 29 percent of larger firms. However, many large firms are challenged as well. The number experiencing pricing difficulties over the prior six months exceeds 2021 levels.
Texas not immune to impacts of U.S. slowdown
Texas has historically fared better than the nation during U.S. economic downturns when real oil prices are high. This time, the state economy appears to be tracking the nation into a slowdown.
Job and output growth have decelerated, price and wage pressures have weakened, and businesses have grown more pessimistic. There is no guarantee that Texas will be protected from a broader downshift in economic activity in 2023.
About the authors
The views expressed are those of the authors and should not be attributed to the Federal Reserve Bank of Dallas or the Federal Reserve System.