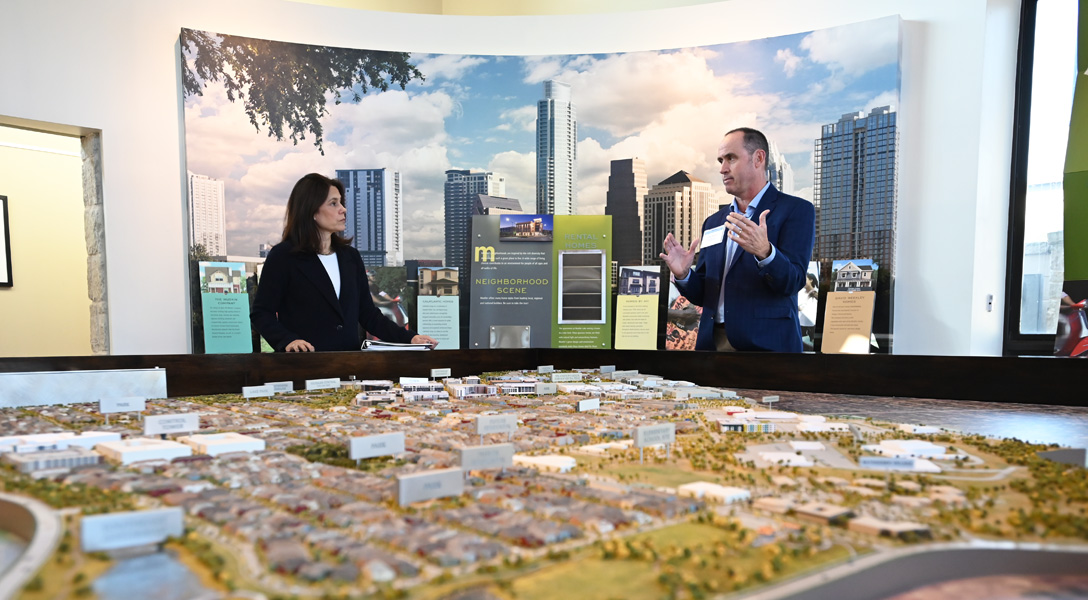 High-tech hotspot Austin works to solve labor, housing issues
360° in 365 Austin takeaways
Austin is the nation's fastest-growing metro area and a major high-tech hub whose roots were nurtured by the research capabilities of the University of Texas at Austin.
Growing pains, including chronic labor shortages and soaring house prices, have accompanied Austin's outsized expansion.
Housing affordability has fallen precipitously in recent decades as Austin house prices have risen faster than incomes.
Dallas Fed President Lorie K. Logan met with Austin business and community leaders in January to learn about the area's strengths, challenges and outlook. Austin was the fourth stop in the 360° in 365 Listening Tour, as Logan travels through the Eleventh District reaching out to local constituencies so she can represent the district in the national policy discussion and be a force for good at home. Over the course of the coming year, this listening and learning will position her and the Dallas Fed to identify policy priorities that will make the greatest impact for the region over the long term. We describe the Austin region and share what was discussed.
Austin, the nation's fastest-growing metropolitan area, has moved well beyond its historical underpinnings as the state capital and home to the University of Texas flagship campus. Today, thanks to university-led research and early and continued efforts to diversify the local economy, Austin is a major high-tech hub. In-migration of companies and people has contributed to the area's rapid economic expansion but also led to growing pains in the labor and housing markets.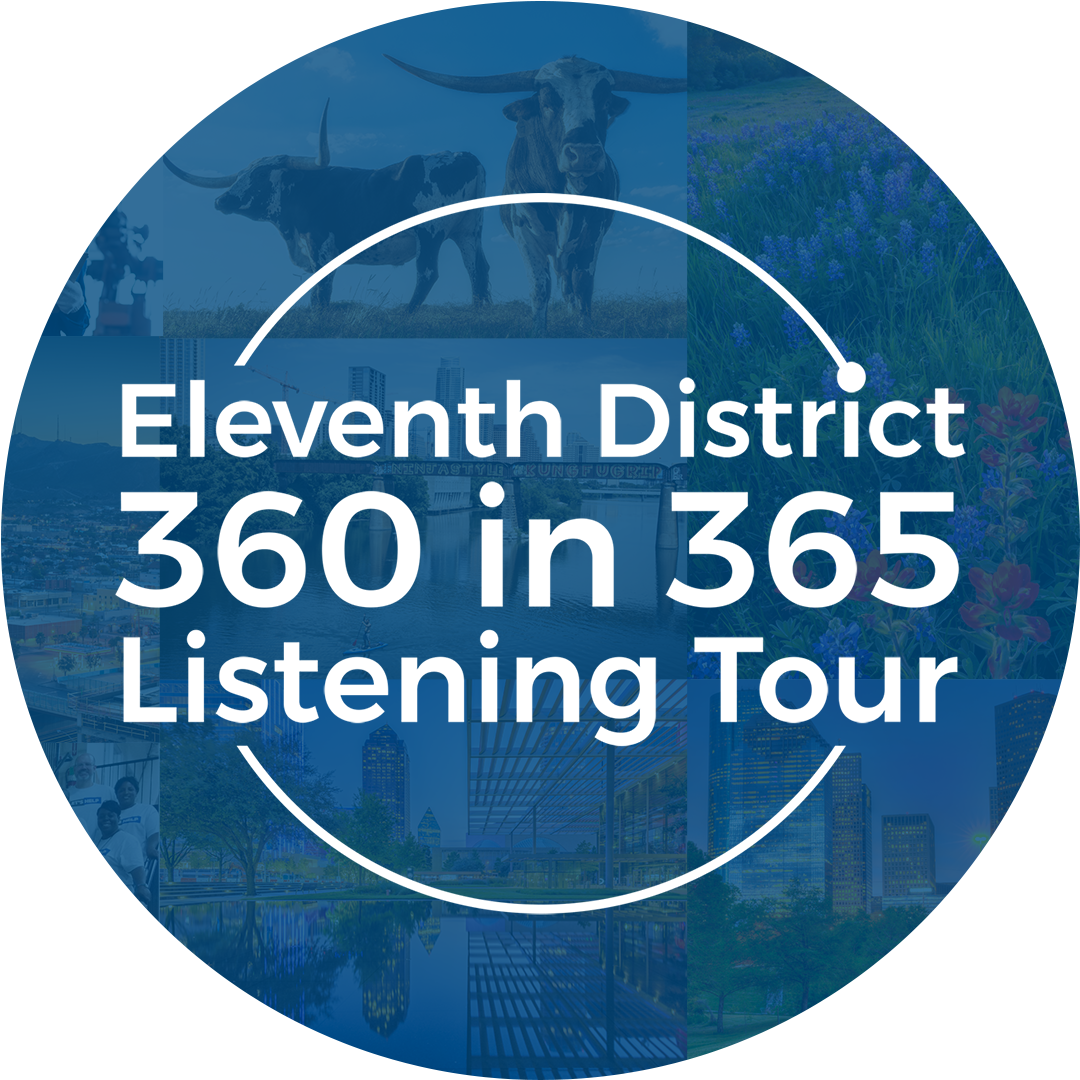 Austin's population has grown at about five times the national pace, expanding 36 percent from 2010 to 2021—compared with rates of 7 percent for the nation and 17 percent for the state. Among major Texas metros, Austin consistently has the lowest unemployment rate, highest housing prices and lowest housing affordability. Despite a population and building boom, labor supply, housing and infrastructure have not kept up with demand.
During Dallas Fed President Lorie Logan's visit to Austin, community and business leaders told her about challenges that include a shortage of workers within the high-tech sector and beyond, as well as a shortfall of affordable housing alternatives for the burgeoning population. They also addressed Austin's future and how to collaboratively spur innovation and attract more investment.
High-tech expands in Austin
Austin has nearly three times the share of high-tech jobs as the nation, with such positions accounting for 11.1 percent of Austin employment in 2021, compared with 6.7 percent for Dallas–Fort Worth and 4.2 percent nationally. Houston and San Antonio have high-tech shares slightly below the national average (Chart 1).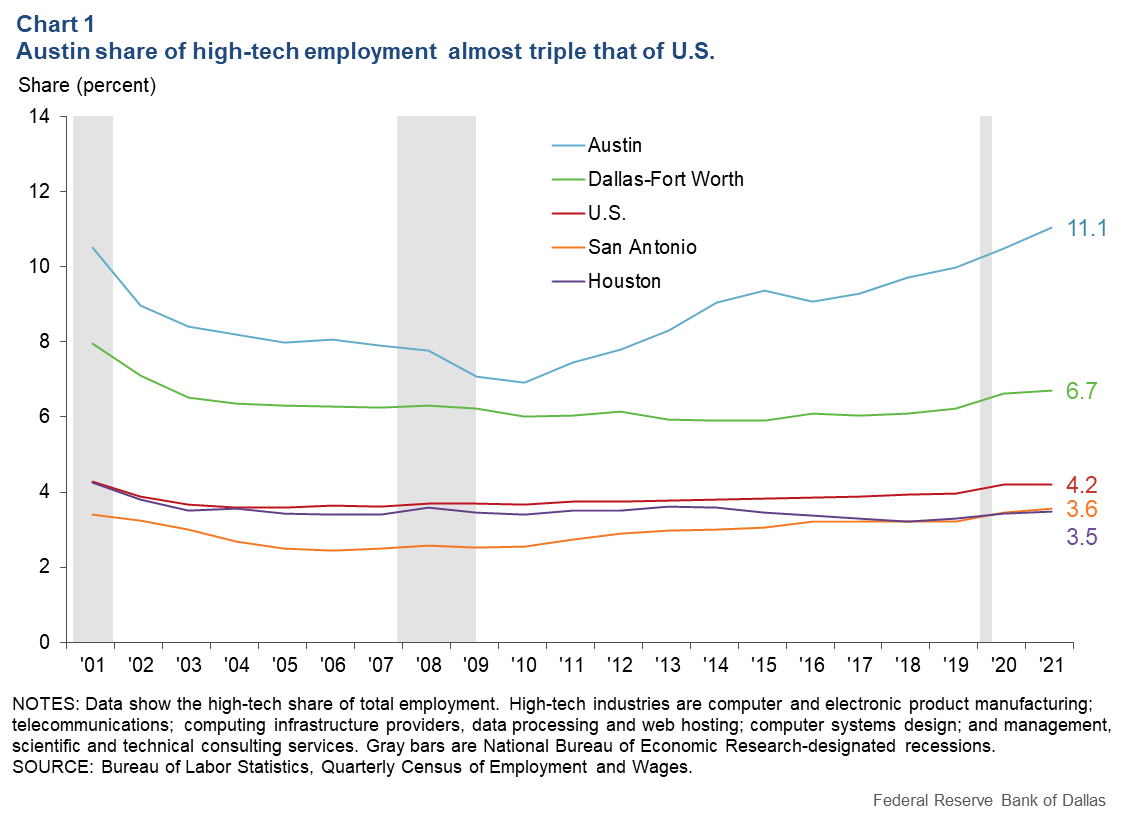 High-tech employment grew in Austin following the 2007–09 Great Recession as homegrown companies, such as Dell Technologies, added workers and an increasing number of other firms relocated to or expanded in the area, including Oracle, Apple, Google and Meta. Austin also consistently appears at the top of national rankings for startups, and these entrepreneurs attract investment. Austin startups enjoyed $5 billion in venture capital funding in 2021. While that is far less than Silicon Valley and larger metros such as New York, Boston and Los Angeles attract, it's about the same as Seattle on a per capita basis.
Notably, the relatively narrow definition of high-tech used here leaves out intensive technology users and major technology innovators that have also moved to the area, such as electric car company Tesla. The automaker relocated its headquarters from Palo Alto, California, in 2021 and launched construction on a $1.1 billion manufacturing plant east of the city.
During the meeting with Logan, business leaders noted that the federal CHIPS (Creating Helpful Incentives to Produce Semiconductors) and Science Act, which took effect in August 2022, will provide $52.7 billion for semiconductor research nationally and will incentivize the fabrication of semiconductors in the U.S.—production that is currently concentrated in Taiwan and susceptible to geopolitical tensions with China. Austin, the leaders said, stands to gain from the federal program. Even before passage of the CHIPS and Science Act, Samsung announced a $17 billion semiconductor manufacturing facility in Taylor, about 30 miles northeast of Austin.
High-tech industry built on early efforts to diversify Austin economy
Leaders shared with Logan how private and public entities and the University of Texas at Austin worked together in the early days to attract and nurture technology companies, citing successes such as the arrival of IBM in 1967 and Texas Instruments and Motorola soon after.
Technology innovator George Kozmetsky, the late founder of the technology firm Teledyne and subsequently the dean of the UT business school, drew on local firms in 1977 when establishing a tech incubator, the IC2 Institute at UT . Two tech consortiums followed: The Microelectronics and Computer Consortium started operations in Austin in 1982, and Sematech (shorthand for Semiconductor Manufacturing Technology) in 1987. And, as a UT student, Michael Dell founded in 1984 what is today Dell Technologies, an engine of the local economy and one of the nation's largest computer equipment manufacturers.
Tech companies were initially attracted to Austin because it offered a low-cost alternative to other, similar locations and is in a lightly taxed and regulated state. But a relatively shallow labor pool was a constraint then and now, contacts noted. Austin tech companies draw extensively on high-skilled immigrants to staff their operations, in addition to hiring local talent and relocating workers to Austin from elsewhere in the U.S.
Business leaders also stated that recent layoffs, while affecting thousands of workers, still pale in comparison with the number of personnel that were added during the pandemic high-tech boom. Remote work has also made hiring and worker retention more challenging, while barriers to immigration remain a long-run obstacle to the industry's future growth.
UT leading innovation in Austin
UT has played a pivotal role in the region's high-tech ascension, providing a pool of young, high-skilled workers and helping develop technology-based companies. The school has been granted 1,201 patents in the past 10 years and, in 2020, ranked No. 1 among U.S. universities in research financed by the National Science Foundation. UT entrepreneurs have founded over 1,250 venture-capital-backed companies; the school ranks ninth among U.S. universities in terms of the number of such founders who are alumni of its undergraduate programs and 18th in terms of graduate-school alumni founders.
UT leaders told Logan that the school's technology initiative is founded on bringing the private sector and university together to collaborate by complementing one another's strengths. For example, the university owns and manages two small-scale semiconductor fabrication facilities. One focuses on innovation and the other on defense—at both, the private sector is invited to work and collaborate. Logan learned that UT regents have pledged $120 million for technology investment that they hope to leverage with federal grants that may become available through the CHIPS and Science Act.
Another part of UT's technology initiative is workforce development, creating a technology labor force that ranges from PhDs to associate degree holders—the latter by working with the Austin Community College District and the private sector.
Supplying affordable housing in the urban core
Austin's single-family median home price rose from $333,106 just before the pandemic to a peak of $523,597 last year—a 57 percent increase. At current prices and mortgage rates, only 21 percent of families in the area can afford to buy a home—a share well below the national average of 38 percent.
Housing affordability is a key challenge for the Austin region, community and business leaders reiterated during Logan's visit, and it is a major issue for UT as well. Recruiting faculty is particularly challenging when house prices are out of reach for new professors in many disciplines.
More broadly, Logan heard from local leaders about the challenges facing working families—particularly those of color—who are increasingly priced out of the urban core because housing supply has not kept pace with demand.
Leaders expressed concern about rising migration to and construction in Austin's suburban municipalities. Often, those communities lack the city's transit, health care, child care and job options, which are critical to economic mobility. Simultaneously, Black residents' share of the city population slid to less than 7 percent in 2020 from nearly 10 percent in 2000.
Leaders pointed to several factors underlying the dwindling stock of affordable housing for working-class and middle-class families. These include strict land-use development codes, lengthy permitting and approval processes, few developable lots and high input costs for builders.
Logan also learned of local models that aim to improve housing opportunities. One is the Mueller community, a 700-acre mixed-use development created through a partnership between the city and Catellus Development Corp. One-quarter of the homes at the site of the former municipal airport are designated affordable. Once the project is completed, 1,750 units—for renters and homeowners—will be available for families who would likely otherwise be priced out of living in the city.
Additionally, Mueller uses a shared-equity model for homeowners, which ensures that when affordable units are resold, they go to new owners who meet affordability criteria.
Cooperation key to retaining Austin's character
Austin residents have clung to a phrase that speaks to a simpler, more carefree time—"Keep Austin weird." Safeguarding Austin's uniqueness has admittedly become more challenging in light of booming growth and a soaring cost of living. As the high-tech sector helps drive rapid economic expansion, community and business leaders are working to craft a path forward that maintains Austin's technology leadership while retaining its essence as a place with a cool vibe.
As in the past, progress toward this goal will require the joint efforts of the public and private sectors, community groups and UT to assemble the physical and human capital that will allow the development of innovative companies and continue the evolution and growth of Austin's unique ecosystem.
About the authors
Eleventh District 360° in 365 Tour: The Austin Visit
Jan. 17
Visit to Mueller Foundation office and tour of the development at the site of the former Mueller Airport. Discussion of affordable housing with representatives of Austin Board of Realtors, City of Austin Housing Authority, HousingWorks Austin, Home Builders Association of Greater Austin, Mueller Foundation and Catellus Development Corp.
 Jan. 18
Meeting with Texas Gov. Greg Abbott.
Economic policy address at the McCombs School of Business, University of Texas at Austin.
Dinner and roundtable discussion with university, business and community leaders from the University of Texas System, Brightstar Capital Partners, AT&T, Dimensional Fund Advisors, University of Texas Investment Management Co., HPI, TDECU, Cammack and Strong, Frost Bank, Transwestern and Capital Creek Partners.
Jan. 19
High-tech breakfast and roundtable with Army Futures Command and industry leaders from Silicon Labs, data.world, Dell Technologies, Austin Technology Council, Code2College, SRV Holdings and Cirrus Logic.
Meeting with the leaders of the University of Texas System and the University of Texas at Austin.
The views expressed are those of the authors and should not be attributed to the Federal Reserve Bank of Dallas or the Federal Reserve System.