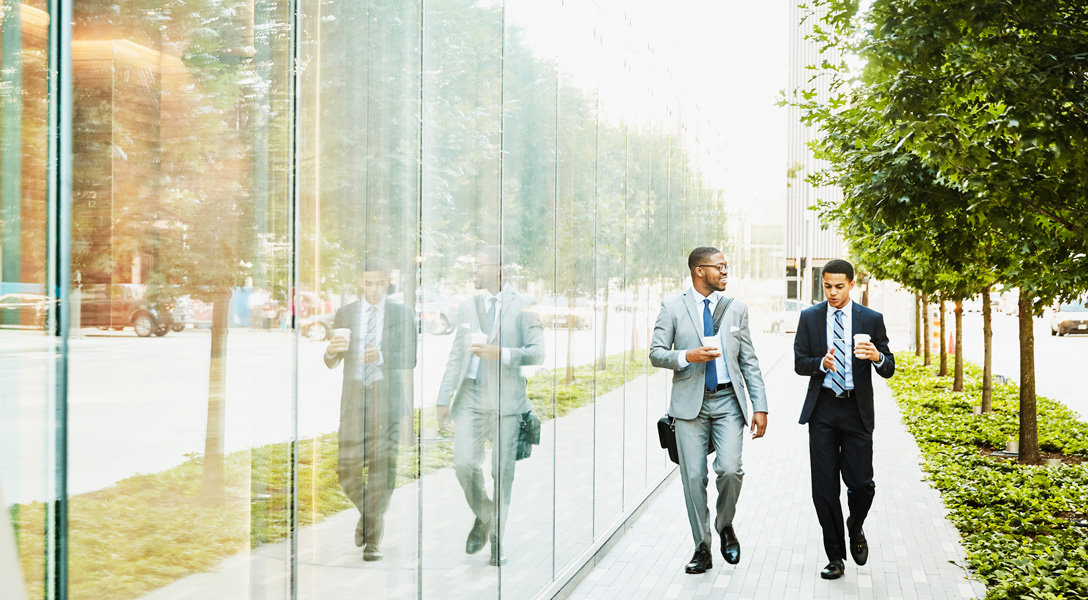 Recent growth of professional services jobs favors select Texas counties
Professional services jobs have grown faster in Texas than in the U.S. since 2020, partly because of business relocations to the state. This expansion has been highly geographically clustered, with 10 of Texas' 254 counties accounting for more than 92 percent of the statewide growth. Most of these areas have large, highly educated workforces.
Migration of people and employers to Texas was strong even before the pandemic began in first quarter 2020. But recent research shows that migration to Texas has notably increased since then.
The robust influx of domestic migrants brought business opportunities to Texas, helping the state to more quickly recover jobs lost during the pandemic and reclaim its prepandemic employment level by late 2021. By comparison, the nation didn't recover its lost jobs until mid-2022.
Local and professional services pace Texas growth
In particular, Texas job growth strongly outperformed the nation in local and professional services. Local services refers to nontradable service industries (which provide services that are consumed locally), including construction, retail, accommodation and food services. Professional services involve tradable service industries (which provide services that can be consumed anywhere), such as information; finance and insurance; and professional, scientific and technical services.
Texas employment increased 3.8 percent in local services and 14.2 percent in professional services from December 2019 (just before the pandemic) to December 2022. The performances outpaced the U.S., which had zero growth in local services and a 5.7 percent gain in professional services over the period.
Professional services are a particularly valuable economic engine for the state. Professional services tend to be in high-wage industries, involving mostly high-skilled workers. The inflow of firms in these sectors and the jobs they bring are strongly beneficial for local economic development, stimulating growth in other types of employment. Given the significance of professional services, understanding where these businesses locate and expand is especially useful.
Unlike local services jobs—which tend to accompany population growth—professional services employment accelerated in a confined set of Texas counties in the past two years. This growth is even more concentrated than the well-documented geographic clustering seen before the pandemic.
Chart 1 shows the contributions to overall job growth in Texas and job growth in the local and professional services by the top 10 contributing counties relative to the other 244 counties. (The top 10 counties in terms of professional services jobs added were Bexar, Collin, Dallas, Denton, Fort Bend, Harris, Montgomery, Tarrant, Travis and Williamson; the top counties for local services jobs added were Bell, Collin, Comal, Denton, Ellis, Fort Bend, Hays, Hidalgo, Montgomery and Williamson.)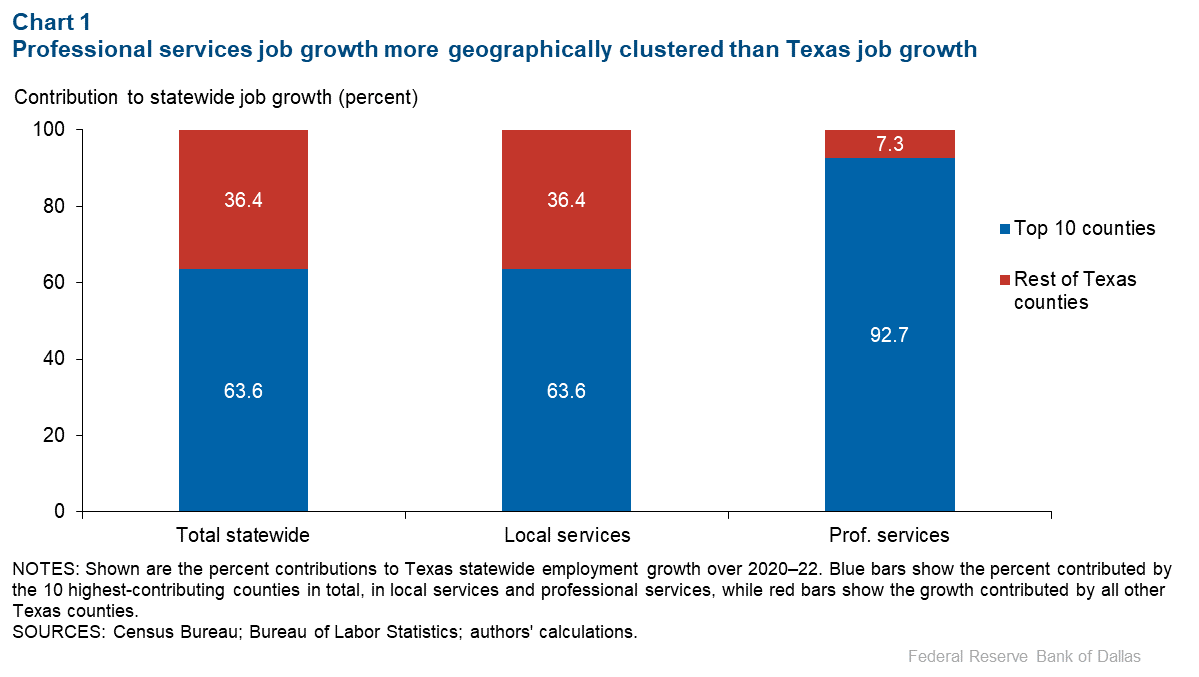 More than 92 percent of the robust gains in professional services jobs in Texas were concentrated in 10 counties where 56 percent of Texans live. For comparison, 64 percent of Texas' overall job gains and 64 percent of local services job additions were in their respective top 10 counties.
Growth in professional services jobs is only slightly correlated with county population growth. In fact, many Texas counties with very high growth in professional services jobs, such as Dallas and Travis counties, experienced almost no population growth—or outright population declines—over the two-year period. Meanwhile, areas with population increases, such as largely suburban Collin and Williamson counties, noted faster professional services job growth relative to their already rapid population expansion.
Moreover, the spatially concentrated growth in professional services jobs strongly favored high-income counties in Texas. Chart 2 shows the cumulative growth of local and professional services jobs in Texas counties with county-level median income higher and lower than the Texas state median income since the first quarter of 2019.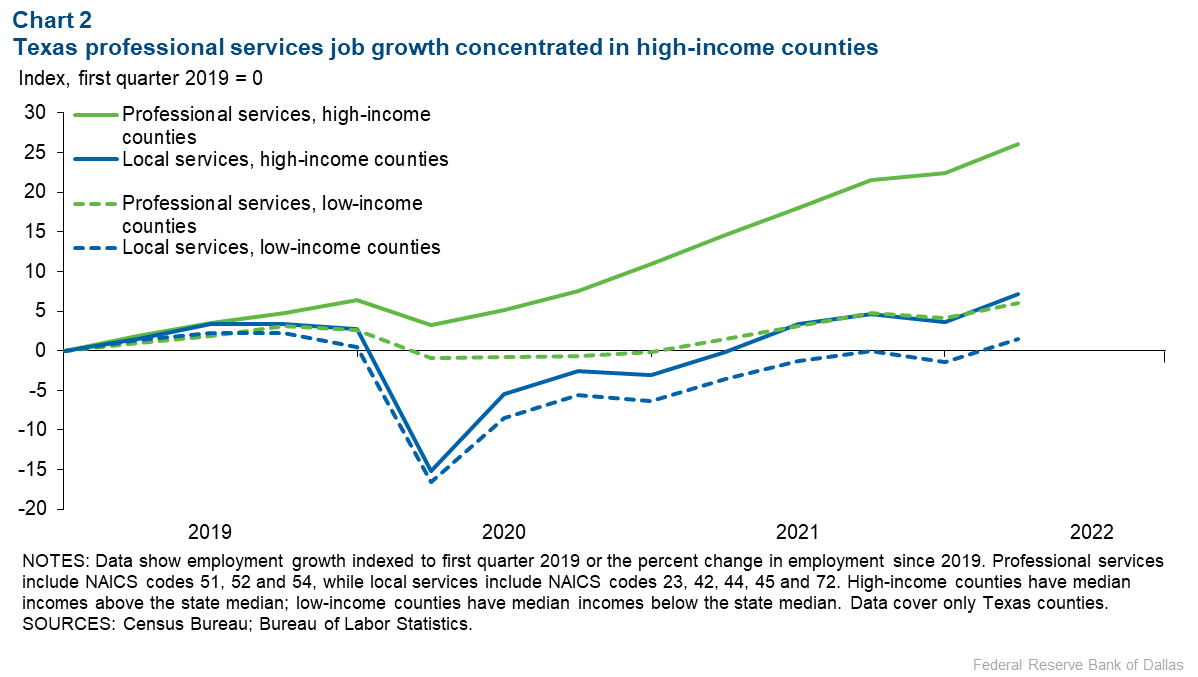 While higher-income counties steadily outperformed lower-income counties in terms of job growth in local services before 2020, the difference in growth rates in professional services jobs between high- and low-income counties widened sharply after 2020.
Professional services jobs attracted to education concentration
Before the pandemic, many professional services firms located in traditional industry clusters such as Silicon Valley and New York. They remained anchored there because of their locally attached workers and local business ties. Some companies had already opened operations in Texas, but their activity was often limited.
Though the prospect of completely relocating may have seemed promising, the cost of losing a fraction of the workforce and local business ties appeared too large to justify relocation.
With normalization of virtual work during the pandemic, these firms could move to lower-cost environments such as Texas without all existing employees moving with them. The costs of conducting business from a distance, at least temporarily, declined as well, improving the feasibility of relocation.
The few high-income counties that attracted almost all the new professional services jobs over the past two years in Texas share characteristics.
They provide access to a local talent pool that businesses could tap into over the long term. Job growth in professional services tended to occur in counties that already had an abundance of college-educated workers (Chart 3).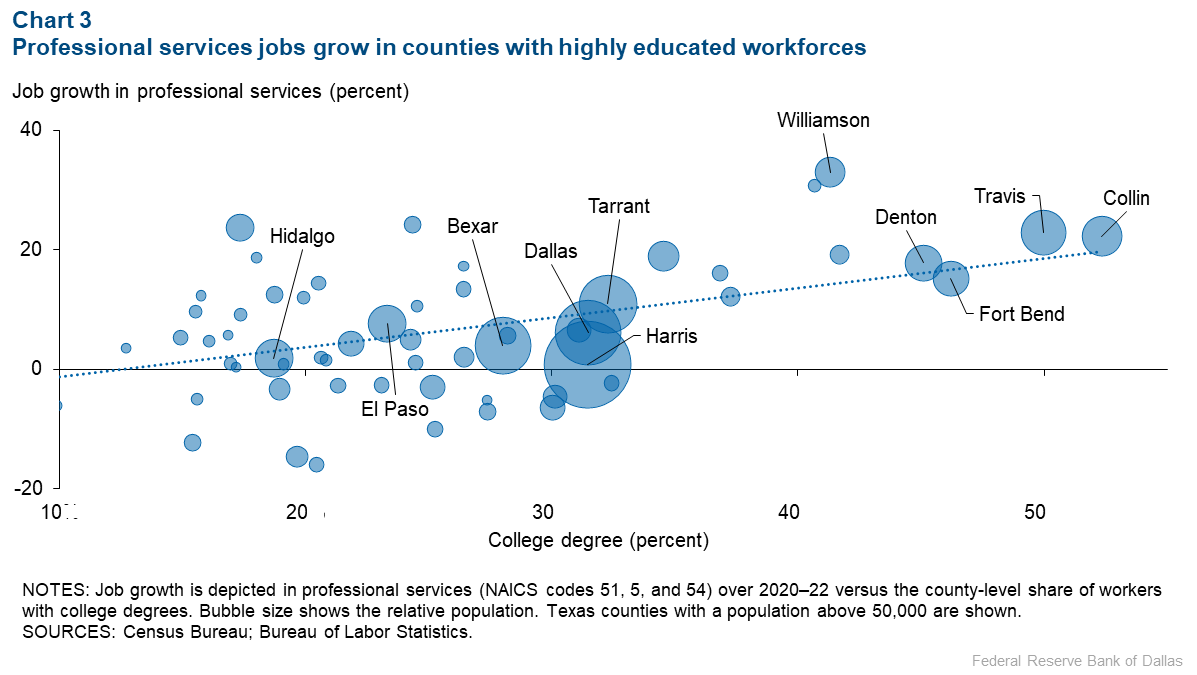 Even though fully remote work arrangements appear to be working for some white-collar firms, most businesses expect hybrid work to become the long-term norm. This means proximity to local talent may still be a factor in places where professional services firms choose to locate within Texas.
Since professional services jobs tend to be highly paid and these employers often serve as an engine for local growth, a potential downside of this highly clustered growth pattern is that it could further widen regional disparities in economic development within the state.