Diversified San Antonio confronts economic divide among youth
360° in 365 San Antonio takeaways
San Antonio is the most-visited city in Texas, supporting a large hospitality industry and an industry composition that skews toward lower-paying sectors and a lower median household income than other large Texas metros.
Labor shortages remain pervasive and constrain local companies, which struggle with wage and cost pressures and a still-constricted supply chain.
The city of San Antonio and community partners have sought to enhance services for hard-to-reach "opportunity youth"—young people not in school or working—bringing them back from the margins through education, skills training and job placement.
Dallas Fed President Lorie K. Logan met with San Antonio business and community leaders in early November to learn about the area's strengths, challenges and outlook. San Antonio was the third stop in the 360° in 365 Listening Tour, as Logan travels through the Eleventh District reaching out to local constituencies so she can represent the district in the national policy discussion and be a force for good at home. Over the course of the coming year, this listening and learning will position her and the Dallas Fed to identify policy priorities that will make the greatest impact for the region over the long term. We describe the San Antonio region and share what was discussed.
San Antonio—site of the Alamo, the "cradle of Texas Liberty"—is the third-largest metropolitan area in Texas and home to 2.6 million people.
Historically known for its numerous military installations, San Antonio is perhaps better positioned today as a tourism and convention destination. Although hospitality and retail sectors are disproportionately large, the local economy is diverse, with major food and health services sectors, business and financial services, oil and gas companies, and auto manufacturing.
Still, San Antonio's median income trails that of its richer neighbor to the north, Austin, as well as Dallas and Houston (Chart 1). This is partly a function of industry composition and a population that skews slightly older (San Antonio and surrounding Bexar County are a favored home for military retirees) and less educated than the rest of the state. However, the unemployment rate and the poverty rate are below their respective state averages, and job growth in 2022 has been robust.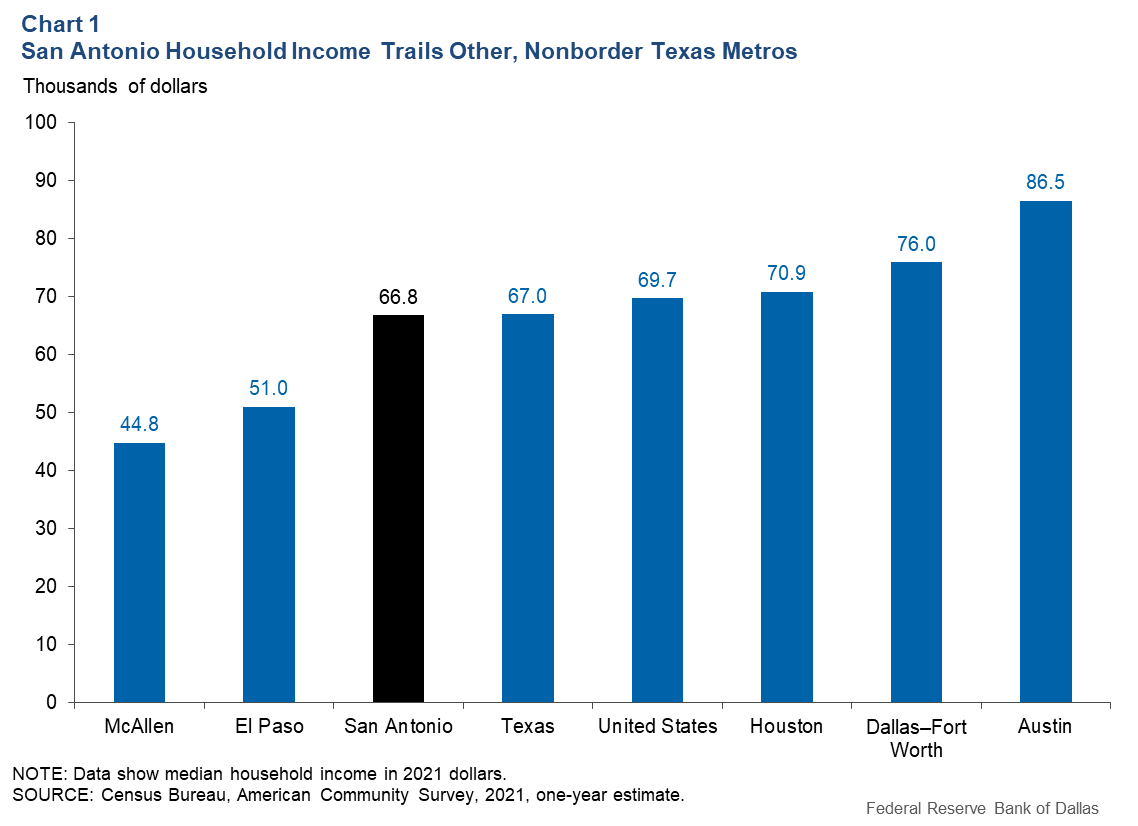 During Dallas Fed President Lorie Logan's visit, community and business leaders discussed the challenges of the region's labor shortages and growing income disparity, resulting in what they said has become a two-tier economy. They pointed to community-based collaborative efforts and some recent progress addressing two long-term priorities: attracting new businesses and skilled workers as well as investing in education and workforce development to grow and retain young local talent.
Well-known brands support area's economic base
Several large and well-known companies maintain a significant presence in San Antonio, including the financial services company USAA, auto manufacturer Toyota, refiner Valero and Texas-based retailer H-E-B. In meetings with local business leaders, they shared that growth and economic development have continued in the area but are constrained by a lack of skilled workers. Attracting capital to San Antonio can also be difficult, they told Logan, as the city maintains a low and unassuming profile, particularly relative to its more prominent counterparts—Austin and Dallas.
During her visit, Logan met with H-E-B executives and toured the company's super-regional grocery warehouse. H-E-B began in 1905 with a one-room, family-owned store (Mrs. C.C. Butt's Staple and Fancy Grocery) in Kerrville, Texas, 60 miles northwest of San Antonio. The company has grown to become one of the largest grocers in south central Texas; it has 60 stores in the San Antonio area and a strong and growing presence in Houston and, more recently, expansion in the Dallas–Fort Worth area.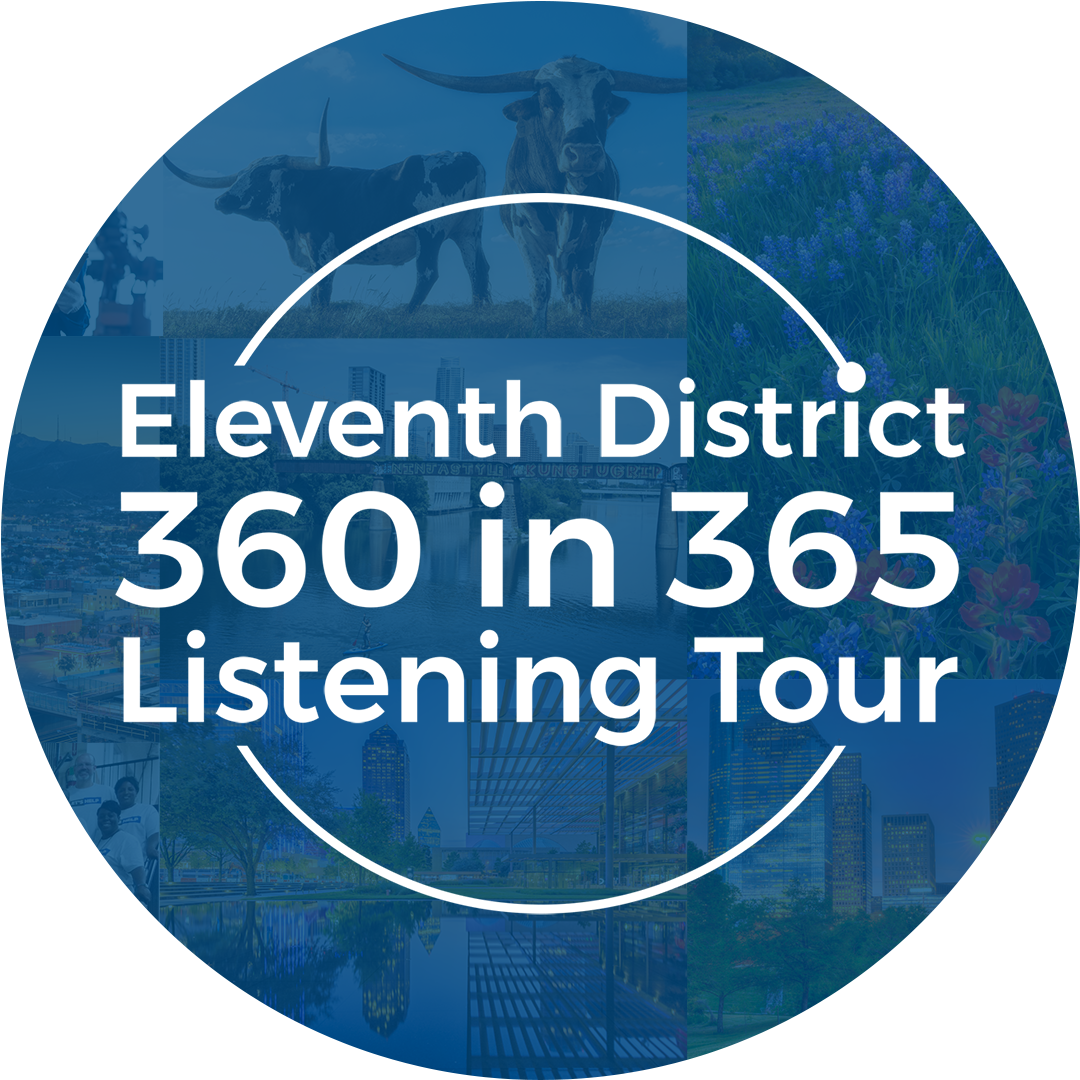 The pandemic propelled strong sales as a result of more at-home meals and emergency expansion of the federal Supplemental Nutrition Assistance Program (SNAP) for those in need, H-E-B leaders said. A significant share of shoppers depends on government food assistance in low-income communities in South Texas and along the border, where H-E-B has a large presence.
The pandemic also presented significant challenges, H-E-B managers told Logan. There was higher worker turnover and difficulty hiring despite higher wages. Truck driver shortages particularly disrupted the grocer's supply chain. In response, H-E-B worked with the Department of Transportation to establish an 11-week program to train new personnel for a commercial driver's license (CDL).
Despite supply-chain improvements in recent months, limited manufacturing capacity among suppliers still constrains the company, along with rising costs and high prices. More than 1,000 items remain on a shortage list where demand exceeds vendor capacity to supply goods, executives told Logan.
Meanwhile, the company has avoided passing along some cost increases to consumers, particularly for such basics as cooking oil and eggs, they said. Nevertheless, pinched shoppers are beginning to downgrade to less-expensive brands and choose cheaper alternatives—hot dogs instead of chicken breasts, for example.
Removing barriers to education
One of San Antonio's main priorities is integrating marginalized and low-income residents into the economy through enhanced education and employment opportunities, business and community leaders told Logan.
A longstanding concern involves "opportunity youth," teens and young adults ages 16–24 who are neither in school nor at work. The Dallas Fed's San Antonio Branch was instrumental in convening key stakeholders in 2018 to bring attention to the problem when there were an estimated 34,000 at-risk youth in Bexar County. By some estimates, this number rose to 50,000 during the pandemic. These youth have been sidelined by such factors as poverty, addiction, homelessness, involvement with the criminal justice system and teen pregnancy.
The
Healy-Murphy High School and Child Development Center
addresses some of these issues. Its leaders told Logan that the center traces its origins to 1888 as a privately funded school for the children of former slaves. Today, the San Antonio nonprofit caters to nontraditional students, offering self-paced high school and GED programs together with extensive wraparound services that include free on-site child care, financial aid, counseling and health services.
About 196 students are enrolled at the school, many of them single parents with children in the daycare. There is some attrition, but a large majority of students go on to graduate with a diploma or GED. Among graduates, about 70 to 80 percent continue their education either in a certificate program or college.
Getting Youth Back on Track for Success in Work, School
Logan also visited the city of San Antonio's NXT Level Youth Opportunity Center, which opened in 2019 partly as a result of the Dallas Fed's earlier efforts to bring attention to the area's at-risk youth. The center is a collaborative effort between the city and several community partners, including Goodwill Industries–San Antonio and the United Way of Bexar County, and offers individualized coaching and support services so vulnerable youth can achieve self-sufficiency.
One program participant shared her story with Logan, explaining that she was referred to the center by the courts. At NXT Level, she was given help with child care, completed her GED and went on to enroll tuition-free at Alamo Colleges, and will be graduating with an associate's degree in spring 2023. She said she plans to pursue a bachelor's degree at the University of Texas at San Antonio.
Since its opening more than three years ago, NXT Level has had 1,405 participants. About 25 percent were either homeless or in unstable housing upon arrival, 20 percent had been in foster care, and 7 percent had contact with the criminal justice system. Of the participants receiving NXT Level coaching, 60 percent enrolled in school and/or found employment.
Overcoming challenges with collaboration and community
Long-run growth and development in the broader San Antonio metro area have shone a light on increasing gaps between rich and poor, especially among youth. Through extensive collaboration between local government, nonprofits and businesses, the community has sought in recent years to address the problem of marginalized young people, working to reintegrate them into productive activities, primarily school and work.
More such efforts are underway. Ready to Work is a city of San Antonio education and job placement program that launched in May. AlamoPROMISE, introduced in September, allows recent graduates of participating high schools to attend Alamo Colleges tuition-free for up to three years. Backers hope more such programs will build on earlier successes—such as Healy-Murphy and NXT Level—to reduce poverty and increase economic mobility.
Eleventh District 360° in 365 Tour: The San Antonio Visit
Nov. 7
Meeting with H-E-B executives and tour of the grocer's super-regional warehouse.
Luncheon and roundtable discussion with business and community leaders from LiftFund; the United Way of San Antonio and Bexar County; CPS Energy; GasLog Partners LP; San Antonio Hispanic Chamber of Commerce; Accenture Federal Services; San Antonio Chamber of Commerce; Texas Research and Technology Foundation; Yndo Urban Commercial Real Estate; CW Interests; and University Health.
Visit to Healy-Murphy High School and Child Development Center and discussion with the center's leadership about its work to aid students who have struggled in a traditional school environment.
Tour of NXT Level Opportunity Center and learned about career and education coaching for hard-to-reach young adults. Meeting with San Antonio Mayor Ron Nirenberg; Brian Woods, superintendent, Northside Independent School District; representatives of the city of San Antonio, Goodwill San Antonio and Communities in Schools.
Reception and dinner with San Antonio Branch board and advisory council members at the San Antonio Branch.
The views expressed are those of the authors and should not be attributed to the Federal Reserve Bank of Dallas or the Federal Reserve System.