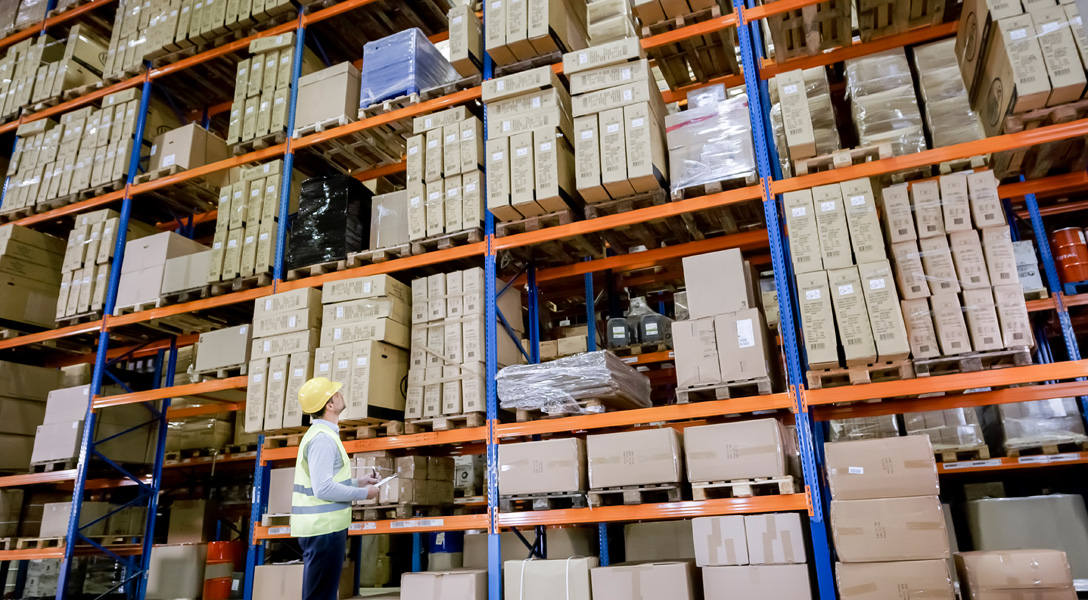 Texas economic expansion slows; business outlooks weaken
The Texas economy's modest expansion appears to be slowing despite having some pockets of strength.
Manufacturing has stagnated, the labor market has shown signs of cooling, commercial real estate activity has weakened, and banking conditions have continued to deteriorate along with outlooks. However, the service sector has seen continued growth in recent months, job gains remain robust, wage pressures haven't yet abated and the housing market has begun to stabilize.
Manufacturing, service sectors struggle to grow
The Texas Manufacturing Outlook Survey (TMOS) production index has hovered near zero since January, suggesting little to no change in production. The manufacturing new orders index—a proxy for demand—was negative for the 11th consecutive month in April.
Texas service sector activity is expanding, though sluggishly, according to the Texas Service Sector Outlook Survey (TSSOS) revenue index. The index has been below trend for a year.
Job growth still strong, but signs of cooling emerge
In March, Texas employment rose at a 3.0 percent annualized month-over-month rate, while gains for February were revised lower. Notably, March employment fell in financial activities and information, and growth was below 1.0 percent in manufacturing and in professional and business services. Construction and energy payrolls rebounded from February levels.
In the first quarter, Texas employment increased an annualized 3.9 percent, an acceleration from fourth quarter 2022. Growth was broad based (Chart 1).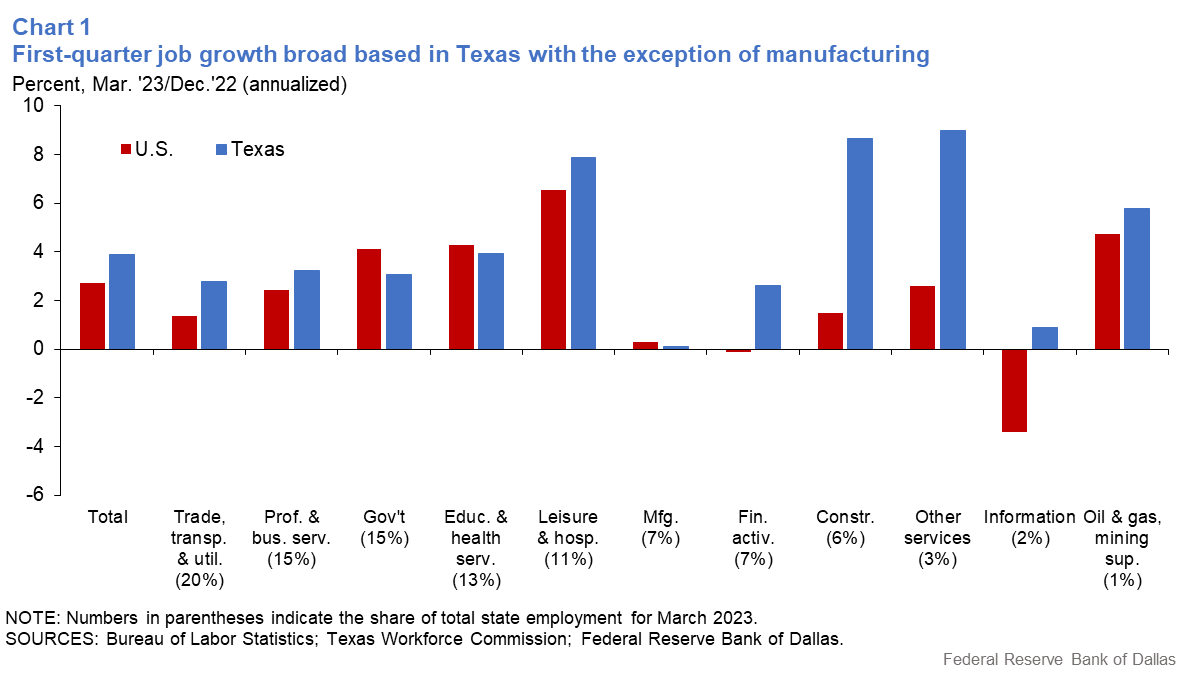 While Texas job growth remains robust—above its 2 percent trend rate—and is generally outpacing the U.S. rate, there are signs of cooling. Manufacturing payrolls were flat in the first quarter, and the Dallas Fed Texas Business Outlook Surveys (TBOS) suggest some loosening of labor market tightness. Among TBOS respondents, 40 percent of those looking to hire said applicant availability had improved in April, up from 29 percent in January.
Slowing is more pronounced in certain areas of the state. For example, job growth in Austin trailed other major metros for the first time in decades. First-quarter employment growth in Austin was an annualized 2.4 percent, behind Houston (3.6 percent), San Antonio (3.5 percent) and Dallas‒Fort Worth (3.2 percent). According to Worker Adjustment and Retraining Notification (WARN) data, 18 percent of the state's layoffs (notices received) through mid-April were in Austin, though the metro accounts for 9.4 percent of Texas employment. Labor market weakening in Austin is likely linked to abrupt slowing in the high-tech sector after a pandemic-era boom.
Wage pressures move little in 2023
Upward wage pressures have changed little, with the TBOS wage indexes largely moving sideways in 2023 after trending lower in spring and summer 2022 (Chart 2).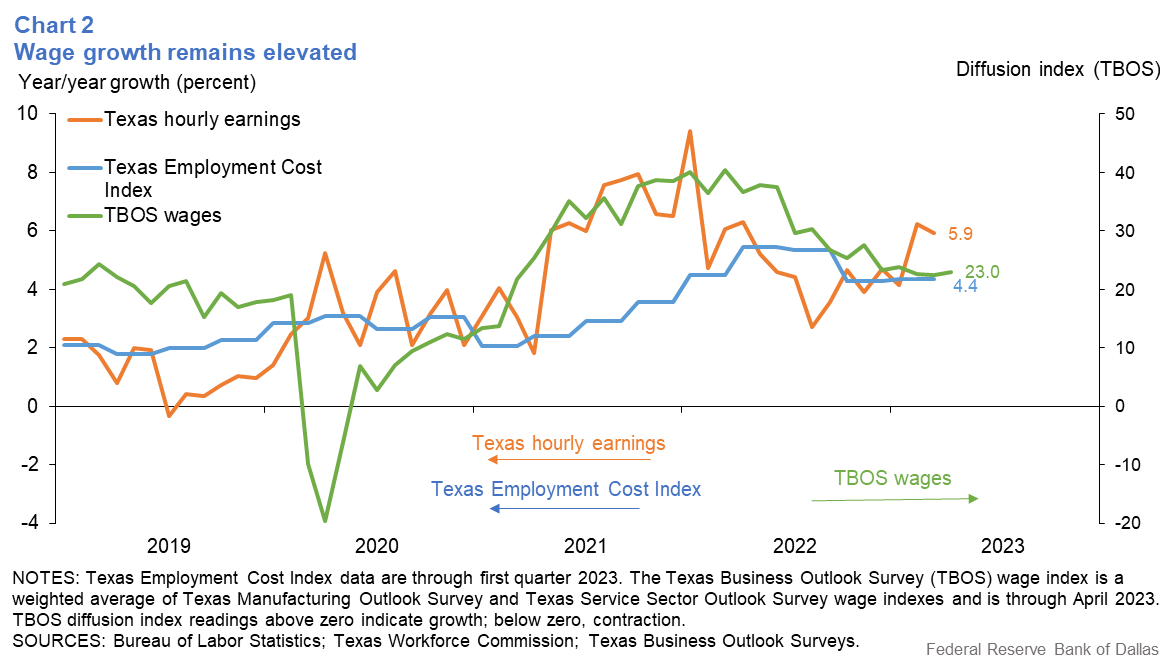 Texas private sector hourly earnings held steady in March. They advanced 5.9 percent year over year, compared with 4.3 percent nationally. The Texas Employment Cost Index for wages and salaries rose 4.4 percent in the first quarter, little changed from its fourth-quarter growth rate.
Home sales rebound; prices flat to down
The Texas housing market appears to be stabilizing, although construction remains depressed. Home sales fell through year-end 2022 but rose this year for the third straight month in March (Chart 3). Home sales in Texas are in line with early 2019 levels, while sales nationally are down. Home prices are flat in most major Texas metros, except Austin, where they continue to fall. Austin saw the fastest pace of appreciation among the Texas metros during the pandemic and has seen the steepest decline in prices as well.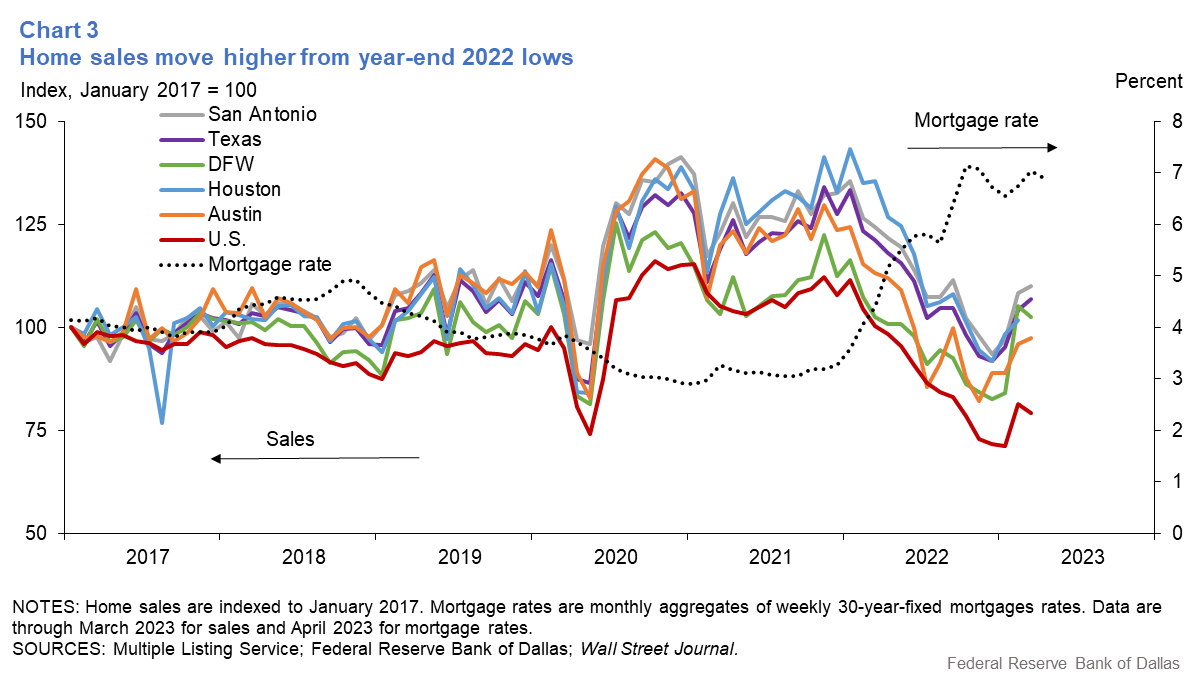 While homebuilding is down by one-third from record levels, construction has ticked up recently. Texas single-family permits rose 4.4 percent in March, while one-family contract values (non-inflation-adjusted) increased 6.5 percent. Homebuilders expect construction to be choppy, with 2023 starts staying below year-ago levels.
Office market expected to weaken further
The office market remains stagnant. First-quarter asking rents were little changed on a year-over-year basis, and the quarter-over-quarter vacancy rate was flat or up slightly in most major Texas metros and nationally. Texas and U.S. office markets have heightened levels of sublease space, an impediment to market recovery.
The office outlook is weak, with net absorption flat to down since 2020; a significant uptick in leasing looks unlikely in part due to the adoption of hybrid and remote work arrangements. As the tech sector retrenches—and if slowing activity spreads to other sectors, such as professional and business services and financial activities—leasing will likely decline further in metros such as DFW and Austin.
Houston's vacancy rate has already surpassed its oil-bust high. Most tenants are seeking new buildings with high-end amenities, making older properties less desirable. Texas job growth and the in-migration rate may provide relief, along with a greater number of workers returning to the office in Texas relative to the nation (Chart 4).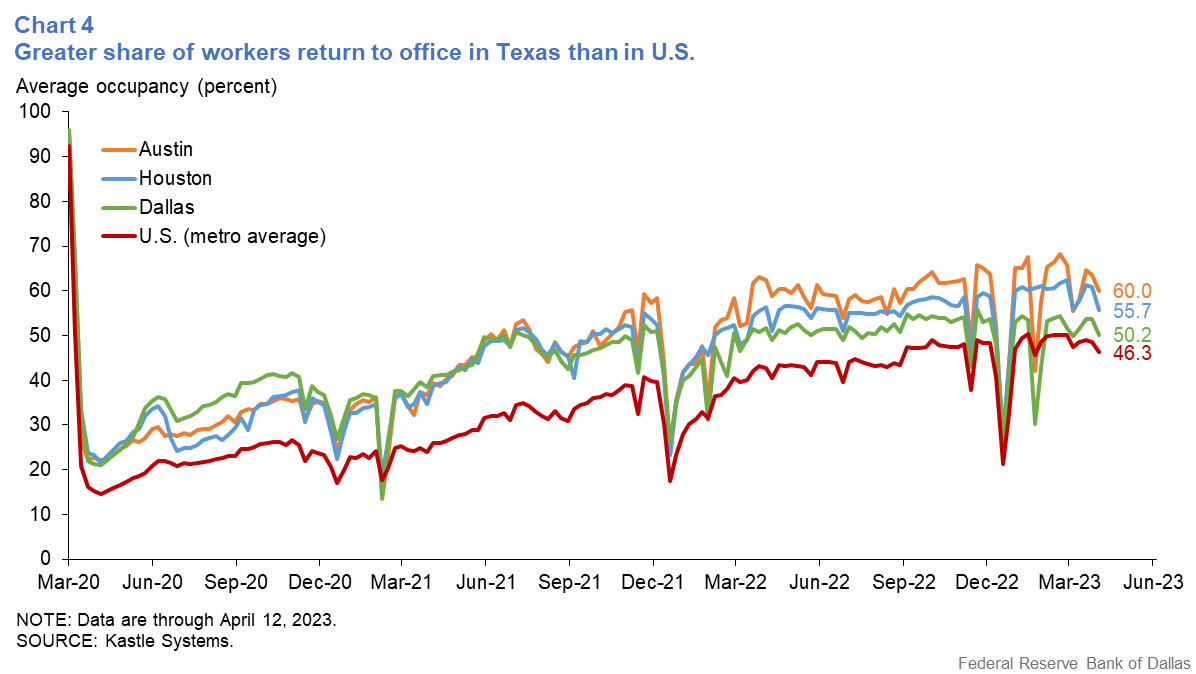 Tighter credit not yet a major impediment
Texas businesses are beginning to face increased difficulty obtaining credit, according to respondents in the April TBOS survey. While most firms that sought financing reported they had no trouble accessing credit for their business needs, there was a 5-percentage-point increase (to about 35 percent) in the share noting at least some difficulty.
Respondents to the Dallas Fed Banking Conditions Survey noted continued tightening in credit standards and terms in March across loan types, particularly commercial-and-industrial and commercial real estate loans.
Outlooks deteriorate for the year
The Texas 2023 job forecast was revised down to 2.4 percent in April from 2.8 percent in March, with an expected average annualized growth rate of 1.9 percent for the remainder of the year.
TBOS current and future hiring indexes peaked in early 2022 and have trended lower since. Texas job postings (a proxy for Texas labor demand) have been flat in recent weeks and are below the December 2021 peak. WARN data available for this year through mid-April show that Texas layoffs (8,622 positions) already exceed 2022 totals and, at the current pace, will surpass 2021 totals before the year ends.
The TBOS outlook indexes remain negative, and banking contacts are largely pessimistic in their expectations for loan demand and the performance of existing loans. Texas firms cite weakening demand, high interest rates, elevated input costs and tightening credit as headwinds.
About the authors
The views expressed are those of the authors and should not be attributed to the Federal Reserve Bank of Dallas or the Federal Reserve System.